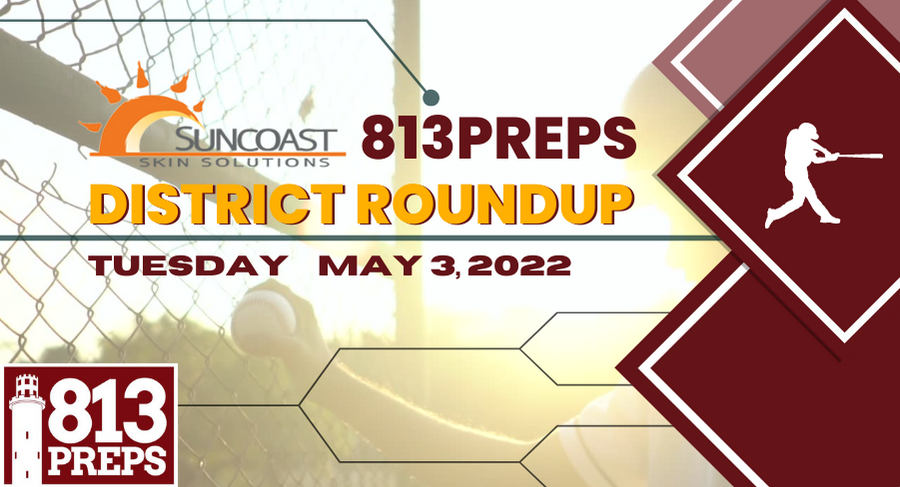 ⚾ Class 2A-District 10 Semifinal ⚾
Foundation Chr 3
Cambridge Chr 2
Foundation Christian managed a single hit, but strung together nine walks as the Panthers defeated Cambridge Christian. Freshman Hayden Porter struck out five in 4 2/3 innings pitched, and Garrett Porter finished off the game to earn his fifth save. Jacob Ananias had a single and scored a run for FCA. Frankie Taylor had a pair of hits for Cambridge Christian, and Zack McQuiston and Leyton Parmer combined on the mound for the Lancers.
CC 000|020|0 – |2|5|2
FC 000|030|x – |3|1|4
W – H. Porter (4-2); L – (0-0); S – G. Porter (5)
Records – CC (11-10); FC (15-5).
⚾ Class 2A-District 10 Semifinal ⚾
Seffner Chr 3
Acad at the Lakes 1
Seffner Christian plated a pair of runs in the third, with Corbin Newman driving in the game's first run with a sac fly, and Shay Dean grounding in the deciding run as the Crusaders defeated AATL in the district semifinals. Dean pitched four innings to earn the win, allowing one run and striking out six. Wildcats senior Cole Syversen struck out five in six innings, allowing three runs (one earned).
AL 000|100|0 – |1|6|3
SC 002|100|x – |3|4|0
W – Dean; L – Syversen; S – Tomasello
2B – Duncan (SC). Records – AL (10-15); SC (15-6-1).
⚾ Class 3A-District 5 Semifinal ⚾
Tampa Prep 9
Carrollwood Day 7
Great win tonight in district semifinals.
went 1-1, 2 walks, and an RBI. Let's continue the hot streak!! pic.twitter.com/Yy2moFFyx8

— Jaden Holder (@jadenholder24) May 4, 2022
Tampa Prep and Carrollwood Day battled it out with the Terrapins breaking a late tie in the sixth inning as Ty Jones (2-for-3, HR, two RBI) singled, scored a Noah Sheffield double, before Jaden Holder singled in a second insurance run for the win. Gage Mills and Roger Haughey (double) each drove in a pair of runs, with Haughey also pitching a clean seventh inning to earn the save. Christian Clarke hit a bases-clearing triple for the Patriots, and Brennan Leonhardt had two RBI.
CDS 100|033|0 – |7|8|0
TP    205|002|x – |9|8|1
W – Varner (3-1); L – Leonhardt; S – Haughey (2)
2B – Bonollo (CDS); Haughey, Sheffield (TP); 3B – Clarke (CDS; HR – Jones (TP). Records – CDS (11-12); TP (16-8).
⚾ Class 3A-District 6 Semifinal ⚾
(1) Berkeley Prep 11
Clwtr Cent Cath 1 – five innings
Clearwater Central Catholic jumped out with a run in the top of the first when senior Jack Spinnato hit an RBI double, but from there it was all Berkeley Prep as James Hankerson homered twice driving in seven in a mercy-rule victory. Andrew Jergins pitched five innings for the Bucs, striking out five and allowing one run on four hits. The win puts Berkeley Prep in Thursday's championship final against Calvary Christian (winners 10-0 against St. Pete Lakewood).
CCC 100|00x|x – |1|4|0
BP    443|0xx|x – |11|8|0
W – Jergins (7-0); L – Spinnato (4-2)
2B – Spinnato (CCC); Kurland (BP); HR – Hankerson 2 (BP). Records – CCC (15-11); BP (24-2).
⚾ Class 5A-District 6 Semifinal ⚾
Freedom 3
Hillsborough 1
After dropping a tough 1-0 game to Hillsborough two-plus weeks ago in his last start on the mound, Freedom senior Evan Mobley avenged the defeat with a complete-game effort, holding the Terriers to just one run and striking out five. Mobley helped his cause in the second inning, leading off with a triple and scoring the Patriots first run, Gio Mendoza doubled in the deciding run in the third, and Joey Wey answered a Hillsborough run in the sixth to cushion the lead. Aidan Kraf was 2-for-3, scoring a run and driving one in. Tanner Jones was 3-for-3 for the Terriers with two doubles, and Donald Gorgei drove in a run on a sac fly. Sal Urso pitched all six innings for Hillsborough, striking out four.
H 000|001|0 – |1|6|0
F 011|001|x – |3|8|1
W – Mobley (4-2); L – Urso (4-4)
2B – Jones 2, Urso (H); Mendoza (F); 3B – Mobley (F). Records – H (13-12); F (17-7).
⚾ Class 5A-District 7 Semifinal ⚾
Braden River 11
King 4
K    003|000|1 – |4|10|1
BR 008|003|x – |11|9|2
W – Waldschmidt; L – Brown
2B – Lyons (K); Valera 2, Kaitz (BR); 3B – Alvarino (K). Records – K (5-18); BR (9-16).
⚾ Class 6A-District 5 Semifinal ⚾
(7) Wharton 7
Mitchell 1
Start off a 7 run inning against Mitchell in our district semi finals. Here's a liner off a Miami Signee. Ended the day 2-4 with 1 RBI and a run pic.twitter.com/aC6pAY07vN

— Jake Turer (@jaketurer) May 4, 2022
Senior Evan Chrest struck out 11 in a complete-game win for Wharton. Wharton batted around in the second inning, with Jake Turer singling to start the inning, scoring the first run, and driving in the seventh run with a single.
W 070|000|0 – |7|8|1
M 000|001|0 – |1|4|2
W – Chrest (5-2); L – Crowther
2B – Crawford (M). Records – W (18-7); M (16-8).
⚾ Class 6A-District 6 Semifinal ⚾
(9) Sickles 13
Largo 0 – five innings
Sickles Baseball wins tonight with two Grand Slams by Thomas Bly and Justin Allen. District Finals on Thursday! pic.twitter.com/so4sS8e7oy

— Sickles High School (@SicklesHigh) May 4, 2022
Adrian Cartaya delivered four shutout innings, yielding just one hit as his defense and a big offensive output pushed Sickles to the district final. Thomas Bly and Justin Allen both had two hits, including grand slams for both. Caden McDonald was 2-for-4 with a double and four runs scored, Cam Guise (run) and Bryce Vance (RBI) each had two hits for the Gryphons as well.
L 000|00x|x – |0|1|2
S 511|15x|x – |13|13|2
W – Cartaya; L – Valverde
2B – McDonald (S); 3B – Guise (S); HR – Bly, Allen (S). Records – L (15-11); X (20-6).
⚾ Class 7A-District 7 Semifinal ⚾
Alonso 4
East Lake 3
Alonso Ravens advance to the 7A District Finals after beating Eastlake 4-3. What a game!@813Preps @goraven7 pic.twitter.com/QKeGzRMrYm

— JanLouis Rivera (@jlouisr75) May 4, 2022
Alonso jumped out to a four-run lead in the first inning, and got steady pitching from Landon Nunez (4 2/3 innings, four strikeouts) and an excellent relief outing from senior Hector Montilla (2.1ip, one hit, one strikeout) to reach Thursday's district final, facing the winner of Wednesday's weather-delayed semifinal between Steinbrenner and Plant. Angel Camargo was 2-for-3 with an RBI double to give the Ravens the fourth run of the first. Eric Duran-Padua, Dylan DeGusipe and Ben Drumheller singled in runs in the inning as well, and Christopher Morgan was 2-for-4 with a run scored.
A   400|000|0 – |4|7|1
EL 011|100|0 – |3|6|2
W – Nunez; L – Norwood; S – Montilla
2B – Camargo, Morgan (A); Harriel, Spiches, Seng, Norwood (EL). Records – A (13-10); EL (20-5).