Pues, Philpott, Redner link up for Crest win over Wharton
Strawberry Crest senior Ethan Pues smashed a sixth-inning home run pushing the Chargers well in front of Wharton in a Class 6A region semifinal win. 
By Mike Camunas
Creative Director
TAMPA — Ethan Pues got to wear the chain.
So did Alexander Philpott.
Zach Redner could have worn it, too, but deferred it to his teammates. Even though he earned it, as well.
"Nah, I'll let them wear it," the junior right-handed pitcher said. "They deserved it."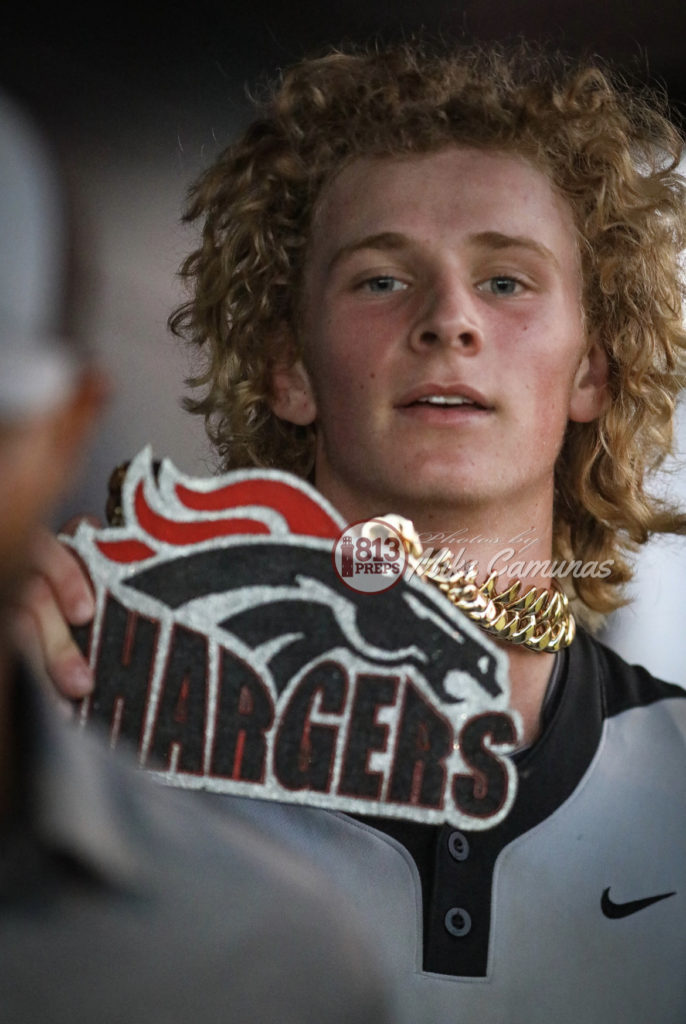 The fancy, heavy-duty chain hoisting the team logo is given to any player who comes up clutch for Strawberry Crest. So Pues and Philpott, the two power-hitting outfielders who hit home runs to help lead the Chargers to a 5-2 win over host Wharton in the Class 6A region semifinal on Friday evening, got some chain action.
And definitely worthy of chain time was Redner, who would throw five scoreless, one-hit innings, striking out four and walking two that kept the Wildcats (20-8) at bay.
"Zach's turned out to be a really, really competitive dude," Crest coach Eric Beattie said. "He makes pitches when he has to, and our defense behind him today was phenomenal."
Chargers junior pitcher Zach Redner struck out four across five scoreless innings to earn his eighth win of the year
That included stellar infield plays by Arjun and Akhil Nimmala and RayAllen Vasquez, including two double plays, and solid outfield work from Pues.
But it was Philpott who started off the scoring with a solo homer in the top of the second inning to give Strawberry Crest (20-8) an early lead. The Chargers would extend that lead to four runs with a three-run third thanks to a passed ball that let Vasquez score, an RBI single by Arjun Nimmala and a sac fly by Pues.
"Everybody came out wanting to win and we just want to keep it going now," said Pues, who leads the team in nearly all offensive stats including batting average (.362), RBI (26), hits (29) and doubles (9). "For us, it was a bit of a revenge game, but we really just wanted to win and it feels great to get to the region final, so we just want to keep it rolling."
Wharton defeated Strawberry Crest 4-3 in a hotly-contested game April 19.
On Friday night, Billy Eich, who started for the Wildcats, could never settle in and was relieved after allowing three runs on four hits over three innings, while striking out three. Vijay Wadhwani pitched some near perfect relief — in fact, he was cruising, allowing just two walks and struck out nine, except for one blemish.
Wharton senior Vijay Wadhwani struck out nine in four innings of relief. 
Pues would hit his team-high fifth homer in the top of the sixth, with a bomb to left field.
"I think that both (home runs) were no doubters," Beattie said. "They got a good piece and we did enough and put runs on the board and came away with the win."
Philpott pitched two innings in relief of Redner, but gave up a two-run blast by Eich in the bottom of the seventh, though he also struck out two.
Wharton senior Billy Eich heads toward the plate after his two-run home run late in the game against Crest. https://813preps.smugmug.com/51322-6A-2-RegSemi-Straw-Crest-at-Wharton/i-mV6rR5f/A
With two teams facing off, each with 20 wins, most felt whoever scored first would take this game and advance to next Tuesday's 6A region final, where Strawberry Crest will now travel to Sickles (23-6), which defeated Mitchell 3-2 on Friday.
"We had to out hit them — we knew it going in that the first team that got up was going to be the winning team," first-year Wharton coach Michael Burgess said. "Wish we could've gone a little further, but that's part of the game."
Strawberry Crest junior pitcher Alex Philpott. 
https://www.smugmug.com/app/organize/51322-6A-2-RegSemi-Straw-Crest-at-Wharton
⚾ Class 6A-Region 2 Semifinal ⚾
Strawberry Crest 5
Wharton 2
SC 013|001|0 – |5|5|0
W   000|000|2 – |2|2|0
W – Redner (8-1); L – Eich (4-2); S – Philpott (6)
2B – Q. Meadows (W); HR – Philpott, Pues (SC). Records – SC (20-8); W (2