Sickles falls in extras of state semifinal vs Doral
By Jarrett Guthrie
Editor
Photos by Mike Gallagher
Special to 813Preps

FORT MYERS – It's incredible how far talent can take you. But when you add heart, and heart by the bucketful, magic can happen. Heart is what brought Sickles to its first region title in 23 seasons (last time was 1999) – a team with just five seniors, and few of those seeing significant playing time.
Heart was on display as the team rallied last fall after a devastating injury to senior AJ Sawmiller, who crashed into the outfield wall at a tournament at Saint Leo. It kept beating when over a week ago starting centerfielder Hayden Yost and second baseman Luke Fikar collided in the final inning of the region quarterfinal win, breaking Yost's arm and Fikar's nose and the team rallied and got stronger. And heart is what carried the Gryphons through eight-plus innings in the FHSAA Class 6A state semifinal with Doral Academy – a game where the Gryphons and Firebirds battled through two weather delays of more than four hours.
Down four innings at the start of the final delay, Sickles returned to the field to tie the game and force extra innings.
Heart.
But at this stage, the final stage, hearts eventually give out. Sickles never blinked but despite remarkable pitching from side-winding relievers Vinny Vigil and Fikar – just 36 hours removed from surgery on his broken nose, Sickles fell to Doral, 5-4.
Doral (24-4-1) got its leadoff hitter, Adrian Santana aboard on an infield single to start the ninth and after a stolen base and a sacrifice moved him to third, Gryphons head coach Eric Luksis played the odds, intentionally walking the bases loaded. The right call, but not an easy one as that meant having to pitch to Firebirds slugger Daniel Restrepo, and as he had in two previous at-bats he delivered giving Doral the walk-off win with an RBI single through a drawn-in infield – his fourth ribbie of the game.
Doral Academy's Adrian Santana leaps in celebration on his way to scoring the walk-off run for the Firebirds (photo by Mike Gallagher).
Daniel Restrepo (left) celebrates his walk-off winner. Restrepo was 3-for-5 in the win with four RBI (photo by Mike Gallagher).
Sickles (24-7) had the first two hitters reach via walk to start the sixth before the skies unloaded and forced a half-hour delay. The Gryphons returned to the field and got two more walks – including a run-scoring one to Thomas Bly, followed by RBI hits from Cameron Guise and Nico Berg, and the then-game-tying run scored on an error.
The senior submariner, Vigil, who came on in the fourth baffled the Firebirds hitters for 2 2/3 innings, allowing just two hits, but loaded the bases in the seventh, and with no outs Fikar was called on to keep the game going. He struck out the next hitter, a missed bunt allowed catcher Justin Allen to catch a runner off third and Fikar got out of the jam with another K.
"I couldn't beg for a better team," Fikar said. "We fought to the very end, down 4-0 – we needed to make something happen and we did.
"I couldn't be prouder of how this team fought all year."
His coach couldn't help but smile when asked about Fikar after the game.
"Luke is a special player and you don't get too many players like that in your program," Luksis said. "He is as tough as nails, he's currently playing with a broken nose, had surgery 36 hours ago and he was our starting shortstop and closer. There was no chance he was not going to play tonight."
Of the situation, Luksis said he didn't even think of any other option than turning to the 5-foot-6, 175-pound righty in the tight spot.
"Bases loaded nobody out, and we say, 'hey, let's give the ball to Fikar and watch him find a way out of this,' and he does," Luksis said. "That outing right there was just special."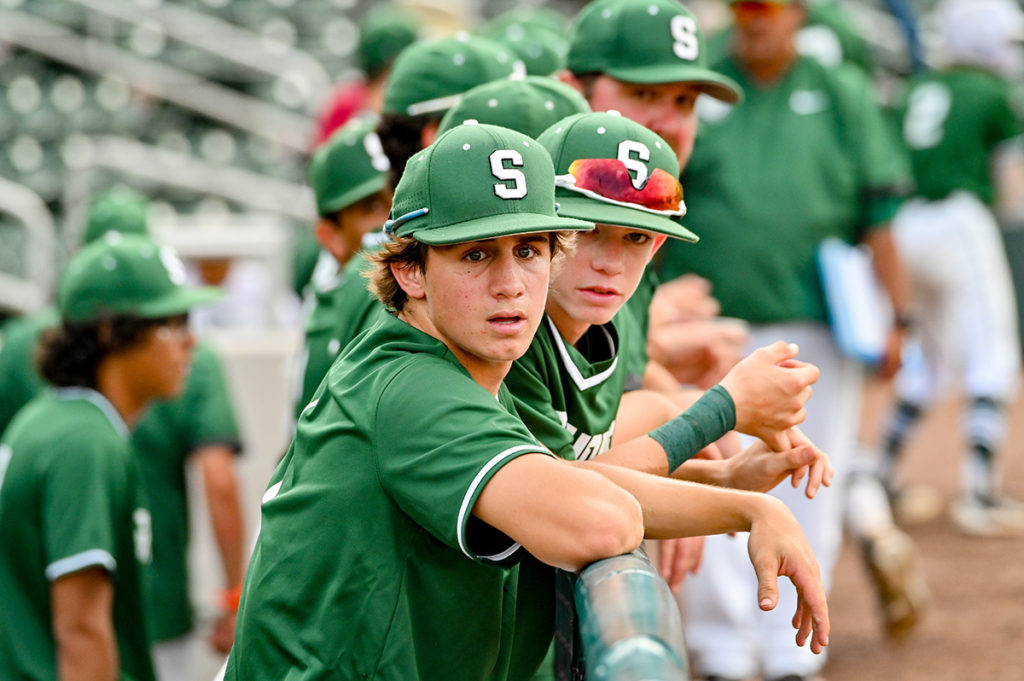 Vigil, one of two senior pitchers for the Gryphons made 13 appearances this season, allowing just one earned run, and holding opposing hitters to a .194 average.
"That was a huge performance and we brought (Vinny) in to throw off their timing," Luksis said. "When he gets through the baseball, with some sink to it – that is his job – get groundballs and (he) got us through some huge innings. A super-impressive outing from our senior."
Sickles had a late chance in the ninth as junior Connor Vance stroked a double to the gap in left-center for his second hit of the game, and an intentional walk to junior Caden McDonald but the Gryphons could not add any more to its tally.
"They were outstanding," Vance said of Vigil and Fikar. "They got us through tough innings when we needed it. They motivated us, and gave us all the chances to get it done. We have this experience now, and I promise we are going to come back even better."
Vance ends his first varsity season with a .420 average, 32 runs scored and 15 RBI, but the junior said the two top of the order hitters have yet to peak.
"It's amazing what we have done this year," he said, "but I honestly believe we can do better."
McDonald's season ends with an incredible .600 average and 42 RBI, while also going 9-2 on the mound.
Sickles is slated to return its entire starting lineup from Friday's loss, and though that will be a great thing for next year, the moment stung for the University of Central Florida commit.
"I'm very proud of our guys and though I'm disappointed it didn't turn out how we wanted it to, just getting here is a huge accomplishment," McDonald said. "… With just five seniors and (them) not getting a lot of playing time, our juniors and sophomores stepped up and it was so great to see. And I can't wait to see what we can do next year."
"What (Caden) did this year, is arguably the best high school season every by any player," Luksis said. "Everybody knows his name now, and it's going to be hard to duplicate next year."
Luksis said the loss stung, but he hopes it sparks a fire in his team of returning underclassmen.
"The fun news is, they are mostly all juniors," the coach said. "They are going to come back, and we got a taste of it this year and couldn't finish the job. Hopefully, at this time next year we can rewrite the script."
Fikar's heart is certainly all-in for making that next opportunity happen.
"This (loss) will build us up, build us stronger," Fikar said. "We are coming back here next year. We are coming back to win it all."
⚾ Class 6A State Semifinal ⚾
Doral Academy 5
Sickles 4 – nine innings
S 000|004|000 – |4|4|1
D 201|100|001 – |5|12|2
W – Gonzalez; L – Fikar
2B – C. Vance (S); Santana, Restrepo (D). Records – S (24-7); D (24-4-1).