Mendes saws through Eau Gallie, as Jesuit claims 5A title
By Jarrett Guthrie
Editor
Photos by Mike Gallagher
Special to 813Preps
FORT MYERS – If you felt a vibration coming from Fort Myers on Saturday afternoon, don't worry it was just the "buzz saw" that is Jesuit lefty Wes Mendes cutting down hitters, nearly going the distance and leading the Tigers to the FHSAA Class 5A state title with a 6-0 win against Melbourne Eau Gallie.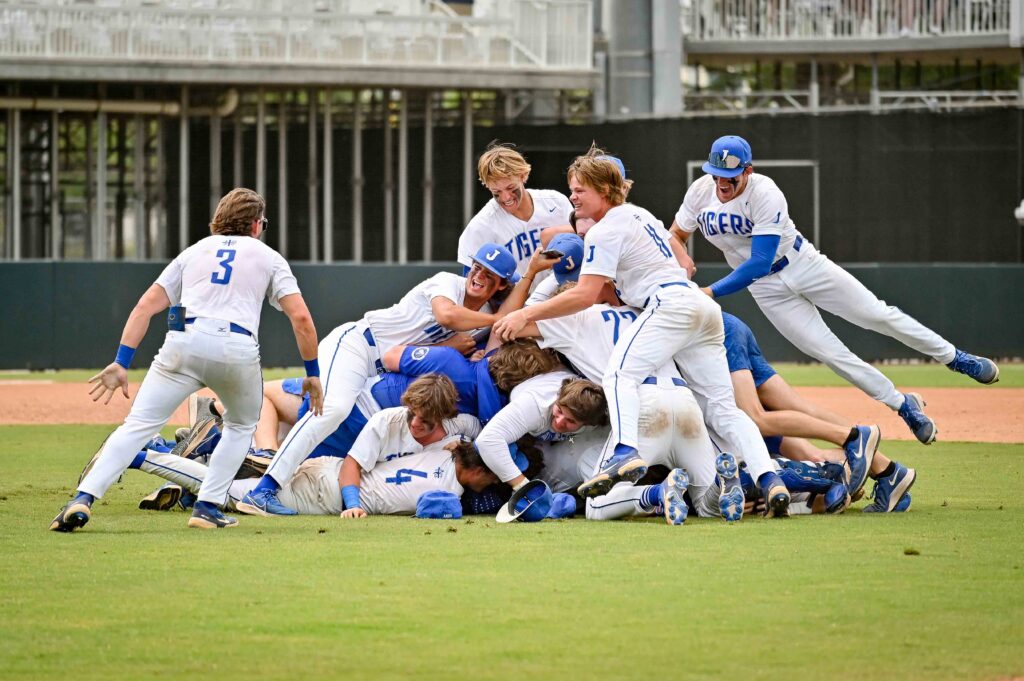 The buzzy label was affixed postgame by both Mendes' head coach Miguel Menendez and Commodores skipper Bob Collins, and fitting it was as the Vanderbilt commit punctuated his 108-pitch performance with his 11th strikeout before pitch-count rules saw him turn the ball over to Brooks Chamberlin, who induced a flyout to Carter French in center.
"We ran into a buzz saw today," Collins said of Mendes. "Their pitcher was unbelievable, he was on from the get-go and we struggled early … Congratulations to them, that kid pitched his butt off and those guys did what they were supposed to do."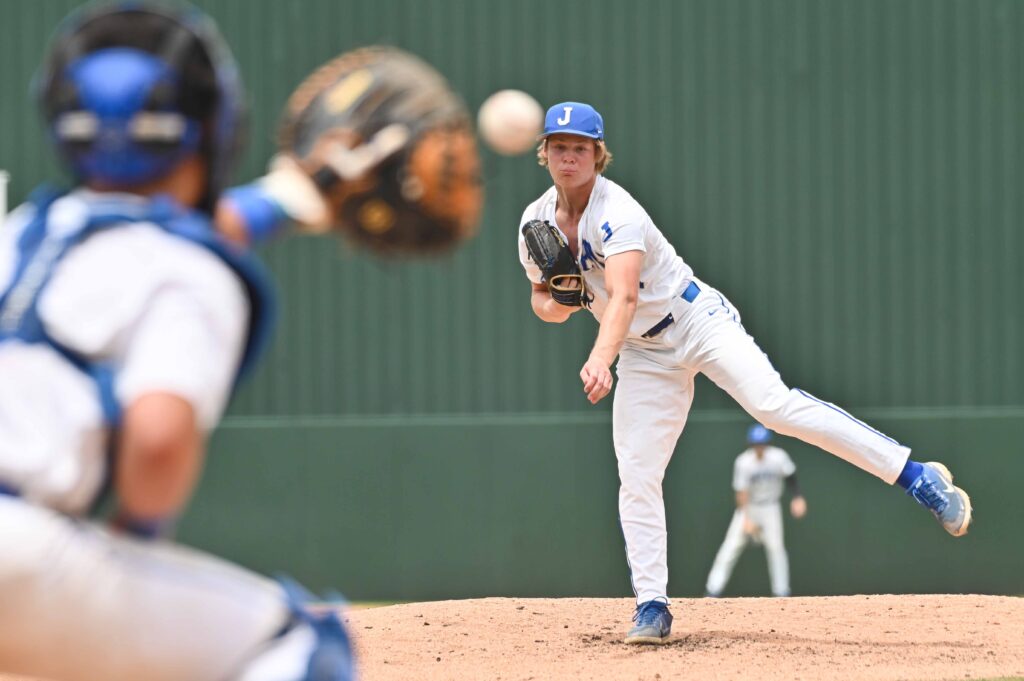 By the time Jesuit (24-8) put up its first hit – a fourth-inning blooper single French sent into the grass behind second base – the Tigers necks were already destined to support gold medals.
Jesuit made a pair of walks and a hit batter hurt with two runs in the opening frame.
Mendes staked the Tigers and his pitching line to an early lead with an RBI sac fly, and French dropped down a sac bunt for the second run.
"(That was) a little more small-ball than we normally play," Menendez said with a chuckle. "But I think those two runs allowed Wes to settle in."
And "settle in" was exactly what Mendes did, working steadily on the mound through the first four innings. He only briefly found himself in trouble in the fifth, loading the bases on two walks and a Daniel Snowden single. But that minor inconvenience was all he'd weather, striking out the next three and then returning for five more outs.
"You just have to keep attacking," Mendes said. "Trust your pitches, trust everything you have … let them hit. One or two runs – we had a six-run lead, if they are going to touch it, they are going to touch it. If they don't, they don't. And they didn't."
Jesuit's home-fourth kicked into gear after a strikeout, when French singled followed by back-to-back doubles by Grant Jordan (2-for-3, run) and Josh Hines (scoring two).
For French, this is his second gold medal of his senior year, helping the Tigers claim a football title last fall, to go along with Jesuit also claiming a wrestling title for the 2021-22 school year. French spoke after the baseball title about his unique experience on the year.
"I treat football and baseball very different," French said. "I go into football season, and I don't think about baseball at all. Then when that ends I make the transition immediately … this year winning the championship (in football) definitely gave me the motivation to do it again."
Senior AJ Nessler, who has been the emotional catalyst for this season's Tigers, pushed the Commodores out to sea with a two-run single before the dust would settle in the fourth.
"It means all the world to me, I love this school and I love all these guys," the Pitt signee said. "I was fortunate enough to be here in 2019 (when Jesuit last won a baseball state title) and learn from all the leaders that came before me. They set the groundwork for what we were able to do."
And although one of the first things out of Mendes' mouth post-game was about a humble "team win," all four of the other players in the room nodded in agreement when Menendez matter-of-factly stated: "Any field we step on, we feel like (Wes is) the best player on that field. For either team."
Mendes finishes the year 10-1, with a 1.16 ERA and 93 strikeouts, while also hitting .422 at the plate with 21 RBI and 24 runs scored.
"Wes has thrown some really good games this year," Menendez said, "but I thought, in this environment and everything, this was probably the best game he's thrown this year, or thrown in his career at Jesuit."
Hines, who was 10-for-14 with 5 RBI in the last five games for the Tigers, was a huge spark as Jesuit won five playoff games by a run differential of 51 to 5. Hines also wasn't going to argue with his coach's assessment of his battery-mate, especially when speaking on the three nasty, swinging strike-three's Mendes delivered to get himself out of the jam in the fifth.
"The toughness that Wes had with the bases loaded and no outs and he comes back and strikes out three guys," Hines said, "that is the toughness that helps teams win, and it did today."
The title marks the sixth for the baseball program, and second for Menendez as coach who lead the Tigers to the title in 2019. This was a season that saw the Tigers drop eight games, but doing so while booking the toughest schedule possible was something Nessler said led them to how Jesuit finished the season.
"I feel like all of us embraced each other through ups and downs," Nessler said. "We knew it would be a tough schedule when Coach Menendez put it together, but I can't say enough about our guys and how they responded when they showed up each and every day and were ready.
"By the time we hit the end of April we knew we would be in a dogfight every single game … and we knew that we would be here today."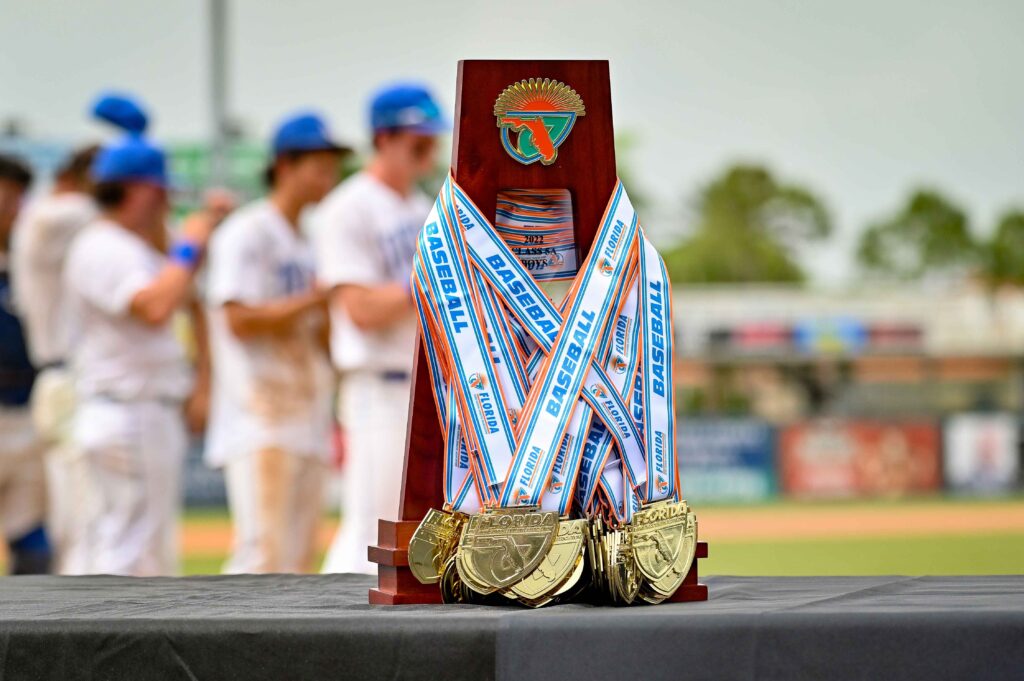 ⚾ Class 5A State Final ⚾
Jesuit 6
Melbourne Eau Gallie 0
EG 000|000|0 – |0|3|0
J    200|400|x – |6|7|1
W – Mendes (10-1); L – Morrisey (3-1)
2B – Jordan, Hines, Smith (J). Records – EG (22-7); J (24-8).