Quinn leans on defense as Berkeley Prep wins state semi
By Jarrett Guthrie
Editor
Photos by Sean Gallagher
FORT MYERS – Berkeley Prep senior JT Quinn slowly strolled to the mound with 96 pitches behind him looking to close out his state semifinal start and put the Buccaneers in to the FHSAA Class 3A state championship game for just the third time in program history.
One of the state's best, the Ole Miss signee saved enough for his final frame, letting out everything he had in a celebratory shout as he finished off The Villages Charter with a strikeout and took a 2-0 victory at midday on Tuesday.
"JT worked around the early traffic and settled in for the last couple of innings," Berkeley head coach Richie Warren said, "that just proves the kind of player, person and leader he is. He pitched us into the state championship game."
Quinn (10-2) delivered a bend-but-don't-break performance, working around one-out walks in the first three innings and six free-passes in total, but held the Buffalo off the board scattering four singles.
"I think that I was thinking a lot," Quinn said. "At the end of the day, I just had to fight through it and throw it down the middle, because I knew my defense would really work for me. That was big to settle in and let them work."
In counter, Buffalo starting pitcher Carter Parks held the potent Berkeley Prep (28-3) offense to just an Anthony Castillo single and a walk drawn by Troy Reader through three innings as the 5-foot-7 righty pounded the zone.
"The Parks kid was really good and gave us everything that we could handle," Warren said. "We just happened to be a couple runs better today."
The fourth inning saw two reach for The Villages (20-8), but Quinn ended the half-inning with one of his four strikeouts. His offense finally got things going with a leadoff double from Castillo in the home-half, and saw the senior Tallahassee Community signee move to third on a balk. After finishing his 2-for-3 showing and scoring his 66th career run for Berkeley Prep, the three year starter was humble in his assessment of his at-bat.  
"Obviously, this field is a little bigger than normal, so my approach is a little different," Castillo said. "… I'm not going to hit any home runs out here – I don't have any home runs anyway – so I just shortened up, found a barrel and hit it the other way."
Castillo now 90 feet away, Northwestern signee Owen McElfatrick sent a 1-2 pitch skipping into right field to plate the deciding run.
"Honestly, I knew from my first at-bat that in this yard, even if you hit it hard (in the air) it's probably not gonna fall," McElfatrick said. "(Down in the count) I knew he was gonna come with a curveball, so I choked up, sat back on it and went the other way."
Big 2-strike hit by @o_mcelfatrick gets the Bucs on the board, driving in Castillo.

Berkeley Prep up 1-0. pic.twitter.com/rC8QeBimRL

— 813Preps (@813Preps) May 24, 2022
McElfatrick upped his RBI total to 31 on the year, and is hitting .341 for the Buccaneers.
"What hasn't Owen done?" Warren asked in the postgame. "I can say this about all our players, but he is a selfless player who does everything it takes to win a ball game. You saw (on the first run) down two strikes and (he) just fought it off, then squared it up and got it by the first baseman."
The Buccaneers defense worked steadily behind their ace, with catcher Gunnett Carlson erasing a walk on a first-inning caught stealing, Castillo covering huge plots of land around second base, and continuing a stingy middle-infield combo with shortstop Cade Kurland – including a double-play, while Drew Canody hauled in three fly balls in center to highlight the glove work.
"That is something they have done all year," Quinn said. "Those (plays) don't surprise me at all … we back each other up and they always get me out of those tough situations."
And though Quinn was knocking on the door of his pitch-count limit strolling to the mound for the seventh, he did so bolstered by a big insurance run in the home-sixth when McElfatrick walked, stole second and scored on a line drive triple by Carlson, which tucked down the line in right field.
HUGE insurance run with two outs in the B6 as @CarlsonGunnett triples in a run. @BPBucBaseball leads 2-0@FSUBaseball pic.twitter.com/SrJvqXimNT

— 813Preps (@813Preps) May 24, 2022
"That was huge," Quinn said. "Nothing was pretty in this game, but we found a way to fight for each other and back each other up, and getting that insurance run was really big for me."
The triple was the second of the year for the Florida State signed Carlson, who has 24 RBI and a .379 average.
"The only thing on my mind was staying calm and taking a deep breath," Carlson said. "I knew I was due at some point in this game … I knew if I got that run home, JT would shut it out for us."
Final Score 3A semifinal@BPBucBaseball 2
The Villages 0@quinnjt1 cg, 4H, 6 BB, 4K

RBI single for @o_mcelfatrick; RBI triple for @CarlsonGunnett RBI triple, @AntCastillo2235 2B, R. pic.twitter.com/scrHjVzvmd

— 813Preps (@813Preps) May 24, 2022
The win puts the Buccaneers in the FHSAA state final for just the third time, but the first time in more than 40 years, winning a Class A title in 1976, and finishing as the runner-up in 1980. McElfatrick sat with three other Buccaneers seniors in the postgame, and put little doubt into whether he and his teammates are going to be content in just bringing the program back to the state's final game.
"We've all worked so hard to get here, early mornings, late nights, and long, hot practices," McElfatrick said. "There is nothing more we want than a state championship."
Berkeley Prep will face the winner of Tuesday's afternoon game between Coconut Creek North Broward Prep and West Palm Beach Cardinal Newman from Fort Myers' Hammond Stadium on Wednesday at 1 p.m.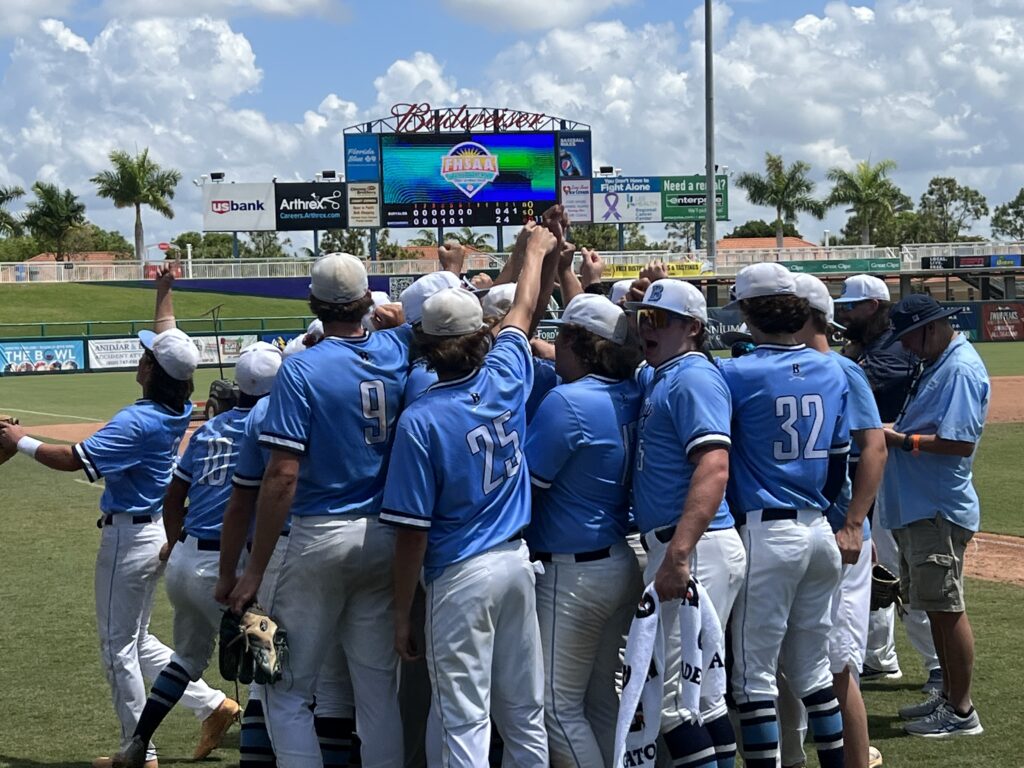 ⚾ Class 3A State Semifinal ⚾
Berkeley Prep 2
The Villages Charter 0
VC 000|000|0 – |0|4|1
BP 000|101|x – |2|4|0
W – Quinn (10-2); L – Parks (0-0)
2B – Castillo (BP); 3B – Carlson (BP). Records – VC (20-8); BP (28-3).