Berkeley Prep falls to North Broward Prep in 3A final
By Jarrett Guthrie
Editor
Photos by Sean Gallagher
FORT MYERS – Berkeley Prep left Rivers Kurland has shined in huge moments all season, and after 19 appearances on the mound this year the Buccaneers freshman had earned the ball in the biggest game of the year for his team – Wednesday's Class 3A state final.
Kurland weathered a pair of early runs against Coconut Creek North Broward Prep, keeping the Bucs within striking distance – a gap Berkeley Prep would close in the fourth, even taking the lead in the fifth. But deep waters, the blistering heat, and of course the potent bats of the defending 4A state champs – dropped down a classification by the FHSAA  this year – proved too much as Berkeley Prep fell in the championship game, 5-3.
"He has been special all year and pitched in the biggest of moments," Warren said of his young pitcher. "Obviously, none bigger than today, and he did a great job. I think there are a few pitches he'd like to have back, but any of us who have toed the rubber will all have that when we leave a game."
North Broward (23-9) started fast as Clancy Marsh opened things up with a single, Johnathan Xuereb doubled to move him to third and a Yoel Tejeda sac fly put the Eagles on the board. NBP would add one more in the first as an error allowed Xuereb to score from third.
Kurland would quickly end the inning with a ground ball out, and proceeded to retire the next 12 hitters in order through the fifth inning.
"I'm a couple of pitches away," Kurland said. "I missed one, two and that is what hurt us. I feel bad for these seniors, I'll have a chance to be back, but I wish we could have done it. Seven great guys, who I know will go on to do great things."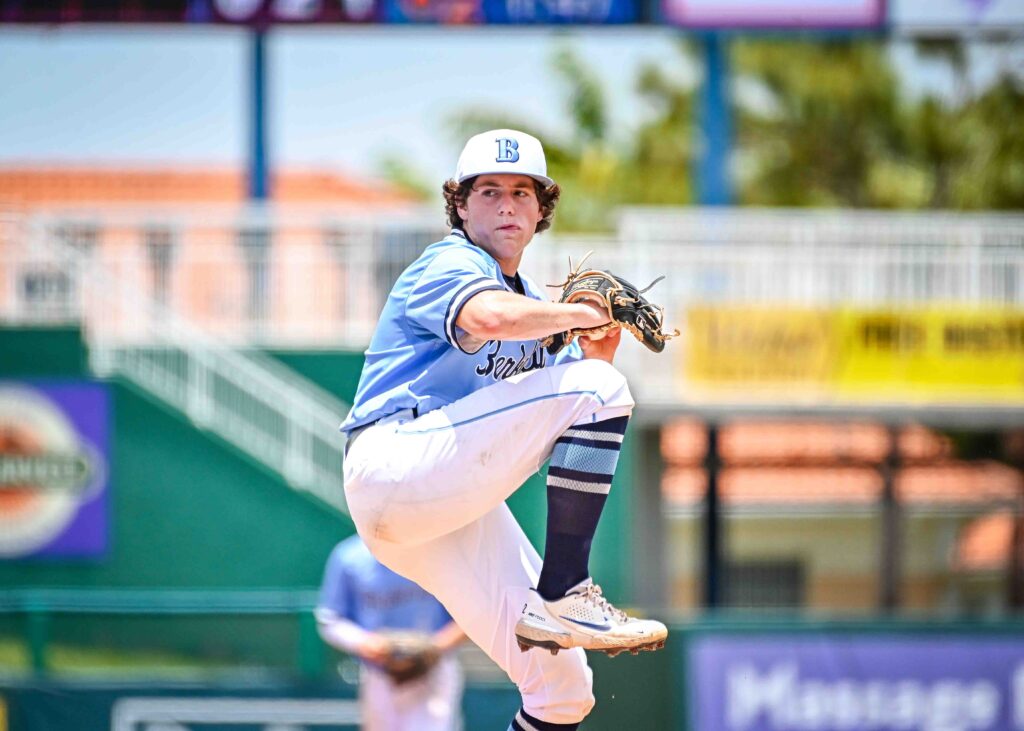 Those graduating upperclassmen – and a huge moment from another freshman – did everything they could to keep the Bucs in it.
Senior Gunnett Carlson mashed an RBI double to the wall in right-center to get Berkeley on the board, before a pinch-hit call to Joe Troupe paid off in a big way with a triple down the left field line to tie it.
"I had to make sure that my mind was right and focused," Troupe said. "I knew my name could be called at any moment. I got up there with a chance, and I'm glad I could get the job done."
Warren said he had no reservation putting the two ninth graders in huge spots – as they have earned it all year long.
"I don't think it's any secret that we aren't the deepest team in the county," Warren said, "so if your young and you can play, you are going to get your opportunity – even in the biggest game of the season."
Berkeley Prep (28-4) would get another big inning from the younger Kurland who ended the top of the fifth with a big strikeout of the top of the Eagles lineup. Then it was older brother, and graduating junior Cade Kurland's turn. The county leader in homers this season, wasn't ready to finish circling the bases, blasting a solo homer that bounced on the raised walkway underneath the scoreboard to give the Bucs a one-run advantage.
"That was probably one of the best feelings I've ever had in my life," Cade Kurland said. "Those are the situations that you dream about when you are a little kid."
The Bucs tried to extend that lead as senior Anthony Castillo followed right behind with a double – the first of his two hits in the loss, but Berkeley couldn't add to the lead.
It was the Eagles who would find the late push, as Riley Luft's flyball double tied it, a comebacker from AJ Cutler yielded a run when Kurland couldn't make a play at home or first, and a fly-ball double play saw the inning end with an out at third, but not the out the Buccaneers hoped as a tag-up of the lead runner was deemed legit by the umpire crew.
"We knew that inning was going to be the inning," Warren said. "We get through (hitters No.) two, three, four we had a chance to finish this, and just for some reason the ball didn't fall our way."
Senior Andrew Jergins delivered a clean seventh inning with a pair of strikeouts, but despite Castillo singling with two outs, Berkeley could not bring the game any closer.
The moment stung for Cade Kurland after the game, a goal he said he and his departing teammates had long dreamed about, while an 11-0 run in 2020 was crushed by the pandemic and a 24-5 season last year ended in a region final loss.
"Since the day we showed up at the field at Berkeley Prep, this is all we had on our mind," Cade Kurland said, "that ring. That was it."
Warren agreed the ending was not the one they'd hoped for, but he was proud of how his team battled all year.
"They played for the name across their chests, and I couldn't be prouder of them for that," Warren said. "But yeah, this one stings."
The future of the Bucs though? Well, there is work to do.
"We'll be back, I'll be back," Kurland said. "I've got three years to fix this."
⚾ Class 3A State Final ⚾
North Broward Prep 5
Berkeley Prep 3
NBP 200|003|0 – |5|5|1
BP    000|210|0 – |3|8|1
W – Xuereb (3-0); L – R. Kurland (4-2)
2B – Xuereb 2, Luft (NBP); Carlson, Castillo (BP); 3B – Troupe (BP); HR – C. Kurland (BP). Records – NBP (23-9); BP (28-4).