Editors Note: Our team is hard at work finishing our 2022 All-813Preps teams (COACHES: this should serve as a reminder, if you have not finalized your stats on MaxPreps, you have until Friday June 10th to do so) – this year we will take a new approach with Hillsborough County continuing to grow and is listed as the eighth largest school district in the nation, we've decided it is time with 40-plus programs playing for championships under the Florida High School Athletic Association (FHSAA) to split our all-county list in half. So, we will be rounding out our two weeks of postseason awards with our All-813Preps teams from 2A-5A and 6A-7A, we will once again produce out Defend10 all-defense team, along with a few other surprises mixed in. Starting today, we will recognizing the county leaders in nine statistical categories (five offensive, four pitching), so make sure to check back each afternoon for our lists.
Hillsborough County Stolen Base Leaders
We charge into these leaderboards by taking a look at the area speedsters – the county's top base stealers – who challenged the arms of catchers, the patience of pitchers, and gave opposing coaches fits.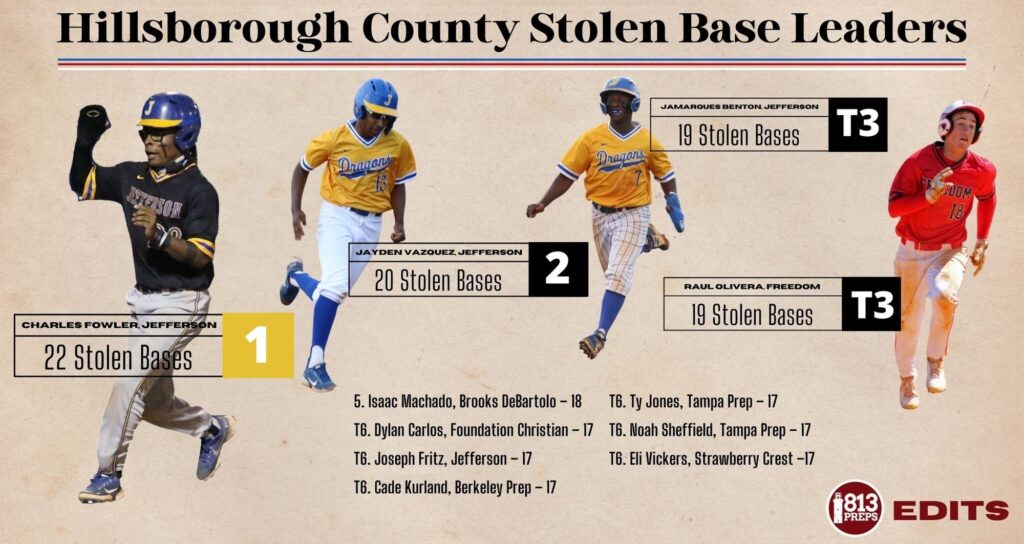 Jefferson runners created havoc on the base paths all season, with four players listed in the Top 10 in the county while breaking the school record with 125 stolen bases this season. Senior specialist Charles Fowler made the most of his opportunities called into service as a pinch runner, or courtesy runner for the pitcher or catcher, swiping a county-leading 22 bases this season. This total included six multi-steal games, including a four-steal game against Wharton on March 12th, a game the Dragons lost 2-1, where Fowler scored the team's only run.
Jefferson head coach Spencer Nunez praised his senior, who he said showed a true understanding of how valuable he could be on the base paths and provided a huge spark for the Dragons when he was called upon.
"Charles knew what his role was on the team and we knew we had a good chance of scoring when he was on the bases," Nunez said. "He battled for an outfield job all year but he knew even if he didn't win a job he wanted to help the team by being on the bases. He would ask to be burnt as a sub late in the game just because he knew how important he was on the base paths."
Dragons junior Jayden Vazquez ranked second in the county, stealing 20 bases, while compiling a .370 average, scoring 16 times and driving in 14; he was followed by teammate and freshman JaMarques Benton with 19 bags, in a tie for third place with Freedom senior Raul Olivera, who hit .350 and scored 27 times on the season.
Six players – Dylan Carlos (Foundation Christian), Joseph Fritz (Jefferson), Cade Kurland (Berkeley Prep), Ty Jones (Tampa Prep), Noah Sheffield (Tampa Prep), and Eli Vickers (Strawberry Crest) – finished in a tie for sixth place with 17 stolen bases.