2022 Hillsborough County ERA Leaders
Our second of nine posts recognizes the pitchers who left them loaded, stranded them in scoring position, or kept them off the bases all together – the Earned Run Average Leaders.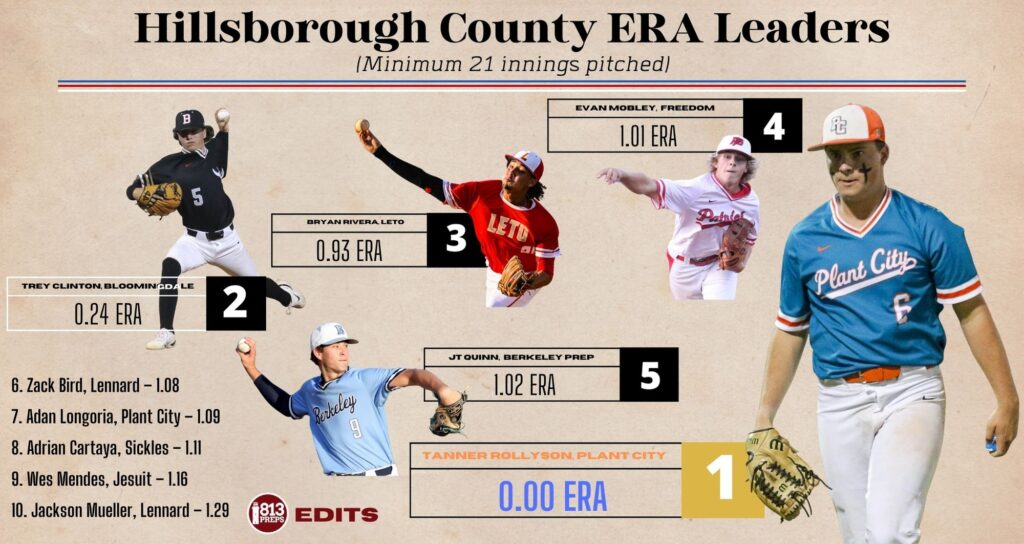 Nada. Zilch. Nil. The Ol' goose-egg-dot-goose-egg-goose-egg. That's where Plant City junior Tanner Rollyson ended the season pacing the county in ERA. Making nine appearances for the Raiders, the 6-foot junior southpaw, pitched 24 innings allowing just two unearned runs and striking out 25, to just six walks. He was 4-1 on the season, while opposing batters posted a .168 average against him with his season highlight coming in April at Durant, where he pitched five shutout innings of relief as the Raiders unloaded in the 11th inning to win 10-1.
"This young man has worked himself into a big time pitcher," Raiders coach Mike Fryrear said. "I cannot wait to see what is in store for him next year."
Bloomingdale senior lefty Trey Clinton finishes second in the county with a 0.29 ERA, striking out 29 in 24 innings pitched. Allowing just one earned run on the year, while scattering just five hits and four walks, highlighted by a six-inning, two hit performance against Strawberry Crest on April 26th, finishing with seven punch outs.
A trio of starting pitchers round out the top five with Leto junior Bryan Rivera finishing with a 0.93 ERA across 60 innings; Freedom senior Evan Mobley ranks fourth with a 1.01 ERA across 48 2/3 innings; and Berkeley Prep senior JT Quinn finishing fifth with a 1.02 ERA across 68 1/3 innings.