2022 Hillsborough County Runs Scored Leaders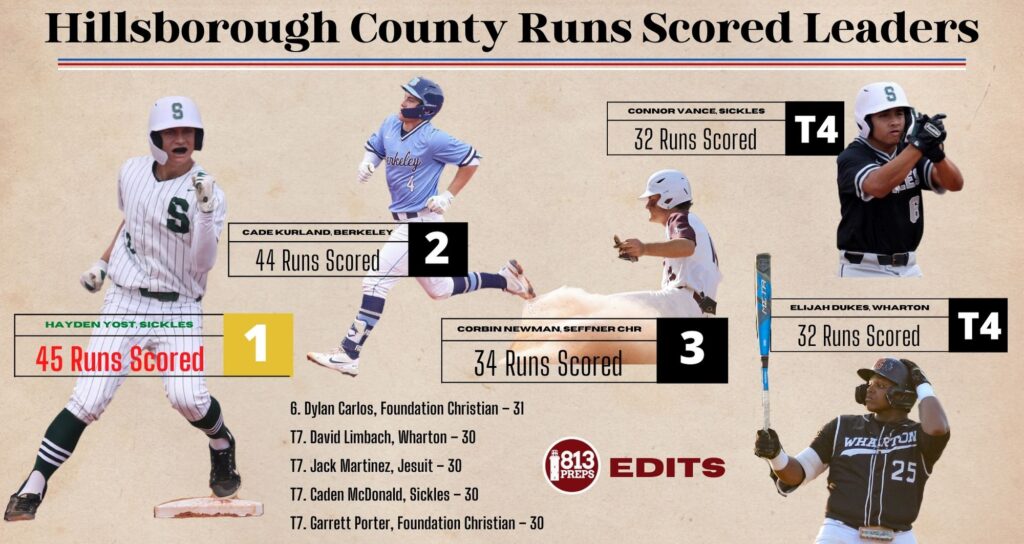 You can't win if you don't score, right? Sickles averaged nearly eight runs per game this season, as the Gryphons won a district and region title, advancing to the Class 6A state semifinals. Though his season was cut short by a broken arm in the region semifinals, junior Hayden Yost set the table all season for the Gryphons scoring a county-leading 45 runs, while hitting .289, with an on-base percentage of .535, walking 29 times to just nine strikeouts.
"Hayden was a table-setter for our offense this season, and the goal of a leadoff hitter or two-hole guy is to get on base and give your middle of the lineup an opportunity to drive in runs," Gryphons coach Eric Luksis said. "He was able to do that for us all season. His ability to grind out at-bats and force the pitcher to throw more pitches is truly a special part of his game."
Just one run scored behind that was Berkeley Prep's Cade Kurland, who finished with 44 runs on the year for the state runner-up Buccaneers. This is Kurland's second appearance in our first three posted leaderboards, finishing tied for sixth in stolen bases with 17. Don't want to spoil anything here, but it won't be the last time he's listed in our statistical Top 10's over the next few days.
Seffner Christian's Corbin Newman (34 runs) ranks third in the county, while Sickles junior Connor Vance and Wharton senior Elijah Dukes were tied for fourth with 32 runs apiece.