2022 Hillsborough County Saves Leaders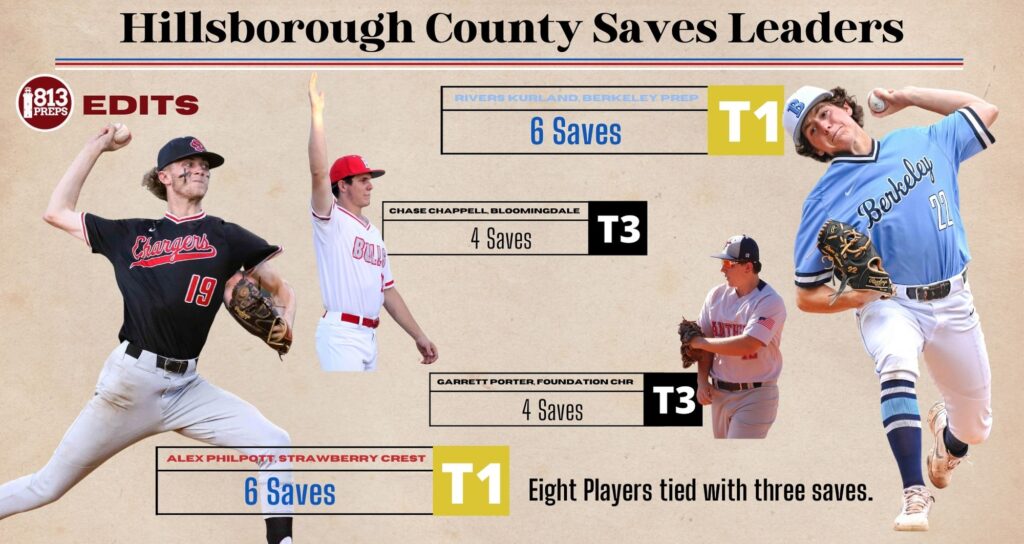 Those last outs sometimes are the toughest, and in tight games coaches turn to their stopper, their ender – The CLOSER. We had a pair of ties at the top in Hillsborough County saves list this season as Berkeley Prep freshman lefty Rivers Kurland and Strawberry Crest junior righty Alex Philpott finished with six saves, and a pair of seniors Bloomingdale's Chase Chappell and Foundation Christian's Garrett Porter each earned four saves.
Philpott dealt with some preseason soreness that kept him from the mound the first two weeks, but when he took to the mound the six-foot-five righty showed some overpowering stuff, striking out 62 in 33 innings this season. On top of the six saves, Philpott had a 4-3 record.
"Philpott got better as the season went on and became a solid closer," Chargers head coach Eric Beattie said. "He missed a few weeks at the beginning of the season due to some soreness, but his stuff got better and better as the season went on and (he) came in and got some big strikeouts for us when a strikeout was needed."
Kurland had a huge impact on the Class 3A state runner-up Buccaneers making 20 appearances on the mound, posting a 4-1 record with a 1.79 ERA. He struck out 58 batters in 47 innings of work.
"Rivers was a bulldog for us all season," Berkeley Prep coach Richie Warren said. "He made 20 appearances and almost all of them were in high-leverage situations. That's a pretty tough ask of a freshman, but it you know Rivs, you know he wanted the ball in each and every one of those games."