2022 Hillsborough County RBI Leaders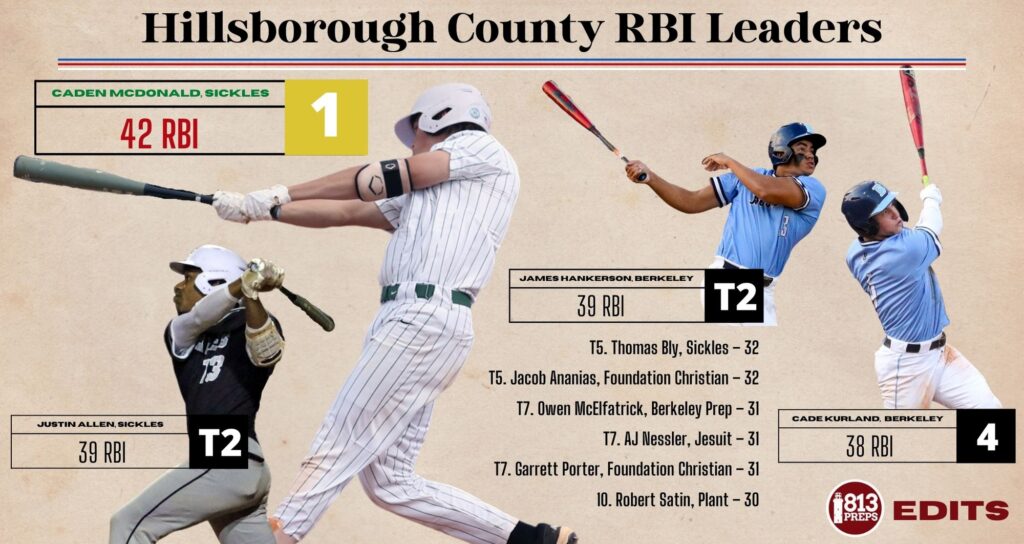 Power and pop aplenty from out Top 10 county leaders for runs batted in, and two of our four state semifinalist teams from the 813 for the 2022 season place three hitters apiece on this list.
At the top we find Sickles junior slugger Caden McDonald, who makes the first of (spoiler alert) five appearances on leaderboards in the upcoming days. The powerful pitcher and first baseman led Hillsborough County with an impressive 42 ribbies, with 19 extra base hits on the year for the 6A state semifinalists.
"What Caden was able to do for our offense this year was historic and not ever seen before to my knowledge," Gryphons head coach Eric Luksis said. "All season he just always seemed to come through with the big hit for us when guys were on base to help us win.
"He keeps a simple approach and doesn't try to do too much. The ball comes off his bat harder than any player ever I've ever coached."
You don't have to travel far for the first of our two second place RBI men – just a spot or two down the order where Sickles junior catcher Justin Allen finished with 39 driven in on the year. Allen hit .308 on the year, with seven homers and five doubles. Also driving in 29 on the year and tied at No. 2 is Berkeley Prep slugger James Hankerson. "Big Bang Hank" hit .381 for the 3A state runner-up Buccaneers, scoring 25 runs, with seven homers, seven doubles and one triple on the year.
Rounding out the Top 4 is another leaderboard spot for Berkeley's Cade Kurland, who finished with 38 RBI, and has previously shown up in the leaderboards for stolen bases (T6th) and runs scored (T2nd).