2022 Hillsborough Home Run Leaders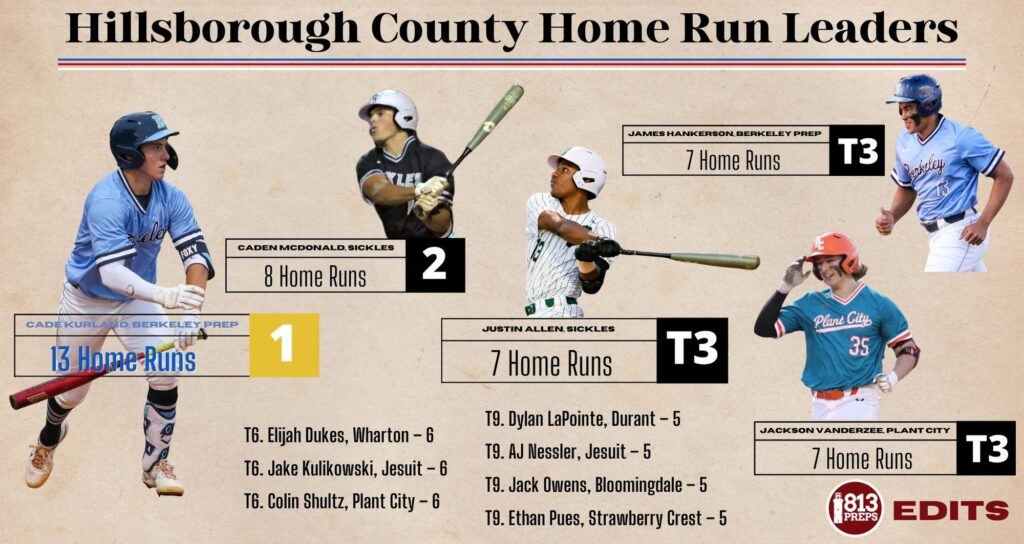 Going yard: Is there a better feeling? Sending one deep once is pretty special, but making it a habit gets you noticed and makes you a feared hitter. We continue our Hillsborough County leaderboards this week and first up is the home run King of the 813 – Berkeley Prep's Cade Kurland.
Kurland, a Florida signee, trotted the bases an impressive 13 times this season, including a two-homer game against Lakeland, an inside-the-parker and a dinger in the state final game against North Broward Prep. Kurland, who started as an seventh grader and played in 123 varsity games across five seasons for the Buccaneers finished his career with 18 homers, and 106 RBI.
"From very early on, you could tell Cade was just a different player," Buccaneers head coach Richie Warren said. "He is an elite hitter and one tough out. He always had the potential to hit for power but I think over the last couple of years, Cade lived in the weight room and dedicated himself to becoming one of the most physical players in the country. I'm talking spending four-to-six hours a day training, whether it be in the weight room, on the field, in the cages or working on his speed. What also separates him is when Cade got a pitch to drive, he rarely missed it."
Finishing in second on the list is Sickles junior Caden McDonald, who launched eight balls over the fence this spring, and as we posted on Thursday, led the county with 42 RBI. In a three-way tie for third with seven home runs, are McDonald's teammate Justin Allen, Kurland's teammate Jame Hankerson – all of whom ranked in the Top 4 leaders in runs batted in, and Plant City senior Jackson VanDerZee.