2022 Hillsborough County Wins Leaders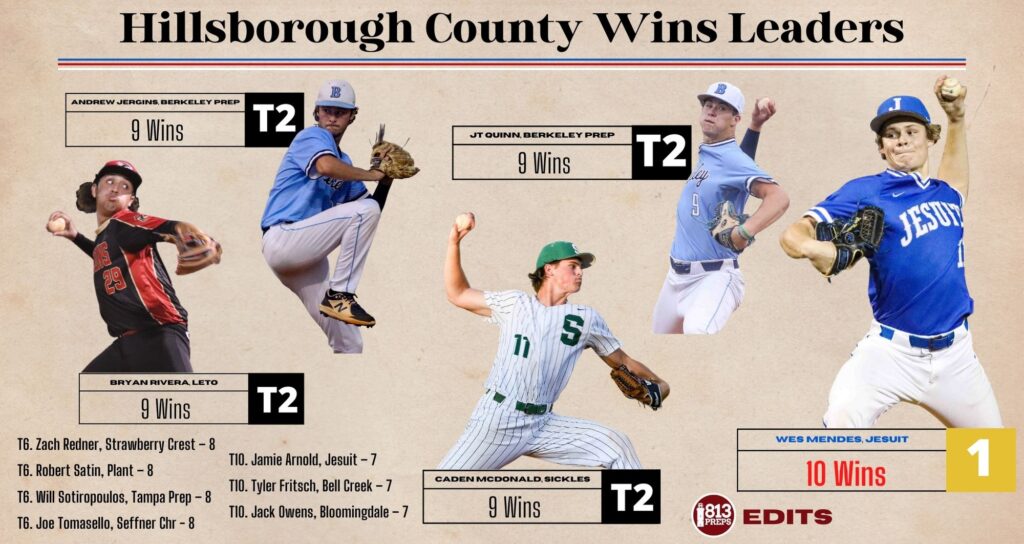 Our final pitching leaderboard for the 2022 season in Hillsborough County features those listed first in the box score, the pitcher of record in that "W" column. And we had some good totals this season, but only one reached that double-digit plateau – Jesuit junior southpaw Wes Mendes.
Mendes was a dominant force for the Tigers on the mound and at the plate. On top of leading the county with 10 wins (10-1 overall), the junior Vanderbilt commit hit .422 with 21 RBI and four homers on the season. On the mound he posted a 1.16 ERA (ranking him ninth in the county), with 93 strikeouts (second in Hillsborough County). Mendes capped his junior season with his biggest win, going 6 2/3 innings of shutout baseball in Jesuit's Class 5A State Championship win against Melbourne Eau Gallie, where the lefty struck out 11, while allowing just three hits.
"Wes gives our team so much confidence when he's on the mound and it raises the level of play of everyone around him," Jesuit coach Miguel Menendez said. "He was dominant this year and the numbers reflect that dominance. He's only scratching the surface of how good he can be on the mound."
In a four-way tie at second place with nine wins are Berkeley Prep seniors Andrew Jergins and JT Quinn, Sickles junior Caden McDonald, and Leto junior Bryan Rivera.