2022 Hillsborough County Batting Average Leaders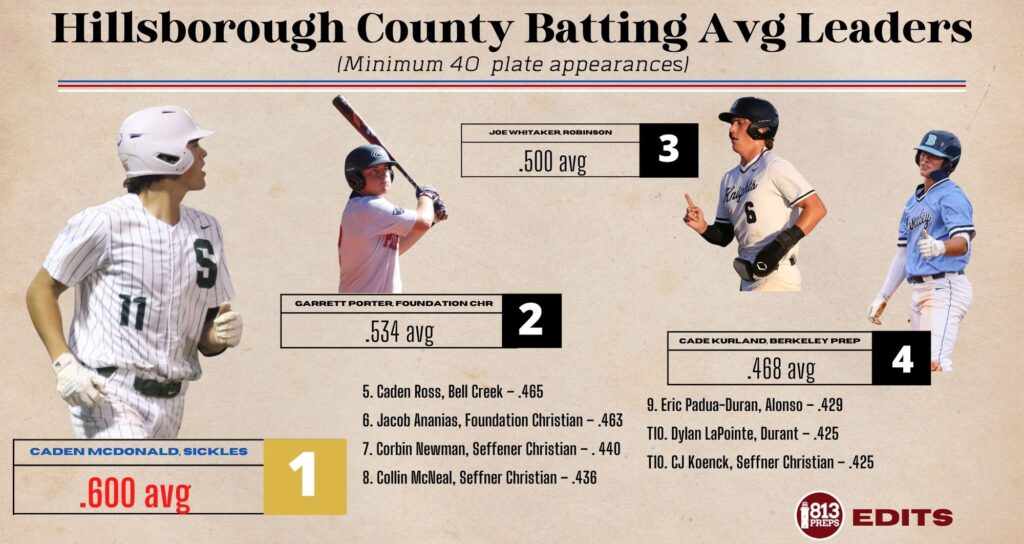 Every week we checked in expecting to see a slump or the number to dip, but Sickles junior Caden McDonald never really had a hiccup as he set a torrid pace at the plate this season – including a 20-game hitting streak as the University of Central Florida committed Gryphons slugger posted a county-best .600 average this season.
"It was so much fun being a spectator this season whenever Caden was up to bat," Sickles coach Eric Luksis said. "It was like an awesome TV show that never ended. I'd be lying if I said I expected him to (finish at) .600. At one point I remember pulling him aside and telling him, 'you better enjoy this because this isn't normal. Never get too high and never get too low.'"
McDonald got off to a hot start with an eight-game multi-hit streak to start the season and having at least two hits in 11-of-12 games to start the season. This early stretch included Saladino All-Tournament MVP honors for McDonald, who also took 23 walks and was listed in five-of-nine of the leaderboards we've posted for the 2022 season.
Luksis said he even tried to prepare his junior standout for such a happening, but McDonald kept up the hitting.
"I was expecting it to slow down and was trying to avoid a big slump, but it never happened," his coach said. "For once I was glad I was wrong. We knew down the stretch we were going to get a lot of good arms against some very good teams, but he handled those arms well. At that point in the season he earned the respect of teams and was given a free pass or an unintentional intentional walk in most of his at-bats. It was a lot of fun to watch and we can't wait to see what he can do in 2023."
Foundation Christian senior Garrett Porter finished in second place on the year, with a .534 average helping the Panthers to 15 wins this season, while also earning a spot on our leaderboards for runs, RBI and saves. Robinson senior Joe Whitaker finished the year 36-for-72 (.500) on the year, scoring 23 times and driving in 18 runs, while earning his second-straight Florida Athletic Coaches Association 4A Player of the Year honors for District 15. Finishing the year fourth in the county in hitting with a .468 average is Berkeley Prep's Cade Kurland, who led the county in homers (13), and also finished in the Top 10 in runs, RBI and stolen bases.