2022 All-813Preps Baseball Class 6A-7A Team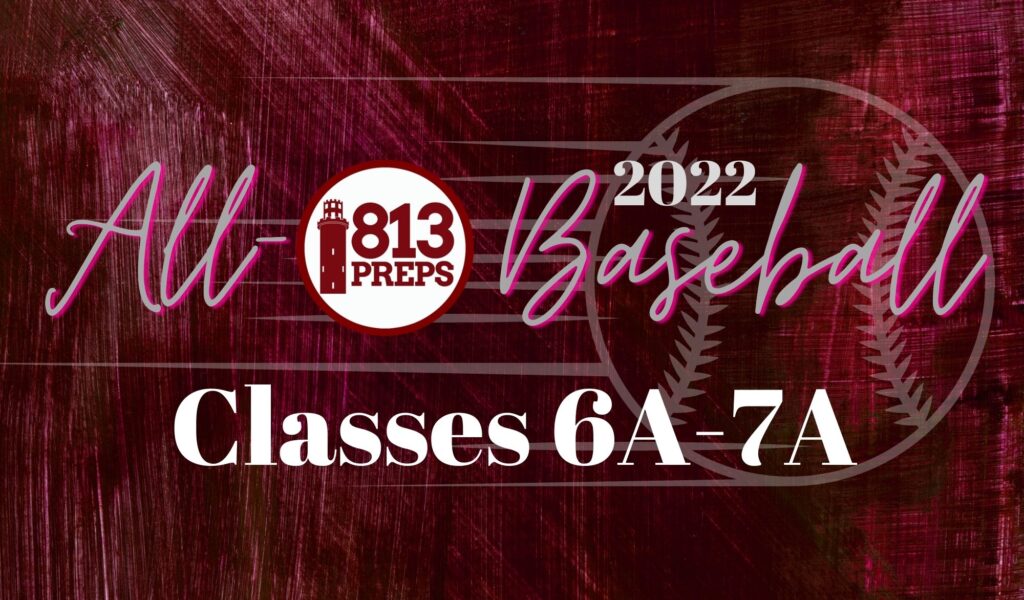 The 2022 All-813Preps High School Baseball Team was selected by editor Jarrett Guthrie. With 40 area high school baseball teams within Hillsborough County competing for FHSAA state titles, we decided now was the time to split our All-813Preps postseason awards into two All-County teams based on state classifications. Our Class 2A-5A All-813Preps Team will be announced on Saturday.
Most Valuable Player


Caden McDonald, P/1B, Sickles

Caden McDonald's video game numbers in 2022 included leading Hillsborough County with a .600 average, 48 hits, and 42 RBI, while hitting 12 doubles and eight home runs. McDonald scored 30 times, helping Sickles to a district and region title, and a Class 6A state semifinal appearance. He started the season with a 20-game hitting streak, and finished the year 16 multi-hit games – seven of which he collected three or more in the game. He finished in the Top 10 for Hillsborough Coutny in hits and average (first in both), home runs (second), RBI (first), runs (tied for seventh), wins (tied for second) and strikeouts (tied for sixth), while posting a Top 20 ERA finish at 1.97. He was named the Saladino Tournament MVP, the Wade Boggs Award winner, was the FACA District 15 6A Player of the Year, and was an All-Western Conference First Team selection.
Pitcher of the Year
Robert Satin, P/1B, Plant

Plant's run to the Class 7A state semifinals in 2022 saw a variety of players have big moments for the Panthers, but consistently leading that pack was the junior lefty Robert Satin. In 12 starts on the mound for the Panthers, Satin posted an 8-2 record with a 2.14 ERA and 76 strikeouts. He also swung a big bat hitting .412 with 29 RBI, nine doubles and a pair of homers and played first base when not on the mound. Satin struck out at least five in 9-of-13 appearances on the mound, helping the Panthers to a Saladino Tournament title (where he earned All-Tourney honors at first base), a district and region title, and was the starting pitcher in the Panthers 3-2 state semifinal loss to Palm Beach Gardens allowing just one earned run in five innings of work.
Hitter of the Year
Dylan LaPointe, C, Durant

Coaches regularly talk to us about "game-planning" specific area players, and Durant's Dylan LaPointe is a name we hear regularly from opposing coaches around the county. An excellent hitter with power, the Cougars have come to rely on the junior backstop LaPointe, who makes his second straight All-813Preps appearance – this year taking home our 6A-7A Hitter of the Year honors. On the season, LaPointe hit .425 and drove in 23 runs, had five homers, five doubles and two triples, while drawing 20 walks. Though as the Cougars primary catcher, he only scored two times outside of his five homers, he finished the year with a 1.319 OPS helping Durant to a district title and a region semifinal appearance.
Coach of the Year
Dennis Braun, Plant


Braun, now in his 18th season led the Panthers to a Saladino Title, district and region crowns and a Class 7A state semifinal appearance in 2022. His 23-7 Plant squad outscored opponents 181-78, all while playing some of the best defense in the county. His pitching staff had three starters with at least five wins and posted a 2.22 team ERA. Braun currently sits at 325 career victories as a head coach.
All-813Preps First Team Class 6A-7A
All-813Preps Second Team Class 6A-7A

Honorable Mention Class 6A-7A
Alonso: Dylan DeGusipe, Eric Duran-Padua; Armwood: KJ Leshko; Bloomingdale: Chase Chappell, Carlos DeJesus, Tephen Montgomery, Trey Wilson; Durant: Nick April-Gath, Noah Morales, Devin Suero; East Bay: Andrew Pierce, Ben Potsic; Gaither: Michael Fernandez, Miguel Pina; Lennard: Zack Bird, Matthew Counts, Keith McClain, John Smith; Leto: Anthony Arteaga, Brayan Cruz; Newsome: Anthony DeVito, Evan Wainman; Plant: Thomas Bolton, Michael Hawks, Cash Strayer, Tanner Swank; Plant City: Chase Mobley, Preston Rogers, Tanner Rollyson, Jackson VanDerZee; Riverview: Adrian Rolon, Fisher Weeks; Sickles: Thomas Bly, Adrian Cartaya, Luke Fikar, Cameron Guise; Steinbrenner: Aidan Dorrell, Caden Hessemyer; Strawberry Crest: Arjun Nimmala, Alex Philpott, Luke Richardson, RayAllen Vasquez; Tampa Bay Tech: Ethan Jones; Wharton: Billy Eich, Ryan Fry, Jake Turer.