From the Gut: Dream come true summer trip to the Cape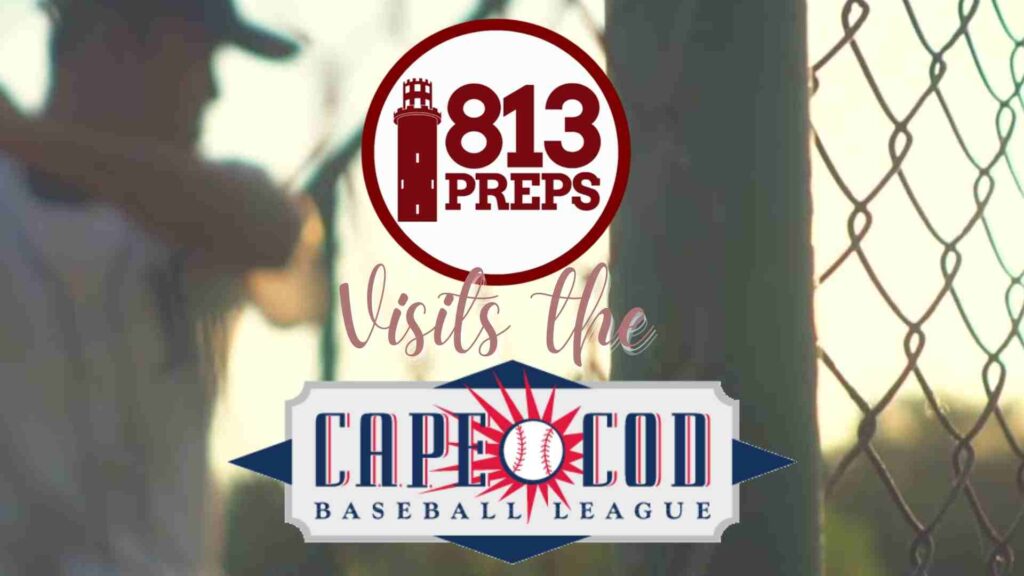 By Jarrett Guthrie
Editor
Brandon Wright, filmed all video interviews
Unsurprisingly, sports journalism made a big impact on me as a young kid as each month, between my father and older brother, our mail included stacks of periodicals [editor's note: you see readers back in the olden days news was printed on sheets of paper and bundled together by folding or even staples, and then distributed by mail or personally delivered by paper boys – it was a crazy time]. I loved flipping through Sports Illustrated, Sports Collectors Digest, Baseball America, and my favorite, The Sporting News.
When I was a teenager I remember reading a column from Boston native and legendary baseball writer and historian Peter Gammons on the history and his love of the Cape Cod Baseball League – an annual summer collegiate league sanctioned by the NCAA, which features a 44-game regular season. The current iteration of the league has run from 1963, but some form of the league has existed since the 1880s. It planted a seed that kind of always stuck around in the back of my mind. I always wanted to visit the league on the eastern coast of Massachusetts, known for its small-town traditions, quaint ballparks, and of course the best of the best from the ranks of college baseball.
It's strange how things have a way of creeping from the back of your mind to the front, and when I was in my early 20s two people I knew tried their hand at acting and among their first roles was each having minor roles in the 2001 movie Summer Catch, starring Freddie Prinze Jr. and Jessica Biel – and though primarily filmed in North Carolina and by no means a critical or financial success, it did represent the small-town local feel of the Cape Cod League, and how many of your friends have been in a movie?
In 2014, while working for the Tampa Tribune, I was able to write a small brief when one of our own – Strawberry Crest coach Eric Beattie, who played in the Cape for two seasons while pitching for the University of Tampa – was inducted into the Cape Cod League Hall of Fame. Another 813 local, current Wake Forest third baseman and Bloomingdale alum Brock Wilken, who won the Cape's MVP honors in 2021 and was returning for the 2022 season, while Beattie was named the pitching coach and then quickly promoted to the head coach of the Hyannis Harbor Hawks for the summer, that finally made me make the decision to make the trip I'd always dreamed of taking.
And it did not disappoint.
Click on each of the titles to be directed to our daily travel log.
Monday, July 11, 2022 – Fenway Park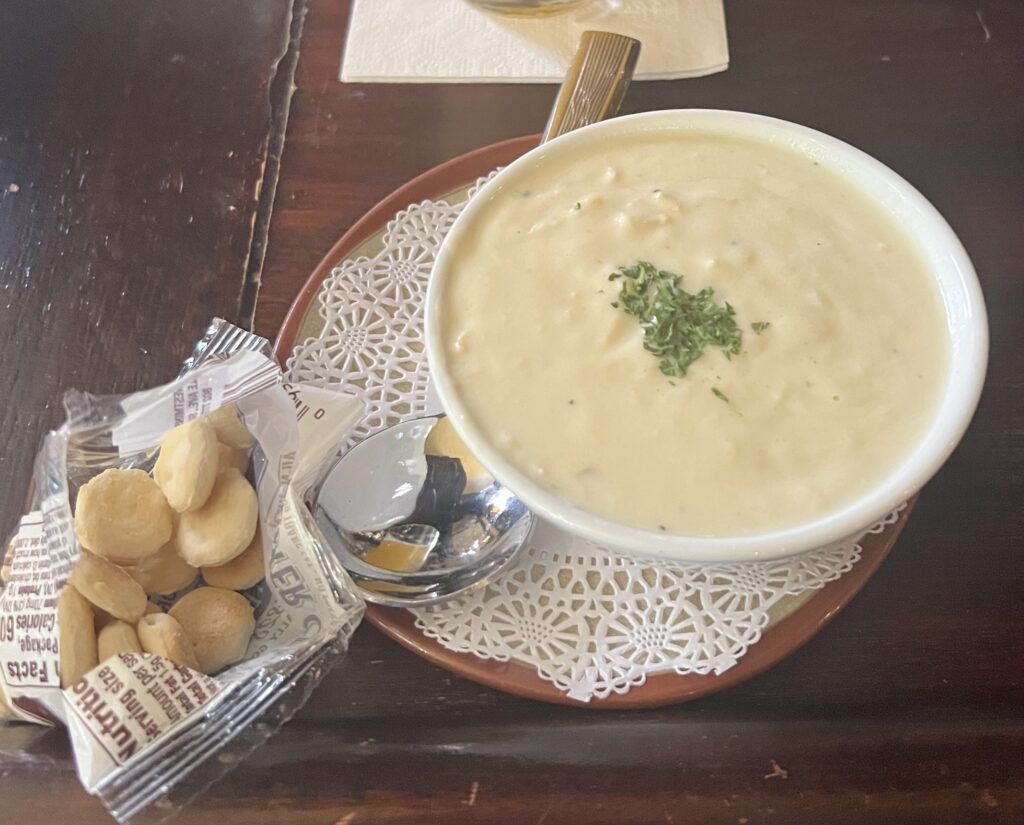 Joining in on the adventure was 813Preps staff writer Brandon Wright as we arrived in the early afternoon at Boston's Logan Airport and before heading the 70 miles southeast to where we were staying on the cape, we decided to hit up some tourist spots in Beantown first. We visited Faneuil Hall Marketplace, where I had the first of SIX bowls of clam chowder on the trip.
Unfortunately, during our trip the Red Sox were on the road – coincidentally on the day of our arrival Boston was in St. Petersburg preparing to face the Tampa Bay Rays, but Brandon and I decided we'd take a drive around Fenway Park.
Brandon had visited Fenway recently and suggested we check out the Bleacher Bar on the back side of the stadium on Lansdown Street. The Bleacher is built into the underworking of Fenway and opens up with a gate along the back wall that looks out the historic field at ground level. In a complete stroke of luck, we arrived on "Fenway Day" a scouting day for the Cape Cod League with hundreds of players taking BP, shagging fly balls and running sprints in the outfield. From a distance we saw Harwich Mariners 3B Brock Wilken taking BP, just prior to the Hyannis Harbor Hawks taking their cuts – joined by 11-year-old Jaxson Beattie getting to take cuts at Fenway. Brandon and I found immediate seating in the tables right along the fence and within a few minutes saw a familiar face running sprints in the outfield – Newsome alum and current Stetson University pitcher Cole Stallings.
Chowder count: 1
Tuesday, July 12, 2022 – Harwich Mariners
On our first full day on Cape Cod, we hit up some tourist shops, ate a delicious lobster roll that was definitely the best I've ever had (and I paid for that privilege, LOL), and of course another cup of chowder. But the main course on the day was our first game of the week as we traveled a short distance from our rental house in Osterville to Harwich to see the Mariners host the Orleans Firebirds at Whitehouse Field.
Tucked in a wooded area just off the campus of Monomoy Regional High School in Harwich, this was an excellent first start to our baseball adventures. A packed-in crowd was on hand for the 6pm game, and we again got to see our 2019 All-813Preps Hitter of the Year Brock Wilken in action. In 2021, Wilken was the youngest player in the invite-only league and turned in a stellar season after his freshman year at Wake Forest, where he tied the school record for freshman home runs, earning the Cape Cod League Most Valuable Player honors. Hitting third for the Mariners, Wilken reached in 3-for-4 at-bats, with a single, a run scored and an RBI double. Wilken also spent a week this summer trying out for the USA Baseball Team.
Prior to Wilken's final at-bat, I was standing by the Orleans coaches as they debated bringing in Orleans pitcher and Newsome alum Cole Stallings (Stetson) but they decided to hold off. A few pitches later, Wilken sent a line drive down the left-field line for an RBI double, stretching the Mariners lead to two runs. The Firebirds scratched one run back in the next inning, and Orleans then called down to the bullpen for Stallings, who fired a scoreless inning, striking out two and getting a broken-bat groundout for the third out of the inning.
While standing around the crowd taking photos, we ran into Stallings father, Greg, who was visiting his son for a week with around 15 family members.
Wilken and Cole Stallings, both 2020 grads of their neighboring Hillsborough County Schools, also grew up playing together including playing as teammates with the Ostingers Baseball Academy.
Wilken finished his summer with five homers, 15 RBI, and 17 runs scored, while Stallings made 10 appearances, posted a 3.86 ERA and had 16 K's in 14 2/3 innings.
Final: Harwich 7, Orleans 5
Chowder Count: 2
Wednesday, July 13, 2022 – Chatham Anglers
Wednesday's non-baseball highlight was watching my travel partner Brandon take to the links at Barnstable Fairground Golf Club – serving as his caddy (by which I mean I drive a hell of a golf cart). Beautiful scenic course, even better weather, 0% humidity. Afterwards, seafood of course and another bowl of chowder (good, not great this round).
Wednesday evening was a fun one as we traveled to the eastern most of the Cape's 10 teams Chatham to see the Hyannis Harbor Hawks take on the home team Anglers. This game was more of a sit-back-and-enjoy situation, leaving the camera behind for a night. Arguably this might have been a poor choice, as Veteran's Field was an awesome setting – right on the coast, with an outfield berm in right that stretches up to a town square, a three-story green wooden press box, right next to the backyard of a house with a railing along the third base line stands, where the homeowners host nightly gatherings of friends for the Anglers' games. down the right field line was a playground that was alive with kids playing – adding to the family feel of these games, which are free to attend. One of the highlights was seeing Coach Beattie's family, including watching sons Jaxson and Tate play ball on a youth field adjacent to the big field – Jax crushing tanks (bat-flip game is super strong) throughout.
Though the game didn't feature any 813 alums, we did get to see some Tampa-tied players as University of Tampa IF Anthony Nunez and USF C Nelson Rivera played, and Land O'Lakes alum (and FHSAA 2021 state strikeout leader) Brian Holiday tossed an inning.
Great time in Chatham last night for baseball as @baseball_crest HC Eric Beattie led the @harborhawks to a win against the Anglers. Land O'Lakes '21 alum RHP @brian_holiday14 (FHSAA K leader as senior) worked 2ip for Chatham. Newsome pitching coach Kevin Ohme w/ Beattie staff pic.twitter.com/CcewlgIUhY

— 813Preps (@813Preps) July 14, 2022
While perusing the merchandise stand behind the press box (I may have bought a hat from all five home teams we saw during our trip), I noticed a shirt that read, "Chatham – Home of the 5th-inning Fog." And didn't really get it. A few innings later, it all came into focus as the left fielder started slowly disappearing in the dense fog that rolled in off the Atlantic Ocean.
Night 2 at Chatham Anglers' Veterans Field and the fog is thickly moving in here on the extreme east coast of Massachusetts. #CapeCodLeague pic.twitter.com/SRx0SDYtUK

— 813Preps (@813Preps) July 14, 2022
And joining Beattie's coaching staff as pitching coach, we caught up with Newsome pitching coach Kevin Ohme, who also had his family (including Wolves alum and North Florida pitcher Will Ohme) visiting while we were on the Cape.
Final: Hyannis 7, Chatham 3
Chowder count: 3
Thursday, July 14, 2022 – Hyannis Harbor Hawks
Good day, but no chowder.
However, the night was a blast as Hillsborough County invaded Hyannis, Mass. After posting on social media about our trip on the book of faces, and our plans to attend the game between the visiting Falmouth  Commodores and the hosting Harbor Hawks at Scarafile Field on the campus of Pope John Paul II High School, we were surprised by the arrival of some friends of Brandon's who were in Boston for vacation and decided to drive down. It was a great setting, and from the parking lot you looked down into the field, which was surrounded by crushed shells and a wooden press box.
The two teams played scoreless baseball for four-and-a-half innings before the Harbor Hawks got on the board. In that time, we were again surprised by another of Tampa's own – former Tampa Bay Times reporter and Jesuit Director of Communications Pete Young. Brandon and I both served as assistant's to Pete during his tenure as the Times' USF beat writer in the early 2000s.
The University of South Florida was represented in Falmouth as standout outfielder Drew Brutcher played right for the Commodores and drove a sixth-inning run on a single. Brutcher playing against Hyannis meant we got to see our favorite current USF student athlete … which is of course, Brutcher's girlfriend former Newsome standout and current Bulls softball player Bailee Leistl.
Brutcher hit .270 for the Commodores this summer with three homers and 18 RBI.
Final: Falmouth 3, Hyannis 2
Chowder count: 3 (I'm disappointed in myself, too)
Friday, July 15, 2022 – Wareham Gatemen
Brandon took to the links again, while I did touristy things – including a $5 sidewalk beard trim in downtown  Hyannis, and tacky shopping at a gift shop in a house built in 1812, and I walked through a John F. Kennedy Museum. Found a restaurant and decided on the seafood chowder over the clam – pretty darn good.
Wareham was our destination for Gm 3 of our trip, and though a part of the Cape Cod League, Wareham technically is no on Cape Cod, instead just west and dubbed the "Gateway to the Cape," hence the team name Gatemen. The game was a bit of a wash as Hyannis put up five runs in the second and never let up, tripling that total for a decisive, mercy-rule win. Cards on the table, this was probably the least impressive stop of the trip. Wareham High's Spillane Field was a multi-use football and baseball field on the school's campus, which also featured an infield made up of gray, crushed asphalt.

Jax Beattie's summer (which as we mentioned already included BP swings at Fenway, and dominating some Chatham kids in junkball) continued to be awesome as he got to serve as Harbor Hawks bat boy for the game.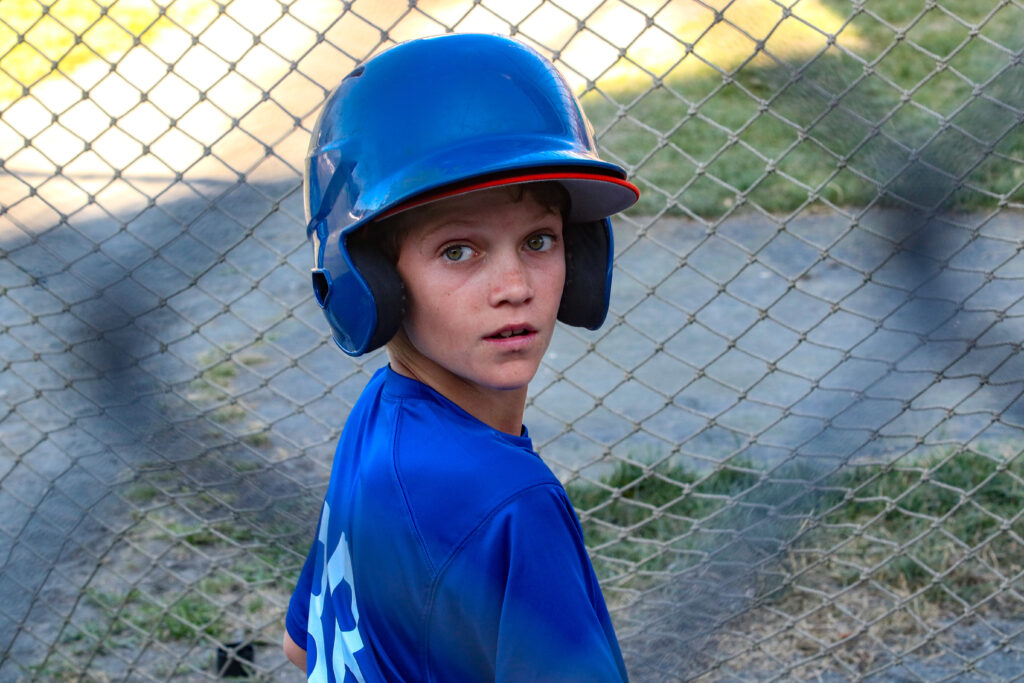 The Gatemen did feature a player we saw in his high school days at Clearwater Central Catholic, SS Blake Wright who was 2-for-3 in the loss. Wright finished his summer in the Cape with 13 runs scored, 13 RBI and three doubles.
Though not the greatest game, we did get to see a scoreless inning from Sickles alum and current University of Central Florida righty Chase Centala (1ip, 2 H, BB, K). Centala made five appearances, finishing with a 4.00 ERA and nine strikeouts in nine innings of work.
The Beattie contingent swelled again as we were able to meet Coach Beattie's original host family from his playing days in the Cape in 2002-03, as well as the arrival of his parents. After the seven-inning win, we headed out to grab pizza at a downtown Wareham spot with the entire Hyannis team.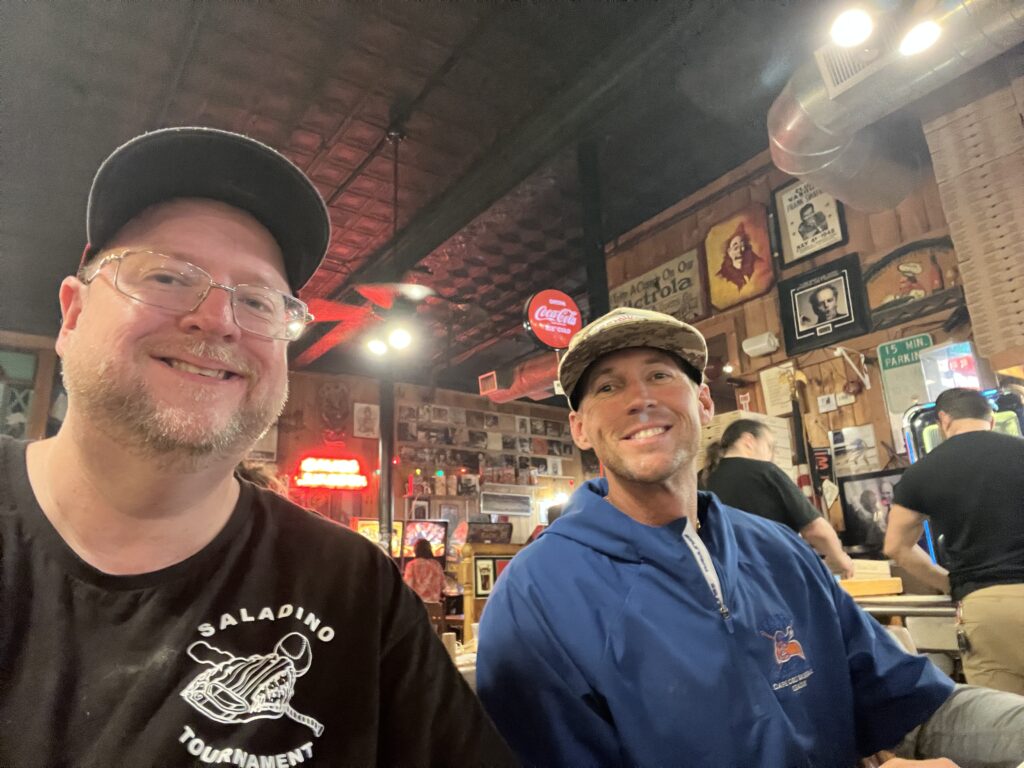 Final: Hyannis 15, Wareham 1
Chowder count: 4
Saturday, July 16, 2022 – Orleans Firebirds
Saturday featured the best meal of the trip as Brandon and I went to Hyannis to check out Baxters, right on the Harbor. I, of course started with the clam chowder, we split some bacon-wrapped scallops and I had a piece of cod the size of a brick 10-out-of-10 (Beattie recommendation).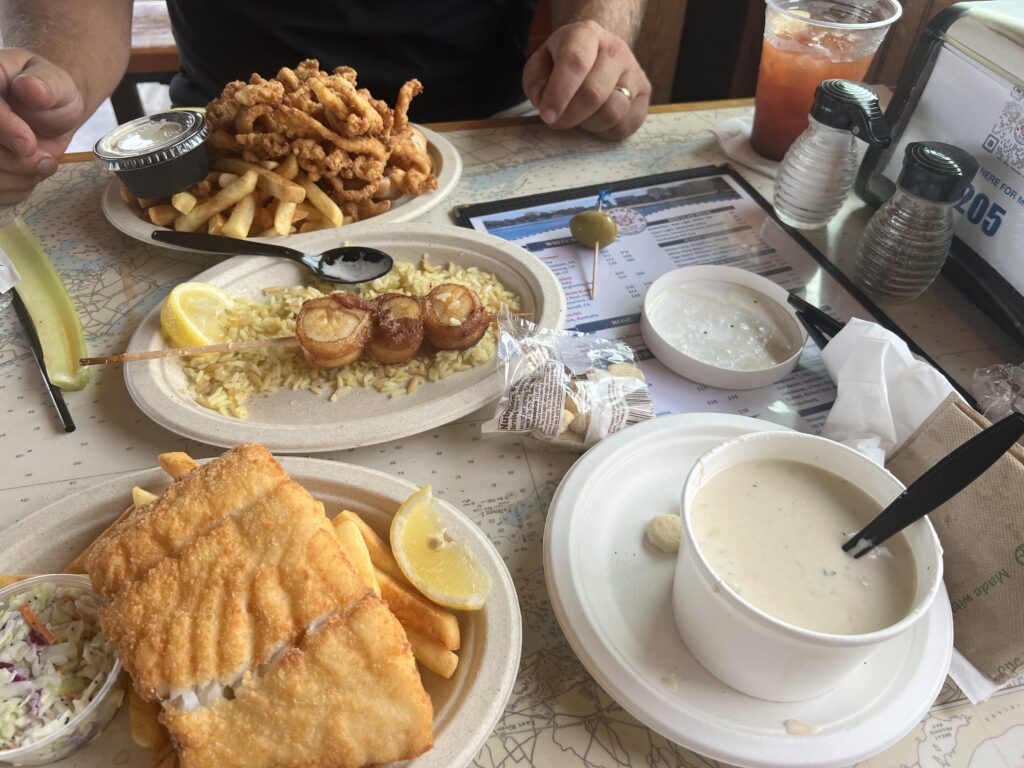 For our final game, Brandon and I traveled to the northeastern most Cape Cod team Orleans for another bit of a lopsided game.
Unbelievably, the Beattie contingent grew yet again with the arrival of Eric's older brother and his family. We again saw the Stallings family, but the Ohme family had returned to Tampa – still I felt like we were pretty well-protected throughout should a Mass v FLA showdown have broken out.
Orleans was another great setting for a game with very limited built-in stands, instead with another berm that ran the length of the right field line where most of the fans sat in folding chairs or on blankets. The field – Eldredge Park was on the campus of Nauset Regional Middle School with no fence past the dugouts on either side of the field.
The highlight for us (and the reason we went to see two teams we'd already seen play) was the Friday arrival of University of Tampa MIF and Plant alum JD Urso. The game featured a great 813-moment in the bottom of the first as Coach Beattie and Urso shared a hug and talked in-between warmups. Beattie, of course played for Urso's father, Joe at UT and has known JD since he was a baby.
Urso, a 2020 Plant alum and a member of our first-ever Defend10 team in 2019, went 1-for-4 with a double for the Firebirds.
Urso batted .219 this summer in 17 games, with three doubles, three RBI and five runs scored.
Final: Hyannis 9, Orleans 1
Chowder Count: 5
Sunday, July 17, 2022 – Back to Tampa
We packed up and traveled back to Boston making one last pre-flight stop at The Publick House in Brookline, where I had a … (pause for dramatic effect) cup of clam chowder (SIX in a week), and a so-so chicken sandwich. Flight was long, layover, three-hour tarmac delay – gross.
But how could I complain after a trip that exceeded all expectations. Thanks to my buddy Brandon for being a terrific traveling companion, and allowing me to drive the whole time (including on the golf course where I kept all four tires on the ground at all times).
Thanks for reading, if you made it this far, wow! See you in the Spring.