813Preps Week 1 Football Caps
Tonight 813Preps embarks on its first high school football season of coverage and we are excited to bring you our Week 1 Game of the Week. We begin things with brief previews of five games involving Hillsborough County teams kicking off the regular season tonight. Our Rick Cantor brings you a quick look at what to expect from our feature game and four other ones to pay attention to tonight.
Where We Will Be

: Jesuit @ Wharton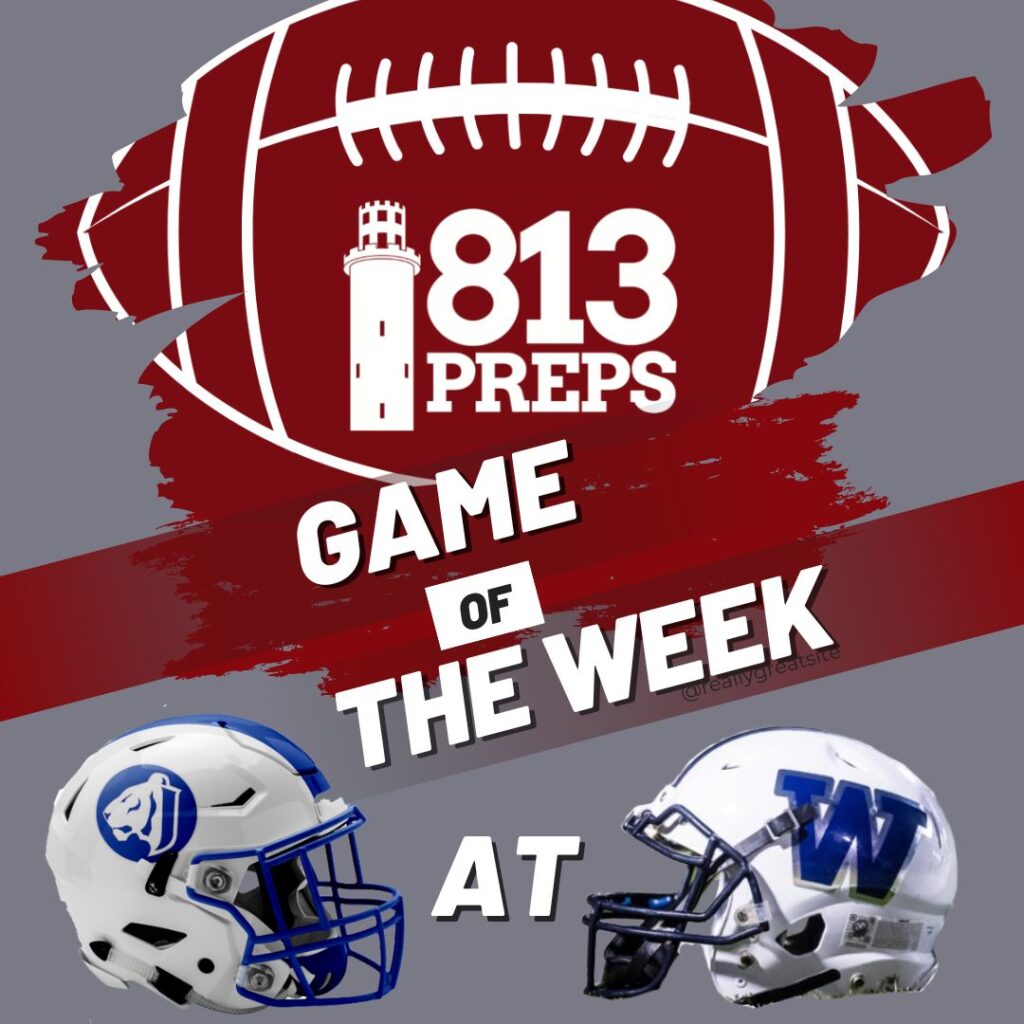 Matt Thompson and his Tigers will play anyone, anytime or anyplace. They proved it last year, taking a game with national powerhouse St. Thomas Aquinas on a few days' notice and came away with a stunning victory. The win catapulted Jesuit into the national spotlight and culminated in the Tigers' first state title since 1968 … This year, the Tigers come into the season ranked No. 17 nationally by MaxPreps and face an opening week test against a talented Wharton on the road in New Tampa … The Wildcats have been steadily improving under the watch of Mike Williams, finishing 2021 with a playoff victory and a 9-3 record. In that payoff game, Wharton held five-star running back and Alabama commit Richard Young of Lehigh to 56 yards … To compete with the reigning champs, Wharton will need to replicate that effort against Tigers RB Joquez Smith, who logged nearly 2000 yards last year. On the case for the Wildcats will be a pair of big-time prospects in four-star edge Booker Pickett Jr., and five-star CB Dijon Johnson.
Four Week 1 Games to Watch
Tampa Bay Tech @ Plant
Tech had its best season in school history in 2021, rolling to a 14-1 record and a trip to the state finals for the first time. Veteran coach Jayson Roberts has another loaded team, and another deep playoff run is now the expectation for TBT … After going a combined 6-12 the previous two seasons, Plant alum Hank Brown looks to have his alma matter back on right track. The Panthers finished 6-4 last year, and an opener against Tech will be a good measuring stick for the program.
Plant City @ Newsome
New Plant City head coach and former Tampa Bay Buccaneers receiver Michael Clayton will get a crash course in how tough football in the 813 can be as his talented Raiders travel to Newsome in an east-Hillsborough tilt. Coach Christian Yockey's Wolves have won at least one playoff game in each of the past three seasons and have a 25-9 record during that period. Newsome is known for its bruising ground game, but speedster J.C. Roque is more lightning than thunder … Plant City freshman QB Dereon Coleman flashed in the preseason with both his arm and legs.
Gaither @ Steinbrenner
An intriguing matchup between a pair of north-Hillsborough teams that have each experienced success in recent years.  Coach Andres Perez and his fast-paced offense are led by 6-foot-4 junior QB Ty Jones, while RB Kirby Vorhees looks to chew up chunks of yards on the ground after rushing for more than 1,000 yards in 2021 … Gaither counters with the big play capability of Florida commit Eugene Wilson III, as coach Kirk Carson's program continues to churn out big time prospects.
Sumner @ Bloomingdale
Sumner took the county by surprise last year, rolling to a 9-3 record including a playoff win in just its second year of playing football. Coach Alonzo Ashwood's Stingrays return a deep, talented and now experienced group, led by Clemson commit RB/DB Kylen Webb and QB Greg Smith … Coach Jake Coulson lead his Bulls to 32 wins and three consecutive playoff appearance from 2018-2020, and a season opening win would provide a big boost for the Bulls.
– Rick Cantor