813Preps Week 3 Football Caps
Our Rick Cantor brings you a quick look at what to expect from our Week 3 feature game and a few other ones to pay attention to tonight.
Where We Will Be: Hillsborough (1-0) at Armwood (1-1)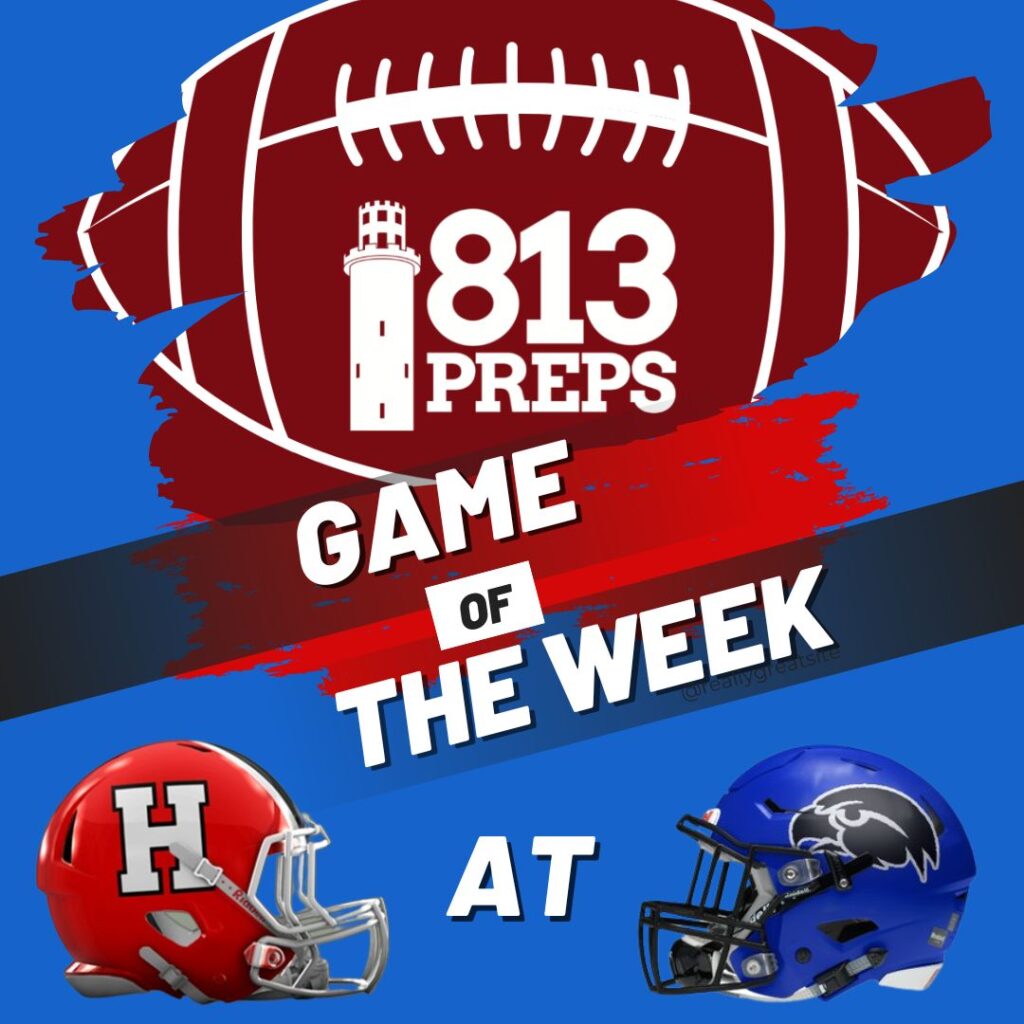 If you like a physical brand of football with pads popping and bone crunching hits, Lyle Flagg Field will be the place to be on Friday, as Armwood hosts Hillsborough in its home opener after splitting their first two contests … The Hawks rebounded from a 35-25 loss to Tuscaloosa (AL) Hillcrest, with a nice road win at Bloomingdale last week. Armwood now faces a Hillsborough team that shutout Lennard 50-0 in Week 1, and is well-rested with an early bye in Week 2 … A low-scoring game is anticipated, and a key turnover may make the difference in the outcome. Keep an eye on Hillsborough 6-foot-4 sophomore TE/WR Moses White who made the most of his one catch against Lennard going 65-yards for a touchdown, while junior DL Tyler Pruitt also had a big game with seven tackles and half a sack. The Hawks will look to penetrate the Big Red defense using the arm and legs of senior signal caller Murdolph Jones.
Tampa Bay Tech (2-0) @ Newsome (2-0)
The Titans gauntlet of a schedule continues with a trip to Lithia to take on the Wolves. Newsome played Tech as tough as anyone during the Titans run to the state championship game, falling 21-9 at TBT last season. Sophomore RB Michael Dempsey takes over the role of workhorse back from Jason Albritton (who amassed 1,400 yards rushing in his senior season in 2021) for the Wolves, racking up 280 yards and three touchdowns in the first two wins … The Titans were dominant from start to finish in a 44-0 dismantling of Steinbrenner. The matchup to watch will be Newsome's front seven trying to slow down the Tech ground attack, with quarterback Xavione Washington, running backs Rod Gainey (three rushing TDs so far) and Sincere Styles accounting for over 190 yards per game on the ground.
Sumner (2-0) @ Jefferson (2-0)
Jefferson looks to match its 2021 season win total as a pair of undefeated teams clash at Sam Horton. After taking care of business versus Sickles and King, the Dragons will face their stiffest test yet in the high-powered Sumner … The Stingrays put up 44 points against Bloomingdale in the opener, and 20 against Chamberlain in just one quarter, before the game was called due to weather. This game could be a shootout, and Jefferson will need to slow down the connection of Sumner QB Greg Smith to Tyler Williams accounted for 169 yards and three touchdowns versus the Bulls in week one … Sumner will have its hands full with senior RB Nashaun Pryor who is averaging a whopping 236.5 yards per game on the ground with seven touchdowns.
Robinson (2-0) @ Strawberry Crest (2-0)
Another pair of teams looking to start the season 3-0 meet in Dover on Friday night. The Chargers have never started a season with three consecutive wins on the field, as a 4-0 start in 2010 was the result of a King forfeit in week 3 of that season. The Strawberry Crest defense has been impressive, allowing only seven points in eight quarters of play. Standouts DE Quinten Walker (three sacks), Aidan Brown, LB Steel Craig and CB Devin Blunt (interception) will need everything to slow down Robinson's high-powered attack … The Knights have averaged 51 points per game through the first two weeks and are led by senior WR/CB Kasim Johnson, who is averaging over 290 all purpose yards per game with eight touchdowns.
Wharton (1-1) @ Gaither (1-0)
There are virtually no weeks off for the Wildcats or the Cowboys this year, and this matchup of physical North Hillsborough programs should be decided by a close margin … The Wildcats bounced back from a tough loss to Jesuit in Week 1 by shutting out Plant City, 26-0 last Saturday. While the Wildcats have several big-name players on offense including running backs Stacy Gage and Arkese Parks, it was junior Taquawn Anthony turning heads with 76 yards and an acrobatic catch on the sidelines versus the Raiders … For the Cowboys, sophomore QB Jace Nixon had a huge 28-21 win versus Steinbrenner in Week 1, passing for 355 yards; with receiving options Ladanian Ferrell (127 yards) and Eugene Wilson (118 yards) topping the century mark, and Mike Coley (95 yards) coming just shy.