813Preps Football Notebook for Week 3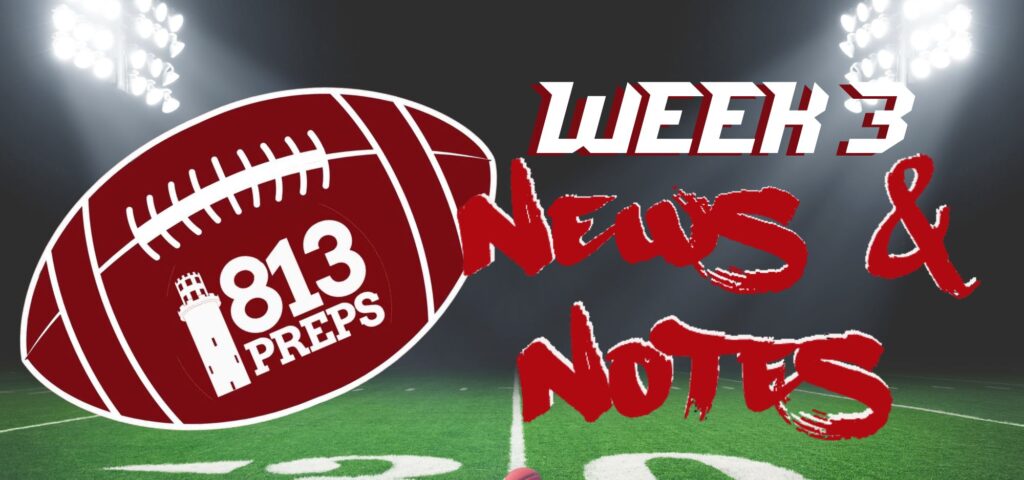 Editor's Note: Coaches if you have any tips or stories to share with us, please feel free to email our editor at: jarrettguthrie@813preps.com.
By Rick Cantor
Staff writer
Chargers off to first 3-0 start in program history
DOVER – In an almost free-agency like era in high school football, with players transferring and switching programs every time you look up, Phillip Prior has done something that is rarely seen these days. The fourth-year head coach has built his program from the ground up, and the work has paid off so far in 2022 as the Chargers are off to a 3-0 start for the first time in school history.
"We have 17 returning starters, and almost all of them have come up through the program," Prior said. "These guys came in as freshmen, and a lot of them have been playing for three or four years. It's been a lot of hard work."
After solid early wins versus King and Spoto, Strawberry Crest turned heads with a dominating, 42-8 win over Robinson last Friday.
Not only is Strawberry Crest more experienced this season, they are bigger on the lines and have more depth at the skill positions.
"Last year we averaged about 200 pounds on the offensive line," Prior said, "this year, its closer to (a) 250 (pound average)."
That line cleared the way for a 358-yard rushing night versus Robinson, and touchdowns by six different Chargers players. Leading the way and exemplifying the skill player upgrade is basketball player turned quarterback Jordan Lewis, who now runs point on the gridiron. Junior RB Devin Blunt has sparked the offense, averaging 101 all-purpose yards through three games.
The defensive unit has been dominant and has not given up a point since the opening drive in the versus King in Week 1, with Robinson scoring last week on a kickoff return.
"This defense is really a collective unit," said Prior. "The front seven have really embraced their roles and guys in the secondary all play both ways."
Strawberry Crest travels to face a Leto (2-1) squad on a two-game win streak on Friday.
East Bay lighting up the scoreboard thus far
GIBSONTON – If you were to guess teams in the 813 averaging 51 points through their first two games, East Bay might not immediately pop into your head. Sure, you can guarantee the Indians will be as physical as they come – with a legacy of an up-the-middle run-game focus – and would have a core of skilled players, but East Bay's success has often come winning close, hard-fought games.
While East Bay still maintains those traits in 2022, it has been high-flying in a season-opening shutout versus Middleton and a 60-41 shootout victory over Sickles.
The Indians bring back a veteran and versatile squad in head coach Mike Gottman's second year at the helm, and can win in a variety of ways.
In the opener against Middleton, it was speedy senior OLB Christian Stewart scoring on both an interception and fumble recovery, while against Sickles, an offense led by senior QB Nathan Carter took over.
"We have a lot of experience on the team, about 25 seniors," said Gottman. "I call Nathan a lumberjack,  (because) he goes about 6-foot-3, 230 pounds."
The sturdy quarterback ran for 136 yards and notched a touchdown on the ground and through the air last Friday. Joining in the fray is junior workhorse back Jaelin Sneed, who rushed for 174 yards and four touchdowns; Armando Becceril, who gained 126 yards on just nine carries versus the Gryphons adds more depth and athleticism.
"Armando is a tall lanky guy and a great athlete," Gottman said of his 6-foot-3 sophomore. "(He's) definitely someone to keep an eye on."
The Indians will host "neighborhood" rival Riverview (3-0) for the Cherry Cup on Friday.
"I know (Riverview head coach Tony) Rodriguez wants nothing more than to come here and kick our butts," said Gottman, "it is rivalry week. It's a lot of fun for the kids and school."
Tip of the Cap: To head coach Matt Thompson and Jesuit, who had their 17-game winning streak snapped in a 32-15 loss to Miami -Columbus last Friday. The Tigers previous loss was 16-13 to Plantation-American heritage in the 2020 FHSAA 5A state final game.
Last Friday's loss also snapped a remarkable 29-game regular-season winning streak, that last loss coming to Clearwater, 14-10 in Week 3 of 2019.
Tampa Bay Tech takes over as team with the longest current regular-season winning streak. The Titans have won 16 regular season game in a row, its last loss coming against Plant City 43-42, in October of 2020.
Friday's Game Slate


All games 7:30pm unless otherwise noted
Cambridge Christian (3-0) at St. Pete Northside Christian (2-0), 7pm
Ocala Trinity Catholic (2-1) at Carrollwood Day (2-1), 7pm
CLWTR American Collegiate Acad (0-0) at Tampa Catholic (1-1), 7pm
King (0-3) at Spoto (0-3)
Alonso (3-0) at Sickles (0-3)
Bloomingdale (1-2) at Tampa Bay Tech (3-0)
Strawberry Crest (3-0) at Leto (2-1)
Steinbrenner (1-2) at Lennard (0-3)
Blake (2-1) at Middleton (1-2)
Freedom (0-3) at Brandon (0-3)
Winter Haven Ambassador Chr (0-3) at Seffner Christian (1-1)
Durant (2-1) at Plant City (0-3)
Riverview (3-0) at East Bay (0-2)
Robinson (2-1) at Plant (1-2)
Gaither (1-1) at Sumner (3-0)
Jefferson (2-1) at Hillsborough (1-1)