813Preps Week 4 Football Caps
Our Rick Cantor brings you a quick look at what to expect from our Week 4 feature game and a few other ones to pay attention to tonight.
Where We Will Be

: Riverview (3-0) @ East Bay (2-0)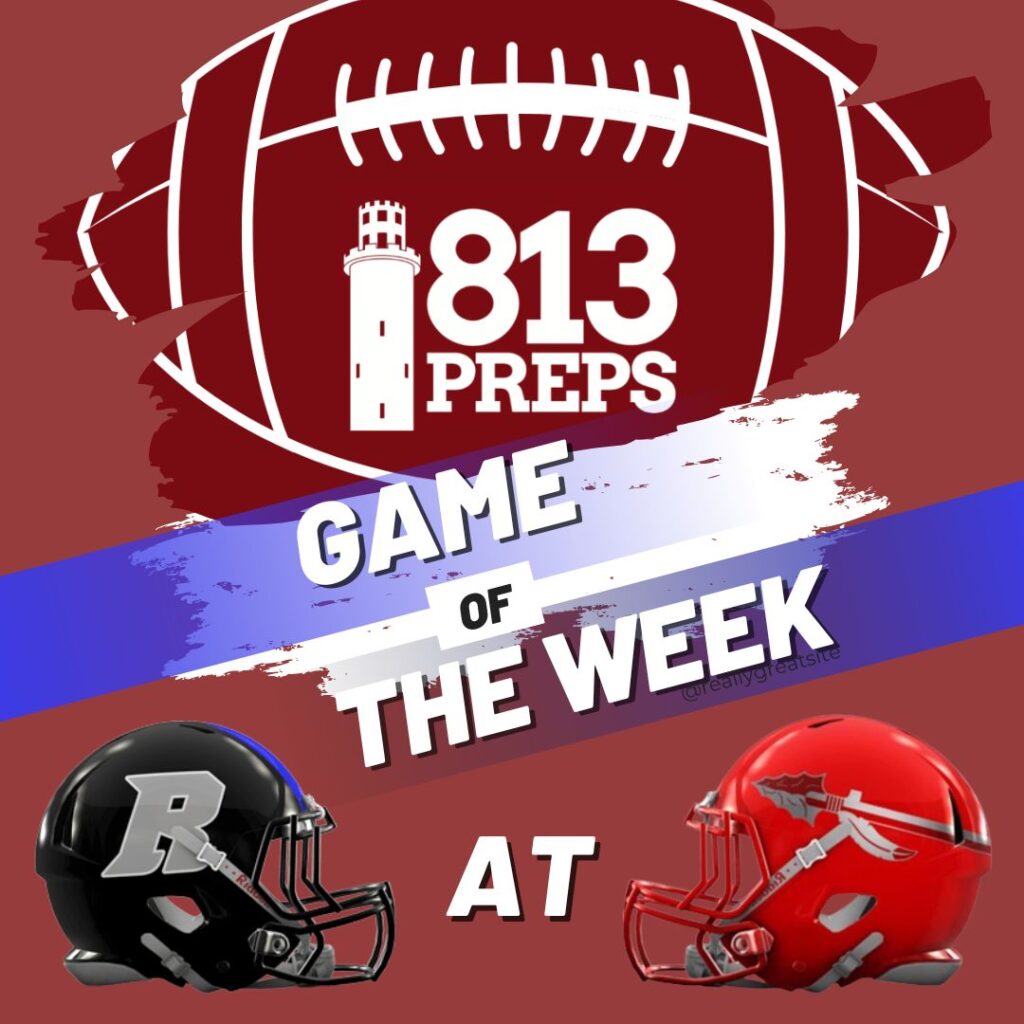 Is it really a rivalry when one team has won 13-consecutive matchups and holds an 18-4 overall lead in a series?
When it comes to Riverview and East Bay, it certainly is. The annual game even comes complete with its own trophy, The Cherry Cup … Decades before Lennard and Spoto and Sumner existed, the Sharks and Indians were the two southernmost schools in the 813 and played on a (almost) yearly basis to determine South Bay superiority. While the Indians have the streak and have ruled the series, the games are always hard fought as there is no love lost between the neighborhood rivals … This year's edition is the most interesting in several years. Not only do both teams come in undefeated in the early going, Riverview is led by first-year head coach Tony Rodriguez, an East Bay graduate and longtime assistant coach. Rodriguez tenure has started about as well as possible with the Sharks trouncing Brandon, Freedom, and Chamberlain by an incredible 158-0. The Sharks are led on the ground by junior Dontarious Shoats (243 yards, six touchdowns) and in the air by receiver Harrison Hensley (11 receptions, 295 yards, seven touchdowns) … Speaking of offense, veteran coach Mike Gottman's team may look unrecognizable from East Bay teams of the past. While the Indians have a well-deserved reputation for hard-nosed tight games, this year's squad is averaging 51 points per game in wins over Middleton and Sickles … The pounding ground game is led by junior Jaelin Sneed (274 yards, six touchdowns), while senior Vincent Ketchup (132 yards), sophomore Armando Becceril (146 yards) and senior quarterback Nathan Carter (150 yards) have all chipped in with runs over thirty yards.
Bloomingdale (1-2) @ Tampa Bay Tech (3-0)
By almost any measure, Bloomingdale has had among the most challenging early season schedules, falling in competitive games to Sumner and Armwood, and finally getting in the win column, 15-14 versus Durant last week. Things don't get any easier this week when the Bulls travel across I-75 to take on the Titans … Head coach Jake Coulson will lean on senior quarterback Charles Coney (434 yards, four touchdowns) and a trio of receivers in Derek Owens (140 yards), Jameer Grimsley (108 yards), and Christian Bodnar (105 yards, three touchdowns) to put points up against a ferocious Tech defense, which held Newsome to just a field goal last week … For TBT, the field goal is the only score Jayson Roberts' team has allowed in the previous eight quarters. The Titan defense has racked up an astounding 29 tackles for losses in the first three games, led by Jahiem Borden (seven), Donteye Drew (five), and Matthew Stahl (three).
Durant (2-1) @ Plant City (0-3)
The first of the four more rivalries we will touch on, Durant goes for is third-consecutive Redman Cup victory over the Raiders. The Cougars are looking to regroup after a one-point loss to Bloomingdale last week after starting the season with consecutive wins. Durant's defense has played well through the early season, giving up just seven points per game. The Cougars are led by senior linebacker Jacob Reed (22 tackles), senior Ty Merkle (2.5 sacks), junior Luther Scarlett (two interceptions), and sophomore Hale Sollmann (21 tackles) … Raiders first year head coach Michael Clayton would love to earn his first victory at the helm of Plant City over the rival Cougars and will need freshman QB Dereon Coleman to find speedster Jaylen Smith a few times deep to do so.
Alonso (3-0) @ Sickles (0-3)
The scoreboard operator should be active in Citrus Park on Friday as this northwest Hillsborough rivalry could be a track meet. Alonso is averaging nearly 47 points per game, while the Gryphons put up just under 27 points per game … Alonso is not all offense however, as senior linebackers Chris Gray (20 tackles, two sacks, two interceptions) and Gavin Hughes (21 tackles, 4.5 sacks) lead the defense … The duo will need to neutralize the connection of Sickles quarterback Brandon Royal (750 yards, eight touchdowns) and favorite target Isiah Hudson (26 receptions, 388 yards, three touchdowns)
Blake (2-1) @ Middleton (1-2)
This year's edition of the Heritage Classic should be a measuring stick for both teams. The Yellow Jackets picked up big wins over Brandon and Leto, but struggled in a loss to Alonso. Middleton fell to East Bay and Durant before knocking off Lennard last week … Blake is led by two-way player Deshawn Neal, who has amassed 281 rushing yards on offense and 15 tackles, an interception, and a fumble recovery on defense. While 6-foot-3, 300-pound Chantz Williams clogs the middle and has three sacks, and freshman Jadarian Collins has a pair of interceptions … The Tigers will look to slow down the 'Jackets with the likes of junior linebackers Matthew Wilson (21 tackles, sack) and Bryan Hunter (16 tackles, sack, forced fumble).
Robinson (2-1) @ Plant (1-2)
The Knights will look to avenge a 20-0 shutout loss to the Panthers last year in this battle of South Tampa. Robinson had been on a roll with big wins over Spoto and Lennard, before being on the other end of a blowout at Strawberry Crest … The Panthers were competitive against both Wharton and Berkeley Prep in losing efforts, but got its first win last week at King. Sophomore Waltez Clark has been a standout in the run and pass game for the Panthers, averaging 122 all-purpose yards per game … Robinson senior Kassim Johnson has eight touchdowns on the year (six rushing, two receiving) and nearly 600 all-purpose yards in the Knights two victories.
Friday's Game Slate


All games 7:30pm unless otherwise noted
Cambridge Christian (3-0) at St. Pete Northside Christian (2-0), 7pm
•
Ocala Trinity Catholic (2-1) at Carrollwood Day (2-1), 7pm
•
CLWTR American Collegiate Acad (0-0) at Tampa Catholic (1-1), 7pm
•
King (0-3) at Spoto (0-3)
•
Alonso (3-0) at Sickles (0-3)
•
Bloomingdale (1-2) at Tampa Bay Tech (3-0)
*
Strawberry Crest (3-0) at Leto (2-1)
•
Steinbrenner (1-2) at Lennard (0-3)
•
Blake (2-1) at Middleton (1-2)
•
Freedom (0-3) at Brandon (0-3)
•
Winter Haven Ambassador Chr (0-3) v Seffner Christian (1-1) at King HS
•
Durant (2-1) at Plant City (0-3)
•
Riverview (3-0) at East Bay (0-2)
•
Robinson (2-1) at Plant (1-2)
•
Gaither (1-1) at Sumner (3-0)
•
Jefferson (2-1) at Hillsborough (1-1)