813Preps Week 5 Football Caps
Our Rick Cantor brings you a quick look at what to expect from our Week 5 feature game and a few other ones to pay attention to tonight.
Where We Will Be

: Gaither (1-2) at Tampa Bay Tech (4-0)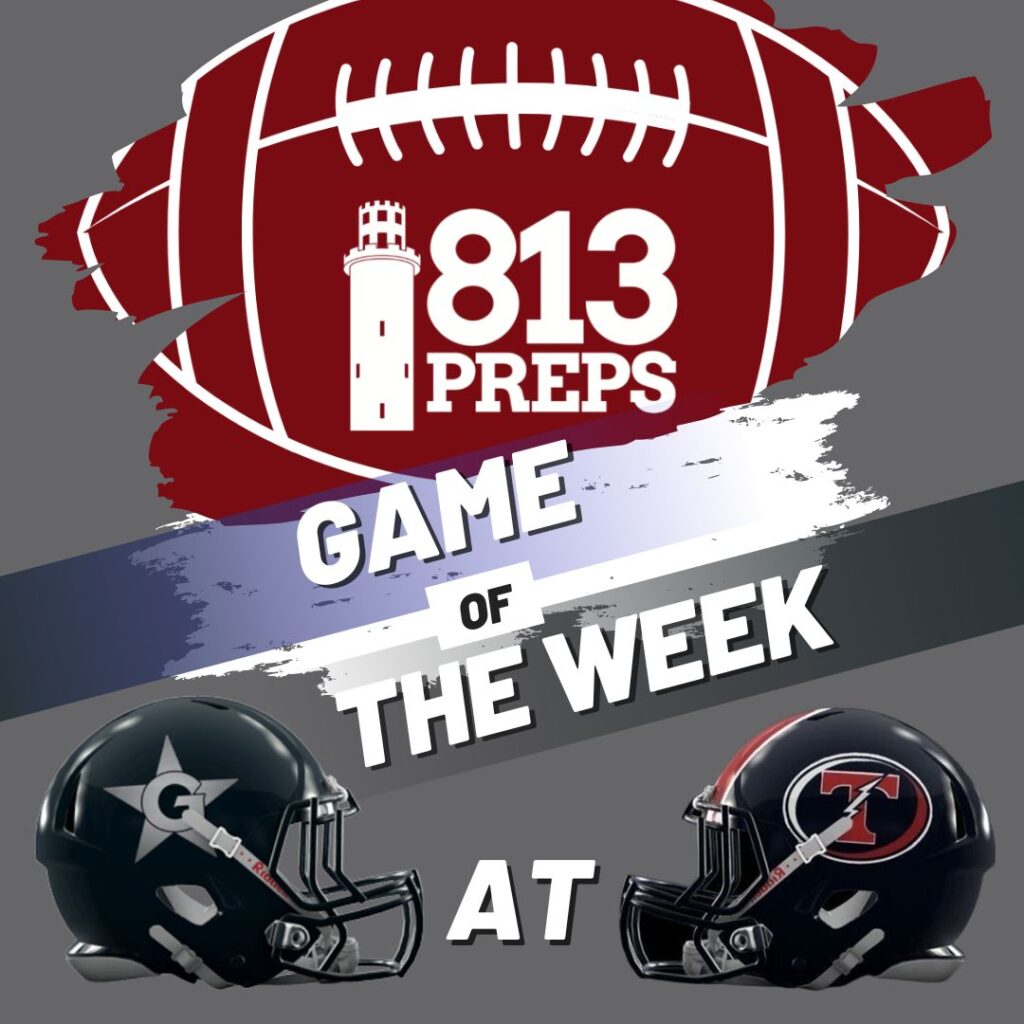 Despite an appearance in the 7A state championship game in 2021 and a 17-game regular-season winning streak, it still feels like coach Jayson Roberts and his Tampa Bay Tech Titans are a bit underappreciated. The Titans have a 34-9 record since the start of the 2019 season – a very impressive mark considering the tough schedule and district that Tech typically finds itself in. This year is no different, as the Titans have already picked up road wins against Plant and Newsome, and sent visiting Steinbrenner and Bloomingdale home with decisive loses, and TBT continues its gauntlet of a schedule in hosting Gaither tonight … Since the week one win 28-21 win versus the Plant, Tech has clobbered a trio of capable teams by a combined 110-3.  With Hillsborough, Wharton, Jesuit, and Armwood looming in the second half of the season, you can be sure Roberts will have his team focused on the task at hand versus a talented Gaither team … The Titans are loaded on both sides of the ball, with quarterback Xavione Washington leading the charge. The junior has passed for 360 yards and four touchdowns, while also contributing a pair of rushing touchdowns. Fellow junior Rod Gainey is averaging 114 yards per game on the ground and had five touchdowns, while junior Javion McKay and Dallas Wilson lead a deep receiving core, with four and two touchdowns respectively. The defense is also deep and talented, starting with veteran defensive lineman and Pitt commit DE Antonio Camon, DT Donteye Drew (2.5 sacks), DT Jahiem Borden (21 tackles), and Matthew Borden (4.5 sacks); LB Corey Lucius leads the team with 22 tackles, also contributing a sack and interception; sophomores Johnnie Tyson (19 tackles), Se'an Sheffield, and senior stalwart Norris Davis patrol the secondary … Speaking of challenging schedules, the Cowboys opened with a win against Steinbrenner followed by a loss to Wharton, and falling 31-27 last week in a back-and-forth contest to Sumner. To compete with the Titans, Gaither coach Kirk Carsen will rely on a core of talented players and high-flying passing attack led by sophomore QB Jace Nixon (757 yards, seven touchdowns); with a trio of big play receivers hauling in passes from Nixon, including Florida commit Eugene Wilson (124 yards, two touchdowns), LaDanian Ferrell (264 yards, two touchdowns), and Latrell Taylor (216 yards, touchdown). The Cowboys are led on defense by sophomore DT Antonio Henley (six tackles for loss, two sacks), junior safety David Puig (15 tackles, interception), while freshman Batuhan Subasi has contributed a pair of sacks.
Jesuit (2-1) @ Armwood (2-1)
What a game for freshman quarterback Will Griffin to make his debut as a starter for the Tigers. Griffin, a 6-foot-3, 220 pounder takes over for Luke Knight, as the 813 was taken aback a bit by the transfer of the 2021 state champion signal caller to Merritt Island. While Griffin started as an eighth grader for Northside Christian last year, he will have the tall task of facing an Armwood defense hitting its stride … The Hawks were dominant in a 27-3 win over Hillsborough two weeks ago. The defense looked like Armwood defenses of the past, with Damenon Hughes leading the way with a pair of sacks and a fumble recovery that set up a touchdown … The Tigers have been tested early, knocking off Wharton and Port St. Lucie-Treasure Coast to start the season, before falling to one of the better teams in the state in Miami-Columbus. Griffin will rely on a pair of talented receivers in Jarriett Buie, Jr. (225 yards, two touchdowns) and Willy Suarez (153 yards, touchdown), and senior running back Joquez Smith (134 yards per game, three touchdowns) looking to solve the Armwood defensive unit.
Sumner (4-0) @ Wharton (2-1)
Coming off an emotional 31-27 win over Gaither following a tragedy within the program, Sumner has the tall task of taking on a Wharton team that has been dominant defensively since a season opening loss to Jesuit. The Wildcats have allowed just six points in wins over Plant City and Gaither since the opening week. Teams have largely stayed away from highly touted corner Dijon Johnson, but they cannot stay away from fellow four-star edge Booker Pickett, Jr. Pickett has amassed a whopping eight sacks in three games, while senior MLB Cameron Campbell has been a tacking machine racking up 29 tackles … The Wharton stars will need to perform at this top level to slow down a multifaceted Stingrays offense led by QB Greg Smith. The junior has been filling up the stat sheet, with 587 yards and nine touchdowns through the air, and 313 yards and five touchdowns on the ground. Sumner spreads the love on the ground, with Devin Spencer (209 yards) and Keoni Denney also adding two touchdowns apiece.
Berkeley Prep (2-1) @ Tampa Catholic (2-1)
Berkeley Prep and Tampa Catholic each come into Friday's tilt with similar resumes. Both teams sport 2-1 records with a loss to a common opponent (Clearwater Central Catholic) by a similar margin (14 points for the Crusaders, 17 points for the Bucs). Berkeley will rely on a run-heavy offense as Joseph Troupe (258 yards) pounds the inside and fellow sophomore Dallas Golden (214 yards) has the speed to go around end; the pair have each contributed three touchdowns apiece. On defense, Berkeley Prep edge Keon Keeley has been a terror (6.5 sacks, three hurries) as expected, but don't overlook seniors Brice Stevenson (seven tackles for a loss), Ben Pastore (five tackles for a loss) and leading tackler Johnny Ferrelli (20 tackles) … The Crusaders come in with a truly balanced attack, with 522 yards on the ground and 520 yards through the air. Junior QB Trey Hedden controls the action, often looking to find big-play receiver TJ Moore (11 receptions, 284 yards, three touchdowns), while senior Mario Mayo (137 yards, two touchdowns), and freshman Christian Evans (143 yards, two touchdowns) lead the ground attack … On defense, Tampa Catholic boasts a few terrors of their own in seniors Lewis Carter (21 tackles) and Jeremy Patterson (six sacks).
Newsome (2-1) @ Bloomingdale (1-3)
Don't let Bloomingdale's record fool you – the Bulls are another team that has played a very tough early season schedule, falling to Sumner, Armwood, and Tech while notching a close victory over Durant. Regardless of record, you can bet this matchup between a pair of schools separated by five miles will be one of the most intense of the week … The Wolves will be looking for revenge after a 16-10 overtime victory by Bloomingdale in 2021. As usual, Newsome features a strong ground game led by sophomore Michael Dempsey (301 yards, three touchdowns), and speedy senior JC Roque (239 yards, two touchdowns). On defense, juniors Eli Hiscock (3.5 tackles for loss, 1.5 sacks) and Liam Shiver (two interceptions) lead the charge … The Bulls counter with senior Charles Coney (466 passing yards, four touchdowns); while seniors Mehki Thomas (19 tackles) and Nate Ledford (17 tackles) will be tasked with slowing down the Wolves' ground game.
Friday's Game Slate


All games 7:30pm unless otherwise noted
Foundation Christian (0-1) at Sarasota Christian (1-3), 7p
Seffner Christian (2-1) at Cent FL Chr Acad (2-0), 7p
Berkeley Prep (2-1) at Tampa Catholic (2-1), 7p
Sarasota Cardinal Mooney (1-3) at Carrollwood Day (2-1), 7p
Plant (2-2) at Chamberlain (0-3)
Leto (2-2) at Alonso (4-0)
Plant City (0-4) at Hillsborough (2-1)
Newsome (2-1) at Bloomingdale (1-3)
Lennard (0-4) at Durant (3-1)
Strawberry Crest (4-0) at Zephyrhills Christian (2-2)
Sumner (4-0) at Wharton (2-1)
Jesuit (2-1) at Armwood (2-1)
Sickles (0-4) at King (0-4)
Gaither (1-2) at Tampa Bay Tech (4-0)
Blake (3-1) at Freedom (0-4)
Brandon (1-3) at Robinson (2-2)
East Bay (3-0) at Jefferson (2-2)