813Preps Week 6 Football Caps
Our 813Preps team was very lucky to come through Hurricane Ian without suffering any major damage, we sincerely hope that our readers were spared major damage, and that the minor disruption of schoolwork and extra-ciriculars was the biggest issue for most of you. IF there are any team or school fundraisers or collection efforts please tag us on Twitter or other social media platforms, so we can share those campaigns. We pick up our football coverage as some of last Friday's games have been rescheduled for Monday night.
Where We Will Be:
Durant (4-1) @ Sumner (4-1)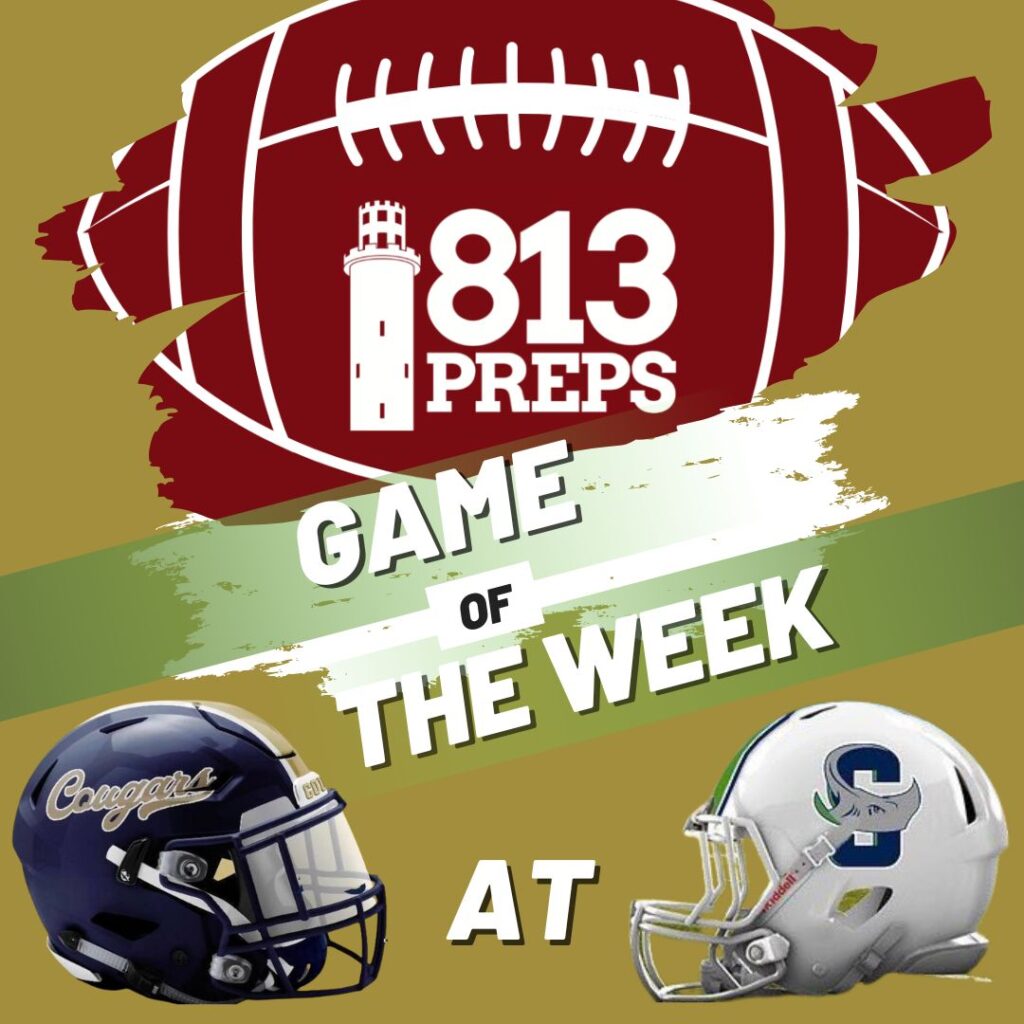 On the first of three weeks featuring district matchups (Weeks 6, 8, and 10), our coverage will head to The Tank to catch the Class 4M-District 8 tilt between the Cougars and Stingrays. A win will go a long way toward a postseason berth in this competitive district which also features consistently good Newsome, and a much-improved Riverview team … Sumner will come into the contest motivated after its big-play offense was shut down by Wharton's star-studded defense 43-0 last Friday. If that wasn't enough, Durant is the only team that has beaten Sumner in both seasons of the school's existence, accounting for two of the five losses in program history … For a turnaround against a tough Durant defense, the Stingrays will need a bounce-back game from star quarterback Greg Smith, who accounted for just 111 yards (46 rushing, 65 passing) against the Wildcats, less than half of the 225 he averaged coming to that game. Smith's average yards-per-game would have been even higher however, the Sumner-Chamberlain game was called after one quarter due to weather with the Stingrays up 20-0 … The Cougars will attempt to keep Smith, Devin Spencer, Tyler Smith, and the rest Sumner playmakers out of the end zone with the defense. Durant comes into the game giving up just eight points-per-game and is led by a host of playmakers on defense. Seniors 6-foot-6 edge Ty Merkle (7.5 tackles for loss, 4.5 sacks), and linebacker Jacob Reed (team leading 46 tackles) lead the way; linebackers Hale Sollman (team leading eight tackled for loss) and Luther Scarlett (2 interceptions) compliment playmakers of all sizes with 150-pound Brant Bovee (5.5 tackles for loss, two sacks) and 285-pound nose tackle Greg Smith (no relation) with seven tackles for loss.
Armwood (3-1) @ Wharton (3-1)
Both the Hawks and Wildcats are coming off impressive and eye-opening wins two Fridays ago. This week's matchup in New Tampa will be something to see as Armwood and Wharton (along with Tampa Bay Tech) all rank in the MaxPreps Class 3M Top 10, in perhaps the most competitive district in the state … The Wildcats constellation of stars on defense shutout a prolific Sumner offense, and has allowed just six points in consecutive wins over Plant City, Gaither and Sumner … As we noted after the Hawks knocked off Hillsborough 28-3 two weeks ago, Armwood sure looked a lot like the great Armwood teams of the past. The defense was fast and relentless, while the offense featured a strong ground game and the senior leadership of quarterback Murdolph Jones. The rushing attack was on display versus Jesuit at Girard "Gee" Pringle rushed for 136 yards and a touchdown sending the Tigers to their second consecutive defeat … Expect a defensive battle where whoever turns the ball over less will likely come out on top.
Strawberry Crest (5-0) @ Plant (3-2)
Strawberry Crest travels to South Tampa undefeated for the first time in school history halfway through the season. While the Chargers have certainly been impressive, a step up in competition and raucous environment awaits at Dad's Stadium as both teams look to get the upper hand in Class 4M-District 7 … Basketball player turned quarterback Jordan Lewis is the gridiron point guard of the Chargers ground attack, averaging 237 yards per game on the ground. The well-balanced attack features junior Devin Blunt (369 yards, four touchdowns), sophomore Gabe Reibsome (227 yards, touchdown), senior Ryan Weems (216 yards three touchdowns) and Lewis, who has rushed for 165 yards and thrown for 312 yards and five touchdowns … The game should be a good gauge for both teams as the Panthers have been dominant in wins versus King, Chamberlain, and Robinson, and have been competitive in losses to both Tampa Bay Tech and Berkeley Prep … While Strawberry Crest will look to pound the ball on the ground, the Panthers like to air it out as junior Trey O'Malley (866 passing yards, eight touchdowns) has spread the ball around, namely to senior Jacquez Kindell (344 yards, three touchdowns), sophomore Waltez Clark (274 yards, two touchdowns), senior AJ Durham (210 yards, four touchdowns), and senior Daririon Jenkins (130 yards, two touchdowns). Clark has also racked up 323 yards and 12 touchdowns on the ground.
Newsome (3-1) @ Riverview (3-1)
While we take in the action from Sumner, the other 4M-District 8 showdown features a Newsome squad used to being in the postseason, traveling to face an improved Riverview team looking for a signature win … The Sharks cruised in their first three contests before falling 21-19 in a hard-fought contest versus rival East Bay, while Riverview brings a balanced offense led by running back Rico Shoats (289 yards, seven touchdowns) and receiver Harrison Hensley (302 yards, seven touchdowns). The Shark defense did not allow a point in the first three games of the season. Zion King-Collier, Alloyius Tyson, and Darreyn have each had interceptions, while linebacker Nico Gnann (30 tackles) and Hayes Thomas (28 tackles) lead the team in tackles … The Wolves have quietly but consistently turned into a perennial playoff team, reaching the postseason for three consecutive years, and have notched a 28-10 record since the start of the 2019 season … As per usual, the Newsome ground game is the focal point of the offense. The Wolves average just under 240 yards per game on the ground and are led by sophomore Michael Dempsey (422 yards, five touchdowns) and seniors JC Roque (319 yards, three touchdowns) and Tanner Easley (200 yards, two touchdowns) … On defense, Tyler Curry racked up 13 tackles in last week's win over Bloomingdale, and leads the team with 30 on the season; Tristan Mitchum and Liam Shiver patrol the secondary for head coach Christian Yockey, and have each snagged a pair of interceptions this year.
– By Rick Cantor
Monday's Game Slate
Seffner Christian (2-2) v Cambridge Christian (3-1), 6p at Skyway Park
Durant (4-1) at Sumner (4-1), 7p
Sickles (1-4) at Palm Harbor (3-2), 7p
Freedom (0-5) at Tampa Bay Tech (5-0), 7p
Armwood (3-1) at Wharton (3-1), 7p
Hillsborough (2-2) at Gaither (1-3), 7p
Strawberry Crest (5-0) at Plant (3-2), 7p
Leto (2-3) at Jesuit (2-2), 7:30p
Alonso (5-0) at Plant City (1-4), 7:30p