813Preps Week 7 Football Caps
Our Rick Cantor brings you a quick look at what to expect from our Week 7 feature game and a few other ones to pay attention to tonight.
Where We Will Be

: Blake (5-1) @ King (1-5)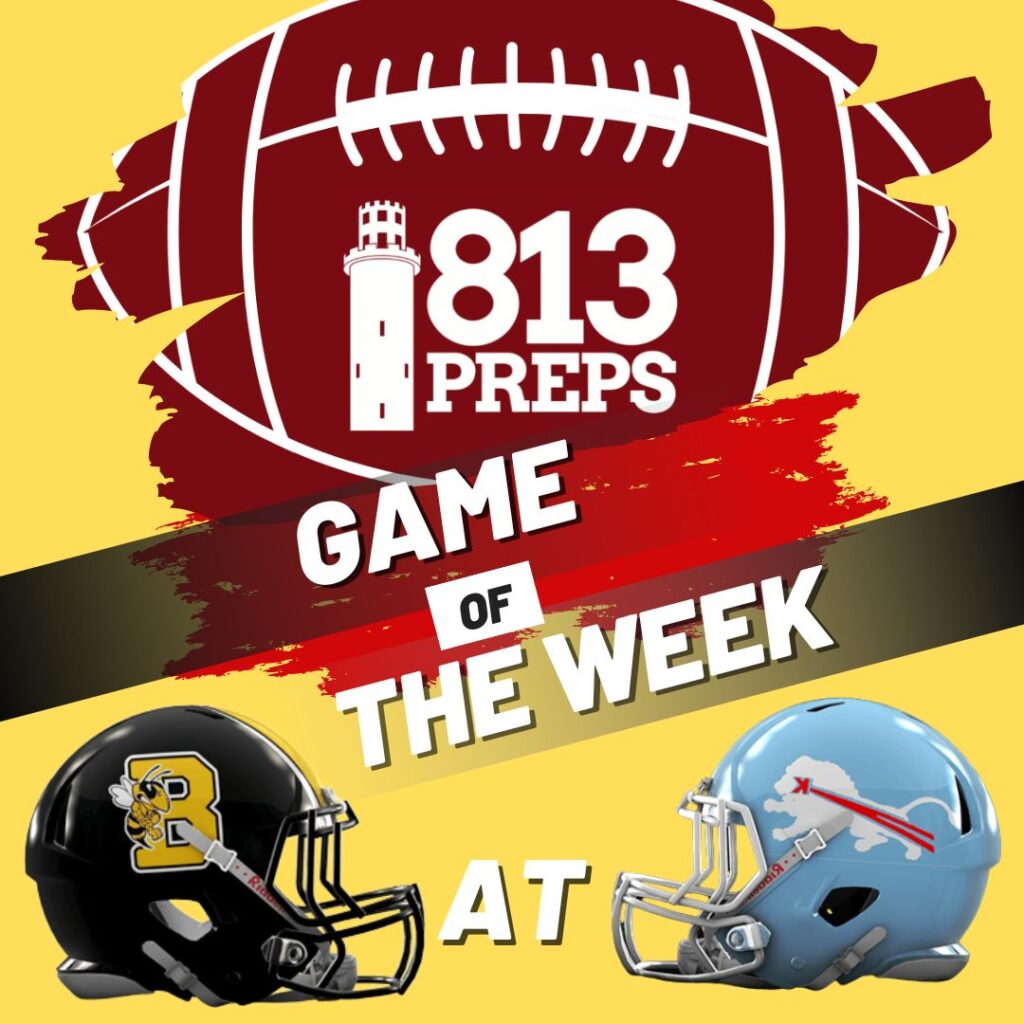 The Yellow Jackets have a chance to reach the six-win plateau for the first time since reopening at its current campus on the banks of the Hillsborough River in 1997. First year head coach Rick Cowans' squad is coming off an emotional 20-14 overtime win against Jefferson. The victory snapped an eleven-game losing streak versus the Dragons during that that time frame … Blake relies on a strong ground game, racking up just under 220 rushing yards-per-game. Deshawn Neal (512 yards, seven touchdowns) leads the charge, while steady senior signal caller Henry Kanu (221 yards on the ground, five touchdowns) and sophomore Quentin Deboue (13.3 yards-per-carry) have also contributed … Neal doesn't just contribute on offense; he is also tied for the team lead in tackles with 31 and has snagged an interception. Other playmakers on defense include track star Javion Collins (31 tackles), 300-pound defensive lineman Chantz Williams (eight tackles for loss, four sacks), and freshman phenom Jadarian "Jojo" Collins (three interceptions, including a pick-6 versus Leto) … King Head Coach Dave Sevier earned his first win with the Lions on Monday – a 35-0 district victory at Brandon. The Lions would match their 2021 win total should they pull off the upset. King HAS won the last two meetings against Blake, including last year's meeting, 14-7.
Wharton (4-1) @ Newsome (4-1)
Coming off a physical and hard-fought district win versus Armwood, and with another huge district game versus Tampa Bay Tech next week, Coach Mike Williams and his streaking Wildcats will look to avoid a trap game in Lithia against an always tough Newsome … Since a season-opening loss to Jesuit, the Wildcats have given up a total of 19 points in wins over the Plant City, Gaither, Sumner, and Armwood. Tackling machine Cam Campbell and edge Booker Pickett, Jr. will have their hands full with Newsome's balanced attack … Yes, Newsome is known for a steady, pounding run game, but the Wolves switched things up in last week's 29-12 district win over Riverview. In that game, senior Christian Bishop threw for 210 yards and three touchdowns, with fellow senior Matthew Connally as his top target, snagging five receptions (including a pair of touchdowns) from Bishop. JC Roque (touchdown) and Tyler Edwards (90 yards) also contributed to the aerial attack.
Clearwater Central Catholic (4-1) @ Jesuit (3-2)
Jesuit freshman quarterback Will Griffin notched his first win as a starter for the Tigers in a 71-0 district victory against Leto on Monday. Tonight's 813-727 matchup against a Clearwater Central Catholic team will likely be far less easy as the Marauders have already dispatched of both Berkeley Prep (24-7) and Tampa Catholic (28-14) this season … While Jesuit's record may not be pristine, the Tigers have played one of the more challenging schedules in the state and are currently ranked 20th in the state regardless of classification …  RB Joquez Smith (92 carries, 605 yards, five touchdowns) has been the focal point, but Griffin will look to find Jarriett Buie (13 catches, 235 yards, two TDs) and Willy Suarez (nine catches, 192 yards, two TDs) to add balance versus the Marauders … A trio of FBS prospects lead the Tiger defense as Georgia commit Trey Bowles (37 tackles, INT, fumble recovery), Drew Woodaz and Peter Pesansky lead the way … Sophomore QB Jershaun Newton leads the way for CCC with 543 yards through the air, seven passing TDs, and 611 yards on the ground with five rushing scores, while senior RB Lenwood Sapp has scored four times and is averaging more than six yards-per-carry.
Northside Christian (4-0) @ Seffner Christian (3-2)
In our second featured Hillsborough-Pinellas matchup, Bucs legend Mike Alstott brings his undefeated Mustangs over the Howard Frankland to face a Crusader team fresh off a 47-29 win against Cambridge Christian. Seffner Christian will need sophomore quarterback Jordan Magwood (514 yards passing, 10 touchdowns) to find playmakers Odarius King and freshman Javari Barnett to breakthrough a Northside Christian defense allowing just 6.5 points-per-game … The Seffner Christian defense will lean on seniors Kelvin Faison and Austin Perry, junior Quentin Pope and freshman Bo Knox as the Crusaders will look to continue their momentum in advance of a huge district game versus Carrollwood Day next week.
Armwood (3-2) @ Steinbrenner (2-3) 
This matchup in Lutz features a pair of teams that may be happy about the short week as both are coming off difficult losses on Monday … The high-flying Steinbrenner offense put up over 50 points for the third consecutive game but was shutout in the fourth quarter and fell in heartbreaking fashion 55-54 to district foe East Lake. Junior Ty Robinson had his best game of the season in the loss, throwing for 383 yards and four touchdowns; Kirby Vorhees racked up 161 yards on the ground giving the four-year varsity contributor 643 yards on the season along with seven scores … Armwood is coming off a hard fought 20-13 loss to Wharton in what could be the strongest 3M district in the state. The Hawks will look to counter the Warriors explosive offense with their trademark defense. A group of veterans in senior linebackers Calen Sutherland and Damenon Hughes, and defensive backs Dominic Smith, RJ Stroud and Jaylin Crumby lead the way.
– By Rick Cantor
Week 7 Game Slate
(all games at 7:30 unless noted)
Bradenton Christian (2-3) v Cambridge Christian (3-2) at Skyway, 7p
SRQ Out-of-Door (5-0) at Bell Creek (1-4), 7p
IMG White (4-1) at Berkeley Prep (2-3), 7p
Northside Christian (4-0) at Seffner Christian (3-2) at Armwood, 7p
Armwood (3-2) at Steinbrenner (2-3)
Plant (4-2) at Jefferson (2-4)
Durant (5-1) at Sickles (1-5)
Lennard (0-6) at Sumner (4-2)
Middleton (2-3) at Strawberry Crest (5-1)
Clearwater Central Cath (4-1) at Jesuit (3-2)
Chamberlain (0-5) at East Bay (5-0)
Tampa Catholic (3-1) at Winter Haven (3-2)
Alonso (5-1) at Riverview (3-2)
Gaither (2-3) at Bloomingdale (2-4)
Spoto (1-4) at Leto (2-4)
Robinson (3-2) at Freedom (0-6)
Tampa Bay Tech (6-0) at Hillsborough (2-3)
Blake (5-1) at King (1-5)
Wharton (4-1) at Newsome (4-1)