813Preps Week 9 Football Caps
Our Rick Cantor brings you a quick look at what to expect from our Week 9 feature game and a few other ones to pay attention to tonight.
Where We Will Be
: Steinbrenner (4-3) @ Plant (6-2)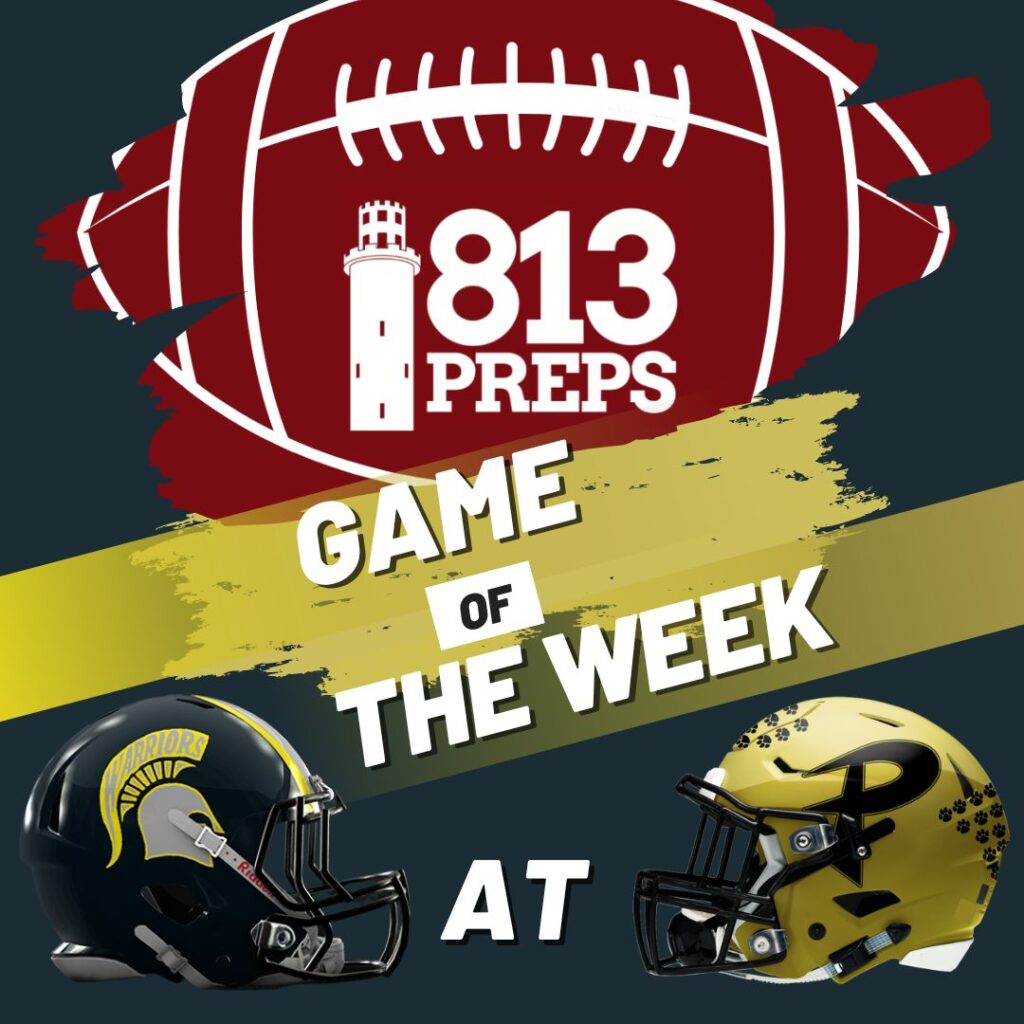 In what might not have seemed possible a few years ago, Plant has seemingly flown under the radar as one of the hottest teams in the 813, reeling off six-consecutive wins since season-opening losses to Tampa Bay Tech and Berkeley Prep.
Are the Panthers the most underrated team in Hillsborough County?
Friday's game against high-flying Steinbrenner will help answer that question.  While Plant can certainly put-up points, its calling card under second-year head coach Hank Brown, has been a defense that has allowed just over five points-per-game in their last four contests. Senior Devin Andrews leads the team in tackles with 71, including 13 tackles for a loss, and has also racked up three sacks; corner Jaden Davis is just behind that mark with 64 tackles and an interception; while sophomore defensive lineman Ty Conze leads with seven sacks, and senior corner Antione Bailey has snagged a pair of picks this season.
The Panthers will need their defensive stars to be at their best to slow down a Steinbrenner offense that has score over 40 points in four of their past five games, topping the 50-point mark in three of those contests. Leading the charge is junior quarterback Ty Robinson, who has thrown for four touchdowns in four of his past five games and has 18 touchdowns on the year to go with 1,467 passing yards. Robinson's go to receivers include senior Demetruis Carter, Jr. (682 yards, nine touchdowns) and junior Andrew Brinson (414 yards, six touchdowns). Four-year varsity player Kirby Vorhees adds balance with 780 rushing yards and nine touchdowns.
Tampa Bay Tech (7-1) @ Jesuit (4-3)
Prior to the season this was the no-doubt game of the year in the 813. While Tech rolls in on a tear, and coming off a huge 28-0 win versus Wharton, the Tigers are a game over .500 courtesy of a 42-21 victory over Gaither.
But records can be deceiving as the Tigers losses have come against a trio of excellent teams while breaking in freshman quarterback Will Griffin, who took over in Week 3. If the big win over the Cowboys is any indication, Jesuit may be finding its footing at just the right time to make this matchup live up to the preseason hype. The Tigers will need not only Griffin, but the rest of their stars to be at their best to compete with a Titan team that has sliced through one of the tougher schedules in the county with relative ease.
Against the Wildcats it was the Tech defense pitching the shutout. Stars at all three levels of the defense include linemen commit Antonio Camon (4.5 sacks), Donteye Drew (5.5 sacks), linebackers Corey Lucius (43 tackles, two interceptions) and Ed Gwinn (34 tackles), and safety Norris Davis (30 tackles, interception).
The battle will be in the trenches as Jesuit's excellent offensive line will look to create holes for RB Joquez Smith (126 yards-per-game, eight touchdowns), and allow Griffin time to find favorite targets Jarriett Buie Jr. (251 yards, two touchdowns) and Willy Suarez (309 yards, two touchdowns).
The Tigers defense will be charged with the tall task of trying to contain Tech's explosive offense. Junior Rod Gainey ran for 190 yards against a tough Wharton defense last week and has now topped the 1,000-yard mark on the season (1,049 yards).
Earlier in the week it was announced that Tech had to forfeit its September 23 victory over Gaither (first reported by SBLive's Andy Villamarzo), meaning the Titans 21-game regular season win mark is snapped. The loss however, was in a non-district game, so it will not prevent the Titans from making the playoffs should Tech win its district.
East Bay (7-0) @ Berkeley Prep (4-3)
East Bay has rolled through its first seven games, only having been challenged in a tight, 21-19 victory against rival Riverview, and a 10-point victory over Jefferson. The Indians will play for a district title next week versus Bloomingdale, so a game against a quality opponent like Berkeley Prep will certainly help in preparation and gauge where the Indians stand.
As usual, the Indians like to run the ball, and throw a number of different looks at teams. Jaelin Sneed (583 yards, eight touchdowns) is the traditional power back; hulking senior quarterback Nathan Carter (439 yards, seven touchdowns) is also powerful but brings a nifty pair of feet as well; senior Vincent Ketchup (392 yards, five touchdowns) brings the speed, while 6-foot-3 sophomore Armando Becceril (268 yards, two touchdowns) brings unique athleticism.
The Bucs counter with a significant ground game of their own with a pair of talented sophomores: on inside runs, it's the powerful low to the ground runner Joseph Troupe (581 yards, nine touchdowns); and on the outside, its 6-foot-1 Dallas Golden (570 yards on the gorund, seven touchdowns) using his athleticism on sweeps and off-tackle runs.
Sickles (1-7) @ Middleton (4-3)
How about a little love for head coach John Courtney and his Middleton Tigers?
Along with playing for the 2M-District 5 title next week versus King, Middleton has a chance to finish with at least six wins for the first time since 2007 with wins in two of the final three games.
The Tigers have been hot of late, winning four of their last five and giving up an average of just over seven points-per-game in that stretch. Junior linebacker Matthew Wilson leads the charge with 42 tackles and a pair of sacks. Also contributing are safety Jakobe Everett (33 tackles, two interceptions, two forced fumbles), linebacker Bryan Hunter (31 tackles, four tackles-for-loss), and defensive back Javan Williams (three interceptions).
Middleton will look to keep a strong Gryphons passing game in check. Brandon Royal runs the show and has passed for 1,780 yards and nine touchdowns. His favorite target is fellow junior Isiah Hudson who averages 131 yards per game and has snagged four touchdowns. Other contributors include junior Truitt Brown (333 receiving yards, five touchdowns) and Jaxon Kelley (302 receiving yards, touchdown).
Durant (7-1) @ Gaither (3-4)
The "Cardiac Cougars" continue the march toward a playoff berth after a 34-33, overtime win in a district game against Newsome last week. Durant's other district win was by a point over Sumner, and a win over Riverview next week will secure a district title for Coach Claybo Varnum and company. A victory over the Cowboys and a win over Riverview next week would give Durant nine regular season wins for only the second time in school history (10-0 in 2012).
The Cougars' calling card has been a defense giving up just under twelve points-per-game on the season. Seniors Greg Smith (10 tackles for loss) and 6-foot-7 Ty Merkle (36 tackles, 4.5 sacks) lead the way up front. Linebackers Jacob Reed (61 tackles, nine tackles-for-loss), and Brant Bovee (53 tackles, 10 tackles-for-loss) patrol the middle. Durant has an area best 13 interceptions as Jaden Cornelis and Xavier Peavy hauling in three picks apiece, along with two each from Luther Scarlett, Jaden Forte, and Jeremiah Gines.
The Cowboys have been bitten by the injury bug more than any other team in the 813 as far as key contributors being out. That hasn't stopped sophomore southpaw Jayce Nixon from putting up big numbers, his 1,742 passing yards and 16 touchdowns rank among the best numbers in the county. With Eugene Wilson and Michael Coley out for the season, Ladanian Ferrell (570 receiving yards,  four touchdowns), Latrell Taylor (429 receiving yards, four touchdowns), and sophomore Silas Tennenblatt (343 yards, two touchdowns) have stepped up to make Gaither a dangerous opponent.