Plant makes it seven-straight with big second half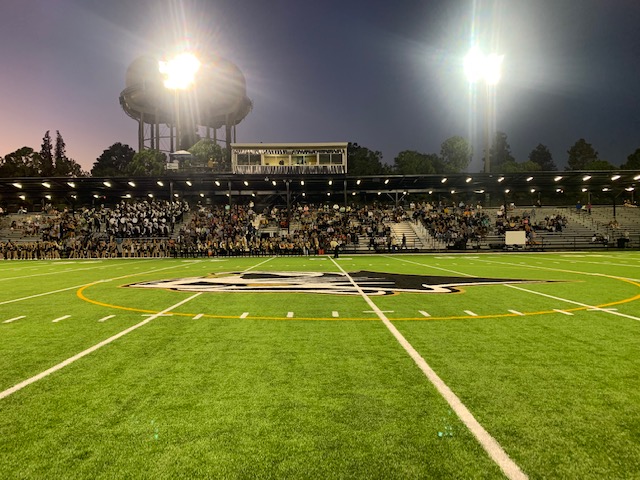 By Rick Cantor
Staff writer
Game Recap
After Steinbrenner quarterback Ty Robinson scored on a sneak just before the half to cut the Plant lead to one score, it appeared momentum was on the Warriors side. But Plant had other plans. The Panthers exploded with 33 points in the second half to turn the touchdown lead at intermission into a 47-14 rout of the Warriors on homecoming night at Dad's Stadium. A win at Alonso next Friday would give the Panthers their first district title since 2018.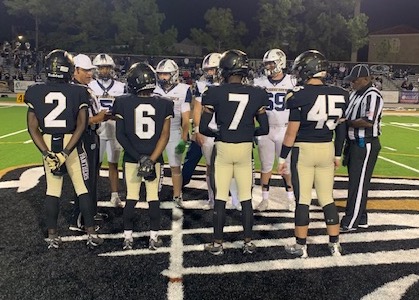 Getting Defensive
Plant got on the board first when sophomore Waltez Clark forced a fumble and senior Jaden Davis scooped it up and scored from 27 yards out in the first quarter. In the second quarter, Davis intercepted a screen pass attempt by Robinson, setting up a 20-yard touchdown run by Clark (8 carries, 88 yards, three touchdowns).
"We had been practicing against that play all week," Davis said. "He (Clark) came down and got him and I saw the ball come loose. I picked it up and then it was just a foot race."
In the fourth quarter, junior Chase Jarrett got into the action with a pick-six to put an exclamation point on the win for the Panthers.
"I was in the right spot. I saw the ball coming to me and it was my opportunity," said Jarrett. "I just attacked it and (then) attacked the end zone."
Two-Headed Monster
Trey O'Malley and JC Mirasola split time almost equally at quarterback for Plant, both finding success. O'Malley, a sophomore was 6-for-8 for 77 yards and a touchdown. Mirasola, a sophomore ended 9-for-10 with 77 yards and a touchdown. Third-stringer Luke Gisclair even got into the action, tossing a 60-yard pass to Joseph Gilbert on his only attempt of the night.
Both O'Malley and Mirasola's touchdown passes were to senior Jaquez Kindell, who finished with 10 receptions for 121 yards and added another 25 yards on the ground.
On a Streak
Plant (7-2) extended their winning streak to seven games, the longest since winning nine-straight in 2018. That year, the Panthers won their final seven regular season games, before falling in the third round of the playoffs to eventual state champion Lakeland.
Kirby being Kirby
One bright spot for Steinbrenner (4-4) was the play of running back Kirby Vorhees. While the Plant defense cooled down the piping hot Warrior passing game, the four-year varsity back topped the century mark for the fifth time this season with 123 yards on 20 carries. Vorhees combined his nifty footwork and bruising style to gain chunks of yards all night. On his most spectacular run of the night, the senior leapt over a Panther defender, only to have the play called back due to a hold.
Little Laundry
Steinbrenner played a very clean game, committing only three penalties for 35 yards. Plant however, did something nearly impossible in a football game at any level. The Panthers were not called for any penalties on the evening, thus tying a state and national record for least penalties committed in a game.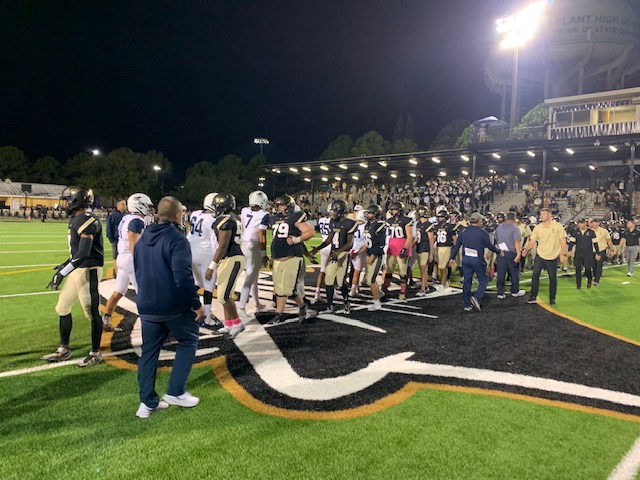 Week 9 Final Scores
From Thursday, October 20th
Clearwater Central Catholic 31
Carrollwood Day 6
Cross City Dixie County 6
Cambridge Christian 41
Robinson 35
Tampa  Catholic 70
Sickles 15
Middleton 50
Brandon 8
Spoto 27
East Bay 0
Berkeley Prep 13
Riverview 40
Strawberry Crest 14
Chamberlain 8
Blake 21
Durant 35
Gaither 41
Bloomingdale 18
Wharton 35
Tampa Bay Tech 21
Jesuit 24
Newsome 14
Hillsborough 49
Plant City 0
Armwood  40