East Bay wins district title in back-and-forth final quarter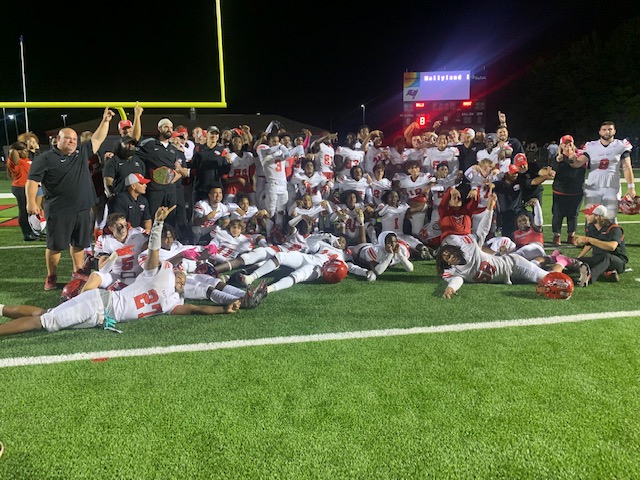 By Rick Cantor
Staff writer
VALRICO – East Bay senior quarterback Nathan Carter scored the go-ahead touchdown on a keeper with 1:35 left in the fourth quarter as the Indians clinched the Class 3M-District 6 title defeating Bloomingdale 40-34 in an entertaining, back-and-forth affair at Charley Harris Stadium on Friday night. The win guarantees the Indians a playoff berth for the first time since 2013.
Furious Finish
Carter's game-winning touchdown for East Bay (8-1, 3-0) came with under two minutes to play and was his second of a wild fourth quarter that started with an improbable, fake punt for a touchdown, when Bulls punter Jerimiah Sawicky took a snap deep in his own territory and completed a short pass to senior Mekhi Thomas. Thomas then turned on the jets and outraced the Indians' defense 74 yards for what was the first Bloomingdale lead since the first quarter.
It would be the first of four lead changes in the quarter.
After Carter (19 carries, 59 yards, two touchdowns) responded with his first touchdown to put the Indians back on top, the Bulls Christian Bodnar answered back on the next play, gliding through the East Bay defense on a 92-yard touchdown to put Bloomingdale (3-7, 2-1) up and setting up the final eight play drive and Carter's clincher.
First Quarter Fireworks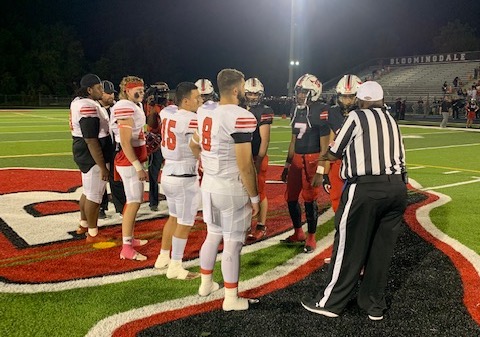 It wasn't just the fourth quarter that was a frenzy. After being shut out last week versus Berkeley Prep, it didn't take long for East Bay to get on the board. A 59-yard run by Vincent Ketchup set up junior bruiser Jaelin Snead (23 carries, 113 yards) for a two-yard score.
Bodnar foreshadowed what would come late in the game, taking his first carry for the Bulls 70-yards to the house, only to have Ketchup answer back with an eight-yard touchdown run just a few minutes later and the see-saw battle was on.
"I hate to admit it, but our offense got shut down last week," said Carter. "We had to come out and prove ourselves again."
Can't Ketch-up
With Snead and Carter pounding the ball inside for East Bay, Ketchup (17 carries, 133 yards, two touchdowns) gained his yards on the outside on a series or off-tackle runs and sweeps. The senior added his second touchdown in the second quarter, as it turned out the Indians would need every one of those points.
"It felt great getting those touchdowns. I always have to get in the box," said Ketchup. "I love my O-line. They always block for me. I just love this team."
7 yard td run by @VincentKetchup puts @EBIndiansFB up 19-8 on @Bdale_Football after a 2pt conversion is no good..10:04 2nd quarter @813Preps pic.twitter.com/1ZdKtIdfAi

— Rick Cantor (@Rickcantor76) October 29, 2022
Nate The Great
Quarterback Nathan Carter is a three-year starter and the unquestioned leader for the Indians. The team has improved each year in Carter's tenure, from going 2-7 in 2020, upping that win total to 7-3 last year – although the Indians did not qualify for the playoffs. With a district title on the line and both teams landing haymakers all night, the senior captain knew what it would take to steady the ship.
"It took guts. We knew we would face adversity today, and I think the team responded well," said Carter. "We kept our heads up. (It was) just a great job by everyone."
Rockin' Bod
Bloomingdale's Christian Bodnar was a one-man wrecking crew for the Bulls. With senior quarterback Charles Coney in his first game back since an injury in Week 3, and freshman Dillon Rose Bailey unavailable due to injury, Bloomingdale introduced a wildcat look, direct snapping to Bodnar with incredible success. The senior seemed to be using video game cheat codes, springing and zipping all over the field to the tune of 273 yards and four touchdowns on just 12 carries. The huge game capped a big day for Bodnar as he committed to FBS school Liberty just a few hours prior to the game.
Committed to THE Liberty University!!
Wasn't a hard decision at all, this is home and the next step of the journey.❤️ @LibertyFootball @Bdale_Football @darius_eubanks @CoachHughFreeze #RiseWithUs #Goflames pic.twitter.com/1O0yqxPIP1

— Christian Bodnar (@ChristianBodna2) October 28, 2022
Gottman's Got It
Congratulations to East Bay head coach Mike Gottman, who has a 15-4 record so far in his tenure in Gibsonton, with next week's regular season wrap-up at home against King. The longtime Durant coach made the move last year to be closer to his south county home, and it couldn't be working out any better, as he has the admiration and respect from his players, and now a district title to boot.
"Our coaches mean everything to us," said Carter. "We've been taking about getting a district title for two years. It's a great accomplishment."
Ketchup added: "I love Coach Gottman. I really appreciate him. He's more than just a coach to me."
Week 10 Scoreboard
Clearwater Central Catholic 63
Seffner Christian 6
CCC claims 1M-District 3 crown
Middleton 7
King 35
King claims Class 2M-District 5 crown
Tampa Catholic 35
Jefferson 14
TC claims Class 2M-District 6 crown
Tampa Bay Tech 18
Armwood 17
TBT claims Class 3M-District 4 crown
Jesuit 35
Hillsborough 9
Jesuit claims 3M-District 5 crown
East Bay 40
Bloomingdale 36
East Bay claims 3M-District 6 crown
Plant 42
Alonso 0
Plant claims Class 4M-District 7 crown
Riverview 26
Durant 30
Durant claims Class 4M-District 8 crown
Clearwater 6
Berkeley Prep 35
Gaither 57
Leto 0
Plant City 6
Strawberry Crest 14
Wharton 78
Freedom 6
Steinbrenner 52
Sickles 12
Blake 13
Robinson 50
Lennard 34
Spoto 24
Brandon 30
Chamberlain 22
Sumner 34
Newsome 24
Carrollwood Day 21
Cambridge Christian 6
Foundation Christian 8
Winter Haven Oasis 46