813Preps Week 11 Football Caps
Our Rick Cantor brings you a quick look at what to expect from our Week 11 feature game and a few other ones to pay attention to tonight.
Where we will be

: Jesuit (6-3) @Tampa Catholic (7-1)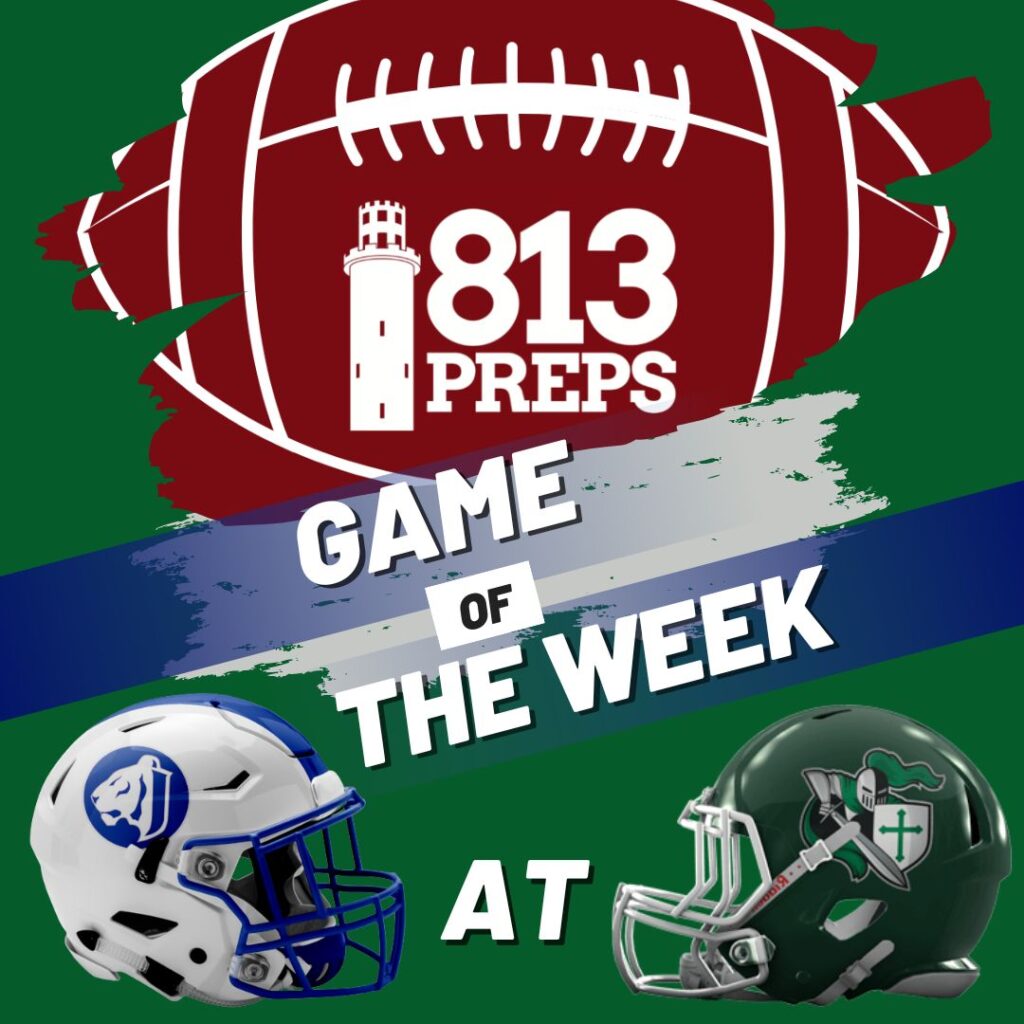 When talking about the annual end of the year matchup between Jesuit and Tampa Catholic, the elephant in the room must be addressed: Will this be the year?
It's been well documented this Catholic-school matchup has been one-sided, with the Tigers taking the past 22 matchups versus the Crusaders. This season, both teams come into the contest as district champions, Tampa Catholic in 2M-District 6 and Jesuit in 3M-District 5. On paper, the 2022 edition of this traditional Tampa season finale should be close. The Crusaders are even ranked nine slots higher by the FHSAA overall football rankings, as TC comes in at 45, while Jesuit is 54th.
And while there have been some talented Tampa Catholic teams over the past two decades, Jeris McIntyre's 2022 group may have the most talent and pedigree of the bunch. Start with Oklahoma commit and two-way standout Lewis Carter, who has rushed for 462 yards and 12 touchdowns on the ground, while amassing 77 tackles and four sacks on defense. Junior TJ Moore is a big-time playmaker on the outside, with 29 receptions for 650 yards and seven touchdowns. Running the show is junior Trey Hedden, who has passed for 1,211 yards and 17 touchdowns. Offensive lineman Eddy Pierre-Louis and defensive tackle Xavier Porter are also getting FBS looks.
But snapping the streak will not be an easy task against the defending state champion Jesuit, which has found its footing after dropping three-of-four in the middle of the year, and won its district for the ninth time in head coach Matt Thompson's 10 season tenure. And while three losses might seem like a lot for Jesuit, keep in mind the Tigers have played one of the most difficult schedules in the state.
Freshman QB Will Griffin (805 yards, 11 touchdowns) took over in midseason and has become more dangerous with each game under his belt. With 6-foot-3 Jarriett Buie Jr. (462 receiving yards, five touchdowns) also getting FBS looks, and Temple commit RB Joquez Smith just topped the 1,000 yard mark. On defense, Drew Woodaz (66 tackles, interception) and Peter Pesansky (63 tackles, nine sacks) lead they way, with big contributions from Houston Weathers (56 tackles, three sacks) and Cyrus Aboud (67 tackles).
Whether the Tigers extend the streak, or if the Crusdaers break thrrough, you can guarantee Wellswood will be rocking on Friday.
Robinson (6-3) @ Berkeley Prep (6-3)
2021 Class 3A runner-up Berkeley Prep appeared to be languishing when the Bucs found themselves with a 2-3 record midway through the season, before ripping off four consecutive wins and outscoring opponents 145-13 in that span. The Bucs will need another solid defensive effort to slow down a Robinson team averaging over 40 points-per-game this season in a matchup of teams that could potentially meet again in the 2M-Region 2 playoffs.
The Bucs aggressive defense seems to live in its opponent's backfield, with all-everything edge Keon Keeley (11 sacks, nine QB hurries, 17.5 tackles-for-loss) and running-mate Xavier Perkins (six sacks, nine TFL) leading the way. Linebacker Gavin Holman leads the team in tackles with 51, including 17 TFL. On the offensive side of the ball, a veteran offensive line fuel a balanced running attack lead by Jojo Troupe (821 yards, 12 touchdowns) and Dallas Golden (765 yards, nine touchdowns) will test the Knights' front.
Robinson sophomore Eric Archield has had a breakout season, passing for 1,531 yards and 18 touchdowns. His top targets include a pair of seniors in Kassim Johnson (434 yards, eight touchdowns) and Jeremiah Fernandez (458 yards, four touchdowns). The offense is not one dimensional however, as Johnson has added 635 yards and nine touchdowns on the ground, while junior Allan Lewis has chipped in with a similar 625 yards and eight touchdowns.
This game is a classic offense versus defense matchup, and for Robinson to have a chance they will have to neutralize Keeley and company, a very difficult task.
King (3-6) @ East Bay (8-1)
Even a week ago, few people would have anticipated this game would feature a pair of district champions going at, but that's exactly what we will see in Gibsonton. While it might not be a surprise the senior laden Indians topped 3M District 6 after a hard-fought victory 40-34 victory over Bloomingdale last Friday, the Lions are another story. Few people predicted first year head coach Dave Sevier's squad would topple a solid Middleton team, but the Lions victory came in emphatic fashion 35-7 and a district title resides at Sligh and 56th for the first time since 1981.
While King has won three-of-four games of late, a step up in competition awaits in East Bay. The Lions will rely on senior running back Kyle Stewart, who has topped the 90-yard mark in each of the three King victories and averages over seven yards-per-carry on the season. The Lion defense has shown improvement durint the four-game stretch as well, giving up 8.5 points-per-game in that span. Senior Gabriel Morrell (70 tackles, 19 TFL), Koveyontez Balentine (eight sacks, 12 TFL) and Joshua Lester (three interceptions) lead the way.
They will be going up against a veteran squad led by coach Mike Gottman, in his second year at the helm in East Bay. Jaelin Snead (742 yards, nine touchdowns) and Vincent Ketchup (582 yards, seven touchdowns) both topped the century mark versus Bloomingdale, and senior battering ram/QB Nathan Carter has passed for 11 touchdowns and run for another nine.
Should the Lions look to pass, they should be wary as the Indians have snagged 11 interceptions this season. DeAnthony Caldwell leads the way with three picks, while Ketchup, Kaleb Jones, Christian Stewart, Mychael Tucker, Anthony Laurent, Christian Burgos, and Cade White have also notched takeaways.
While East Bay will be heavily favored, a close game could give King some confidence going into the postseason.
Riverview (5-4) @ Steinbrenner (5-4)
Steinbrenner sits just out of the playoffs, currently ranked ninth in 4M-Region 2, but sitting just percentage points behind a pair of Orlando teams in Olympia and Dr. Phillips. It's possible that a win versus Riverview and a loss by either one of those teams would propel the Warriors into the playoffs.
As usual, Steinbrenner has potential to light up a scoreboard. Senior RB Kirby Vorhees (946 yards, nine touchdowns) has topped the 100-yard mark five times this season; junior QB Ty Robinson has run the up-tempo, spread passing attack to the tune of 1,798 yards and 20 touchdowns; senior Demetrius Carter has been on the receiving end of several of those tosses, racking up 823 yards on 39 catches and nine scores.
The Sharks have been one of the most improved teams in the 813, lighting up teams in victory, and losing by a touchdown or less in three of their four losses – including to playoff bound opponents East Bay, Durant, and Sumner. Senior Harrison Hensley finds the end zone often, with 21 touchdowns (11 rushing, 10 receiving) to go along with 1,013 all-purpose yards.  On defense, senior linebacker Hayes Thomas runs the show, with 59 tackles and 7.5 sacks. Robinson will have to be on the lookout for the Sharks opportunistic defensive backfield, as Darreyn Belcher (three interceptions), Alloysius Tyson (three interceptions) and Zion King-Collier (two interceptions) can wreak havoc.
This game will come down to Riverview's ability to control Robinson and the Steinbrenner passing attack, while not overlooking Vorhees on the ground.
Hillsborough (4-5) @ Wharton (7-2)
Head Coach Earl Garcia's Terriers are another team that sits just outside of the playoffs in the latest rankings. An upset win over Wharton could propel Hillsborough into the 3M-Region 2 postseason. It won't be an easy task against the Wildcats top notch defense.
Wharton comes into the game giving up just over 11 points-per-game, and its only losses have come against arguably the top two teams in the county in Tampa Bay Tech and Jesuit. The Wildcats boast stars on defense, including the often unblockable Edge Booker Pickett Jr., who has racked up a whopping 24 sacks while adding another 13 TFL; while Cameron Campbell patrols the middle and leads the team in tackles with 82.
Hillsborough will lean heavily on junior RB Jacquez Gibson (859 yards, 10 touchdowns). Shaun Joshi is the primary signal caller, while freshman Darryon Jones shares some time under center. Combined, they have passed for 1,043 yards and 11 touchdowns. Senior LB Ekyri Williams leads the way on defense with 85 tackles, while junior Tyler Pruitt has 4 ½ sacks.
The game will hinge on Hillsborough's ability to get on the board versus the strong Wildcat defense.
Week 11 Game Slate
(all games at 7:30 unless noted)
Cambridge Christian (5-4) at Maitland Orangewood Christian (2-7), 7p
Jesuit (6-3) @Tampa Catholic (7-1), 7p
Robinson (6-3) @ Berkeley Prep (6-3), 7p
Jefferson (2-7) at Plant City (2-7)
Middleton (5-4) at Sumner (7-2)
Leto (2-7) at Chamberlain (1-8)
Spoto (3-6) at Freedom (0-9)
Alonso (6-3) at Brandon (1-8)
Hillsborough (4-5) at Wharton (7-2)
King (3-6) at East Bay (8-1)
Fort Meade (6-3) v Seffner Christian (4-5)
Newsome (4-5) at Gaither (6-3)
Armwood (5-4) at Lennard (1-8)
Riverview (5-4) @ Steinbrenner (5-4)