Region Semifinals
Our Rick Cantor gets us primed for tonight's Class 2M-Region 2 semifinal as Tampa Catholic hosts Lakewood.
Where We Will Be

: Lakewood (7-4) @ Tampa Catholic (7-4)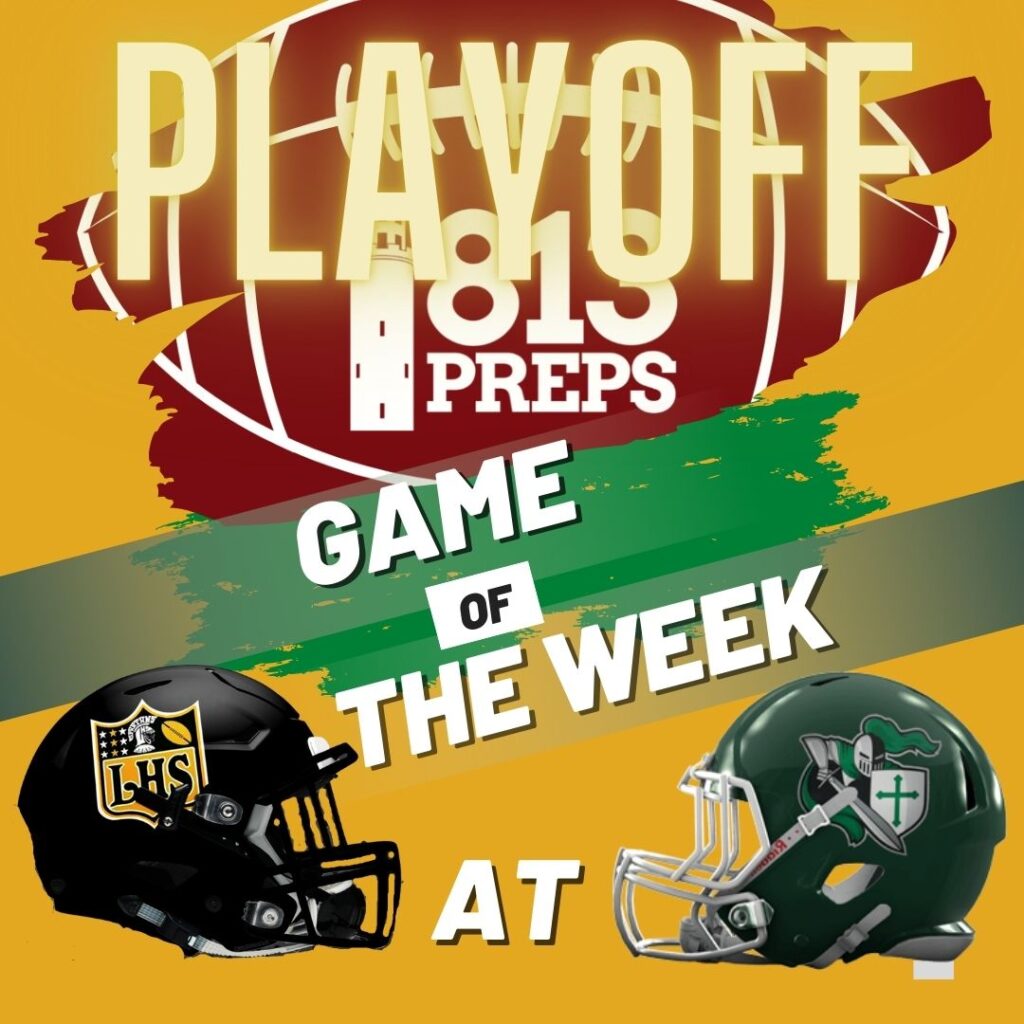 Tampa Catholic cruised in its 47-12 opening-round victory against King. In that victory, quarterback Trey Hedden threw for 291 yards and four touchdowns; TJ Moore caught three of those touchdowns in a six-catch, 201 yard receiving night. The competition becomes much tougher though this week, as the Crusaders host Lakewood, a perennial playoff team that has been the best in Pinellas County in recent years.
The Hedden-to-Moore connection is nothing new for Crusaders fans, as the junior quarterback has thrown for 1,662 yards and 22 touchdowns, while Moore, also a junior has caught 38 passes for 941 yards and 11 touchdowns. While this dynamic duo has been prolific all year, Tampa Catholic is far from one dimensional. In fact, the Crusaders boast one of the most balanced offenses in the 813. Oklahoma commit and two-way star Lewis Carter brings a smash-mouth mentality along with speed to the backfield and has racked up 555 yards and 13 touchdowns. Senior Mario Mayo (eight touchdowns) and sophomore LJ Elwin (five touchdowns) add more quickness and athleticism to the deep stable of backs. Elwin is also a threat in open space, have caught four touchdowns on just 15 receptions. The offensive line features 6-foot-4, 315-pound Eddy Louis Pierre.
Speaking of Carter, you can usually find him if you can spot the ball. The senior linebacker has racked up a team-leading 91 tackles, two interceptions, a blocked punt and four sacks. Fellow linebacker is the Carnell Herring has been solid in the middle and has racked up 61 tackles to give the Crusaders one of the best linebacking cores in the county. The defensive line also boasts solid all-around play, with end Jeremy Patterson constantly pressuring the quarterback and racking up 11 sacks, while Xavier Porter and Joseph Dotson add toughness to the line. The defensive backfield has been one of the most prolific in the area, as the Crusaders have intercepted 13 passed this season, with sophomore Charlie Qunitans leading the way with three interceptions.
Carter and the Tampa Catholic defense will certainly have its hands full trying to contain Lakewood quarterback Anthony Colandrea. The Virginia commit averages 209 yards-per-game through the air and has a touchdown to interception ratio of 17:6. Senior Aviyon Mack-Smith (50 receptions, 787 yards, five touchdowns) is Colandrea's top target, with senior Montravious Lloyd (32 receptions, 369 yards, two touchdowns) and junior Shamar Rigby (25 receptions, 351 yards, five touchdowns) also contributing. A physical offensive line paves the way for senior Traquan Johnson (691 rushing yards, five touchdowns) and the mobile Colandrea has contributed 468 rushing yards and three touchdowns runs.
As always, the Spartans sport playmakers on defense. Last season's second team all-state defensive lineman Taveon Wheeler leads the charge with 11 sacks and 26 tackles-for-loss for veteran head Coach Cory Moore's group. Isaiah Nixon sets the other edge and has notched six sacks, while causing three fumbles. In the defensive backfield, safety Gage Nix is the ballhawk with a pair of picks and additional four passes defended.
The Spartans come in having played one of the more difficult schedules in Pinellas County, with their three on-field losses coming to teams with a combined 28-3 record (Lakeland, Homestead, and Palm Beach Central) with a fourth loss coming via forfeit.
The Crusaders proved they could win a battle in the trenches in wins over Jesuit and Berkeley Prep. They will need to do so again against a battle-tested Lakewood team to advance. Look for a tight game where a big play or key turnover could decide the outcome.
FHSAA Region Semifinal Schedule
1M-Region 2
Carrollwood Day (5-3) at Northside Christian (8-1), 7p
2M-Region 2
Berkeley Prep (8-3) at Calvary Christian (9-2), 7p
St. Pete Lakewood (7-4) at Tampa Catholic (9-1), 7p
3M-Region 1
Tampa Bay Tech (9-2) at Edgewater (11-0), 7:30p
3M-Region 2
East Bay (9-1) at Largo (8-2), 7:30p
Gaither (7-4) at Jesuit (7-4), 7:30p
4M-Region 2
Plant (9-2) at East Lake (10-1), 7:30p