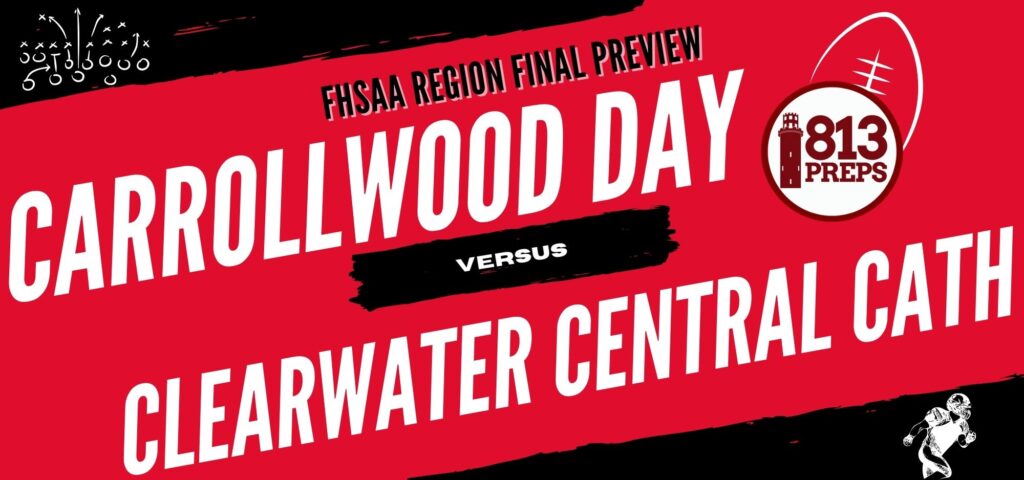 The FHSAA Region Finals are upon us with TWO Hillsborough County football teams still in the hunt for a 2022 State Championship. Our 813Preps Football writer Rick Cantor takes a look at the Class 1M-Region game Friday from Clearwater as the CCC Marauders host the Carrollwood Day Patriots. 
Carrollwood Day (6-3) @ Clearwater Central Catholic (10-1)
A rematch of an October 20th game won by Clearwater Central Catholic 30-6, Carrollwood Day hopes to exact some revenge in this 1M region final. The Patriots have plenty of top end talent to do so, with junior running back Anthony Carrie (113 yards per game, 16 touchdowns) leading the way on the ground, while receivers Bredell Richardson (368 yards, three touchdowns) and CJ Lewis (444 yards, four touchdowns) make plays on the outside for CDS.
More prospects line the defensive side of the ball, with edge Solomon Williams seeming unblockable in the first-round game versus Northside Christian, racking up an incredible five sacks. Williams has 14.5 sacks and 27 tackles for loss on the season. Senior cornerback Eddie Pleasant is a Michigan State commit, while Talan Dudley leads the team with 86 tackles.
CDS will need all the stars to play at their best and more against a Maruaders team that has mowed down a slate of Hillsborough private schools this season. CCC has knocked off Jesuit, Tampa Catholic, Berkeley Prep, Cambridge Christian, and Seffner Christian to go along with its win against the Patriots. Sophomore quarterback Jershaun Newton has been dominant with 1,822 passing yards, 20 touchdowns, just one interception, and another 1,046 yards and 13 touchdowns on the ground. Senior Lenwood Sapp has added another 1,099 rushing yards and 12 touchdowns.
A strong Marauder defense is led by an opportunistic secondary, as Nate Johnson, Gedontae Rich, Artrevian McClellan, Julian Allen, and Andy Jaffe have all snagged multiple interceptions.
The Patriots will have to find a way to slow down Newton and company this time around to have the chance to advance to knock of CCC and advance to the state semifinals.