THE 8-1-3List Week 2


presented by The Hitting Academy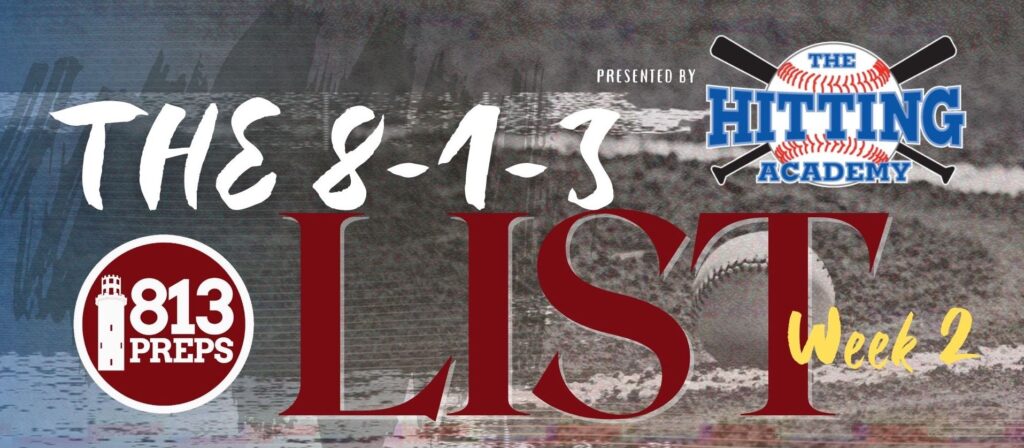 "8" Top Teams from Week 1
1. Jesuit (6-0)
Jesuit senior pitcher Brooks Chamberlin.
After Friday's 4-0 win over Tampa Catholic (click here to read), Tigers senior Grant Jordan (.368, 7 RBI so far) said: "I think in the preseason we weren't doing so hot, and we had to make some changes. We were those 'travel ball killers,' as I think was said in one article, and we just weren't playing as a team yet."
Well:
Thanks for reading.
The team looks pretty darn together, now.
Jesuit stacked wins against Mitchell, Venice and TC last week by a combined score of 17-2. Pitchers Aden Knowles (5ip, 1 unearned, H, 7K's), Brooks Chamberlin (6ip, R, 5K's), and John Abraham (5ip, 2H, 6K's) collected wins on the mound. The Tigers travel to Lakeland Christian on Tuesday and will open the Saladino Tournament on Saturday as a host with Plant City at 4pm.
Last Week: #2
2. Durant (3-1)
Noah Morales' three-run shot put Thursday's game out of reach for the hosting Gaither Cowboys, as Durant made it three-straight and move up this week's poll to the No. 2 spot. The Cougars began the week with a 6-0 win against Spoto, as Nick April-Gath, Jack Brooks, and Lonnie Coburn combined to hold the Spartans to just two hits and struck out 11. A rivalry showdown at Plant City goes down on Tuesday, and Durant heads to West Tampa on Saturday to face off with Sickles in the Saladino.
Last Week: T-#4
3. Sickles (3-1)
No snark. No jokes. Sickles is snake bit, and it sucks. After Thomas Bly went down to a knee injury in Game 1 (hopefully he'll be able to return in a few weeks), All-813Preps POY Caden McDonald threw away a line in our postgame interview, saying: "We're obviously pretty accustomed to injuries, it just gives us something to play for … we're just used to it."
It was an absolutely gutting, matter-of-fact statement. Tuesday, unfortunately it was McDonald who went down on the field, after a line drive yo-yo'd back to the mound and struck the senior in the face. The Gryphons dropped that game to Jefferson, but responded on Thursday with an 11-3 win against Wharton. Tuesday against Wesley Chapel and Saladino Saturday against Durant is on deck, and certainly the healthy players remaining for the Gryphons have plenty of "somethings to play for" heading into the tournament. Sickles was last season's Saladino runner-up.
Last Week: #1
4. Lennard (4-0)
The Longhorns are 4-0 to start the season with wins against Plant City (read all about it here) and a 2-1 squeaker win against Hillsborough added last week. Pitching has been stellar for Lennard, as the team ERA stands at 0.50, with 16 strikeouts from junior Zack Bird and 14 from senior Jack Mueller. Senior Logan Covey has a hit in all four wins and leads the team with five RBI (including driving in three against Plant City). Lennard which, hosts and opens Saladino play with defending champs Plant on Saturday, must first take on Newsome (in Fishhawk, Tuesday) and travel to Strawberry Crest on Thursday – three HUGE tests for the Longhorns.
Last Week: #8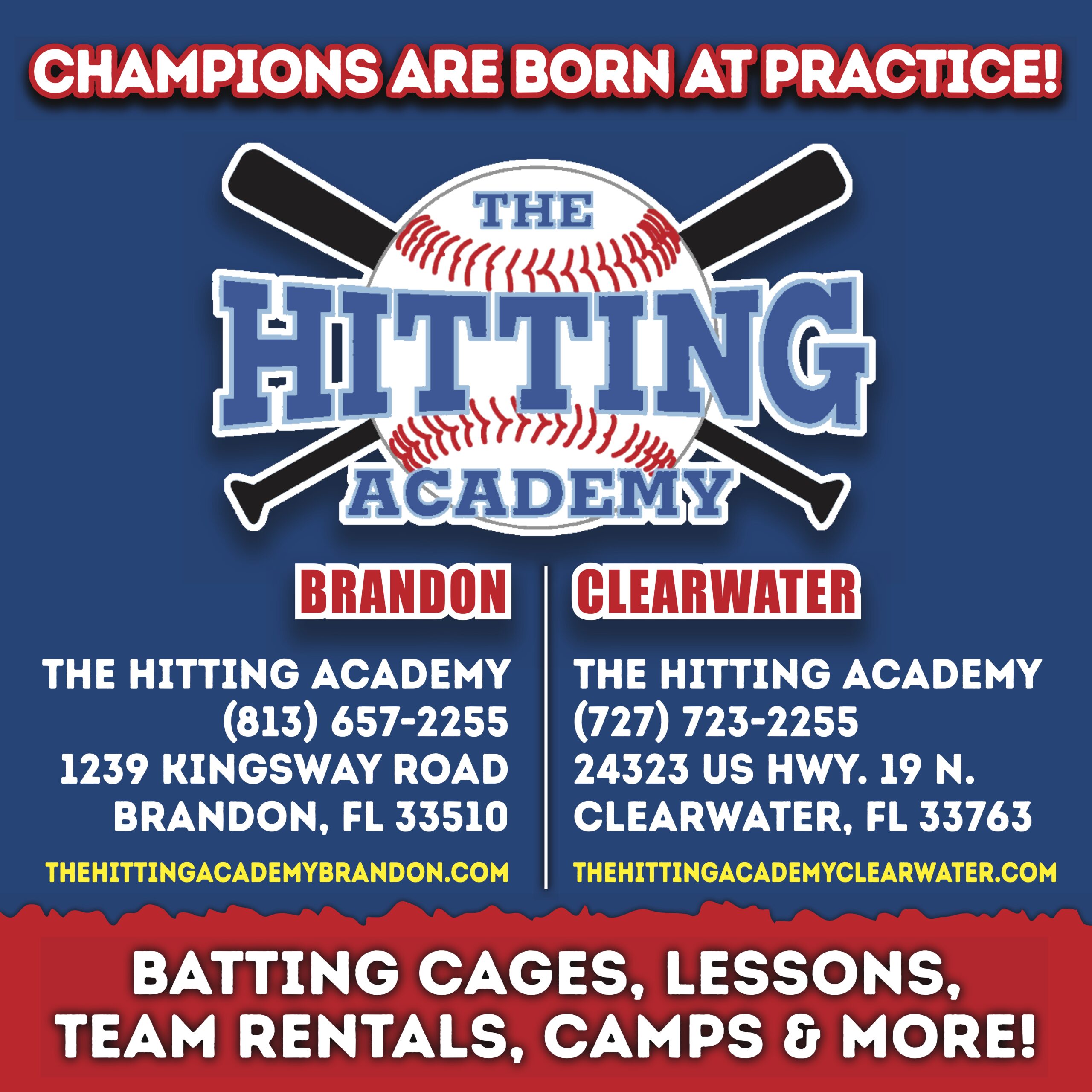 5. Jefferson (3-1)
Jefferson senior Alejandro Aguilar.
After a 3-1 loss in the season opener against Lennard, the Dragons have won three-straight including a 6-5 road win against previously unbeaten Sickles, and a mercy-rule win against Chamberlain. Senior Alejandro Aguilar led the week going 5-for-6 at the plate with a home run, three RBI and two runs scored, while also earning a win on the mound against the Storm. On the mound he tossed two innings, striking out five, while starting a combined five-inning no-hitter with Cameron Copple (3ip, 6K's). Jefferson bookends the week with home games vs. Robinson (Tuesday, as well as Saturday's Saladino opener), and also welcomes Middleton on Thursday.
Last Week: unranked
6. Bloomingdale (4-0)
Bloomingdale senior Bobby Rossi.
The Bulls took care of things with wins over Brandon and Freedom last week, with Dawson Rankin singling in runs twice in support of a six-inning shutout effort from Trey Wilson on the mound (4H, 7K's) against the Eagles. The 11-2 win against Freedom (read the wrap-up here) featured homers from Dawson Harman and Coop Hinson, and two hits each from Hinson, Bobby Rossi and Tyler Clinton. B'Dale jumps into the Week 2 List after ranking No. 13 in our preseason Bubble Teams list.
Last Week: unranked
7. Steinbrenner (3-0)
The Warriors fended off King, 7-3 in Steinbrenner's lone game last week as sophomore Austin Liss delivered his second 11-strikeout performance on the mound. However, the win took a five-run rally in the sixth, and a nice two-inning relief appearance from senior Ethan Humphreys (0R, H, 4K's) to get it done. Junior Jorge Romero's bases-clearing double gave Steinbrenner the edge in the sixth, and Aidan Forde drove in Romero and tied him for the team lead with six hits on the season. The one-game week gives way to a trio this week, as the Warriors welcome Leto on Tuesday, district opponent Palm Harbor on Thursday, and have a Top 8 battle with Bloomingdale to open the Saladino in Dover on Saturday.
Last Week: unranked
8. Plant (2-2)
Plant was held to just a single run in a Tuesday loss to Gaither, dropping the Panthers down the list this week. Plant hangs on to a spot primarily because of its response – a 9-0 dismantling of Strawberry Crest (game story: click, click) – behind the 13-strikeout performance from ace Robert Satin. Plant's win was started by a two-run homer from Rocco Demarinis, and supported by two-RBI games from Cash Strayer, Jack Meade and Satin. Plant will host Wharton on Tuesday, and will try and defend its Saladino championship when it travels to Ruskin to face Lennard on Saturday afternoon.
Last Week: #3
Falling out this week: Strawberry Crest (2-2); Plant City (2-2); Alonso (3-1).
"1" Team to Watch
Sumner (3-1)
Sumner senior Manny Ramos.
The Stingrays dropped a tough, 6-1 loss to Bloomingdale in the second game of the season, but have double-digit run totals in its three wins this year, including a 11-2 win at East Bay and a 15-4 win against Tampa Bay Tech last week. Stingrays' seniors Manny Ramos (.727 avg, 7 runs, two doubles, six RBI) and Isaac Martinez (.571 avg, two doubles, three RBI), as well as sophomore Jesse Robledo (.500 avg, seven RBI, triple, double) are pacing a run-scoring offense, while Sumner pitching has 38 strikeouts in 24 innings so far. In its third year, Sumner will make its Saladino Silver Bracket Tournament debut against Seffner Christian on Saturday, but first has a home game against Riverview and a roadie against Alonso this week.
"3" Top Performances
Tyler Fritsch, Bell Creek
The Panthers senior has been unbelievable to start the year on the mound, with a pair of wins and just two hits and two walks allowed in his first two starts, while striking out 20 in 13 innings. The second of those starts – was his second consecutive perfect game against Cambridge Christian (dating back to last season), where the righty struck out a dozen in a six-inning mercy-rule win. On top of that, Fritsch is also hitting .400 with four doubles, five RBI, and has scored six times for the 4-1 Panthers.
View this post on Instagram
Reginald Faison Jr., Brandon
The senior righty took a Week 1 loss to Chamberlain, despite striking out 10, but got in the win column last week with a 13-K performance as the Eagles defeated Middleton, 7-1. In the win, Faison allowed one unearned run, on just one hit and worked around three walks.
Garrett Morgan, Seffner Christian
Great team win 13-0, everyone did their job. Went 2-2 with a double, 3 rbis, and my first high school 💣 @813Preps @TampaBSBL @ftrstarsseries @TopPreps @UncommittedUsa @BUncommitted @hittingguru7 @GameTimeRecruit pic.twitter.com/w8hS7JKd3M

— Garrett Morgan (@Garrett11Morgan) February 28, 2023
Going 5-for-8 last week at the plate, Morgan paced the Crusaders offense with a team-leading nine RBI, belting two homers, and a double as Seffner Christian won games against Bradenton Christian, Cambridge Christian and Sarasota Gulf Coast Heat last week.
💣#2, Grand Slam! @813Preps @GVO_Uncommitted @BUncommitted @BaseballCf @ftrstarsseries @PrepSoutheast @TopPreps @GameTimeRecruit @SportsForceBB @UncommittedUsa @PBR_Uncommitted @hittingguru7 pic.twitter.com/Rx1mX8oofr

— Garrett Morgan (@Garrett11Morgan) March 4, 2023