THE 8-1-3List Week 3


presented by The Hitting Academy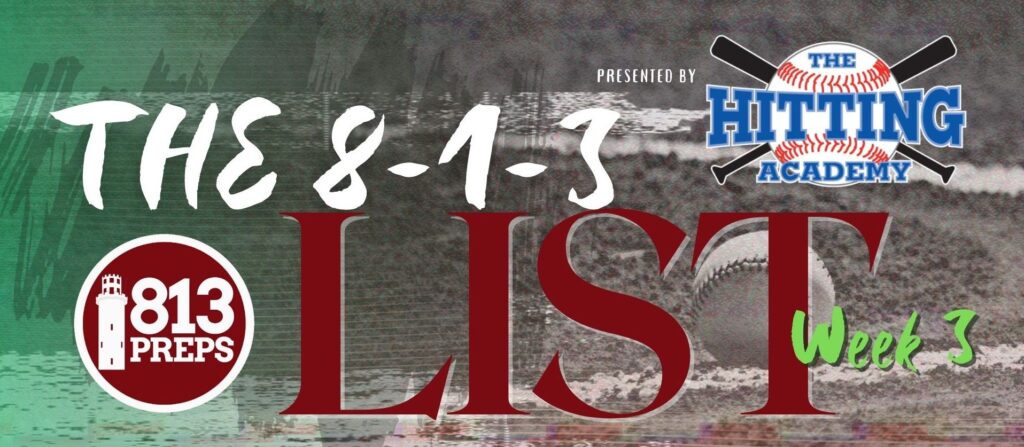 "8" Top Teams from Week 1
1. Jesuit (8-0)
Jesuit junior Noah Sheffield.
The Tigers traveled east and took down Lakeland Christian 11-6, and then bested Plant City 9-3 to start the Saladino Tournament as Noah Sheffield (.417, 10 RBI) and Grant Jordan (.346, 12 RBI) each homered on the week. Don't look now, but Jake Kulikowski is starting to heat up, going 3-for-4, with five RBI and four runs last week. Junior Aden Knowles got work on the mound in both games, earning the win against the Raiders on Saturday, pitching a combined 6 1/3 innings, with two runs allowed and eight strikeouts in the two games. Jesuit will host Wharton today in Saladino play, and Tuesday's game against the live arms of Gaither should be fun.
Last Week: #1
2. Sickles (5-1)
Sickles senior Luke Fikar.
"People keep asking if I'm back … yeah, I'm thinking I'm back!" Sickles went all John Wick on everybody, returning a full lineup card on Saturday as Thomas Bly returned from his knee injury, Caden McDonald returned after taking a liner to the face in Week 2, and Justin Allen was cleared to return behind the plate. After an early week, 7-2 win against Wesley Chapel, the Gryphons in full force took down Durant 4-0 to open the Saladino as McDonald, Cameron Guise and Luke Fikar held the Cougars to just two hits. Hayden Yost paced the offense with a 3-hit, 3-RBI day. Today Sickles returns to Jefferson to take on the Dragons looking to avenge the Gryphons lone loss of the season.
Last Week: #3
3. Jefferson (6-1)
As Lee Corso would say, "Not so fast, my friend." The Dragons will likely be breathing fire to show that Week 2's 6-5 win over Sickles was no fluke as red-hot Jefferson has ripped off six-straight wins – including a pair against Robinson around a win over Middleton last week. Mikey Marroquin struck out 11 in Tuesday's win against Robinson, and Cameron Copple kept the Dragons ahead in a five-inning, six-K performance in the second meeting on Saladino Saturday. Jefferson will have to run a treacherous gauntlet to advance from pool play if the Dragons can get by Sickles, then Durant awaits on Tuesday.
Last Week: #5
4. Bloomingdale (7-0)
Bloomingdale junior Coop Hinson.
The undefeated Bulls move up two spots this week and are ripping the cover off the ball, averaging more than eight hits a game and six-plus runs. Bloomingdale won three last week, topping Spoto, Hillsborough and Steinbrenner – with the latter coming thanks to a three-hit game from Dawson Harman and six strong innings from Jacob Magadan. Senior Trey Wilson will take the hill tonight as the Bulls face Strawberry Crest in Saladino play in Dover. The Chargers will definitely be bowed up after allowing Newsome to rally in the seventh for a win on Saturday, but the Bulls are putting it together at the plate with junior Cooper Hinson hitting .455 with a homer and three doubles, and Dawson Rankin just behind hitting .421 on the year.
Last Week: #6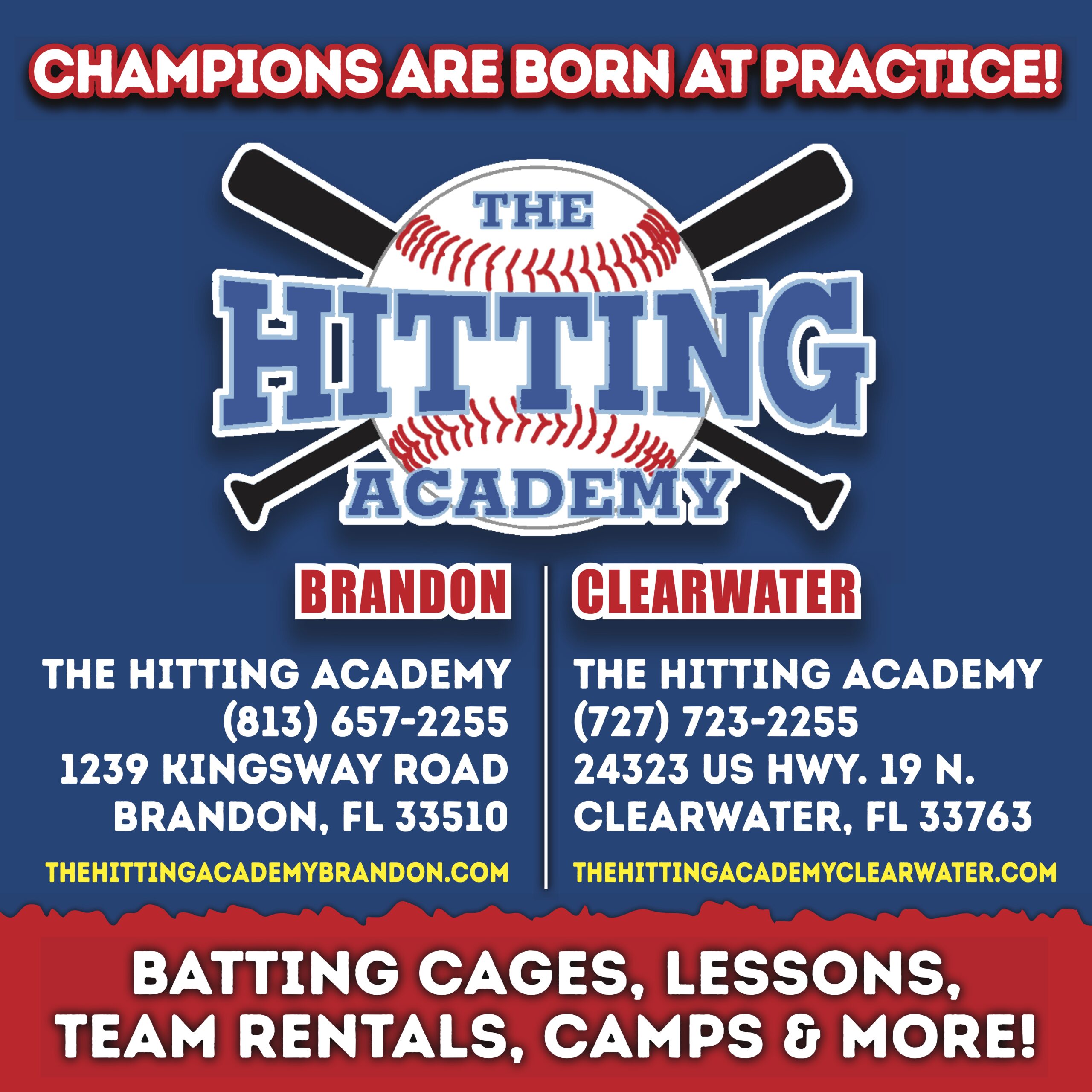 5. Plant (4-2)
Well we know what Plant can do with Robert Satin on the bump, as the lefty ace picked up his third win of the young season in a 7-4, complete-game win against Lennard on Saturday (click here to read about it) to start the Saladino. Jack Meade, Rocco DeMarinis, and Cash Strayer each have five RBI on the year for the Panthers. Now the question comes, can the rest of the Panthers arms step up to the levels that saw Plant claim a tourney title last season? The Panthers will return to Ruskin this afternoon for an early-evening tilt with Alonso and senior hurler BJ Rivera.
Last Week: #8
6. Durant (4-2)
Durant dropped its Saladino opener to Sickles after winning four-straight, including putting up a five-run eighth inning to take down crosstown rivals Plant City in extras on Tuesday. The win against the Raiders was sparked by junior Noah Morales' third homer of the season, and his eight RBI lead the Cougars on the year. Durant was likely a little caught off guard in seeing the unexpected return of McDonald for Sickles, but just managed one hits after the Gryphons ace departed after four innings. The Cougars will contend with Robinson today in West Tampa, and will need to win out and get some help from Jefferson tonight to activate tiebreakers (head-to-head, runs allowed, coin flip).
Last Week: #2
7. Gaither (5-2)
Gaither junior Nico Lopez.
Three wins in a row gets the Cowboys up into the Top 8 – and man, Gaither's pitching has been outstanding (see below). A 1-0 win over Alonso, a 10-0 win against Plant City, and a 10-3 Saladino win vs Wharton last week as senior Scout Simpson was 6-for-8, scoring four runs and driving in six. Junior Nico Lopez is hitting .450 with eight RBI, and the Cowboys pitchers have struck out 67 in 45 innings this season. Gaither will face Plant City for the second time in five days, and Tuesday's game against Jesuit to wrap-up pool play should be a pitching clinic (which means it'll likely be a offensive explosion, LOL).
Last Week: NR
8. Alonso (5-2)
The Ravens fell 1-0 to Gaither to start last week, but defeated Sumner and Tampa Catholic (Saladino) to close Week 3 out on a good note. Sophomore Jaden Nazar doubled and homered in the win against Sumner, and his six RBI are tied for second on the team with a strong senior class of offensive players. Christopher Morgan continues to be an excellent top of the order player, scoring eight runs and hitting .320 on the year. We are assuming Bryan Rivera will get the start on the mound today against Plant, and despite his 1-2 record his 1.17 ERA and strikeout-per-inning ability will make for a great showing in Ruskin at 4pm.
Last Week: NR
Dropping out from last week: #4 Lennard (4-2); #7 Steinbrenner (4-2)
"1" Team to Watch
Spoto (4-3)
Spoto senior Chase Wink.
The Spartans deserve some attention as our "1-Team to Watch" as second-year coach Stephan Knight has Spoto playing competitively in all of its games so far. After a tough season in 2022, which saw Spoto outscored 130-46, the Spartans have battled in games against regularly-ranked opponents, and found a way to win close games this year. Last week, Spoto beat both Freedom and Tampa Bay Tech with 19 hits combined. Junior Abel Jimenez is hitting .417 (10 hits), and Cullen Cairns has six RBI to lead the offense. With Peyton Nisy, Cairns and Chase Wink doing good work on the mound. With a game against Middleton (which Spoto beat 11-2 in the season opener) and a Tuesday showdown with Brandon ahead in Saladino Bronze Division action, we are excited to see if the Spartans keep trending in the right direction.
"3" Top Performances
Michael Fernandez, LHP, Gaither
The Cowboys junior has taken down Hillsborough, Plant and Alonso from the mound this season – the last of those coming in a complete-game 10-strikeout performance in Tuesday's 1-0 win against the Ravens. In three starts, Fernandez has 29 punchouts, allowed eight total hits and has a 0.43 ERA on the year.
Steven Rojas, RHP, Gaither
As if Fernandez's Tuesday start weren't enough domination from the mound, the Cowboys senior righty decided it was his turn to shove as Gaither took down Plant City by mercy-rule on Thursday. Rojas struck out 12-of-17 batters he faced, issuing just one walk and allowing one hit to earn his first win of the year.
KJ Leshko, SS, Armwood
In two dominating wins last week, the Hawks senior was 5-for-6 with five RBI, four runs scored a double and a triple as Armwood dismantled Leto and Brandon in wins. On the year, Leshko is hitting .500 with eight RBI for the 4-2 Hawks.