Sharks attack and win Saladino Silver Division crown
By Lily Belcher, Correspondent
BRANDON – Riverview claimed a program-first Saladino Tournament Silver Championship in five innings outscoring the King 13-3 at Brandon High.
Riverview started the game with a blistering five-run first inning to set the Sharks up for the dominating Wednesday night victory.
"The whole team worked together," said starting pitcher Victor Peinado, who struck out seven across four innings. "We got some hits down, put some runs up, and tried to finish the game early."
Lions' starting pitcher Caden Harrier gave up four walks and a base hit to the first six batters he faced before being relieved by Enrique Fernandez. The Sharks attacked, loading the bases twice and batting around in the first inning.
With a comfortable five-run buffer, Peinado struck out the side in the second after giving up a base hit.
The Sharks tacked on three more runs in the bottom half of the frame. Farah Castilllo led off the inning with a single, followed by a double by Adrian Rolon to put two runners in scoring position. A throwing error during Peinado's at-bat allowed Castillo to cross the plate, and an infield popup drove in Rolon. Peinado stole second and scored off a fielder's choice to give the Sharks an 8-0 lead.
"[Peinado] is a senior and he's come a long way since his freshman year," Riverview head coach Jason Smith said. "He's a good kid…He's a hard worker. He has really proven this year that when he takes the mound that he does command a little bit of respect on there."
King scored in the third with an RBI double by Jacari Sandlin, and Chris Hendricks and Nico Brown picked up a pair of RBI to give the Lions their three runs of the night.
Riverview answered in the bottom of the fourth with four hits, two walks and an error to score Peinado (for the third time of the night) and Anthony Lara. Lara made his first start of the season Wednesday night, ending with two walks and two runs over two at bats.
"It felt great, man. I just want to come out here and play and help my team out," said Lara.
Heading into the bottom of the fifth leading 10-3, the Sharks were three runs shy of a mercy-rule victory. Rolon hit a leadoff single and scored off an RBI double by relief pitcher and pinch hitter Jeff Berrios. Berrios scored on an RBI single by pinch hitter Yerick Rodriguez to give Riverview a 12-3 lead. King walked the bases loaded before giving up the final run of the game with a walk.
Tournament founder Tony Saladino presented the Silver Division Championship trophy to the Riverview team on the field with a brief post-game ceremony. Smith applauded his team for the chemistry they found during the Saladino Tournament, something they lacked after losing several players to injury last year and struggling to find their groove this season.
"It was a tough year for them, but they got a lot of experience from that. We started off rough this year," he said. "It wasn't one of those things where we were a bad team, but we just weren't playing like I know that we could.
"We finally pulled together and said 'Let's come together at Saladino. Let's do what we know that we can do and come together as a team.'"
Their chemistry and teamwork showed in the championship game as the offense leaned on batters to capitalize on bases-loaded innings and opponent errors. With the newfound chemistry, Smith reminded his team the tournament was just the start, and the Sharks have a long way to go before the post season.
"I love everyone on this team, man. This is a great team," said Lara. "I feel like we can make a run for districts, man. I know we can."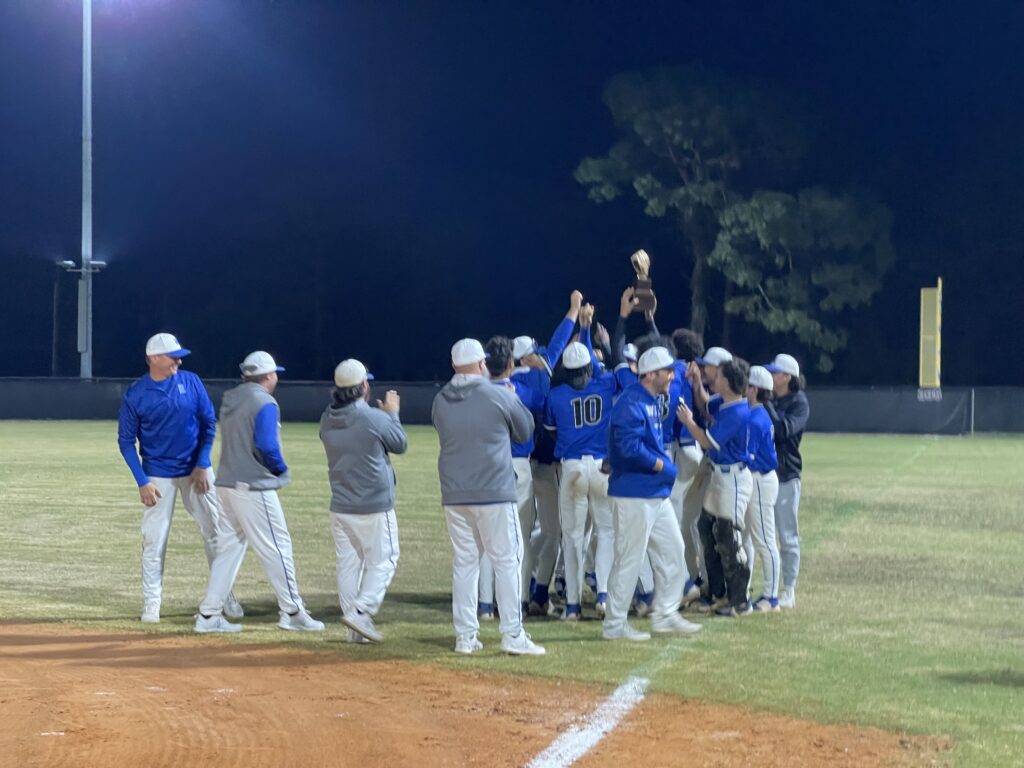 ⚾ Saladino Silver Championship ⚾
Riverview 13, King 3 (5)
K 001|20x|x – |3|6|4
R 530|23x|x – |13|12|2
W – Peinado (2-1); L – Harrier
2B – Hill, Sandlin, Hendricks (K); Berrios, Rolon, Peinado (R). Records – K (2-7); R (5-4).