Sickles pile up late runs for Saladino semifinal win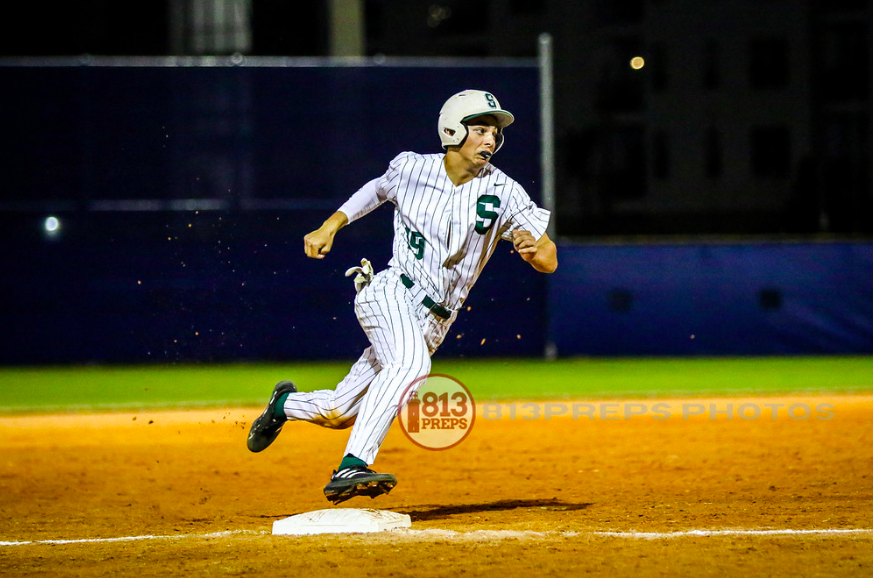 Sickles junior Cameron Guise had a pair of doubles, driving in four runs against Alonso to help put Sickles into the Saladino Gold Division Final on Wednesday. 
By Chuck Frye, Staff Writer
Photos by Tara White, Photo Correspondent
TAMPA — Plenty of patience and zero panic has landed Sickles one win away from a Saladino Tournament title. It's not exactly the script head coach Eric Luksis would like his squad to follow but he'll take it.
"We've been kind of waiting a little too long to get going so I've been on the offense a little bit lately," Luksis explained. "It's time for them to get going."
In Wednesday's Gold Division semifinal at Jefferson High, the Gryphons' offense battled through five tough innings against Alonso before finally busting loose. Sending up almost as many batters in the final two innings as in the five prior frames, Sickles turned a pitcher's duel into a rout, blowing out the Ravens, 12-3, to set up a Thursday date with Jesuit at the University of Tampa for a tourney crown that has eluded the Gryphons for 21 years.
Alonso (now 6-4 on the season) held a pair of early leads. A second-inning double from DH Keenan Rutledge (two hits) scored sophomore Jaden Nazar, who walked, then the Ravens countered Jordan Yost's fourth-inning RBI single with one in the bottom half of the inning when Austin Kirsch double and scored on sophomore Sammy Fernandez's Texas-League single over first baseman Caden McDonald's head.
All the while, Alonso would bend but not break behind junior starter Landon Nunez. Sickles got its leadoff batters on base in every inning but Nunez was clutch through his 4 2/3 innings of work, scattering six hits while stranding seven Gryphon runners.
Alonso starting pitcher Landon Nunez held the Gryphons to just one run in his 4 2/3 innings of work, tallying four strikeouts.
However, the squanders didn't shake Sickles' resolve.
"We didn't get tense," said leadoff batter Connor Vance. "We just stayed within ourselves and just wanted our offense to do the damage that we needed to do."
"That's kind of what we've been doing this whole tournament," said junior Cameron Guise. "We start getting things going in the later innings – and sometimes the seventh inning against Jefferson (in a walkoff win) … we just know our offense will take care of the job."
The constant pressure from Sickles (8-1) finally proved too much for a shaky Raven defense, especially when the Gryphons went small-ball in the sixth, scoring two runs without the benefit of a hit. After walks to Justin Allen and Bryce Vance followed by a double steal, both Luke Fikar and Connor Vance executed picture-perfect safety squeeze bunts that gave the Gryphons a lead they would not lose.
"We battled and played solid but we had some mishaps in the outfield and we misplayed some bunts that extended some innings," said Alonso head coach Landy Faedo. "It forced our pitchers to throw more than they had to."
Gryphons junior Jacob Dial slides head first into home.
"Bunting is a very key part of the game and not many people actually work on it," said Connor Vance, who added three hits including a double with a walk and three RBI in the win. "I'm glad our team's very good at it. We got the job done."
"Connor's fantastic, he's probably the most underrated player in Hillsborough County," said Luksis. "In my opinion, he's the best leadoff hitter in the county. He knows exactly what he needs to do."
From there, the Sickles bats exploded led by Guise (two doubles including a bases-loaded blast in the seven-run sixth), Hayden Yost (three singles, RBI, two runs scored) and Jordan Yost (two singles and a sacrifice bunt, RBI).
"I just kind of blanked out on that moment," Guise said with a smile of his game-changing two-bagger. "I got the pitch I wanted, a fastball, and jumped on it. I started off pretty rough, but I was so happy after that hit. It was really a huge confidence booster."
Connor Vance's two-run double was the key hit in a four-run seventh inning, closing out the victory and setting up the anticipated finals matchup with Jesuit, the team Sickles beat in last year's semifinals.
"I think this is pretty much destiny right here," Guise concluded. "These are the guys we love playing, the only time we can play them is in this tournament, and we want to beat them so bad. Hopefully, winning this tournament slingshots the rest of the season, leading to the playoffs and a state championship run this year."
Sickles starting pitcher Brandon Gonzales struck out six in his four innings of work. 
#2 Sickles 12, #8 Alonso 3
S 000|107|4 – |12|14|1
A 010|100|1 – |3|7|1
W – Cartaya; L – Nunez
2B – Guise, B. Vance, C. Vance (S); Kirsch, Rutledge, Borges (A). Records – S (8-1); A (6-4).