Knowles, Westfall deliver in Jesuit's Saladino win
Junior Aden Knowles pitched five innings, allowing one earned run and picked up his second win of the 2023 Saladino Tournament. Knowles pitched nine innings in the tournament, striking out eight and allowing two earned runs, and was named the tourney's Most Valuable Player. 
By Jarrett Guthrie, Editor
Photos by Mike Camunas, Creative Director
TAMPA – Headed into the 43rd edition of the Tony & Bertha Saladino Baseball Tournament, undefeated Jesuit felt like it had something to prove – and the Tigers players and coach Miguel Menendez knew exactly what, or more importantly who they wanted – Sickles and the Gryphons' senior leader Caden McDonald.
In Thursday's Gold Division title game, the Tigers got what they wanted, and got to McDonald quickly, scoring four runs and holding off a Gryphons rally for a 5-2, championship win from the "Birdcage" at the University of Tampa.
"There are enough guys here from last year (when McDonald shoved on Jesuit's home field for a Gryphons' 1-0 tournament semifinal win), and we talked about how we wanted to play Sickles and wanted to face McDonald again," Menendez said. "Listen, not only in Saladino, but also in the (2021 fall) Steinbrenner (Wood Bat Classic) tournament – that is the first time we've scored off of him … we were looking forward to playing someone that talented in this game."
Jesuit finally found a crack in the sturdy foundation of the Gryphons hurler and made it hurt with three hits and four, first-inning runs – the only ones McDonald would yield in his five innings of work.
"Going out there, nerves are definitely high in a championship game," Jesuit junior Aden Knowles said. "But going back out there after four early runs, it takes a big weight off your shoulders.
"Last year we had a little bit of a rough start, including in the Saladino, and that was definitely fuel for the fire for us this season."
Pitching for Jesuit (12-0), Knowles was outstanding in his start holding the Gryphons hitless for the first four innings, finally showing some vulnerability out there in the fifth. He started the inning with a hit batter, walked another, and with two outs, gave up a line drive single to Luke Fikar, which plated one run. On that same hit, an error on the throw in to third allowed Sickles to cut the lead in half.
Cameron Guise celebrates down the line as he scored Sickles first of two runs in the fifth inning.
Knowles' night would end there, striking out two, while earning his second win of the event, which earned him tournament Most Valuable Player honors.
"This is a tournament that we look forward to every year," Knowles said, "so, of course we want to come out here and win it. Seeing everyone's best guy, and winning? Yeah, it feels amazing to win the whole thing."
With a runner at third after the two runs for Sickles (8-2), the Tigers handed the ball off to closer Derek Westfall, who struck out the first of his three K's on three pitches in his save effort.
"Aden pitched his butt off, like he always does," Westfall said. "Me, personally, I never want to give up any of my teammate's runs … so, I was really hyped to get in there and show my stuff. I was waiting, and I didn't want Aden to come out, but at the same time I really wanted to go in.
"I was pretty pumped for that three-pitch K."
Jesuit righty Derek Westfall pitched 2 1/3 innings of relief, earning the save while allowing one run and striking out three.
Westfall, who was cut from the varsity squad a season ago, made huge improvements over the summer travel ball season, and now has solidified himself as a top closer in the county. He credited the support of his Jesuit teammates, especially those he spent the previous two summers playing with on the Ostingers travel team.
"When I got cut last year, I was a little down obviously, but my teammates always had my back, especially the Ostingers guys Josh (Hines) and Mikey (Clifford)," he said. "Josh has been my catcher for the past two summers, and he has really motivated me to keep pushing and show the world what I've got."
Menendez spoke to the work the Queens University of Charlotte signee has put in, and the respect he has for Westfall's dedication.
"He's an unbelievable story," Menendez said. "Nowadays, a player gets cut and they transfer, maybe they give it up, but he just kept working … he made a jump with his velo and his breaking ball is really, really good, and honestly I don't even call his pitches when he's out there."
After Knowles worked a 1-2-3 first inning, the Tigers took advantage of an amped-up McDonald quickly. The senior catcher Hines wore the third pitch of the home-half and was replaced by courtesy runner Jackson Thomas. Wes Mendes then drew a walk setting up big hits from Grant Jordan (RBI single) and Noah Sheffield (RBI double), before Jacob Lozano pushed the game out of reach plating the two Tigers aboard with a hard ground ball single up the middle.
Jesuit senior Grant Jordan.
Jordan at third, and the second baseman Sheffield, turned in some highlight-worthy defense on the night. For Sheffield, who transferred to Jesuit after an All-813Preps first team sophomore season at Tampa Prep in 2022, the transition to his new team has been as smooth as his glove work on the right side of the diamond on Thursday night.
"Switching to Jesuit, I immediately felt like I fit in here," he said. Adding that getting a chance to play in the Saladino Tournament for the first time was something he was very happy he got to experience: "Getting here and facing everyone's top pitcher is something I wanted for my (high school) career."
Tigers second baseman Noah Sheffield rounds third headed for home in the first inning.
Hines added a two-out double in the sixth and again gave way to Thomas on the bases. Thomas took second on a wild pitch, made a great read on another ball in the dirt to get to third, and cruised across the plate on a third wild pitch for the game's final run. Thomas' two runs in the game put him at 11 on the year, tying the junior for second on the team through the first four weeks (Mendes' first-inning run moved him to 15, and Jake Kulikowski also has 11 runs scored).
Jackson Thomas comes into score one of his two runs of the game in the first inning. 
Handling the Tigers superb pitching throughout the tournament, Hines was especially proud of his battery-mates in the title game.
"Aden – talking about the improvements from last year to this year – he is becoming such a good pitcher and it is just so much fun to catch him," Hines said. "And Derek, that's the definition of hard work and determination right there. He worked his butt off and is probably the best reliever we have on this team right now. I'm so proud of him."
McDonald struggled a bit with control, walking five in total, but finishing his five innings with six strikeouts, allowing just a Sheffield single in the third after the crooked number hung in the first.
Sickles senior Caden McDonald was touched up for four runs in the first inning, before settling in for four scoreless frames.
"(Caden) was just a little jumpy out of the gate, trying to do too much," Sickles coach Eric Luksis said. "He was missing middle, and obviously against a team like that, the middle is where you need to avoid (putting the ball).
"He threw up zeroes every single inning he was out there after the first, and unfortunately the offense couldn't score enough runs to get us back in it tonight."
Luke Fikar, who himself made a series of impressive defensive plays at short for Sickles, moved to the mound working the sixth inning.
"Luke is our leader, one of our captains, and our guys look up to him," Luksis said. "He's my kind of guy – a blue collar guy who comes to work every day ready to go, brings the energy, and I hope our younger guys are learning everything they can from watching him play."
Gryphons senior captain Luke Fikar delivers a pitch in the second inning, moving from shortstop to the mound in relief of McDonald.
The tourney final and its setting held a bit of significance, marking the first time two former Spartans players have coached teams in the tournament's championship game – and from the University of Tampa field they once called home, with Menendez winning an NCAA Division II title in 1998, and Luksis doing the same in 2013.
"It was awesome, and anytime we get to play those guys and play Eric, it's great," Menendez said. "Same thing when we play (Eric) Beattie at Strawberry Crest – that UT connection always runs deep. It's nice to compete against those guys."
The win marks the fourth Saladino title for Jesuit (also winning 1986, 2017 & 2021), and the third time under Menendez's leadership.
⚾ Saladino Gold Division Championship ⚾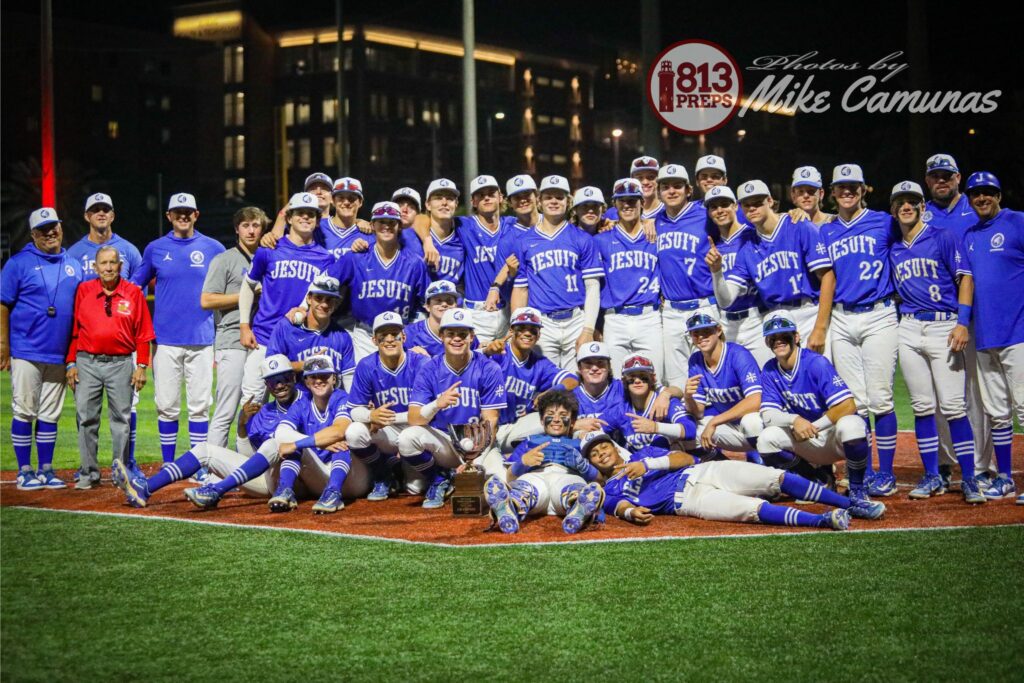 Jesuit 5, Sickles 2
S 000|020|0 – |2|2|0
J 400|001|x – |5|6|1
W – Knowles (3-0); L – McDonald (2-1); S – Westfall (3)
2B – Sheffield, Hines (J). Records – S (8-2); J (12-0).