THE 8-1-3List Week 9


presented by The Hitting Academy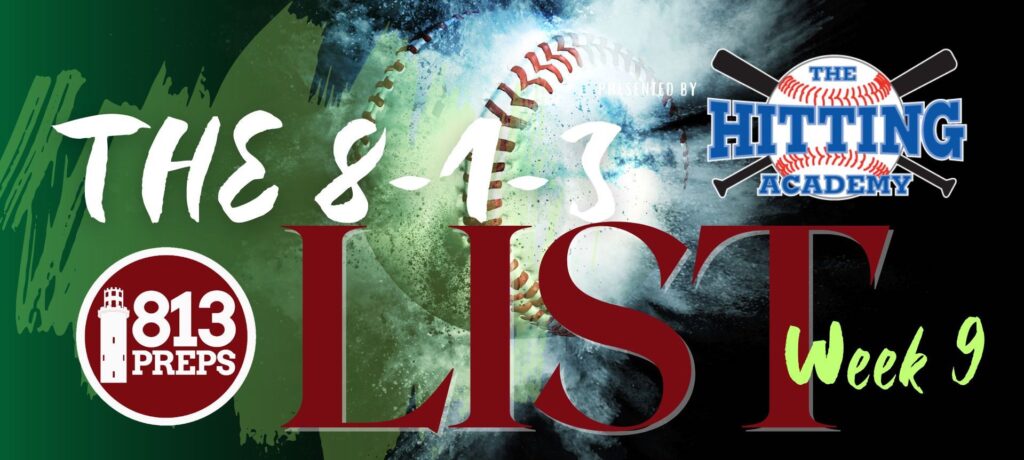 "8" Top Teams
1. Sickles (20-2)
Sickles coach Eric Luksis congratulates Cameron Guise after his HR at Newsome.
The Gryphons took down Robinson, Newsome and Lennard to reach 20 wins for the third time in head coach Eric Luksis' seven years. Junior Cameron Guise's home run in the first set Sickles on the winning path against Newsome, and he also pitched five innings on the week – including a win with four innings of one-run ball at Lennard on Saturday. Sickles closes out the regular season with three games in three days, visiting Durant on Tuesday, hosting Dunedin on Wednesday, and traveling to Hillsborough on Thursday.
Last Week: #1
2. Jesuit (20-3)
Our first team to reach 20 wins this season, the Tigers dispatched Sarasota, Venice and Calvary Christian last week. Grant Jordan was 5-for-9 on the week with four RBI, a double and a run scored, while senior Derek Westfall earned saves in all three games and is up to a county-leading six for the year. Jesuit will get a shot at revenge for its last loss, when IMG visits on Tuesday, and Thursday brings a visit from Punta Gorda Charlotte to close the regular season.
Last Week: #2
3. Gaither (17-5)
Gaither junior pitcher Michael Fernandez.
A dozen-straight for the Cowboys included wins last week against Riverview and Middleton. Scout Simpson was 3-for-6, with a triple, three RBI and scored five times last week and is now hitting .403. Gaither's starting duo of Michael Fernandez (6-0, 1.20 ERA, 90 K's) and Steven Rojas (6-3, 2.75 ERA, 64 K's) have been impressive all season. The Cowboys host Brandon on Tuesday and finish the regular season at Bloomingdale on Thursday.
Last Week: #4
4. Strawberry Crest (14-6)
The Chargers run the win streak to seven games defeating Armwood, Durant and Sumner last week. The 2-0 extra-inning win against Durant featured eight strikeouts for senior Luke Richardson across eight frames to earn the win. Top prospect Arjun Nimmala hit his sixth homer of the season in a 10-0 win at Sumner on Saturday, and Brayden DiCerb picked up two wins with six scoreless innings last week.  Crest will host Bloomingdale on Tuesday, and try and pick up a win at Newsome (which has beaten the Chargers twice this year) on Thursday.
Last Week: #7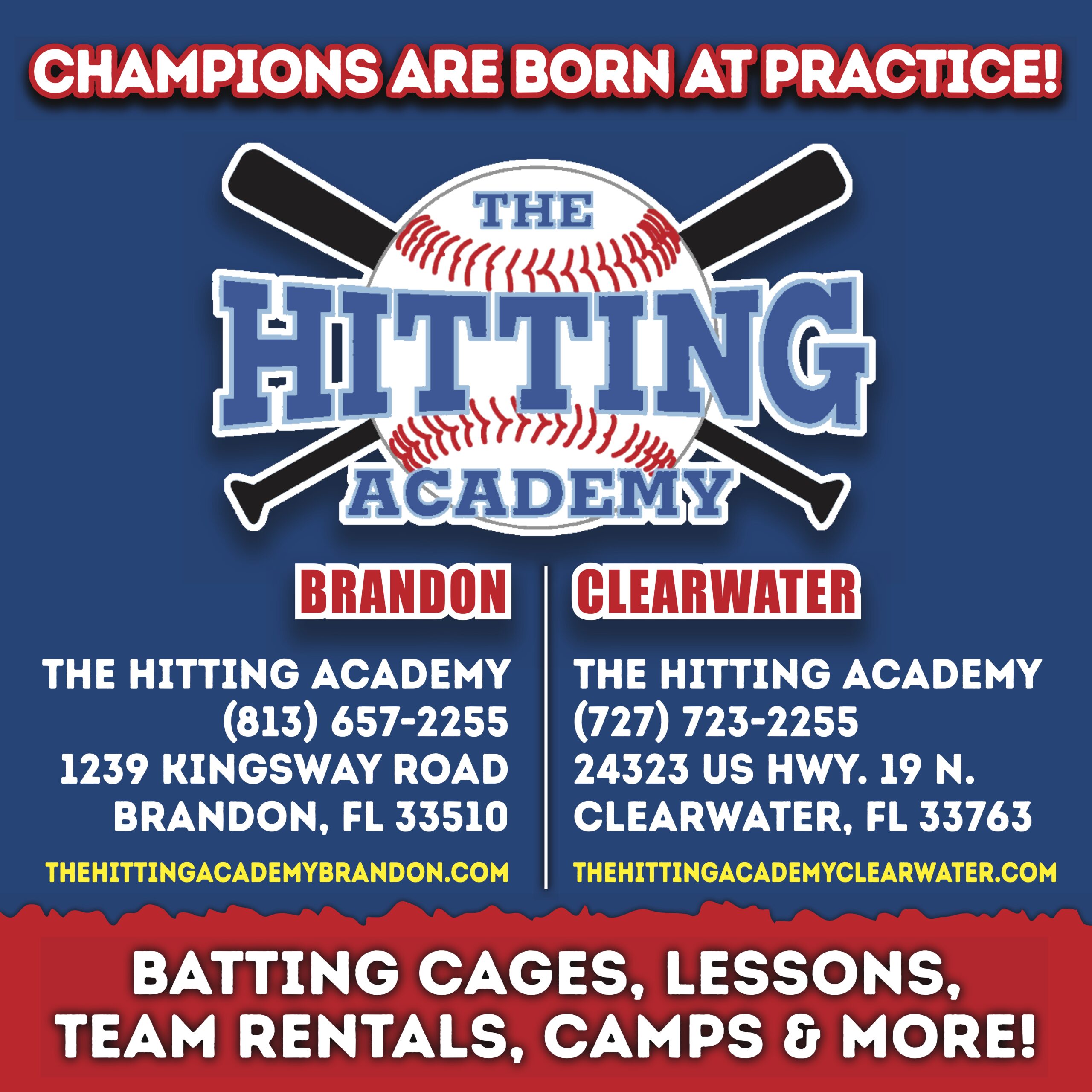 5. Durant (17-4)
The Cougars wrapped 7-0 wins against Sumner and Chamberlain around the extra-inning loss to Crest, but are 13-2 in Durant's last 15 games. In the loss to the Chargers junior Blaine Rowland had 12 strikeouts in his eight-inning no-decision. Senior Dylan LaPointe is hitting .463 with eight doubles, two triples and five home runs this season. The Cougars close out the regular season against top-ranked Sickles at home on Tuesday.
Last Week: #3
6. Seffner Christian (15-5)
Want to know how to get in the "weekly" rankings? Win. Your. Games. Just like the Crusaders have done in 10-straight chances to jump into the rankings this week. SCA got a walk-off win against Santa Fe as Colin Patten's third hit drove in the winning run on Tuesday, and Patten and Addy Scott (two-run double) sparked a three-run sixth to hold off A3 Academy last week. Seffner closes out the regular season hosting Hernando Christian on Monday and a visit to Lakeland McKeel on Thursday.
Last Week: NR
7. Plant (15-5)
Robert Satin cruised to a 7-0 record on the mound with a two-hit, complete-game shutout at Jefferson to start the week, but the Panthers couldn't pick up a second win on the year at Lennard, dropping a 5-3 decision. Senior Trey Freeman is hitting .400 on the season and has scored 16 times for Plant, and Rocco DeMarinis is hitting .375, with 20 RBI and 17 runs scored. The Panthers end the regular season with a two-game week – hosting Newsome on Tuesday and traveling to Plant City on Thursday.
Last Week: #5
8. Berkeley Prep (16-8)
Berkeley Prep sophomore pitcher Rivers Kurland. 
The Buccaneers have won the last six times out, including victories over Shorecrest Prep, Tampa Prep and Steinbrenner last week. Berkeley evened Thursdays game with the Terrapins in the sixth and scored three runs in the eighth for the extra-inning win. Rivers Kurland struck out 10 in a complete-game effort against Steinbrenner, holding the Warriors to a run on five hits. The Bucs host Carrollwood Day on Tuesday and travel to Sarasota Out-of-Door Academy on Thursday.
Last Week: NR
Dropping out this week: Tampa Catholic (17-6);  Jefferson (15-6)
⚾
"1" Team to Watch
Plant City (11-11)
Plant City senior Anthony Palestrini.
This wasn't the way we expected the regular season to go for the Raiders, but The City has pulled its record to even heading into the last week, and are winners of three-straight (vs Spoto, Wharton and TBT) going into a road game at Leto and a home game against Plant to round out the regular season. Senior Adan Longoria has 71 strikeouts in 45 innings, to go along with a 2-2 record, while senior Zane Wright is 6-2 in his 11 appearances on the mound this season. Anthony Palestrini hit his fourth home run of the year against TBT last week, and leads the offense with a .381 avg, 17 runs and 20 RBI.
⚾
"3" Top Performances
James Hankerson, Berkeley Prep
Big Bank Hank homered in all three games last week, upping his total on the year to a county-leading seven and setting a new school record with 19 in his career. The FSU signee is hitting .400 with 29 RBI and 27 runs scored, with six doubles, two triples and 15 walks.
Mikey Marroquin, Jefferson
The junior picked up his fifth win of the season, and third-straight dealing a one-hit shutout as the Dragons unloaded on Bloomingdale 10-0 in five innings on Saturday. The right-hander added five strikeouts, and has punched out 50 in his 45 2/3 innings on the mound this season.
Luke Richardson, Strawberry Crest
The Chargers senior held Durant to three hits in eight innings of work and struck out eight as Crest pulled out a 2-0 win in extra-innings. Richardson is 7-1 on the year with a 1.17 ERA, and 44 strikeouts to just 12 walks in his 36 innings on the mound. Opponents are hitting just .185 against the right-hander.