Armwood deals Sumner third-straight shutout loss
By Bob Bellone, Senior Staff Writer
RIVERVIEW – Armwood sophomore Chase Conti pitched five strong innings, and K.J. Leshko highlighted the offensive support with an eye-popping home run in a 7-0 victory at Sumner on Tuesday night.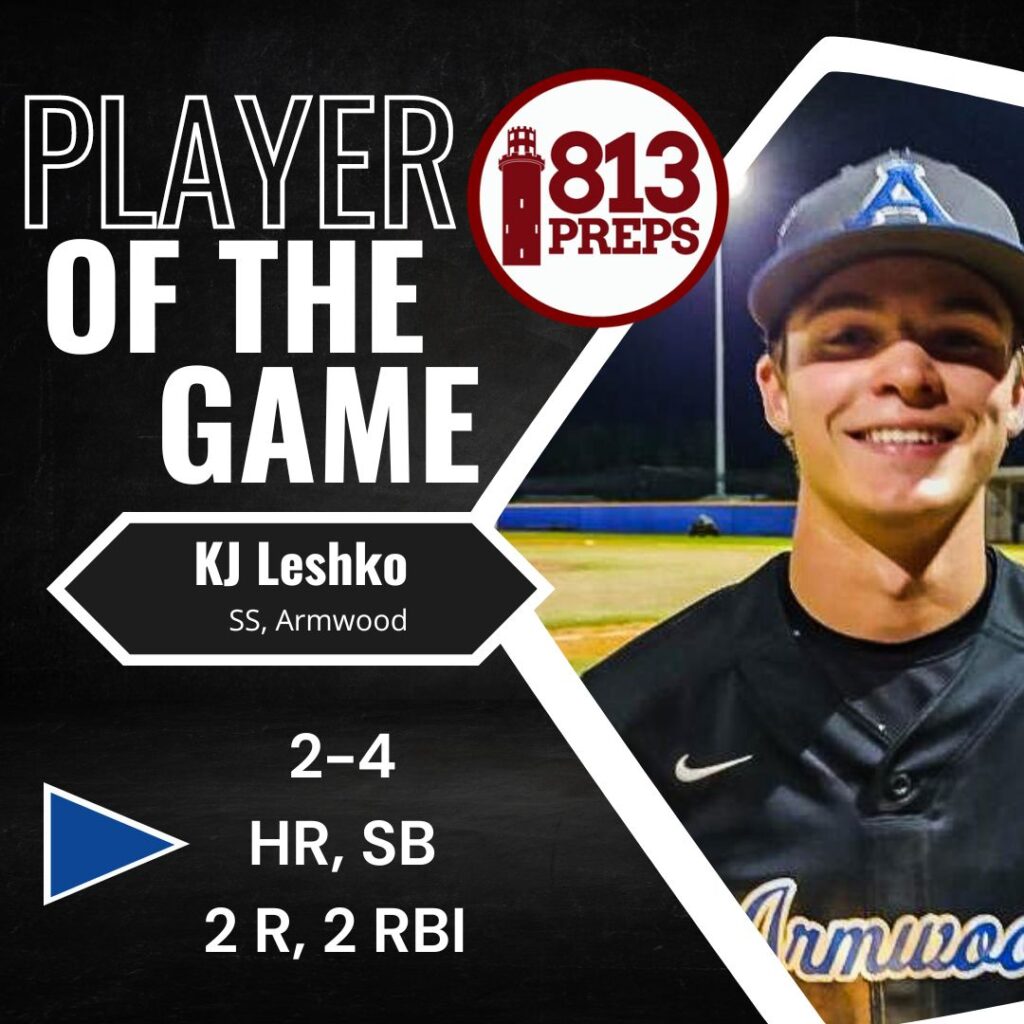 Armwood (14-8) took charge early in the non-district matchup with single runs in each of the first three innings. Meanwhile, Sumner (10-12) left the bases loaded in the first and stranded runners in scoring position again in the second and third.
The Hawks got on the scoreboard with an unearned run in the top of the first. Conti led off with a tapper back to Stingrays right-hander Avery Charland, who mishandled the ball twice while attempting to pick it up. Antonio Rodriguez followed with a double, then Conti crossed on a groundout to the left side.
Charland hurt his cause again in the second by issuing a one-out walk to Michael Hull and hitting Christian Villanueva with a pitch. The junior right-hander then advanced the runners on a balk, setting up a sacrifice fly by T.J. Hicks to make it 2-0.
In the third, Leshko singled with one out, stole second and came around on a two-out base hit by Matthew Hall. He produced the next run with a leadoff blast over the high fence in straightaway center field off Stingrays reliever Gavin Albritton in the fifth.
"There, I was kind of thinking, 'Do damage.' Nobody on base, 3-1 count," Leshko said. "He just left one in, and that's what happens when a pitcher makes a mistake on 3-1. I had seen a few pitches, and I was ready to hunt, so I went after it."
In stark contrast, the bats of Sumner have been virtually silent during its current six-game losing streak. The Stingrays have been held scoreless in their last 24 turns at bat across four games.
Conti allowed four singles in his five innings, including three that proved harmless in the first. Freshman Owen Leever preserved the four-hit shutout with two innings of spotless mound work.
"Our team's heading in a good direction," Conti said. "I feel like we're ready to play postseason ball."
The Hawks have enjoyed narrow victories and those of the lopsided variety – for instance, the seven in which they outscored their opponents by a 112-5 margin.
"So far, so good," said Armwood coach Ricardo Sanjurjo, who wants his players to remain focused after building comfortable leads. "Until the umpire says game, that's when we shut it down. Other than that, we're full force all the way through, one through seven."
⚾⚾⚾⚾
Armwood 7, Sumner 0
A 111|021|1 – |7|9|1
S 000|000|0 – |0|4|4
W – Conti; L – Charland
2B – Conti 2, Rodriguez (A); HR – Leshko (A). Records – A (14-8); S (11-11).