THE 8-1-3List Week 10


presented by The Hitting Academy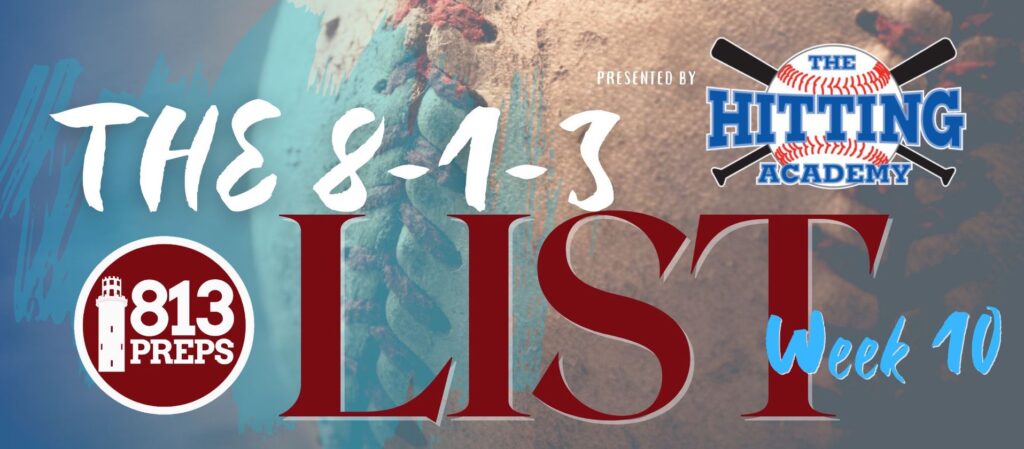 Regular Season Final Top 10
1. Sickles (23-2)
Sickles senior Hayden Yost
Sickles closed the regular season with three wins last week, including a thriller in extra-innings against Dunedin when Caden McDonald homered to walk off the game in the 10th. Those wins stretch the Gryphons consecutive win mark to 15, as top-seeded Sickles awaits its Class 6A-10 district semifinal opponent to be decided between Largo and Pinellas Park tonight. The Gryphons have five players with 20 or more hits and double-digit run and RBI totals, including senior Hayden Yost, who is hitting .408, with 31 runs and 14 RBI.
Last Week: #1
2. Jesuit (21-4)
Jesuit senior Grant Jordan
The Tigers fell to national No. 1 IMG Academy in a 10-7 slugfest last Tuesday, despite a 3-for-4, three RBI night from Vincent DeCarlo. But Jesuit got back on track with a 15-0 dismantling of Punta Gorda Charlotte to close the regular season, where 10 different Tigers had a hit, including a homer and four RBI from Wes Mendes (his fourth) and three RBI from Grant Jordan. Jesuit is the No. 1 team in this week's Class 5A-9 district tourney, and will host the winner of tonight's Spoto v Freedom game.
Last Week: #2
3. Durant (18-6)
Durant took care of Chamberlain and fell to Sickles last week, and have the No. 2 seed in this week's 7A-6 tournament (behind Winter Haven), and will face the winner of tonight's game between Strawberry Crest and Davenport Ridge Community. Blaine Rowland has been a huge contributor to the Cougars this year with a .373 batting average and 0.70 ERA on the mound.
Last Week: #5
4. Tampa Catholic (19-6)
Tampa Catholic senior Rolando Jimenez
TC swept away a disappointing loss to Cardinal Mooney in Week 9, with a pair of decisive wins last week over Brooks DeBartolo and Admiral Farragut. Senior Rolando Jimenez has been a big factor in his team's offensive success this season, with a .419 average, eight doubles and has scored 21 runs. The Crusaders are one win away from its first 20-win season in 13 years and are the No. 1 seed in this week's 3A-5 tourney, awaiting its semifinal opponent (Tuesday at Berkeley Prep, 4:30) from tonight's game between Tampa Prep and Brooks DeBartolo.
Last Week: NR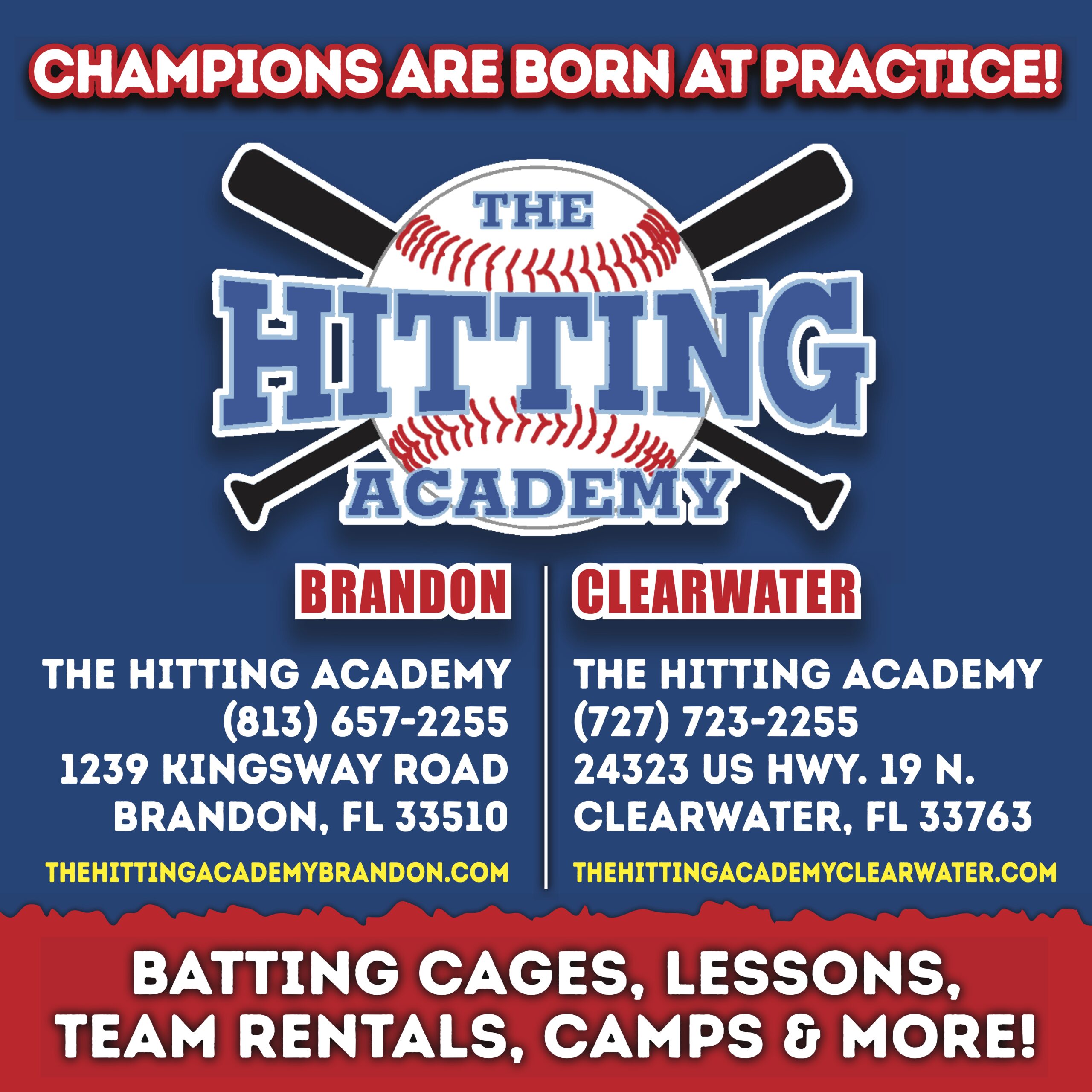 5. Seffner Christian (15-5)
Weather washed away Seffner Christian's two final regular season games last week. Junior Ethan Duncan paces the Crusaders offense into the playoffs with a .435 avg, 23 runs and 15 RBI, while seniors CJ Koenck, Shay Dean, Colin McNeal and junior Garrett Morgan each have driven 18 runs. SCA is the No. 1 seed in this week's 2A-10 district tourney at Carrollwood Day, and will face off against today's Cambridge Christian-Academy at the Lakes winner in Tuesday's 4pm semifinal.
Last Week: #6
6. Berkeley Prep (18-8)
Berkeley Prep senior Gus Barrido
The Buccaneers took care of Carrollwood Day 11-3 to start last week, and got a complete-game win from sophomore Rivers Kurland in a 4-2 win against Sarasota Out-of-Door to close the regular season. James Hankerson (.400, 28 runs, 29 RBI), Gus Barrido (365, 24 runs, 14 RBI), Kurland (.347, 24 RBI) and Julius Pfau (.338, 24 runs, 14 RBI) lead a potent Berkeley lineup, as the Bucs enter the 3A-District 5 tourney as the No. 2 seed and will face Bell Creek in the semifinals on Tuesday.
Last Week: #8
T7. Gaither (18-6)
Gaither took care of Brandon to start the week, before two ugly innings allowed Bloomingdale to snap a 13-game win-streak. Sometimes a timely late-season loss can be an effective catalyst for a team and the Cowboys have definitely showed a ton of offensive pop this season. Junior Nico Lopez (.437, 25 RBI), senior Scout Simpson (.412, 21 runs, 20 RBI) and senior Miguel Pina (.400, 17 RBI, 13 runs) have been killing it at the plate. Gaither will host the winner of Tuesday's Leto-Hillsborough quarterfinal game on Wednesday night.
Last Week: #3
T7. Bloomingdale (15-8)
The Bulls closed out the regular season with two very impressive wins: 2-0 against Crest, and a mercy-rule, 11-1 win versus Gaither and are the No. 2 seed to Lennard (which the Bulls beat 8-2 in their only meeting this season) in this week's 6A-11 tourney. Bloomingdale will host the winner of tonight's quarterfinal between Plant City and East Bay on Tuesday. Junior Coop Hinson has stepped up as the offensive catalyst for the Bulls this year with 36 hits (.500 avg), with three homers, seven doubles and 18 runs and 18 RBI.
Last Week: NR
9. Strawberry Crest (16-7)
The Chargers fell in a 2-0 pitcher's duel against Bloom to start the week, but closed the regular season with an 11-0 win against Newsome. Brothers Arjun (.478, 28 runs, 27 RBI, six homers) and Akhil Nimmala (.348, 16 runs, 19 RBI, five homers, six doubles) have been destroying hitting all season, and the Chargers have a team 1.80 ERA on the year. Crest hosts Davenport Ridge Community in 7A-6 quarterfinal game tonight.
Last Week: NR
10. Lennard (16-8)
Lennard senior Logan Covey.
The Longhorns went 8-2 to close the regular season, including a 4-1 win over Freedom, and 7-4 victory at Wharton to close regular season play. Lennard has a solid 1-2 punch at the top of its rotation in seniors Jack Mueller (5-2, 2.37 ERA, 51/7 K/BB) and Carter Payne (7-1, 2.30 ERA, 51/16 K/BB), and Alex Brazer (20 RBI), Logan Covey (18 RBI) and Joseph Rivera (18 RBI) lead the offense. Lennard is the No. 1 seed in this week's 6A-11 tourney and holds mercy-rule wins in the regular season against potential district semifinal opponents Palmetto and Manatee.
Last Week: NR
⚾
"1" Team to Watch
Plant City (13-11)
For two weeks in a row, The City finds itself as our 1-to-watch, entering the postseason on a five-game win streak, including Friday night's 8-3 win at Plant. The Raiders are the three-seed in 6A-11, with a split in the regular season against No. 1 Lennard, and a one-run loss to Bloomingdale back in March. Two game's over .500 is not where we thought the Raiders would finish the regular season when we ranked the No. 6 in the preseason, but PC is peaking at the right time, with senior Anthony Palestrini providing good stick work with 20 runs and 21 RBI to go along with his .382 average, and Adan Longoria finding success on the mound with a 2.24 ERA and 72 K's. The Raiders take on East Bay tonight in the district quarterfinals.