Mission complete: Sickles wins first state title
By Jarrett Guthrie, Editor
FORT MYERS – With first base open, Sickles senior Caden McDonald was walked in his first plate appearance. Justin Allen, to paraphrase Michael Jordan, took that personally.
The Gryphons' catcher lined a ball into left bringing in a pair, and Jordan Yost's bunt single added another as Sickles applied pressure early and got a strong start from junior pitcher Cameron Guise. Then, with trademark fantastic defense from senior captain Hayden Yost and a monster closing performance from Luke Fikar, the Gryphons took home the Class 6A state championship with a 4-2 win against Viera.
Senior Justin Allen drives in a pair of runs in the first inning.
All season, one goal, one plan, one mission.
Mission. Complete.
Sickles (30-2) head coach Eric Luksis was non-committal after Tuesday's semifinal win against Winter Springs, on who would get the starting nod after the complete-game effort from the senior McDonald.
Guise did not let his coach down in the slightest, and the righty let his defense put in work behind him and pitched to contact for his five innings.
"We made the right call," Luksis said. "Cam's platooned between being a starter and a bullpen piece for us, and the last couple of weeks he's really established as our No. 2 arm in the rotation.
"He gave us everything tonight, he went five and our goal was three or four from him, and before the rain delay we were planning to give him the start of the sixth … big-time players make big plays in big spots, and he was huge tonight."
Junior Cameron Guise gave his team five strong innings on the mound, allowing just two unearned runs and striking out four. 
A second inning error did let the Hawks mount a comeback attempt cutting the lead to one as Ryan Lewis' fielder's choice and Cameron Simpkins' RBI sac fly gave Viera some confidence.
But for the next three innings, Guise held the Hawks to two singles and ended his five innings with a 1-2-3 frame.
"This definitely was the biggest game of my life, being the state championship," Guise said. "Once you get out there the nerves settle, it's go-time. There's no going back now. I had to do what I'd done all year and throw strikes and it worked out today."
Thomas Bly made some great plays in the state final game. 
Third baseman Thomas Bly made up for his early error with two huge plays: the first an over-the-shoulder catch on the run down the leftfield line, and the second a hard charge on a dribbler and a great scoop at first by McDonald. That coupled with steady work from the elder Yost in center and younger Yost at second and shortstop (after Fikar moved to the mound), and good work by Allen behind the plate. The Gryphons defense finished with a .960 team fielding percentage.
"This is the best (defense) ever," Luksis said. "This is my seventh year here, ninth year coaching in this county, and if you look at the numbers this is the best fielding percentage of a team I've coached."
Coach Luksis celebrates with brothers Hayden Yost (#16) and Jordan Yost (#10).
The play from Hayden Yost was crucial to the Gryphons state success, and meaningful for the senior UF signee after he missed last year's final four game with a broken arm.
"My whole goal out there was to run all over centerfield," he said. "I didn't get to do that last year … I was doing everything to get every out I could."
"There is not a guy I'm happier for than this guy right here," Luksis said of Yost. "If I rewind for 12 months the thing from him was always, 'coach, we're gonna get back here. We're gonna get back here.'
Turning to Yost, Luksis added: "You're a state champion, buddy."
Hayden Yost is pumped scoring in the first inning.
The first inning started with a walk from Connor Vance and a double from Hayden Yost, before Allen and Jordan Yost provided the winning tallies. Asked how he took the intentional walk bringing him to the plate with the bases loaded in the first, Allen smiled widely.
"I thought it was disrespectful," the senior said, drawing chuckles from the others in the postgame interview room. "I know obviously, Caden is Caden, and he's had a phenomenal two seasons. I did whatever I could to get my job done.
"We wanted to establish a dominance in this game, come out on top as the aggressors from first pitch."
Sickles added one more in the second as Hayden Yost brought in a run with a fly ball to centerfield.
As with a number of the late-May state series games, a two-and-a-half-hour lightning delay sequestered the Gryphons and Hawks to their dugouts. But upon return, Sickles looked focused on the task at hand.
Fikar, the lunch-pail sparkplug for the Gryphons, ascended the mound after Sickles' at-bats in the home-fifth upon restart. He picked up the final six outs, walking one and hitting one, while striking out a pair, and fielding a groundball for the game's final out.
"My defense makes it easy, I know they'll always make the plays," Fikar said. "We had that big play, Thomas short-hopped it and Caden picked it. It's always easier with this defense behind me."
Luke Fikar pitched two scoreless innings to earn the save.
McDonald, who was walked intentionally twice, led off the home-fifth with a double before the delay. Though the Gryphons standout and UCF commit didn't score or drive in a run, he was more than contented to bring home a title – the "mission" over individual accomplishments.
"I wanted this more than anything else I've ever wanted in my life," McDonald said. "It feels better with the team, because I know how hard everyone worked all season … when you have a goal in mind for that long, it's just so much better when it finally happens."
Caden McDonald doubled this ball in the fifth inning. McDonald hit .383, with 33 RBI, seven doubles and 12 home runs.
For Luksis, the moment was the perfect ending for his 12 seniors, all of which had one goal in mind since last season's state semifinal exit.
"This has been a special group all season long, to get here last year like we did, and we fell a little short," Luksis said. "These guys stayed hungry, came to work every single day with the ultimate dream and goal to play, not just play, but win this game.
"I'm so happy for our large group of seniors, that they get to go out this way. It's a great day to be a Gryphon."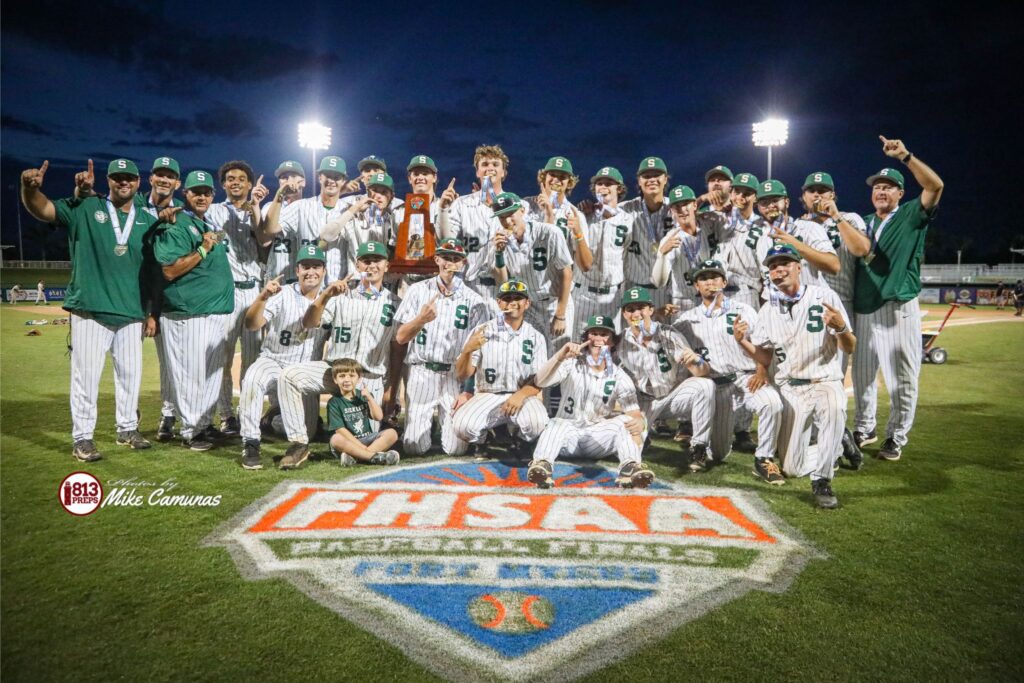 ⚾

Class 6A State Championship

 ⚾
Sickles 4, Viera 2
V 020|000|0 – |2|4|1
S 310|000|x – |4|7|1
W – Guise (5-0); L – Glendinning; S – Fikar (3)
2B – H. Yost, McDonald (S). Records – V (24-6); S (29-2).