2023 All-813Preps Baseball Class 2A-5A Team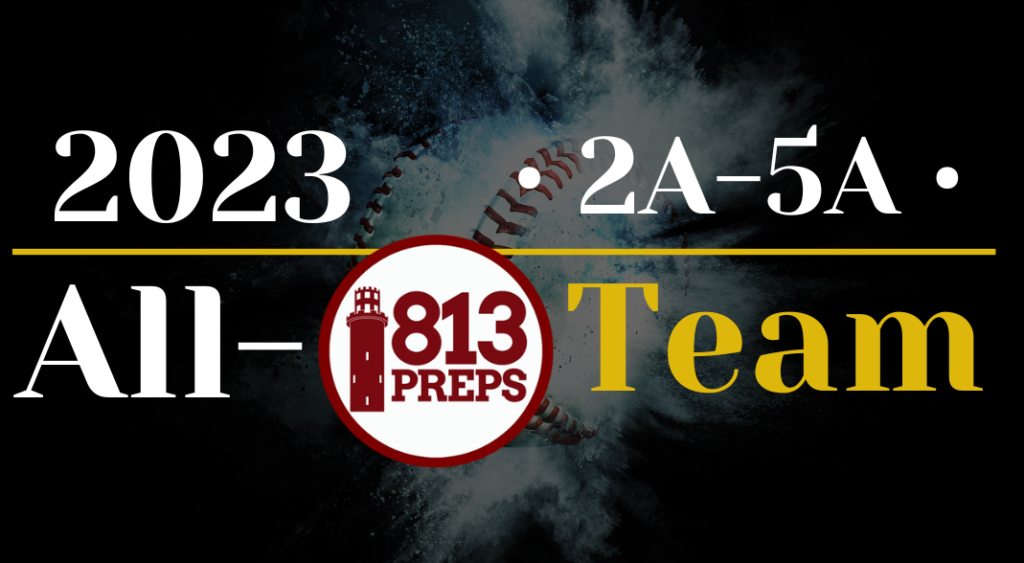 Most Valuable Player – Wes Mendes, Jesuit

Last season's Class 2A-5A Pitcher of the Year, Jesuit senior Wes Mendes turned in a brilliant final campaign for the Tigers helping his team claim district and region titles, and finish as the the Class 5A state runner-up. Mendes, and Ole Miss signee, lead the county with 41 runs scored, drove in 36, with eight doubles and five home runs, while having the most hits in Hillsborough County (40) for a a .388 average. Early-season shoulder fatigue delayed his start on the mound for more than a month, but the lefty finished the season with a 4-0 record on the mound with a 2.07 ERA and 49 strikeouts. Mendes helped Jesuit claim the Saladino Tournament title and had 12, multi-hit games this season. On top of being named a two-time All-813Preps postseason award winner, he was also named the Florida Dairy Farmer's Class 5A Player of the Year for the second-straight season.
⚾
Hitter of the Year – James Hankerson, Berkeley Prep


For the second straight season, James Hankerson earns our All-813Preps Hitter of the Year award for Class 2A-5A as Big Hank batted .375, with 32 runs scored and 30 RBI. The Florida State signee hit seven homers, six doubles and two triples this year for the district champion Buccaneers. In two seasons in the middle of Berkeley Prep's lineup, Hankerson drove in 69 runs and hit 14 homers.
⚾
Pitcher of the Year – Aden Knowles, Jesuit


Jesuit junior Aden Knowles posted a 7-0 record on the season, and earns our All-813Preps Class 2A-5A Pitcher of the Year award. Knowles earned two wins in the Saladino Tournament, defeating Plant City and earning the championship win against Sickles and claiming tournament MVP honors. Knowles held opponents to just eight earned runs in 42 innings pitched. The right-hander made the start in Jesuit's 3-1, Class 5A state semifinal win against Sebring, pitching 4 1/3 innings, striking out three and allowing one run. The junior is verbally committed to North Carolina State University.
⚾
Coach of the Year – Spencer Nunez, Jefferson

In just three seasons as the head coach in West Tampa, Jefferson's Spencer Nunez has made an impressive mark on one of the county's most historically successful programs, leading the Dragons to the state semifinals for the second time in his tenure. Jefferson went 20-8 this season, battling through two extra-inning region games to earn a spot in the 4A final four. The Dragons were very aggressive on the base paths, swiping 95 bags this year, while its pitching staff held opponents to a .185 batting average. Nunez, a graduate of Hillsborough High, was named the 2023 FACA District 15 Class 4A Coach of the Year, and is 52-32 as a head coach.
⚾
All-813Preps First Team Class 2A-5A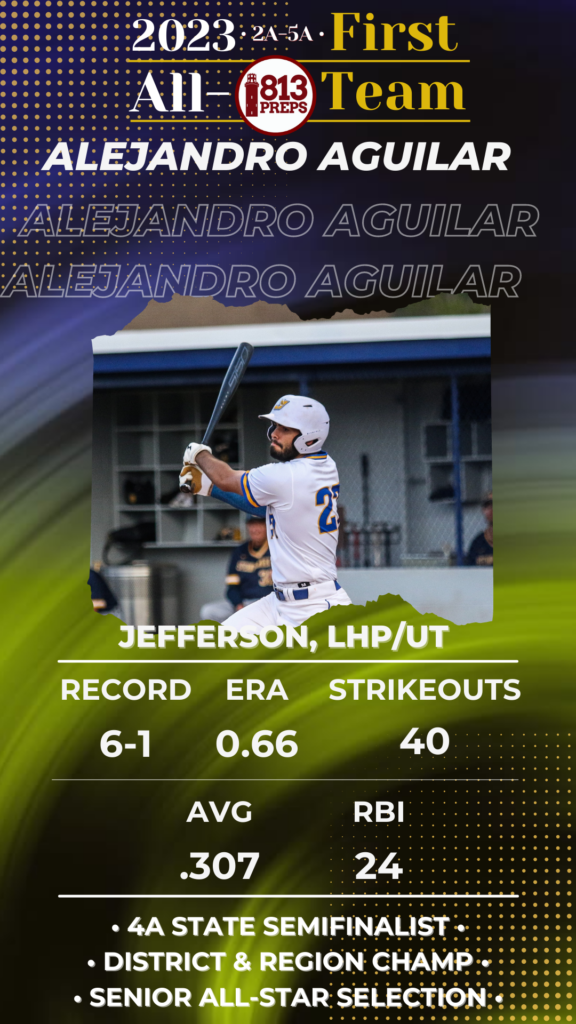 Dragons senior Alejandro Aguilar helped his team claim district and region titles, and earn a spot in the Class 4A state semifinals with a team-leading 24 RBI. He also made nine appearances on the mound for Jefferson, going 6-1 with a 0.66 ERA and 40 strikeouts across 31 2/3 innings pitched. Aguilar is signed to play at Mars Hill University next year.
⚾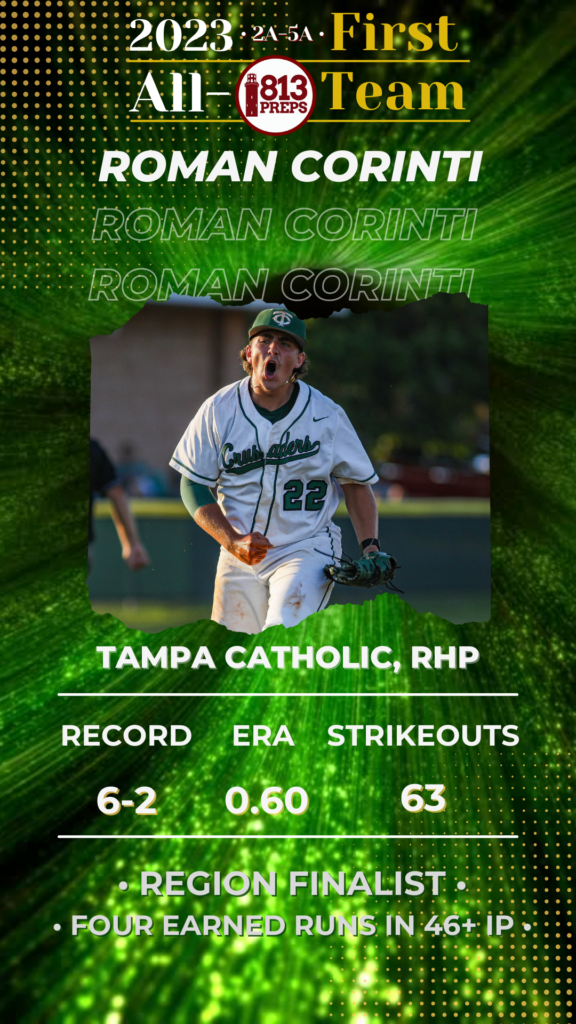 Roman Corinti went from a short-inning worker to powerhouse pitcher midway through the season, making a team-leading 14 appearances for Tampa Catholic this year. His 14 appearances led the team on the mound, as the Crusaders won 22 games – the first time the program eclipsed the 20-win mark since 2008. Corinti struck out 63 batters in 46 2/3 innings, going 6-2 with a 0.60 ERA and helping his team reach the region final.
⚾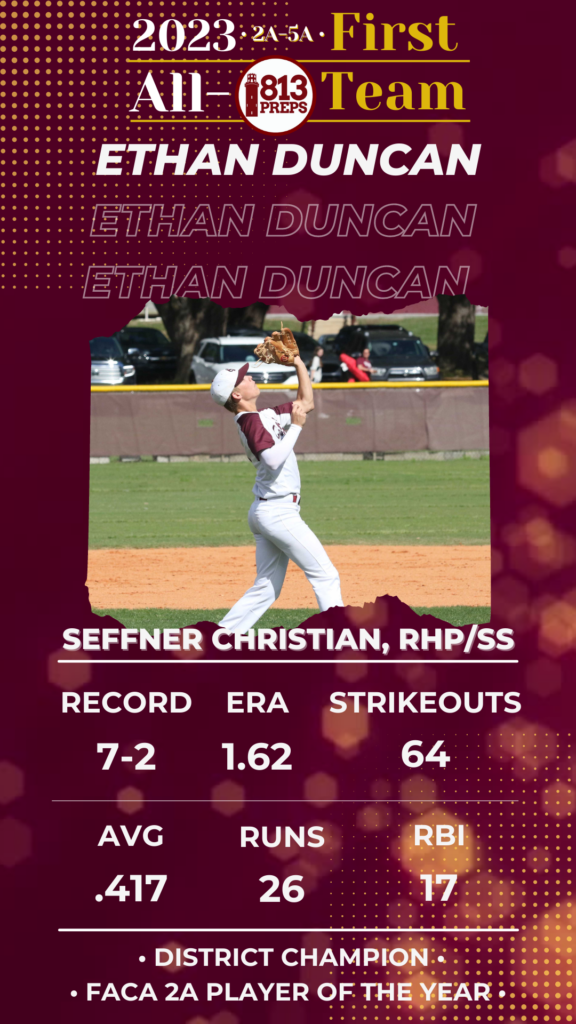 A two-way standout for the district champion Crusaders, junior Ethan Duncan tied for the team lead with 30 hits (.417 avg), while scoring 26 times and driving in 17 RBI, with three doubles, two triples and two home runs. He also served as Seffner Christian's ace on the mound, posting a 7-2 record, with a 1.62 ERA and 64 strikeouts. Duncan was named the FACA Class 2A Player of the Year for District 15 (Hillsborough County).
⚾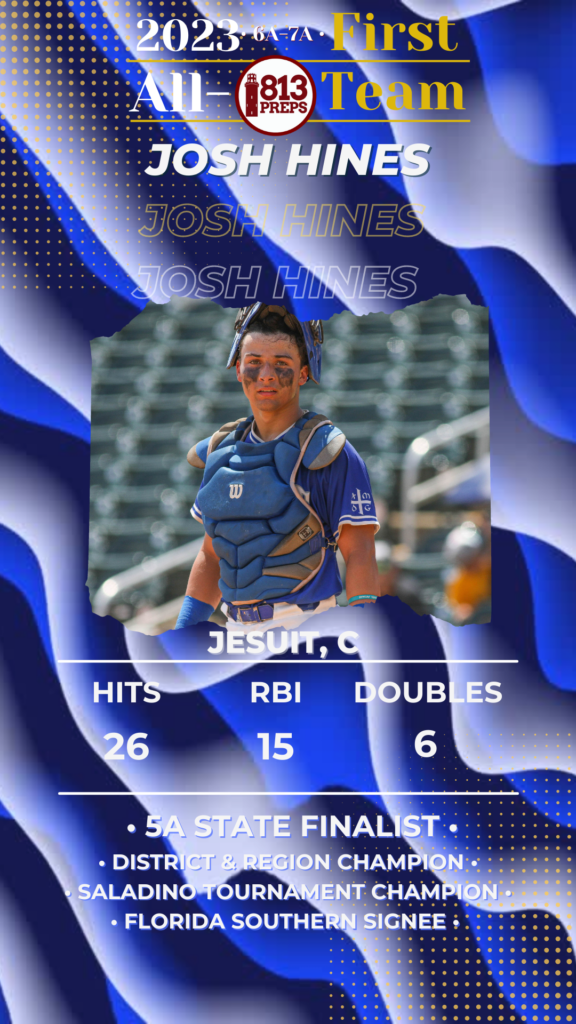 Tigers senior Josh Hines battled through injuries in both knees, but stayed on the field helping Jesuit claim district and region titles this season, and finish as the Class 5A runner-up while batting .299 with six doubles and 15 RBI. Hines was a wall behind the plate for the Tigers, while handling an incredible pitching staff. He is signed to play for Florida Southern next season.
⚾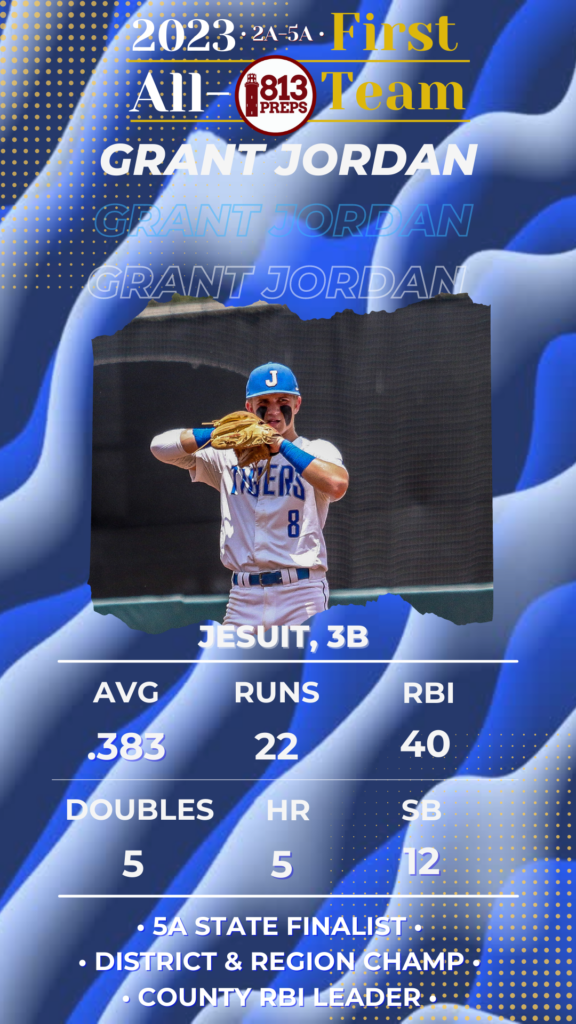 Grant Jordan led the county with 40 RBI, while hitting .383, with 22 runs scored, five doubles and five home runs. The senior manned the hot corner for Jesuit with a plus arm and an excellent glove. He helped the Tigers claim a Saladino Tournament title, along with district and region crowns. Jordan is signed to play at the University of Tampa next spring.
⚾
Tying for the team lead with 30 hits (.400 avg), senior CJ Koenck led the Crusaders with 29 runs scored, five homers and eight doubles, while driving in 21 runs. He also lead Seffner Christian with 15 stolen bases, as the Crusaders claimed a district title.
⚾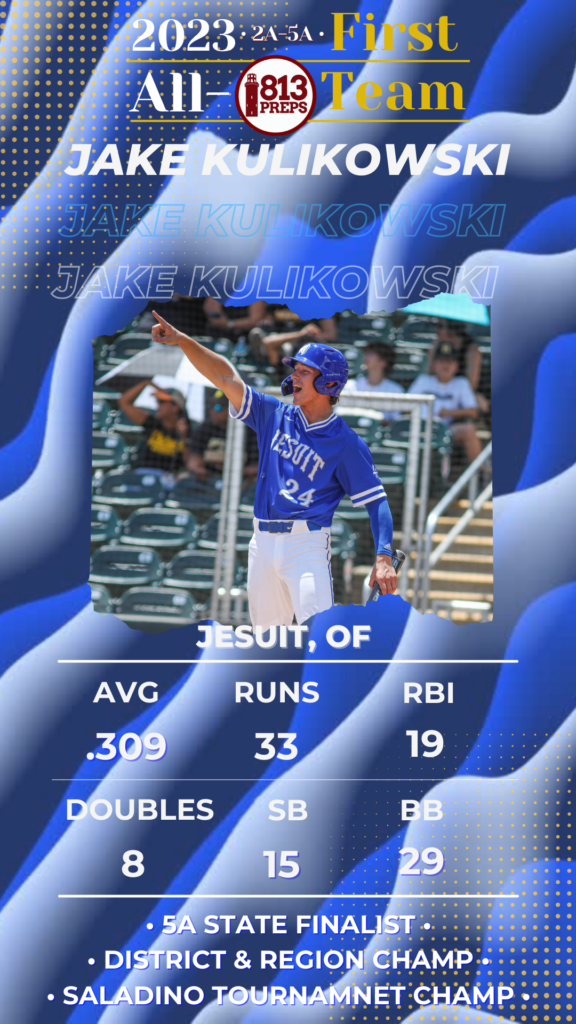 A solid mix of power and speed, senior Jake Kulikowski has been a huge contributor to the Tigers success, hitting .316 over his three-year varsity career. As a senior, the right fielder posted a .309 average with 33 runs scored and 19 RBI, he also led the team with 29 walks and 15 stolen bases.  Kulikowski is a two-time All-813Preps first team selection, and he is signed to play at the University of Miami next season.
⚾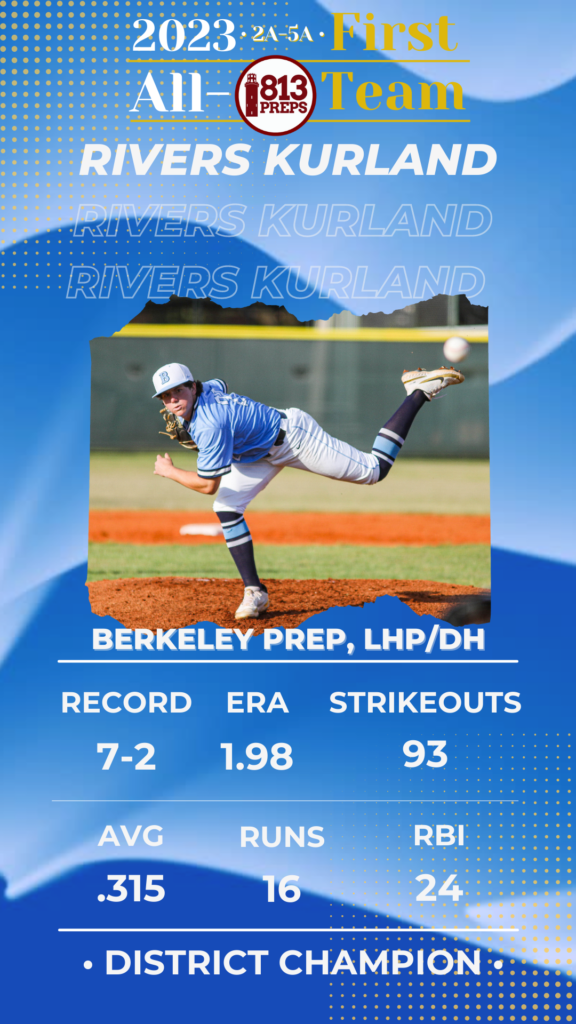 A two-way standout for the Buccaneers this season, sophomore Rivers Kurland went 7-2 on the mound this season with a 1.98 ERA, and finished tied for fourth in the county with 93 strikeouts. Kurland also hit .314 with 24 RBI and scored 16 runs, with three doubles and a home run at the plate. Kurland was a second team All-813Preps selection last year, and helped the Bucs win a district title and reach the region semifinals.
⚾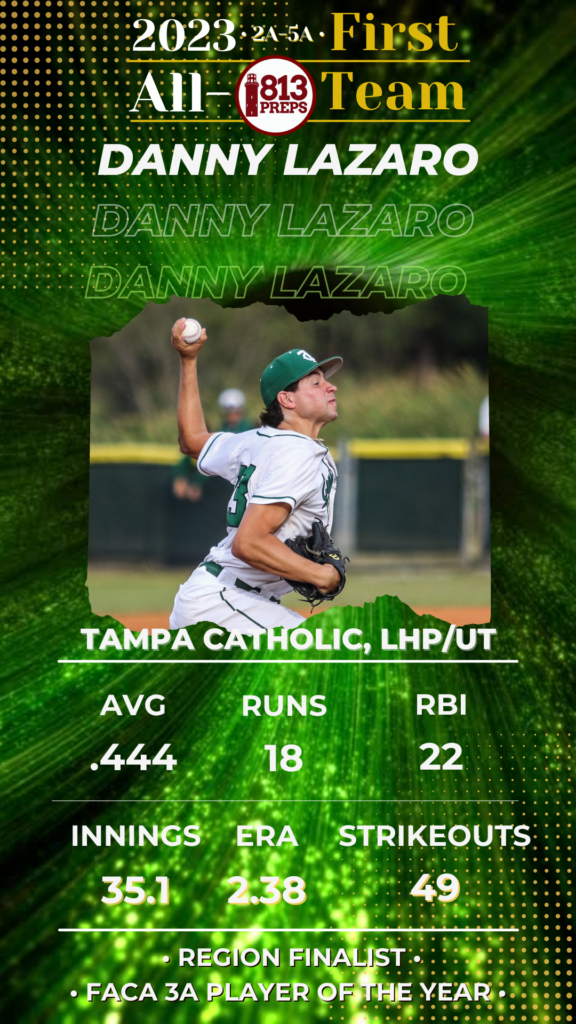 Senior Danny Lazaro took on many of the Crusaders toughest challenges on the mound, holding a 2.38 ERA and striking out 49 in 35-plus innings of work. He also tied for the team lead with 22 RBI, while batting .444 with 18 runs scored, three doubles and two home runs. Lazaro was selected for the Hillsborough-Pinellas Senior All-Star Classic and is signed to play at St. Johns River State College.
⚾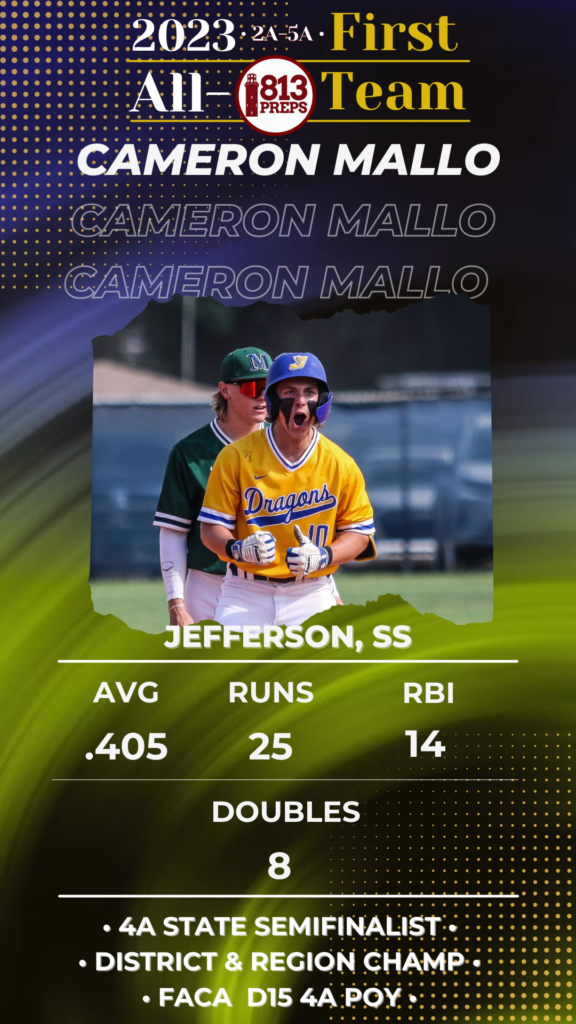 Junior Cameron Mallo made a huge impact on the Dragons this season, hitting .405 with a team-leading 25 runs scored and 14 RBI. He was a standout defender at shortstop, helping Jefferson claim district and region titles in his junior season, and reach the Class 4A state semifinals. Mallo was named the FACA Class 4A Player of the Year for Hillsborough County's District 15.
⚾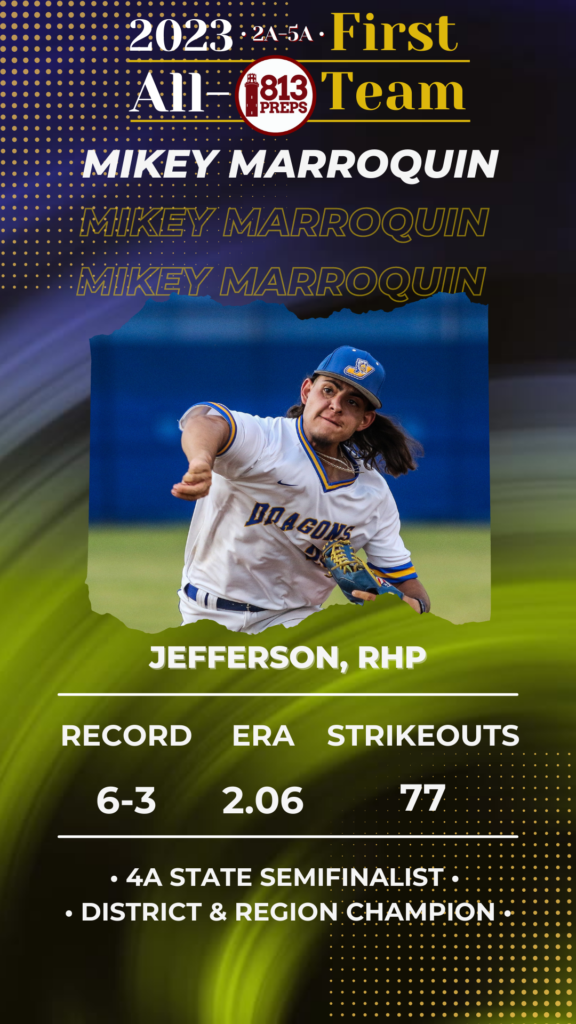 Jefferson junior Mikey Marroquin headed a very talented starting staff for the Dragons this season, going 6-3 with a 2.06 ERA and 77 strikeouts, while helping his team to district and region titles. Marroquin's final three starts of the season came in the postseason, and saw the righty toss 19 innings, allowing just three earned runs, while striking out 27.
⚾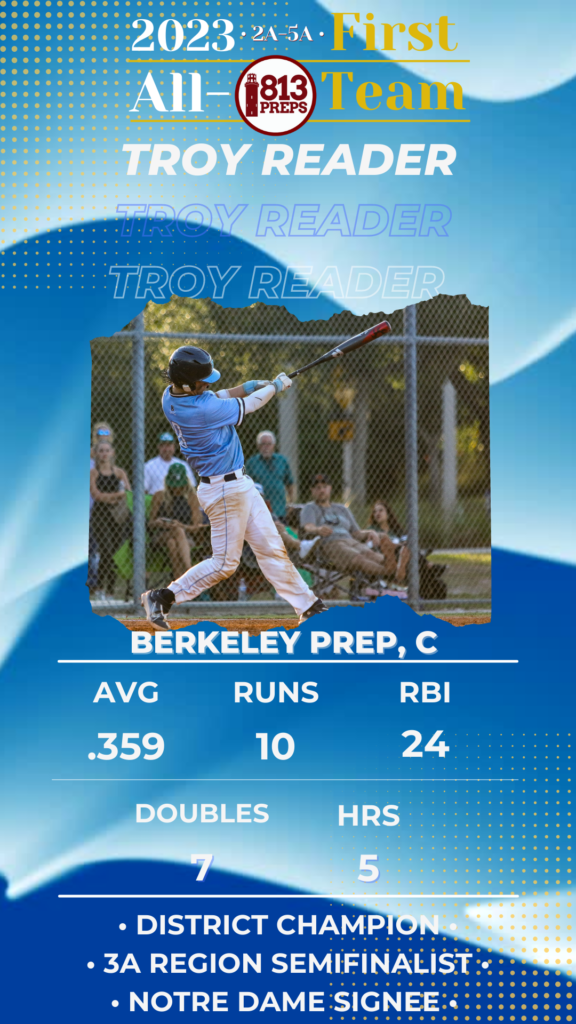 A part of the baseball program since seventh grade, Berkeley Prep senior Troy Reader turned in an impressive senior season where he batted .359 with 24 RBI, scored 10 runs, with seven doubles and five homers. The Bucs backstop helped his team to a district title and a region semifinal berth. Reader is signed to play at Notre Dame next year.
⚾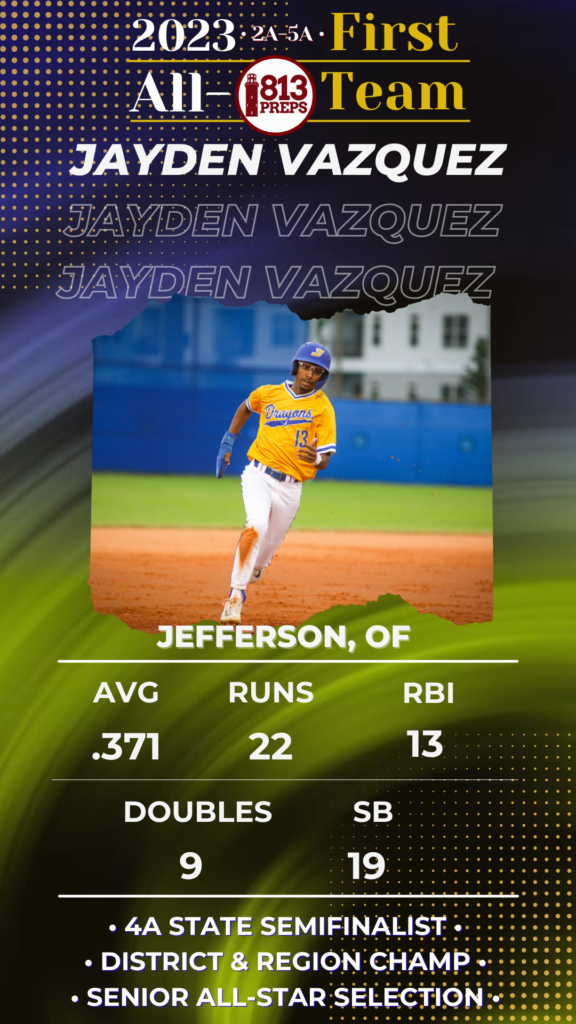 A three-year starter for Jefferson, senior Jayden Vazquez produced his entire career for the Dragons, posting a lifetime .329 average, including hitting .371 this year with 22 runs scored and 13 RBI. He mixed in speed on the base paths and in leftfield with a strong arm. He helped the Dragons reach the state semifinals for the second time in his three seasons. He was a All-813Preps second team selection last year, and is signed to play at East Georgia State College next season.
⚾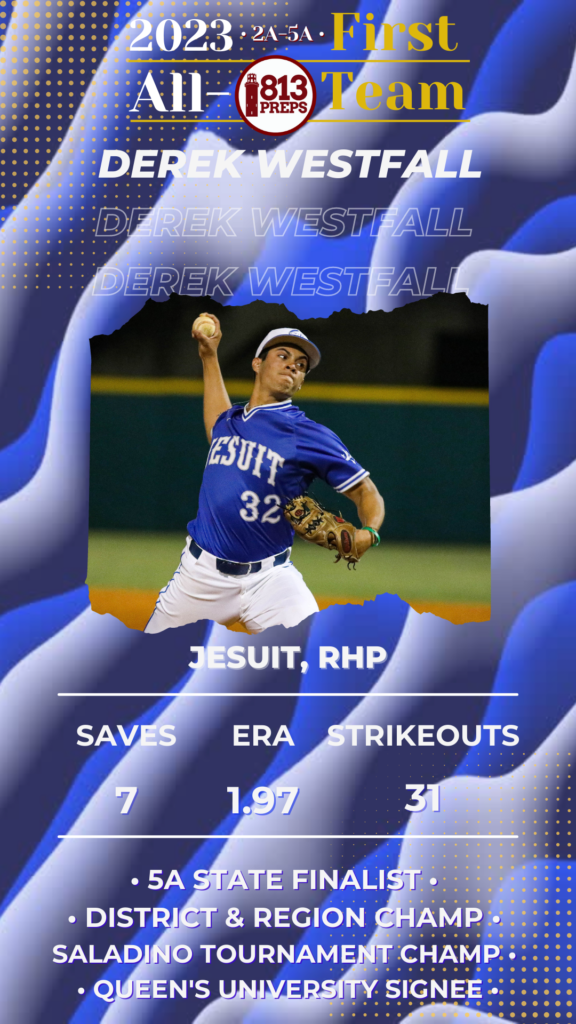 Senior Derek Westfall led the Tigers and the county with seven saves, while going 3-2 on the mound with a 1.97 ERA and 31 strikeouts in 32 high-leverage innings for Jesuit. Westfall, a Queens University of Charlotte signee, closed the door on some of the Tigers biggest wins of the season, including earning a save in the Saladino Tournament final against Sickles, as well is in wins over TC, Calvary Christian, Sarasota, Venice and the state semifinal against Sebring.
⚾
All-813Preps Second Team Class 2A-5A
Jacob Ananias, C/3B, Bell Creek
Agustin Barrido, 2B, Berkeley Prep
Ian Bast, RHP, Seffner Christian
Brody Bellomo, C, Cambridge Christian
Andrew Bunner, SS, Sports Leadership & Management
Wyatt Ewanowski, 3B, Berkeley Prep
Rolando Jimenez, 3B, Tampa Catholic
Maddox King, OF, Tampa Catholic
Brennan Leonhardt, OF, Carrollwood Day
Jacob Lozano, SS, Jesuit
Gio Mendoza, C, Freedom
Noah Sheffield, 2B, Jesuit
Alex Sotiropoulos, RHP, Tampa Catholic
John Valle, RHP, Jefferson
Honorable Mention Class 2A-5A
Bell Creek: Noah Berning, Tyler Fritsch, Matthew Kelley; Berkeley Prep: Julius Pfau, Joseph Troupe; Brandon: Reggie Faison Jr., Carson Junttila; Brooks DeBartolo: Ethan Corscadden; Cambridge Christian: Ethan Goebert, Zack McQuiston, Leyton Parmer; Carrollwood Day: Nick Bonollo, Christian Clarke, Nick Riedel; Chamberlain: Yadiel Garcia, Michael Wormack; Foundation Christian: Peyton Coakley, Caden Kull, Ryan Messing; Freedom: Dylan Hand, Bryce Nanns; Jefferson: JaMarques Benton, Cameron Copple, Joseph Fritz, Alliuq Troupe; Jesuit: John Abraham, Wilson Andersen, Vincent DeCarlo; King: Nico Brown, Joshua Drexler, Jayden Hill; Robinson: Jeremiah Henderson, Nathan Jennewein, Russell Sandefer, Tucker Wehrman; Seffner Christian: Shay Dean, Colin McNeal, Garrett Morgan; SLAM: Jayden Jardine; Spoto: Abel Jimenez; Tampa Catholic: Bransen Angel, Brian Canasi, Ethan Frame, Hershey Sanchez; Tampa Prep: Ignacio Gonzalez, Will Jennewein, LaPlace Sallis.
– By Jarrett Guthrie, Editor