2023 All-813Preps Baseball Class 6A-7A Team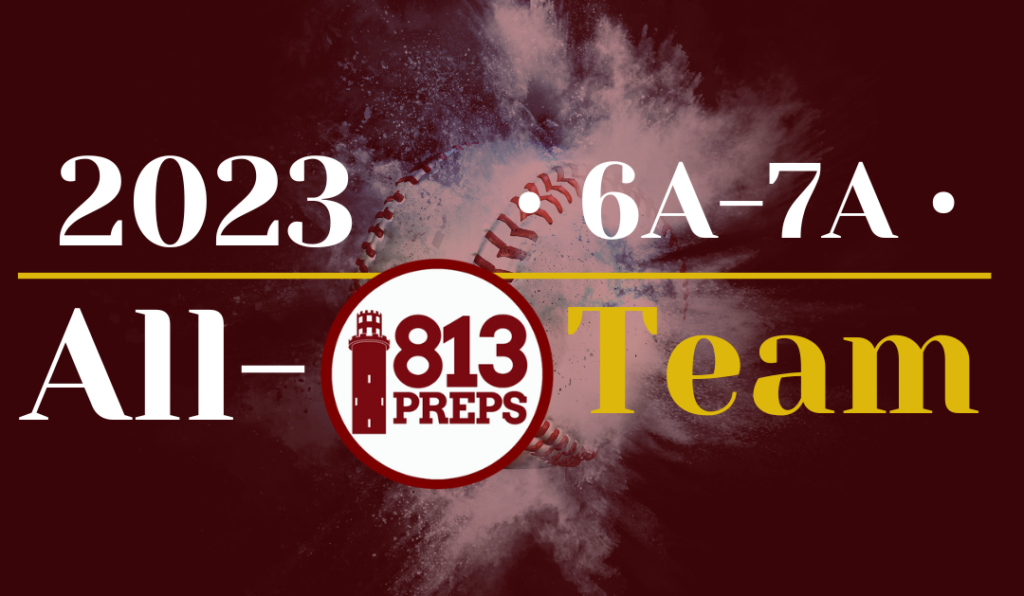 Most Valuable Player – Caden McDonald, Sickles

Sickles senior Caden McDonald posted two of the most incredible varsity seasons in the history of our website, and once again claims the Most Valuable Player Award for the second-straight year. McDonald led Sickles to its first ever baseball state championship, hitting .383, with a county-leading 12 home runs, seven doubles and 33 RBI, while on the mound he went 11-1, with a 0.82 ERA in 72 2/3 innings, striking out 97. In 64 career games for the Gryphons, he hit .488, drove in 77 runs and scored 55 times, while going 20-3 on the mound. McDonald tossed a complete-game one-hitter in the Gryphons state semifinal win against Winter Springs and was named the Florida Dairy Farmer's 6A Player of the Year. He was also named the 2023 Tony Saladino Award Winner, was a finalist for the Wade Boggs Award (after winning the award last year), and is signed to play at the University of Florida next year.
⚾
Hitter of the Year – Arjun Nimmala, Strawberry Crest

Under the intense microscope of numerous scouts at every game, the area's top prospect – Strawberry Crest's Arjun Nimmala – did not disappoint in his senior season. The five-tool shortstop turned in solid defense, showed good speed (nine stolen bases), and earned Hitter of the Year honors behind a .479 average, with 29 RBI, 30 runs scored, seven doubles, three triples and six home runs. Nimmala was named the 2023 Wade Boggs Award recipient, was the FACA District 15 Most Valuable Player, and is projected as a first-round selection in this Sunday's MLB first-year players draft.
⚾
Pitcher of the Year – Robert Satin, Plant


For the second-straight season, Plant's Robert Satin earns our Pitcher of the Year award after posting an 11-0 record with 104 strikeouts and a 1.36 ERA. In 77-plus innings of work, the University of Florida signee issued just 10 walks. Satin's impressive season on the mound included a midseason win against Jesuit, where the lefty struck out nine in a 4-1, complete-game effort. He went 19-1 in two seasons as the Panthers ace, and helped Plant reach the 7A state final, a season after helping his team reach the state semifinals. Satin was the FACA District 15 Class 7A Player of the Year, was a Western Conference first team selection, and was named to the FACA All-Star Classic.
⚾
Coach of the Year – Eric Luksis, Sickles


After a run to the state final four a year ago, Gryphons head coach Eric Luksis led Sickles on an incredible 2023 season – capping things off with a 4-2 victory in the Class 6A state championship game against Viera. Luksis skippered his team to a county-best 30-2 record as the Gryphons won 22-straight to close the year with the program's first state title. In his seven seasons at Sickles, the University of Tampa alum has a 116-55 record.
⚾
All-813Preps First Team Class 6A-7A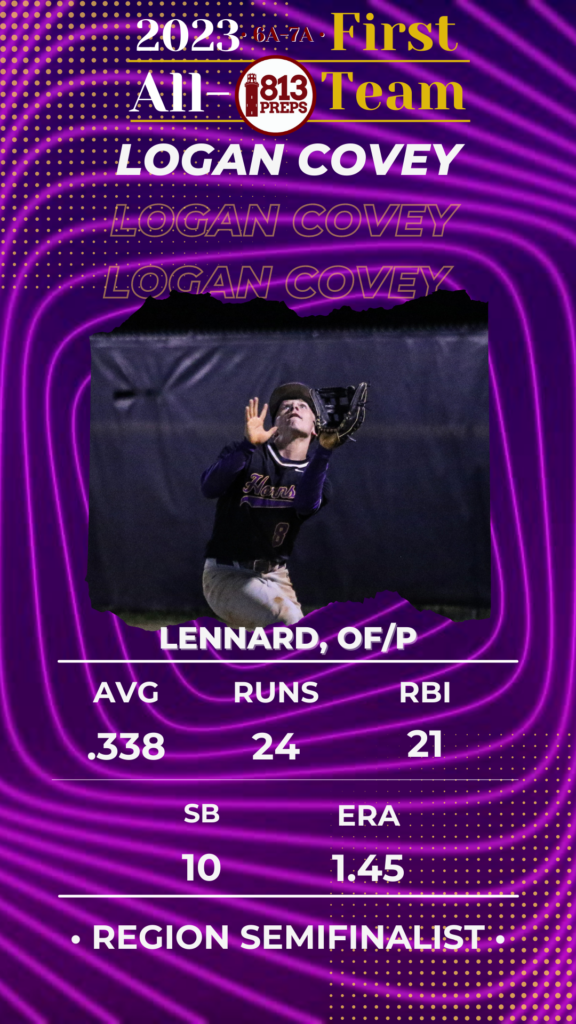 Lennard's Logan Covey excelled in his senior season transition to the outfield making a defensive impact all year for the Longhorns. Covey, a Florida Southern signee, also turned in a solid season at the plate, hitting .338, with 24 runs scored, 21 RBI, nine doubles, two triples and 10 stolen bases for the 18-10, region semifinalist Longhorns. He also pitched in relief in six games, posting a 1.45 ERA.
⚾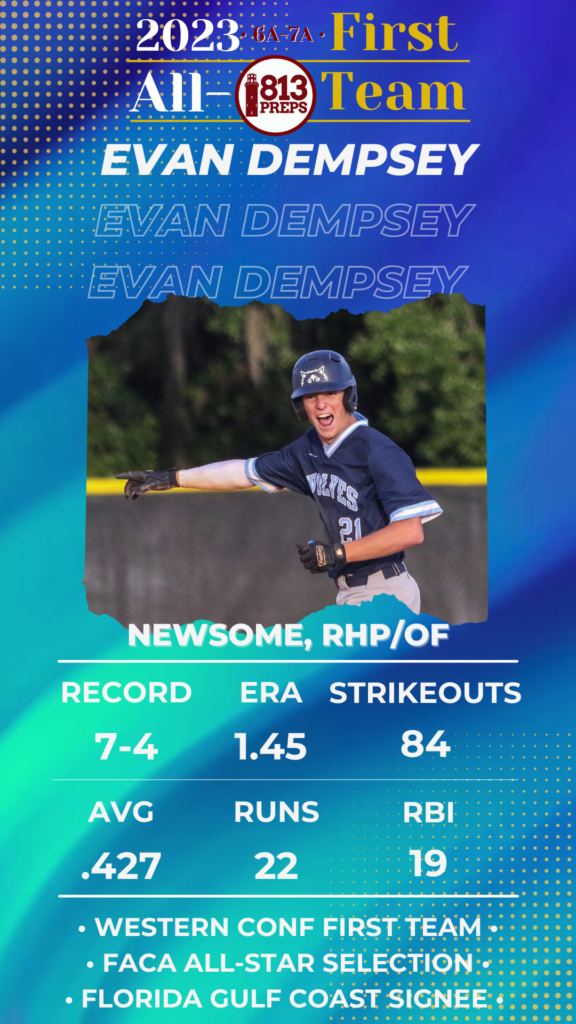 Wolves senior Evan Dempsey led the way on the mound and at the plate for Newsome as the Florida Gulf Coast commit hit .427 with 22 runs scored and 19 RBI, to go along with a 7-4 mark on the mound, with a 1.45 ERA and 84 strikeouts. Dempsey hit four triples and three home runs – highlighted by a walk-off grand slam in a Saladino Tournament pool play win against rival Bloomingdale. He was named a FACA All-Star Selection.
⚾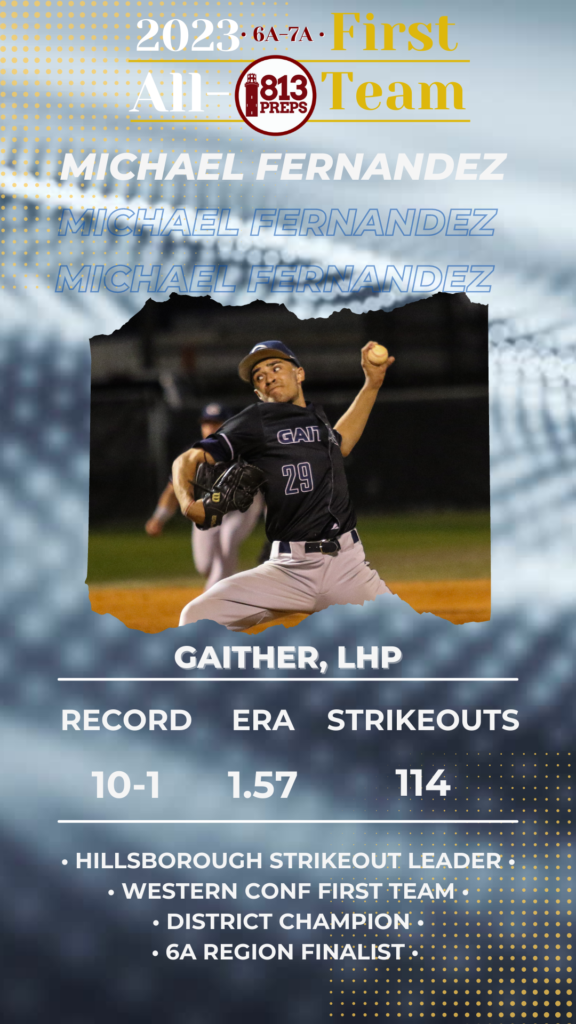 The Hillsborough County strikeout leader, Gaither junior Michael Fernandez sat down 114 batters this season, while going 10-1 for the district champion and region finalist Cowboys. Fernandez posted double-digit K totals in 7-of-12 appearances this season, including 12-strikeout wins against Jefferson and Riverview, and closing out his season with 11 strikeouts against Ft. Myers Riverdale in the 6A region semifinal.
⚾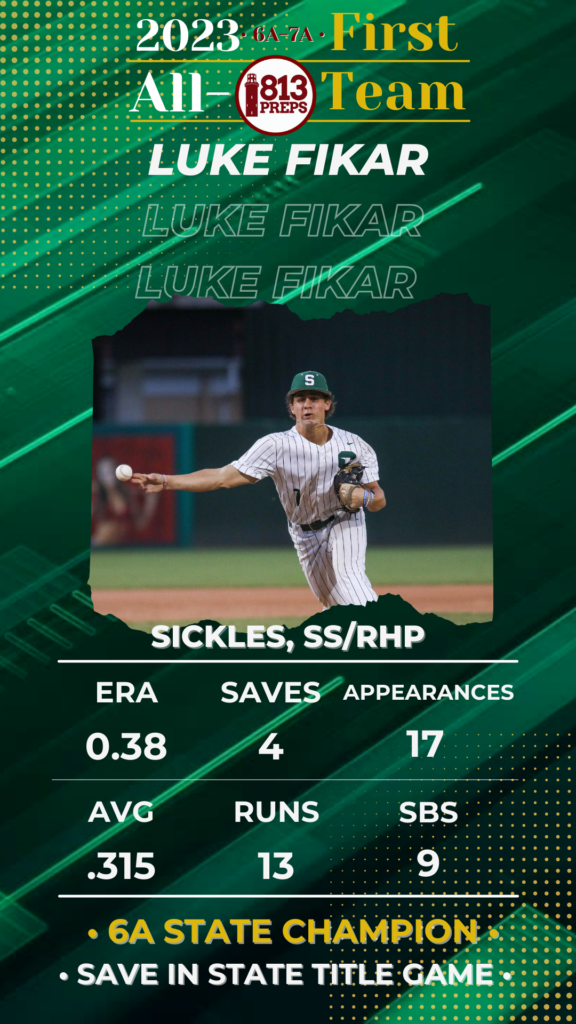 The state champion Gryphons were definitely not lacking in superstar players with eye-popping stats. But in the biggest moments, it was time-and-again Sickles' 5-foot-7, 165-pound catalyst Luke Fikar who found that something extra. He turned in gold glove level work at shortstop, hit .315 at the plate, and made 17 appearances on the mound, earning four saves and posting a 0.38 ERA – including slamming the door shut in Sickles district final, region semi and final games, as well as earning the save in the state championship win against Viera.
⚾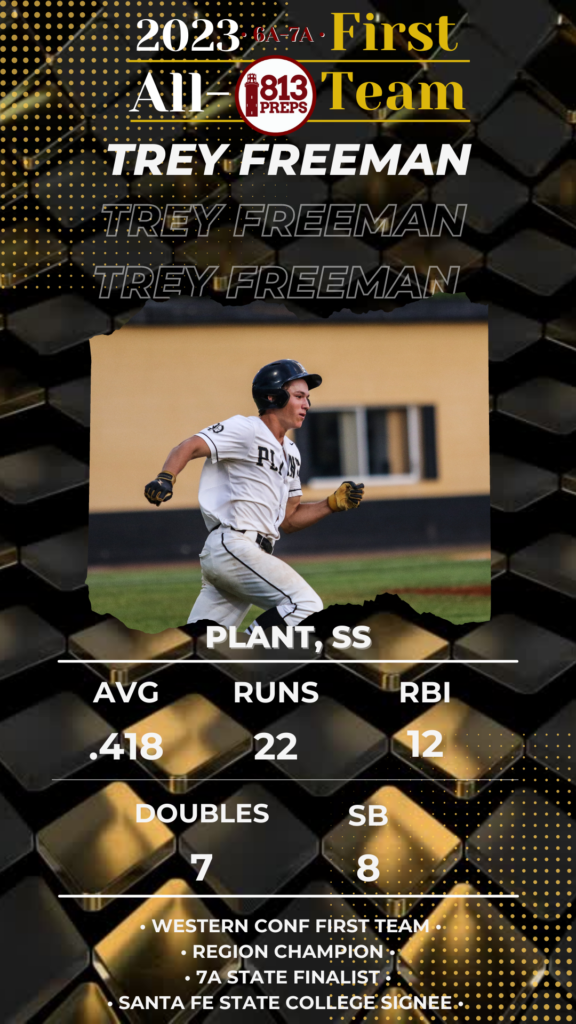 Locking things down at shortstop, senior Trey Freeman also took care of things at the plate finishing with 33 hits (a .418 average), scoring 22 runs and driving in 12 for the Class 7A state finalist Plant Panthers. Freeman recorded at least one hit in 23 of Plant's 29 games, recording seven doubles. He was selected to the Western Conference first team and is a Santa Fe State College signee.
⚾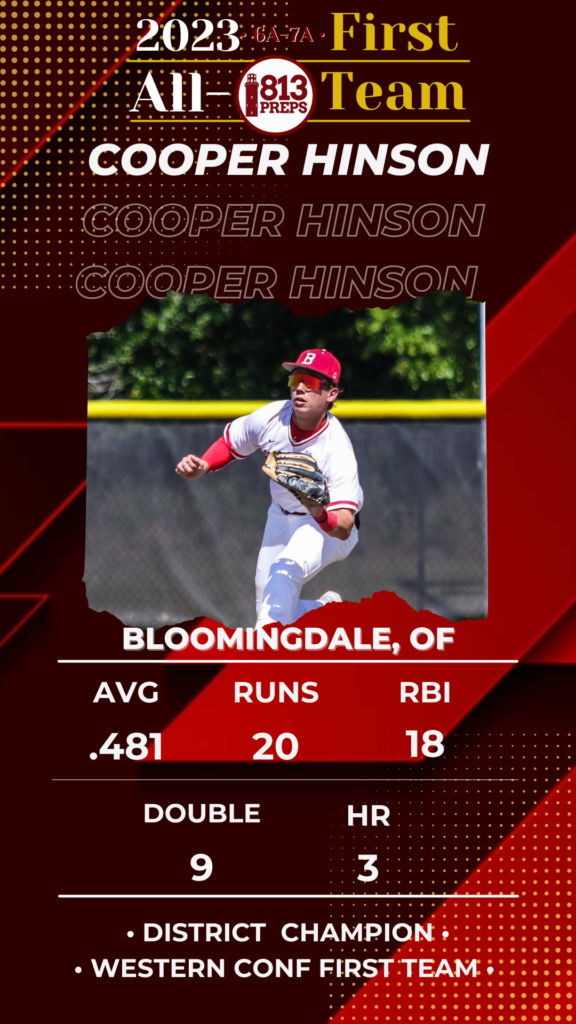 Bloomingdale junior Cooper Hinson finished the season with 39 hits, one shy of the county leader, posting a .481 average fro the district champion Bulls. The right fielder scored 20 times, drove in 18, with nine doubles, three homers, and nine stolen bases. He had hits in all but four of Bloomingdale's 26 games, and was a Western Conference first team selection.
⚾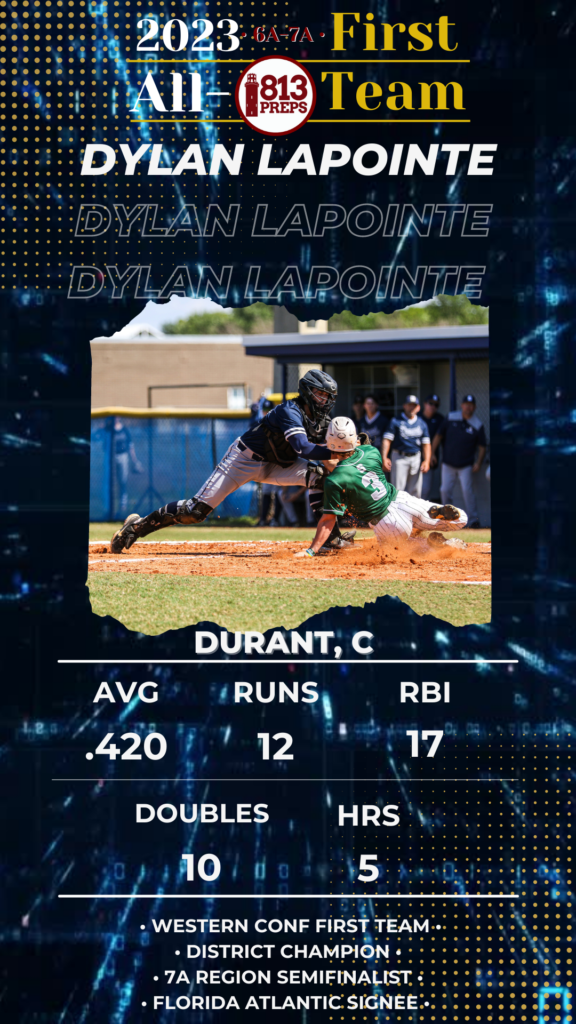 After earning Hitter of the Year honors in 2022, Durant's Dylan LaPointe earned a spot on the All-813Preps First Team for the third time in his career, hitting .420 with 17 RBI, and 12 runs as the Cougars starting catcher. LaPointe, a Florida Atlantic commit, hit 10 doubles, two triples and five home runs. One of the county's top defensive catchers as well, LaPointe finishes his Durant career with 95 hits, 63 RBI, with 28 doubles and 11 home runs.
⚾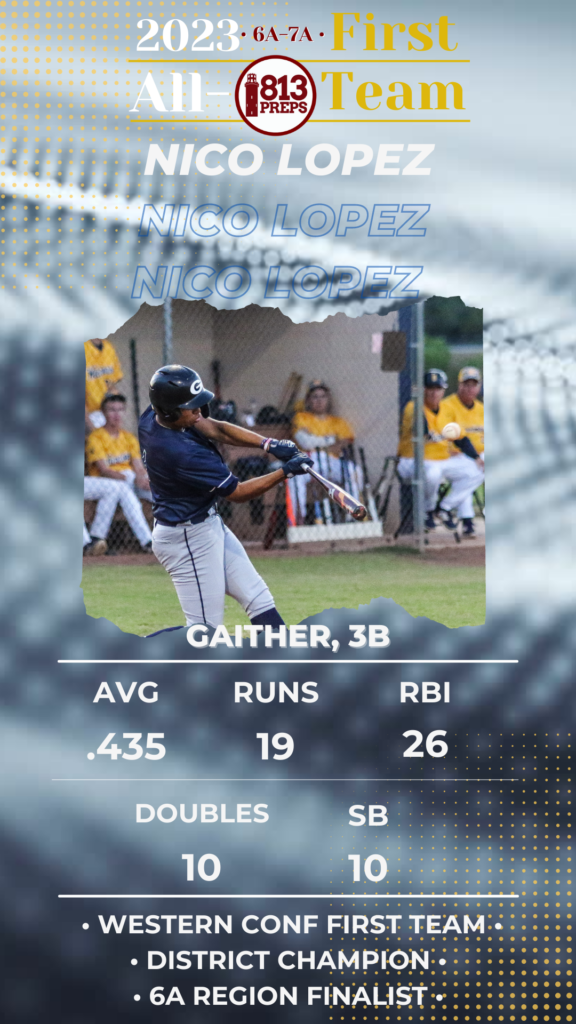 Cowboys junior Nico Lopez opened the season with a three-hit, two RBI game against Hillsborough, and added 10 more multi-hit games on the year, finishing with a .435 average, 19 runs scored and 26 RBI, doubling 10 times and swiping 10 bags. His work at third base helped solidify one of the best infield defenses in the county, helping Gaither to a district title and a region final appearance.
⚾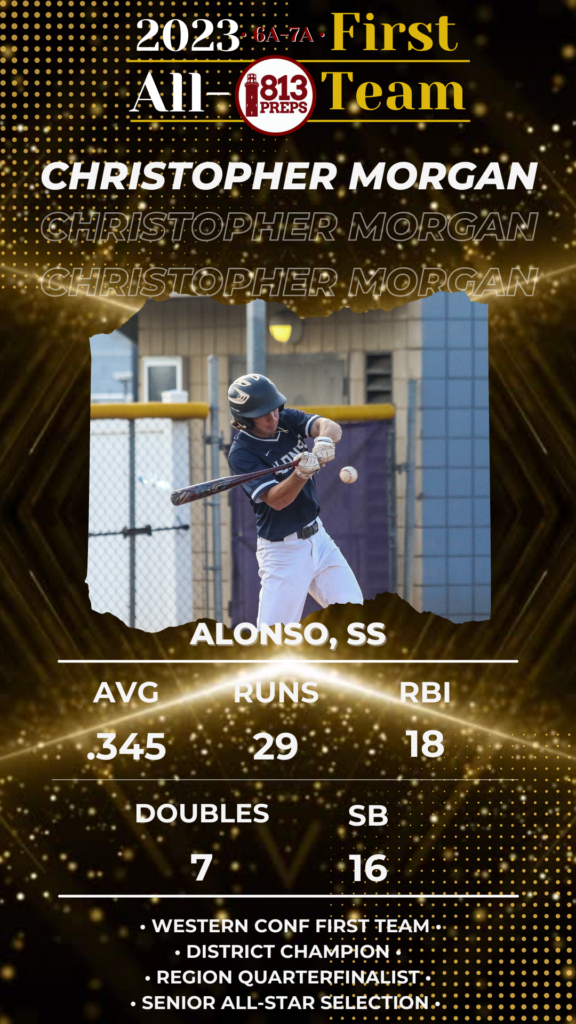 A slick-fielding shortstop, Alonso's Christopher Morgan turned in gold glove defense with fast hands and a strong arm, while also coming through in a big way at the plate for the district champion Ravens. Morgan hit .345, scoring 29 times and driving in 18 for Alonso, while hitting seven doubles and stealing 16 bases, and was hit by a pitch nine times. Morgan was a Western Conference first team selection and named to the Hillsborough-Pinellas Senior All-Star game.
⚾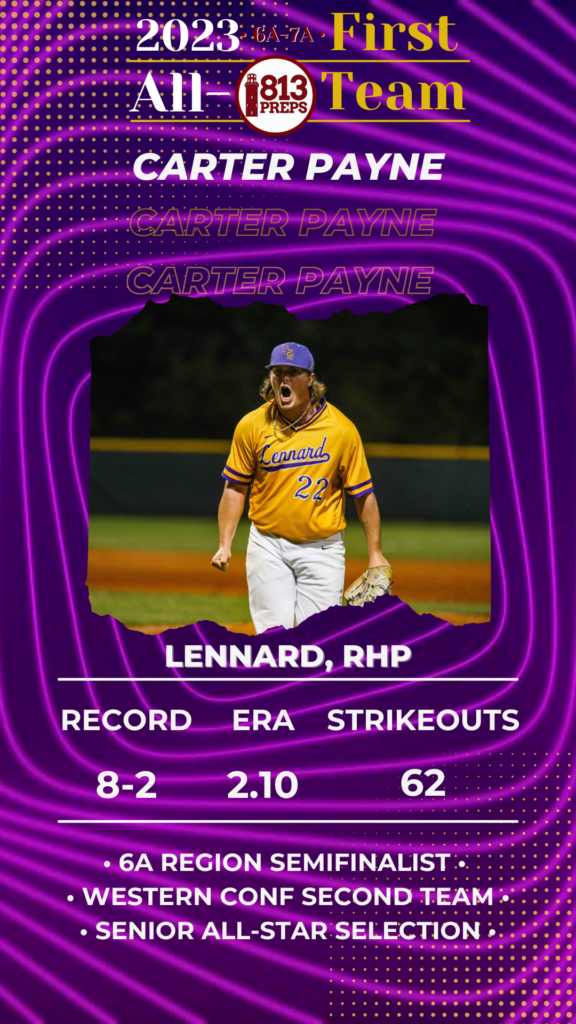 Making a team-leading 14 appearances for the region semifinalist Longhorns, senior Carter Payne went 8-2 on the mound, with a 2.10 ERA and 62 strikeouts. Payne, a Presbyterian College signee, pitched to contact, and limited walks (just 18 in 54 innings) with wins over Plant and Newsome highlighting his senior season. In 37 career appearances, he was 12-3 with a 2.39 ERA across 149 innings in four varsity seasons.
⚾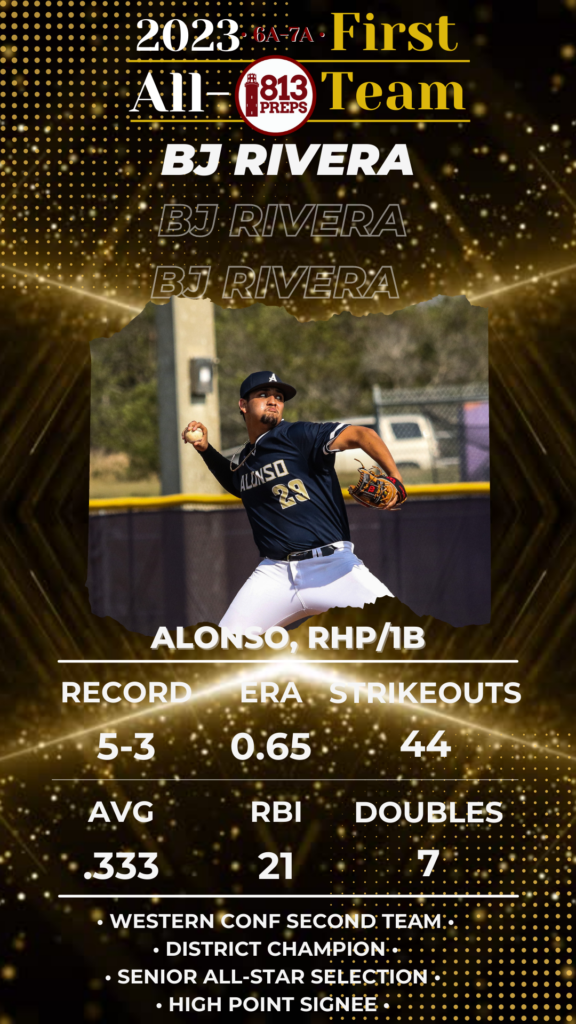 Senior BJ Rivera had a big impact in his lone season at Alonso, both on the mound and at the plate for the 18-9 Ravens. Rivera, a High Point signee, earned his second All-813Preps first team selection by going 5-3 on the mound, with a 0.65 ERA and 44 strikeouts. At the plate, Rivera hit .333, with 21 RBI, 13 runs scored and seven doubles. He also led the Ravens drawing 20 walks. Rivera had 189 strikeouts on the mound in his career (Leto, Alonso). He was a Western Conference first team selection and named to the Hillsborough-Pinellas Senior All-Star game.
⚾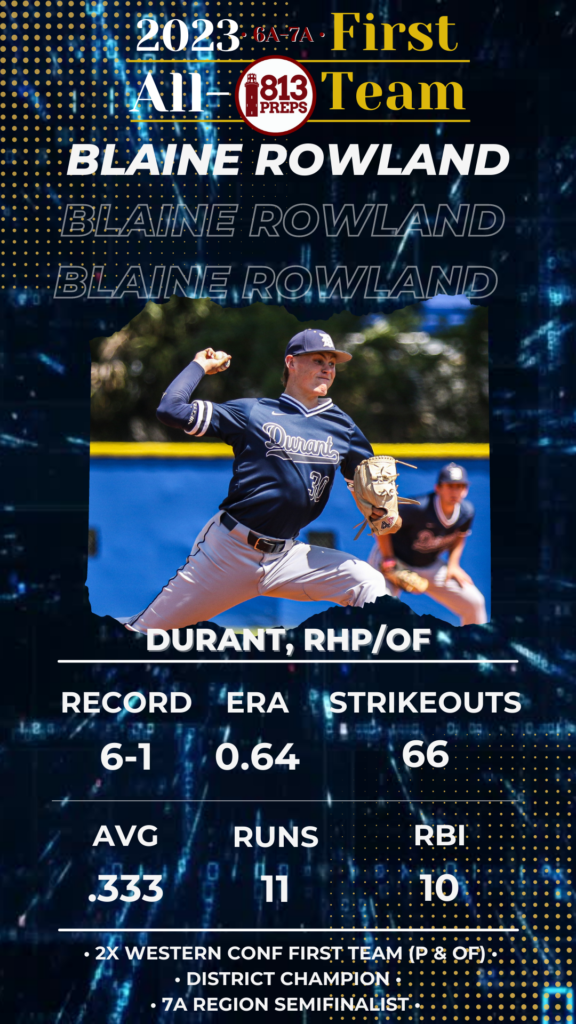 A two-way standout for Durant, junior Blaine Rowland went 6-1 in 13 appearances on the mound for the Cougars with a 0.64 ERA and 66 strikeouts, helping his team to a district title and a region semifinal berth. Rowland also hit .333, with 11 runs and 10 RBI. Though he didn't earn the decision, his final start of the season saw the righty strikeout 11 across eight innings in the Cougars 10-inning region quarterfinal win against Alonso. He was named to the Western Conference first team twice, once as a pitcher and as an outfielder.
⚾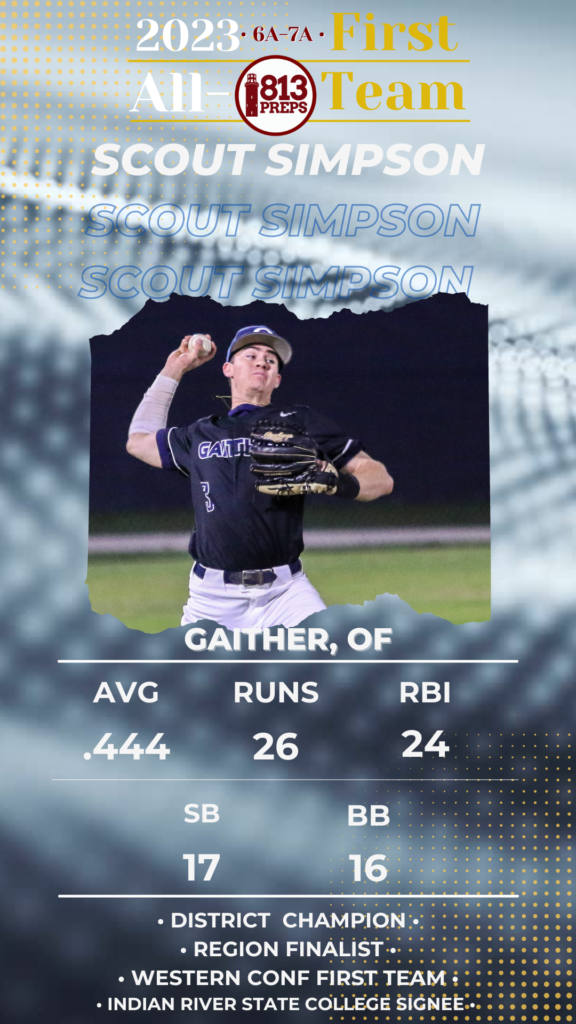 Speedy outfielder Scout Simpson helped Gaither put runs on the board during the Cowboys 22-win season, which included a district title and 6A region final appearance. Simpson, a Indian River State College commit, hit .444, scoring 26 times while driving in 24. He also walked 16 times and stole 17 bases, earning Western Conference First Team honors.
⚾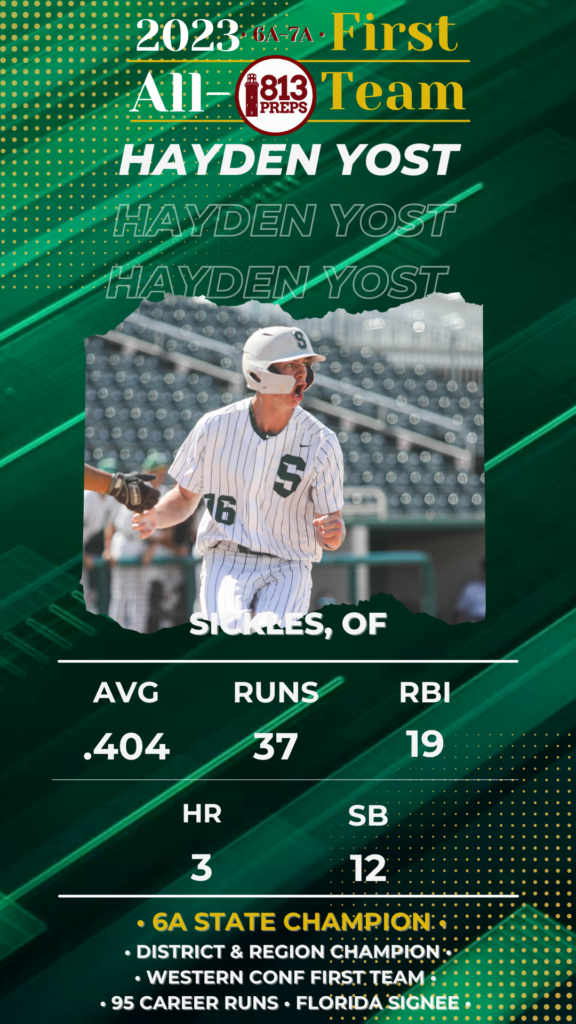 In 93 career varsity games at Sickles, Hayden Yost scored 95 times, including crossing the plate 37 times this year, while batting .404 and driving in 19 runs. Yost added some pop to a stacked Gryphons lineup with six doubles, two triples and three homers – none bigger than a first-inning dinger in the region final win against Gaither. Yost is a University of Florida signee.
⚾
All-813Preps Second Team Class 6A-7A
Rocco DeMarinis, 3B, Plant
Ben Drumheller, OF, Alonso
Cameron Guise, 3B/RHP, Sickles
KJ Leshko, SS, Armwood
Adan Longoria, RHP/UT, Plant City
Braden Moon, C, Newsome
Noah Morales, 2B, Durant
Jack Mueller, RHP, Lennard
Akhil Nimmala, 1B, Strawberry Crest
Anthony Pallestrini, 1B, Plant City
Luke Richardson, RHP, Strawberry Crest
Steven Rojas, RHP, Gaither
Jorge Romero, 2B, Steinbrenner
Connor Vance, OF, Sickles
Honorable Mention Class 6A-7A
Alonso: Vincent Antuna, Landon Nunez; Armwood: Chase Conti, Antonio Rodriguez; Bloomingdale: Tyler Clinton, Pierce Collins, Eli Davidson, Jacob Magadan, Dawson Rankin, Alex Vazquez; Durant: Gavin Florio, Nick April-Gath, Preston Rogers; East Bay: Rory Beauford, Jr.; Gaither: Jackson Mirza, Miguel Pina; Hillsborough: Antonio Davis, Curtis Roberts, JJ Shipherd; Lennard: Alex Brazer, Mattie Counts, Trey Miranda, Joseph Rivera; Leto: Denzel Martinez, Gerard Ortega; Newsome: Nicholas Balasko, Luke Peterson, Ryan Spitzer, Wade Walton; Plant: Garrett Hill, Jack Meade, Bryce Pelleriti, Cash Strayer; Plant City: Chase Mobley, Colin Pellicer, Zane Wright; Riverview: Farah Castillo, Adrian Rolon, Michael Sims-Gallagher; Sickles: Justin Allen, Brandon Gonzales, Jordan Yost; Steinbrenner: Bejamin Geraghty, Cayden Hessemyer, Austin Liss, JW Stephens; Strawberry Crest: Brayden DiCerb, Alex Philpott, Zach Redner, Reuben Vazquez; Sumner: Ethan DeJesus, Manny Ramos, Brenden Rodriguez; Tampa Bay Tech: Mathew Rojas, Tyler Shultz; Wharton: David Ascano, Jaylen Martin, Justis Meadows, Jake Turer.
– By Jarrett Guthrie, Editor