UPDATED 6/9/2020
By Jarrett Guthrie
Editor
PLANT CITY – Strawberry Crest alum Ben Pues said he felt for his former high school teammates, having their baseball season come to a premature end due to the COVID-19 pandemic. Pues, currently a student at Polk State College, said he felt the urge to do something to recognize those players in some way and started hatching a plan last month.
His plan evolved from wanting not just to support his former Chargers teammates, but players from across Hillsborough County, and he hopes that plan will give players one more chance this year to play with their teammates and defend their school pride.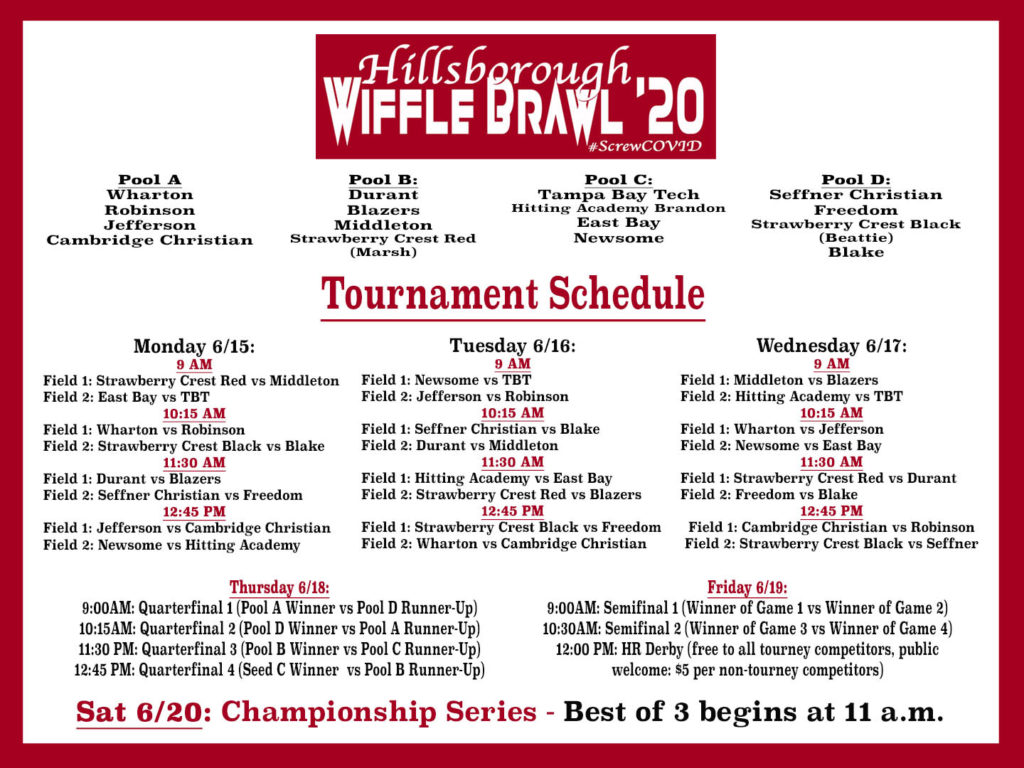 As the 813Preps audience may recall, we featured Pues in June of 2019 on our site, reporting about his backyard Mini-Fenway wiffle ball field. We spent an afternoon at his replica stadium as he and his friends held a tournament at the start of last summer (read our feature by clicking here).
Pues plans on opening his space up, even building it out a bit further, in hosting the Hillsborough Wiffle Brawl '20 – a six-day, 28-team tournament made up of five-player teams representing their high schools. The event scheduled for June 15-20 in Plant City and will include pool-play rounds, quarter and semifinals, a best-of-three championship series, as well as a home run derby.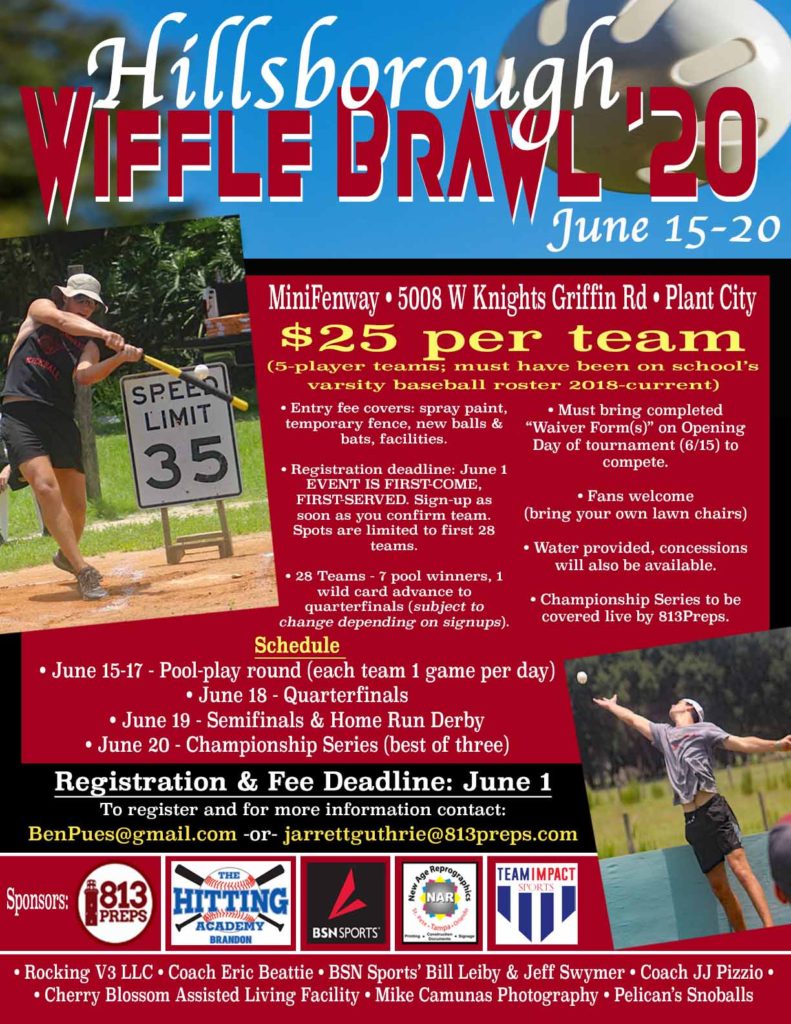 Pues said that the tournament's inspiration came from the Tony and Bertha Saladino Tournament, which would have celebrated its 40th annual event in March, stating that even with two district and region titles, and two trips to the final four in his last two seasons at Strawberry Crest, the yearly event is something that will always stand out as a bright spot for his high school playing career.
"Really when I heard the Saladino (Tournament) was canceled, I thought this was the perfect time to maybe put this together," Pues said. "For a lot of us, that tournament is the biggest thing of our season. We (Strawberry Crest payers) were lucky to be a state tournament contender my last two years, but I still look back at the Saladino is some of my most fond memories."
Signups will be on a first-come, first-served basis for the first 28 teams and the deadline for signups (and team entry fee) is June 1. The event will cost $25 per team ($5 per player) and those funds will be dedicated to new equipment (bats and balls), spray paint for foul lines, rental of temporary fencing for two additional fields for the pool-play rounds. If a school wants to have a second team in the tournament there will be a waiting list, which is also on a first-come basis, so coaches or team captains are encouraged to let Pues know by email (on flyer) and a waiting list will be created should the event not reach 28 schools by June 1, at which point signups would be opened to a second team from a specific high school.
Pues said he hopes this tournament can be a bright spot for players to look back on at the end of their 2020 season, and can hopefully replace a bit of the sting of loss with a fun experience to look back on.
"I loved going out to the (Saladino) games at Brandon, even going just to watch," he said. "It's always been an event I've always looked forward to, if this tournament is something that can give this group of high school players something even a little bit close to that experience than that would be great. I know this won't make up for everything, but it can be something to look forward to, something positive to remember from this year."
813Preps is proud to be a part of this event as one of its sponsors, and the event has already attracted a handful of community businesses as sponsors. Pues said he hopes the opportunity for sponsors to support area baseball players in a positive and competitive activity will be successful and allow for this to possibly become an annual event. Though the team entry fee should allow them to put on the event with enough equipment and the facilities in top shape, he said he hopes the added sponsorship money would allow the event to provide a little extra for its participants including event t-shirts, perhaps post-tournament awards, and a post championship series meal for the finalists.
Important Links
•• For any business or individual looking to support this event as a sponsor, please review the Sponsorship Letter by clicking here. 
•• Each player must complete a waiver form that must be turned in on June 15th, the tournament's opening day. Waiver form can be found by clicking here.
•• For the Official Tournament Rules click here.