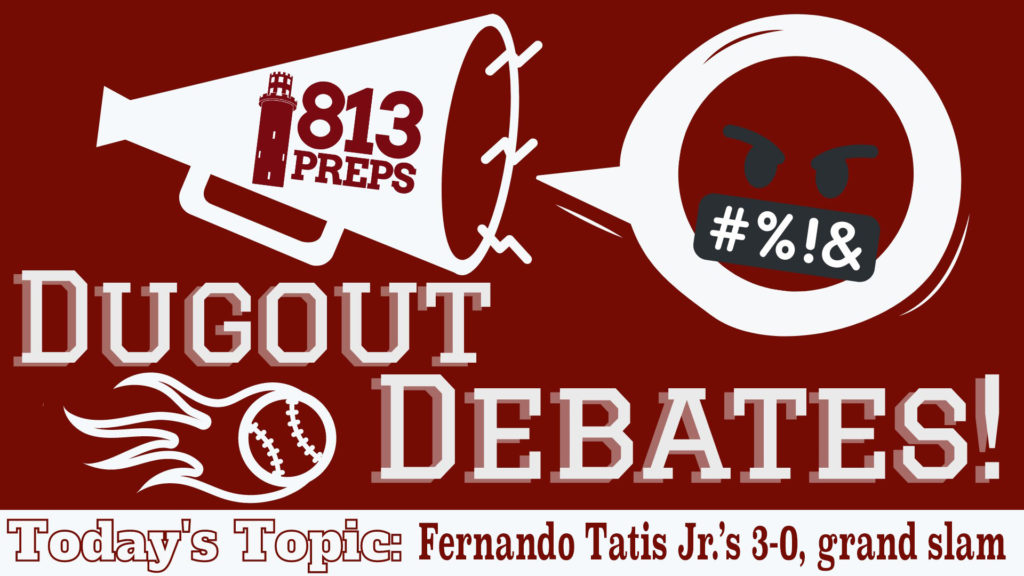 By Jarrett Guthrie, Editor and Mike Camunas, Creative Director
Monday night in Arlington, TX, San Diego's 21-year-old phenom, Fernando Tatis Jr., took a big hack, and crushed his league-leading 11th home run of the season.
But the circumstances around the Padres sluggers' grand slam have caused quite a stir on social media, talk radio and throughout the collective baseball world.
The Facts:
• It was a 3-0 count.
• It was a 10-3 San Diego lead.
• It was the eighth inning.
Fernando Tatis Jr. smacked a grand slam on a 3-0 count with a big lead, leading to criticism from both managers.

What do you think about this unwritten rule in baseball?

🎥 @MLB #PadresTwitterpic.twitter.com/55rX1bL4Qm

— The Athletic MLB (@TheAthleticMLB) August 18, 2020
After Tatis circled the bases, the son of the former major-league third baseman — who started his career at 17 years of age with Texas — met the ire of (checks notes) first-year skipper Jayce Tingler, 39, who chastised him in the dugout.
Tingler, who was making a home-coming of sorts having served as the associate GM for the Rangers previous to being named the San Diego manager, also spoke with reporters after the game, saying that Tatis missed the take sign and further commented that the swing was something he felt was ill-advised.
From Associated Press (AP) Sports Writer Schuyler Dixon's story (link to story by clicking here):
"Just so you know, a lot of our guys have green light 3-0," Tingler said. "But in this game in particular, we had a little bit of a comfortable lead. We're not trying to run up the score or anything like that."
Fun fact: Fernando Tatis Sr. once hit two grand slams in the same inning on April 22, 1999 playing for the St. Louis Cardinals against the Los Angeles Dodgers.
For his part, Tatis Jr. said this to media (also from the AP story):
"I've been in this game since I was a kid," he said. "I know a lot of unwritten rules. I was kind of lost on this. . Those experiences, you have to learn. Probably next time, I'll take a pitch."
So, we thought we'd have a little bit of fun and talk about this situation, the response to it, and those "unwritten rules" of baseball we hear so often, with a few of Hillsborough County's baseball minds. Joining in on the action were Robinson coach Alex Barron, Strawberry Crest's Eric Beattie, Plant's Dennis Braun, Plant City's Michael Fryrear, King's Jim Macaluso, Jesuit's Miguel Menendez, Leto's JJ Pizzio, Bloomingdale's Kris Wilken, and newly named Spoto head coach Mike Boyd (read more on Boyd from our story from Monday by clicking here).
Check out our first installment of our new "Dugout Debates" series and feel free to tweet your opinion tagging us at @813Preps or email us at jarrettguthrie@813Preps, and we'll pick the best responses and post a follow-up.
813Preps: Fernando Tatis Jr.'s 3-0, grand slam with the Padres up 10-3, thoughts?
Robinson HC Alex Barron: "Why take what may be the best pitch you'll have the chance to do damage with? Loved it."
Strawberry Crest HC Eric Beattie: "The 3-0 swing, up seven with bases juiced – the way Tatis is seeing the ball… I'm saying go for it and try to hit it out of the stadium."
Spoto HC Mike Boyd: "It's baseball. The pitcher has the ball to start each 'pitch'. I know I'd be swinging, especially in a shortened season. Players train all year, and this is part of getting better, both hitter and pitcher. Hitter got a good swing in and pitcher learned the importance of getting ahead, hitting your spots, or not grooving it to one of the hottest hitters in the league."
Plant HC Dennis Braun: "Two thoughts, one if I'm coaching here (high school), and one if I were coaching in the big leagues. I have no problem with it in the big leagues, because that's entertainment. It's a stat-driven league, so if he can hit a home run that is more money he can make down the road and no one is going to stop him. My belief here, I'd be okay with it here, because that would end the game and I wouldn't have to throw another pitcher."
King HC Jim Macaluso: "I'll probably be in the minority here, but I'm thinking you're up 10-3 in the 8th, you're gonna take that pitch. But I understand that things have changed a bit, and they are cutting him loose because everything has been individualized, not just in the game, in life in general. But I think you take that pitch, 3-0, a walk is an RBI."  
Jesuit HC Miguel Menendez: "(I) thought it was awesome. I have no issues with him swinging in the 3-0 count.  10-3 isn't that big a lead.  Plus, how many times have we chided players for not playing hard all the time.  Now when one does, it's bad because of some unwritten rule.  That's ridiculous!"
Leto HC JJ Pizzio: "When you are that good you can do things like that. He is a 21-year old ELITE SS making $591,000 this season… put up numbers you get paid… take away aggression you lose money in MLB. So, some of the best players ever have pissed off a few guys but Hitting Dingers gets you and your family paid."
813Preps: Thoughts on his manager telling the press he had the "take sign"? Would you back your player to the media or call him out to save face?
Barron: "If the manager gave 'take' then I'm not a fan of blowing off the skipper's call (even if I don't agree with the call)."
Boyd: "I would have backed my player and simply said it was a nice hit. 10-3 doesn't mean the game is over. There are 27 outs … I believe it's harder to have younger guys learn how to take their foot off the gas and stay locked in, then it is with some of the veterans.  It's all about the learning process. I surely would have talked to my player face-to-face prior to saying anything.  Maybe he missed the sign."
Braun: "I would never call him out in the media. If he actually missed the take sign, I'd call him into my office and we would definitely have a conversation. But at that level, I would never call him out in the media because nothing good ever comes from that.

"I think I'd probably go the route to protect both of us, if I were asked directly, I would say, 'I didn't give him the take sign but being a professional player at this level, he should know that's probably something we shouldn't do. But he's a young player and it is something we've talked about and he knows the game a little better after today.'"
Plant City HC Micheal Fryrear: "I would back my player and tell the press that I will have a nice chat with him soon."
Macaluso: "I'd back my player. It's nobody's business that he had the take, and I think (the coach) is covering his butt a little bit. He's your guy, I think you need to talk to him. I don't think this is a thing where you are going to fine him or suspend him or anything… here is a 21-year-old kid and you are in baseball with veterans and you need to learn the game like any other business. So, for me I call him in after the game, no comment to the media, and I use that as a teaching moment. 'Fernando, you can't do that. For your image, you're a 21-year-old and it looks like you are gonna be a superstar, but you need to do right for yourself, your image, your teammates and your coaches.'"
Menendez: "This bothered me the most.  I would never air something like that out in the media.  In fact, I'll defend my guy to the end, but we will have a talk in private about why it's wrong if I felt that way.  I didn't like how he handled it."
Pizzio: "Not sure how true (him having the take sign) that is… but in MLB I don't know how controlling you need to be… in HS I would be pretty pissed off but pretty pumped on the inside… definitely would have to talk with him to get his mindset on the pitch if he got the take sign and address it internally.
"Never embarrass your player… they are players. You take the Blame and the Glory."
Bloomingdale HC Kris Wilken: "Manager throwing him under the bus… tough one. What are you going to do to the guy that doesn't alert everyone that he screwed up? If ya bench him the next day, everyone knows why. So maybe by making him deal with media about it he will learn. Idk. Tough one. Not sure what I would've done there. But… the higher up you go, the less actual signs there are and take signs are usually the hardest to miss."
813Preps: Are baseball's "unwritten rules" etched in stone?
Barron: "The game is ever-evolving; therefore, the written and unwritten rules would be ever-evolving also."
Beattie: "I'm very surprised the manager sold him out to the media. However, I wouldn't be surprised if he told Tatis, 'I'm gonna say you had the take sign to the masses, but here's $1,000 for a nice steak for you and your family… it's on me… and by the way, nice granny!!'
"If Tatis were on my team and was hitting the way he is hitting… he would have the green light. And if I were a betting man… he probably had the green light yesterday. But the manager and him probably worked out a side deal to resolve some conflict with the opposing team."
Boyd: "Not in my rule book. But everyone has a different opinion. I believe in treating everyone with respect and always the other team. In this case, it was simply an opportunity for Tatis to get a good live swing under his belt in a young career."
Braun: "That's a great question. I was a staunch unwritten rules guy, don't make the first or third out at third base, those types of things, I loved them. But as I've gone on here at Plant, I've taken that tag off a little bit. At this level, with more passed balls or errors, I've kind of changed a bit. But I'm not sure I would go away from those rules managing in the big leagues."
Macaluso: "I think years ago, I would have answered that question, 'yes. Pretty much so.' But I don't know if I'd say it every time anymore. Up 10-3 in the eighth, you aren't stealing bases, or if you're on second and 10-3, you probably hold the guy at third, but I don't know that those rules apply as much anymore."
Menendez: "I'm not a huge fan of unwritten rules. I think we all understand that we don't want to embarrass the other team, but at the same time our guys are going to keep playing hard. I've been on both sides of this and the reality is that if it's not written in the rule book, then it's not a rule."
Pizzio: "In HS it's hard to have any unwritten rules because it's so unpredictable. In MLB or college there are plenty… much more in college but the game is changing constantly… I support Respect of the Game and Sportsmanship but I also support aggression and Hustle … Playmakers"
Wilken: "Are unwritten rules etched in stone? Yes and no. I think they are but they vary from level to level and honestly team to team based on what that teams coach/manager was taught. That being said, 3-0 grand slam up by seven, (probably) shouldn't do that even in little league. Also, I'm not sure what inning it happened. If it was before the sixth, it's perfectly ok in my opinion. Too much game left to take anything for granted."
813Preps: Is there any player from one of your teams in the last 10 years who (almost) always had the "green light"?
Braun: "Absolutely [laughing]. Kyle Tucker always had the green light. I probably used the take sign a little more when I was younger, so Preston Tucker might not have always had it. But Pete (Alonso) always had it. I have a sign for 'green light' and one for 'take,' but if I trust the guy … With Connor Scott it was a little different, because if he got on he could take second or third, and Kyle could be like that at times, too. I've gone away from it a bit. I just had a conversation with Coach Sully (University of Florida head coach Kevin O'Sullivan) at Florida the other day, because he's a big take guy, and I told him, 'you're nuts.' And even he is starting to let guys swing 2-0, 3-0 and they are seeing home runs. The problem at this level, these hitters never get a fastball 2-0 or 3-1, so if we get a 3-0 count that is the best chance they are gonna get a fastball."
Fryrear: "Green light only if we are up by 2 and the bases aren't loaded. Never down in the game and never up in game over 6 runs. Connor Slagill, Dalton Wingo, Tyler Dowdy, and Parker Messick – because they drop bombs."
Macaluso: "No. And again that's me, talking King Baseball. I think in high school, players are still always learning. So, for me there is never a kid who has that kind of 'always' rule … because there are moments where you give a player the green light in a 1-1, tight ball game and he takes third and it sets us up, but the next night that situation could cost us a run. So, as teachers of the game, I think we have to be a little more hands on play-by-play with these guys at this level."
Menendez: "My philosophy on this has really changed over the last three years.  We hardly ever give the take anymore.  On last year's team the following guys all had the green light 3-0: Bennett Lee, BJ Graham, Cole Russo, Henry Politz, and Nick Rodriguez all had the green light. Depending on the situation, the other guys would get the green light  as well.  If my memory is correct, I only gave one 3-0 take all year this past season.  Obviously, it was a shortened season, but just how we like to play now."
Pizzio: "Pitching – Christian Suarez … I just sat down and let him work … never called 1 pitch for him. He did pretty good as a HS pitcher.
"Hitting – Josh Johnson … He could play the game anyway he wanted and Coach the game at the same time … He really understood how to control a game as a player and a teammate… Always had 'Green Lights' on everything every aspect of the game."