Sewell takes flight with walk-off for Durant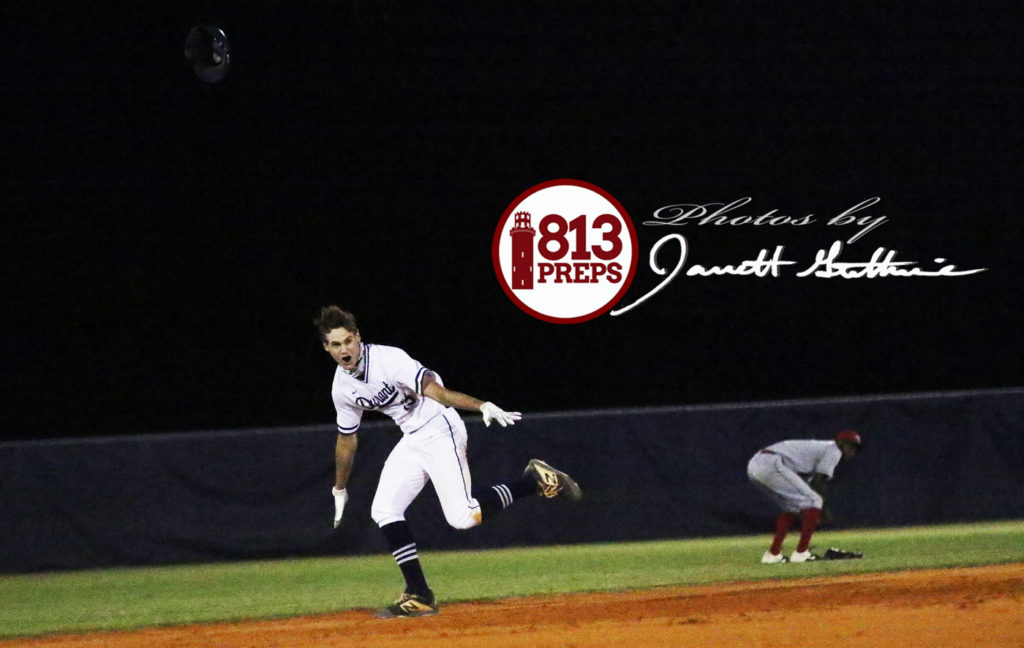 By Jarrett Guthrie
Editor
PLANT CITY – With hits in nine of his last 10 games, Durant's Austin Sewell was in the exact spot the Cougars needed him to be in Wednesday night – tie game, two outs, bottom of the seventh. Not an unfamiliar spot for the senior, who five weeks and one day ago flew arms spread around the outfield as his team ran him down after his walk-off win in the Saladino Tournament semifinal, Sewell came through in nearly identical fashion against East Bay lining a single to center field and pushing across Thomas Allen as Durant topped the Indians 4-3 in its regular season finale.
"I had a lot of confidence going up there," Sewell said. "I had some tough at-bats before that and I was looking to make up for them there. I got to 3-0 and I fouled one off, and he put the next one right there and I was able to put a good swing on it and luckily Thomas was able to score from second."
The ending was fittingly exciting for a game played fiercely by both teams, as East Bay (15-7) battled throughout and the Cougars rallied for the win.
"That's the guy we want up," Durant senior Sean Hermann said of Sewell. "The way he's hitting right now, the confidence, the ball is looking like a beach ball to him. We knew he was going to do something when he came up."
Durant, which recognized its 14 seniors before the game, took a first-inning lead as one of those seniors, Luke Scolaro, put down a nice bunt single, took second on a passed ball, stole third and broke for home when the catcher's throw sailed into the outfield.
The Indians battled back in the third as a pair of walks to Javy Lopez and Jeremy Galen setup Ethan Sillart (2-for-4), who went the opposite direction with a two-run single to right. Sillart would score on an error two hitters later, but from there East Bay would struggle to find any luck on the bases.
Durant (18-4) chipped away at the lead in the fourth with Javy Quintana doubling and scoring on a Scott Shimkus single, and Quintana would come through again for the Cougars in the fifth, driving in Allen with a sac fly to tie the game.
That was all that would be needed as the Cougars turned to senior ace Hermann to start the sixth, and the USF signee did what he's done all season and shoved, striking out four in the final two, hitless frames and earned the win – his sixth of the season.
"I was talking about this against Armwood the other day, that if we win these next two (games won against Steinbrenner and East Bay), I think we'll be in great shape (for the playoffs)," Hermann said. "Momentum is huge in baseball … when you've got it going for you, things seem to come easy. And we've got it going right now."
Sewell, who for the second time channeled Tampa Bay Rays World Series Game 4 hero Brett Phillips with his airplane celebration (read about Sewell's previous walk-off by clicking here), said he didn't consider changing up the post-win celebration for Round Two.
"I had to go with the classic, you know?" Sewell joked. "I had to relive the moment, had to embrace it and relive it."
Durant used four senior arms on the mound, getting a good start from Ronnie Galletti, and solid relief from David Fackson in the win.
Sewell, who with two hits in the win bumped his average to .408 on the year, echoed Hermann's sentiment about this win putting the No. 2 seeded Cougars in good shape for next week's Class 7A-District 8 tournament.
"We'll definitely take this one," Sewell said. "It's good momentum, that's what playing baseball is and that's how it should be – coming down to the last inning.
"I think this will be good for us for next week."
(4) Durant 4
(6) East Bay 3
EB 003|000|0 – |3|6|2
D   100|110|1 – |4|6|2
W – Hermann (6-0); L – Pierce (3-1).
2B – Quintana (D). Records – EB (15-7); D (18-4).