2022 All-813Preps Baseball Class 2A-5A Team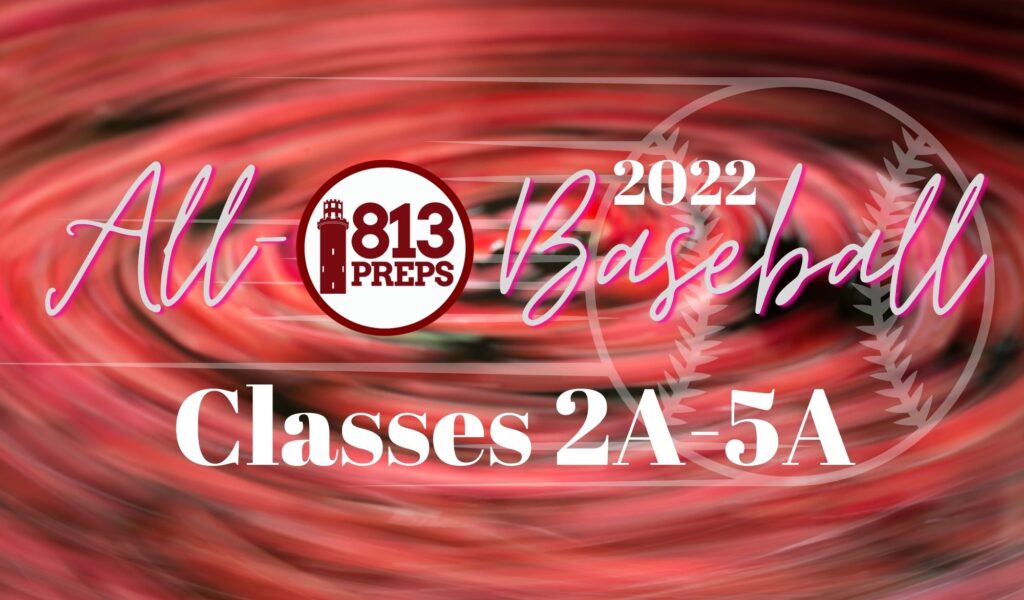 The 2022 All-813Preps High School Baseball Team was selected by editor Jarrett Guthrie. With 40 area high school baseball teams within Hillsborough County competing for FHSAA state titles, we decided now was the time to split our All-813Preps postseason awards into two All-County teams based on state classifications. We present our Class 2A-5A All-813Preps Team. (To see our team for Classes 6A-7A click here.)
Most Valuable Player
Cade Kurland, SS, Berkeley Prep


A big contributor for the Buccaneers since he was in seventh grade, Cade Kurland departs Berkeley after his junior season as the most decorated player in 813Preps' six-season history, earning his third All-813Preps first team honors (which likely would have been fourth had the 2020 not been canceled after 11 games and 18 hits for the then freshman). Kurland's final Bucs season before departing early for the University of Florida was his best, finishing in the Top 10 in the county in average, hits, runs, RBI, homers and stolen bases. He had a .468 average (upping his career mark to .382), a county-best 44 runs scored, 38 RBI, a Hillsborough-leading 13 homers (school record), seven doubles and 17 stolen bases. Kurland was a the FACA D15 Class 3A Player of the Year and was a FACA all-star, and was also named the Florida Dairy Farmers 3A POY.
Pitcher of the Year
Wes Mendes, LHP/OF, Jesuit

As far as big games go, Mendes made the most of the biggest one of the year, delivering 11 strikeouts across 6 2/3 shutout innings in Jesuit's Class 5A state title shutout win, and delivered the game-winning RBI sac fly as well. On the season, the junior Vanderbilt commit led the county in wins with a 10-1 record, posted a 1.16 ERA (ninth in the county), had 93 strikeouts (second in the 813), and recorded one save. And if he hadn't thrown a pitch this season, we'd suspect his .422 average, 24 runs, 21 RBI, three doubles, four triples and four homers would have earned him first team honors.
Hitter of the Year
James Hankerson, 1B, Berkeley Prep

Hankerson finished tied at second in the county with 39 RBI, hit .381, with 28 runs scored, hit seven doubles, and stole 13 bags earning All-813Preps Hitter of the Year honors. Big Bang Hank went homerless for the Bucs first 14 games, then blasted seven dingers in the second half – none bigger than his region final grand slam at Lakeland Christian, helping the Bucs reach the state final four and a Class 3A runner-up finish. A Wake Forest commit, Hankerson was a second-team All-813Preps selection in 2021.
Coach of the Year
Richie Warren, Berkeley Prep

In his ninth season as the head coach at Berkeley Prep, Warren led the Buccaneers to a 28-4 record, claiming a region title and finishing as the Class 3A state runner-up. Warren earned FACA District 15 3A Coach of the Year honors, while posting an 8-0 record against Hillsborough County opponents on the season. Three of the Buccaneers four losses came to state powerhouse Calvary Christian, but Berkeley took the final matchup between the two, claiming a 4-1, region semifinal win over the Warriors. Berkeley Prep finished the spring ranked 10th in the state (MaxPreps.com) and No. 16 in the nation (PerfectGame). 
All-813Preps First Team Class 2A-5A
All-813Preps Second Team Class 2A-5A


Honorable Mention Class 2A-5A
Bell Creek: Frank Burke, Caden Ross, Caden Welton; Berkeley Prep: Wyatt Ewanowski, Troy Reader; Brandon: Josh Blake, Marlon Garcia, Fisher Smith; Brooks DeBartolo: Ethan Corscadden, Cole Flahart; Cambridge Christian: Zack McQuiston, Julian Montes; Carrollwood Day: Christian Clarke, Logan Mazur; Chamberlain: Yadiel Garcia; Foundation Christian: Jacob Ananias, William Newbold, Hayden Porter; Freedom: Marshall Chastain, Adan Kraf, Gio Mendoza, Raul Olivera, Lucas Richardson; Hillsborough: Adrian Arroyo, Donald Gorgei, Cam Mallo; Jefferson: Joseph Fritz, Mikey Marroquin, Julian Vargas; Jesuit: Brooks Chamberlin, Carter French, Grant Jordan; King: Douglas Alvarino, Chris Hendricks, Dominic Lyons, Hunter Keding; Middleton: Remer McIntyre Jr.; Robinson: Lamont Akins III, Cameron Duss, Tyler Kirkner; Seffner Christian: Shay Dean, Ethan Duncan, Jake Foster, Collin McNeal; Spoto: Cullen Cairns; Sumner: Jayden Brown, Noah Hancock, Gabe Mangual, Isaiah Welch; Tampa Catholic: Danny Lazaro, Michael Richards; Tampa Prep: Roger Haughey, Gage Mills, Grant Varner.