813Preps Week 2 Football Caps
Our Rick Cantor brings you a quick look at what to expect from our Week 2 feature game and a few other ones to pay attention to tonight.
Where We Will Be: Plant (0-1) @ Berkeley Prep (0-1)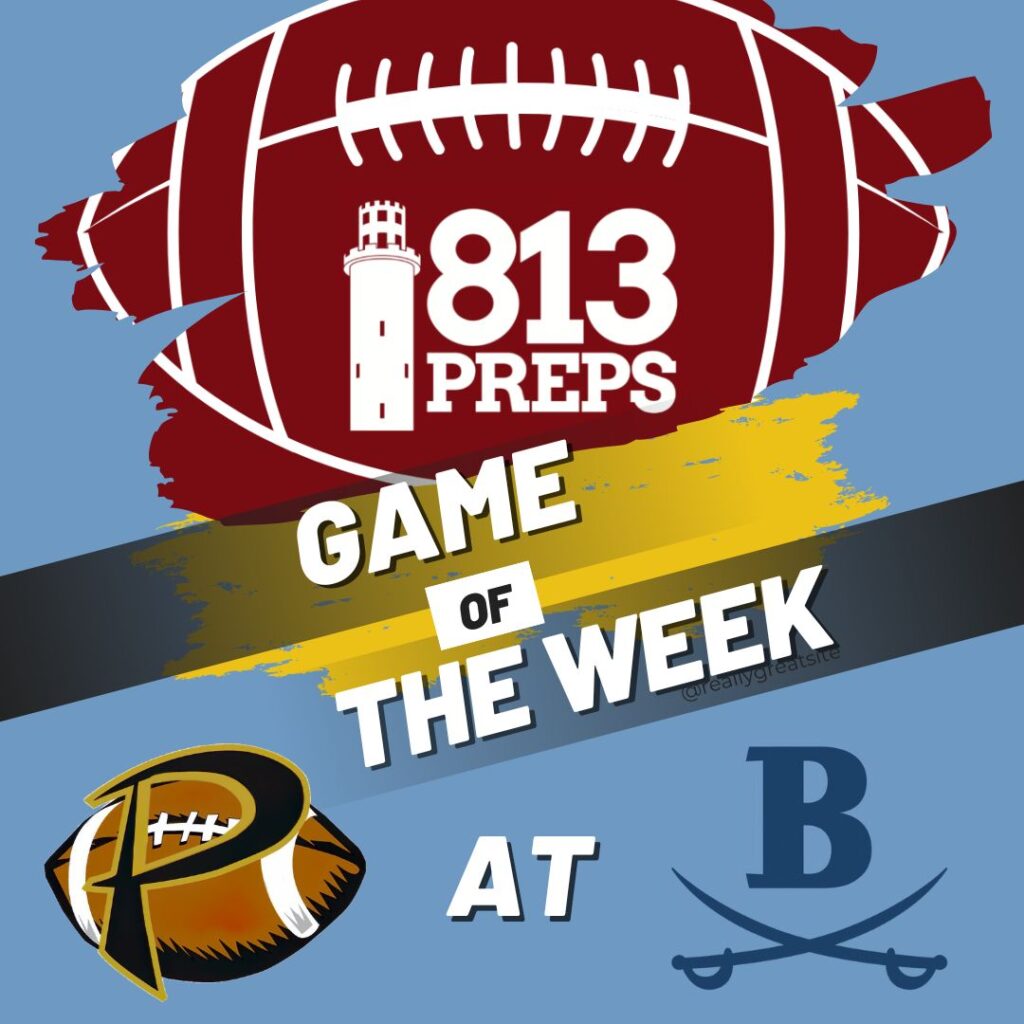 A relatively new rivalry, with last year's 43-14 victory by Berkeley Prep en route to a berth in the 3A state title game, as the two teams' only meeting in the last decade. The Panthers will certainly be looking for revenge and will have some confidence after hanging for four quarters with Tampa Bay Tech in last week in a 28-21 loss. A victory over the Bucs would certainly be a statement for a Plant program looking to climb back to the top … Speaking of revenge, Berkeley notched a pair of victories over Clearwater Central Catholic last season, and the Marauders exacted some last week in a 24-7 victory over the Bucs. Berkeley coach Dominick Ciao lost a tremendous amount of talent to graduation, but still has plenty of star power to work with including five-star edge Keon Keeley. You can be sure the legendary coach will have some tricks up his sleeve for Plant as both teams look to avoid an 0-2 start.
Armwood (0-1) vs Bloomingdale (0-1)
Armwood travel across State Road 60 this week to make its 813 debuts, after falling on the road to 35-25 to 2021 Alabama state semi-finalist in Tuscaloosa-Hillcrest. The Bulls look to avoid a second consecutive home loss, after falling in a shootout with Sumner, 44-32 in week one … Armwood's defense has traditionally been its calling card, and it will have its hands full with Bloomingdale's Charles Coney behind center … The Bulls will have to stop 6-foot-4, 225-pound Hawks QB Murdolph Jones in a game that could be a high scoring affair.
Blake (1-0) vs Alonso (1-0)
Speaking of shootouts, expectations for regular changes to the scoreboard should be the expectation for two teams that each put up 70-plus points in Week 1. It should be an interesting clash as a pair of teams looking climb up the rungs of Hillsborough's football hierarchy face off. Coach Hayden Cantrell's Ravens are led by Dah'Mieyon "Dom" Paulin, who accounted for a trio of rushing touchdowns on four carries for 52 yards in Alonso's 73-8 victory over Freedom, but didn't attempt a pass in the lopsided win … For the Yellow Jackets, first-year head coach Rick Cowans made his debut in a big way with a 72-0 win against Leto. Junior Deshawn Neal came up big with 200 yards on the ground three touchdowns for Blake, as the Yellow Jackets had more than 540 yards of total offense.
Leto (0-1) vs Brandon (0-1)
Like the Falcons, the Eagles were also a shutout victim in week one, going down to Riverview 45-0. While wins will may be hard to come by this season as Leto's Ron Perisee and Brandon's Daryl Stewart look to build their respective programs, both teams have a chance to even their records this week. The Falcons will look for their second consecutive victory over the Eagles after last year's 14-12, Leto victory.
Steinbrenner (0-1) @ Tampa Bay Tech (1-0)
Both the Titans and Warriors were involved in 28-21 games last week, with Tech defeating Plant and Steinbrenner losing to Gaither. There are very few easy games for many of the big-time schools in the 813, and this is an example of that. The Warriors are a good team but will have to knock off the defending 6A state runner-up to avoid an 0-2 start … Steinbrenner will need a big game out of quarterback Ty Robinson (8-for-22 for 115 yards and a TD last week) and running back Kirby Vorhees (218 all-purpose yards and a rushing TD in Week 1) to have a chance … The Warriors will have to deal with the likes of recent Pitt commit edge Antonio Camon (one sack, five tackles) and super sophomore defensive back Johnnie Tyson for Tech.
Bonus one to watch

: Port St. Lucie Treasure Coast (0-1) vs Jesuit (1-0)

In the Bay area we are used to 813 vs 727 matchups, but it is rare to see an 813 vs 772 matchup. Jesuit will have its hands full with the Treasure Coast Titans, an 8A semifinalist last year … Last week, Treasure Coast went toe-to-toe with perennial power Kissimmee Osceola, losing in tight 14-5 slugfest … The Tigers were also tested last week in a 24-13 battle versus Wharton (click here to read our coverage from this game), with senior RB Joquez Smith grinding out 185 yards on the ground. Expect a fierce battle in the trenches as the Titans visit the Tigers.