813Preps Week 10 Football Caps
Our Rick Cantor brings you a quick look at what to expect from our Week 10 feature game and a few other ones to pay attention to tonight.
Where We Will Be:
East Bay (7-1) @ Bloomingdale (3-6)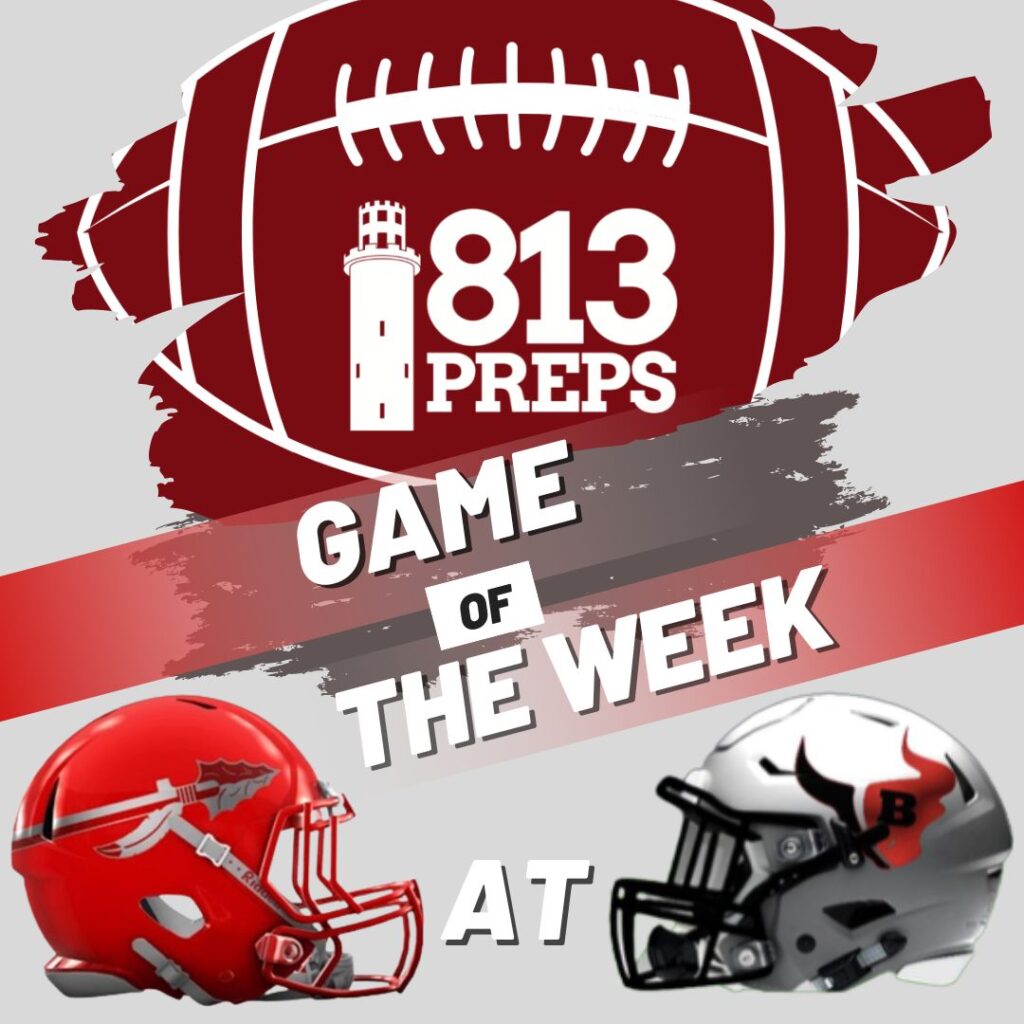 The only game in the 813 this week featuring a pair of teams still undefeated in district play, this one is for all the marbles in 3M-District 6. While the Indians are a virtual lock to make the playoffs win or lose, Bloomingdale is likely playing for its playoff lives in this one.
While it's not often you'd necessarily think about a 3-6 team making the playoffs, the Bulls record is a bit deceptive with losses coming against some of the best teams in the area including Tampa Bay Tech, Wharton, Sumner, and Armwood. Throw in a close win against a very good Durant team, and it's easy to see why the Bulls are not the average sub-.500 team.
East Bay had been rolling through its schedule putting up huge numbers, but a step up in competition last week against Berkeley Prep resulted in a 14-0 shutout by the Bucs. Although no team enjoys a loss, hopefully the late-season eye-opener will pay dividends for the Indians the rest of the way.
The Indians will look to get their running game back on track after being held to just 95 yards against Berkeley. You can be sure the Bulls will receive a heavy dose of backs Jaelin Sneed (619 yards, eight touchdowns), Vincent Ketchup (423 yards, five touchdowns) and quarterback Nathan Carter (468 yards, seven touchdowns). When Carter goes to the air, he has regularly targeted Aiden Showers (364 yards, three touchdowns) and Ketchup (208 yards, three touchdowns).
Bloomingdale will counter with Dillon Rose-Bailey at the helm. The freshman has impressed since taking over for the injured Charles Coney, passing for 1,048 yards and eight touchdowns since taking over. Rose-Bailey will look to targets Jameer Grimsley (337 yards, three touchdowns), Derek Owens (298 yards, two touchdowns), Mikeviyon Mack (236 yards, two touchdowns) and Christian Bodnar, who has five touchdowns on just nine receptions.
Plant (7-2) @ Alonso (6-2)
Plant turned a touchdown lead at the half into a rout of Steinbrenner, 47-14 last Friday (click here to read our coverage of this game) and now looks for its eighth-consecutive win at Alonso on Friday.
A Panther victory would clinch the 4M-District 7 title, Plant's first since 2018. An Alonso victory combined with a Plant City loss to Strawberry Crest, would give the Ravens the district title and Plant would have to hope for an at-large bid.  Should Alonso and Plant City both win resulting in a three-way tie, the district tiebreaker would be based on the FHSAA Power Rankings throughout the entire regular season – including Week 11 games.
For the Ravens to win, Alonso will need to solve a Plant defense that has given up just seven points-per-game over the past five games. Alonso will rely on sophomore running back Josh Andrews to shoulder the load. The 6-foot-2, 200-pounder has racked up 1,044 yards and 12 touchdowns on the season so far. The Ravens are far from one-dimensional, as fellow sophomores Terrell Russell (1,355 passing yards, 15 touchdowns) and Ben Cole (364 receiving yards, six touchdowns) provide a balanced attack.
The Panther's also bring a balanced offense to the contest, as rotating quarterbacks Trey O'Malley (1,297 yards, 12 touchdowns) and JC Mirasola (515 yards, seven touchdowns) form a formidable pair, while sophomore Waltez Clark (1,019 all-purpose yards, 20 touchdowns) and junior Jaquez Kindell (43 receptions, 696 yards, eight touchdowns) add playmaking ability.
Middleton (5-3) @ King (2-6)
Middleton has a chance to clinch its first district title since 2004 when the Tigers travel to King on Friday. The Tigers have hung their hats on a tough defense, giving up under nine points-per-game over the past six contests. Linebackers Matthew Wilson (42 tackles, two sacks) and Bryan Hunter (31 tackles, for tackles-for-loss, two sacks), and defensive back Javan Williams (three interceptions, six passes defended) lead the way on defense.
On offense, big plays are provided by Jyheem Norton (401 yards on the ground, six touchdowns) and Nathan Lamar (307 receiving yards, five touchdowns). Sophomore Aljavonnie Daymon has emerged at quarterback and has racked up 730 passing yards and 10 touchdowns on the campaign.
The Lions started 0-5, but have won two of their last three, with the lone loss in that span by a touchdown to a seven-win Blake team. Senior Tyzarren Grady had a big game versus Chamberlain, rushing for 159 yards and a pair of scores, while fellow senior Kyle Stewart chipped in with 96 yards and a score.
Sumner (6-2) @ Newsome (4-4)
After a one-point, overtime loss to Durant effectively ended Newsome's quest for a district title, a surprising blowout loss to Hillsborough put the Wolves three-year playoff streak in jeopardy. If Newsome has a chance at accumulating a high enough rating by the FHSAA to qualify for an at large playoff berth, it will likely need wins over Sumner and Gaither next week.
The task will not be an easy one as Sumner welcomed back starting quarterback Greg Smith in their last game, after he missed a pair of games with an ankle injury. When he has been on the field, Smith is one of the more dynamic quarterbacks in the 813, having passed for 754 yards and nine touchdowns, while also contributing 559 yards and another nine touchdowns on the ground in his six games played. Smith is joined by Devin Spencer (478 rushing yards, two touchdowns) and sophomore Tyler Williams (20.9 yards-per-catch, five touchdowns) to balance the offense.
Newsome counters with its traditional run-heavy offense led by sophomore Michael Dempsey (675 yards, eight touchdowns) and senior JC Roque (900 all-purpose yards, nine touchdowns). Fellow senior Tanner Easley has contributed 371 rushing yards and three touchdowns, while Mathew Connally has caught three touchdown passes.
Tampa Bay Tech (7-2) @ Armwood (5-3)
There will be plenty of motivation on both sides of this contest between these programs looking to assert area control for the two teams separated by I-75 and a difference of six miles.
For the Hawks, a win would go a long way to securing an at-large playoff berth. For the Titans, a win would right a ship that has been blown slightly off course by a 24-21 loss to Jesuit, and the news the Titans would have to forfeit an earlier game versus Gaither due to an ineligible player.
For the Hawks to pull off the win, they will need to lean on a defense that has allowed just 13 points-per-game on the season. Linebacker Damenon Hughes leads the way with 38 tackles, including eight tackles-for-loss and four sacks. Defensive backs RJ Stroud (four interceptions, two forced fumbles) and Jaylin Crumby (two interceptions, three passes deflections) lead a ball-hawking secondary.
TBT's offense will look to get Rod Gainey back on track. The junior was kept out of the end zone for the first time this season and held to 43 yards against Jesuit – 78 yards below his season average of 121 yards-per-game. The Titans will also continue to feed super-sophomore Dallas Wilson who had six catches for 159 yards and a pair of touchdowns against Jesuit.
Week 10 Game Slate
(all games at 7:30 unless noted)
Foundation Christian (0-6) at Winter Haven Oasis (5-4), 7p
Carrollwood Day (4-3) v Cambridge Christian (5-3), 7p at Skyway Park
Clearwater (3-5) at Berkeley Prep (5-3), 7p
East Bay (7-1) at Bloomingdale (3-6)
Middleton (5-3) at King (2-6)
Sumner (6-2) at Newsome (4-4)
Steinbrenner (4-4) at Sickles (1-8)
Plant City (2-6) at Strawberry Crest (5-4)
Blake (7-2) at Robinson (5-3)
Tampa Bay Tech (7-2) at Armwood (5-3)
Lennard (0-8) at Spoto (3-5)
Jesuit (5-3) at Hillsborough (4-4)
Brandon (1-7) at Chamberlain (0-8)
Riverview (5-3) at Durant (7-2)
Tampa Catholic (6-1) at Jefferson (2-6)
Clearwater Central Cath (7-1) at Seffner Christian (4-4)
Plant (7-2) at Alonso (6-2)
Gaither (5-3) at Leto (2-6)
Wharton (6-2) at Freedom (0-8)