Wilken, Nimmala hear names called in First Round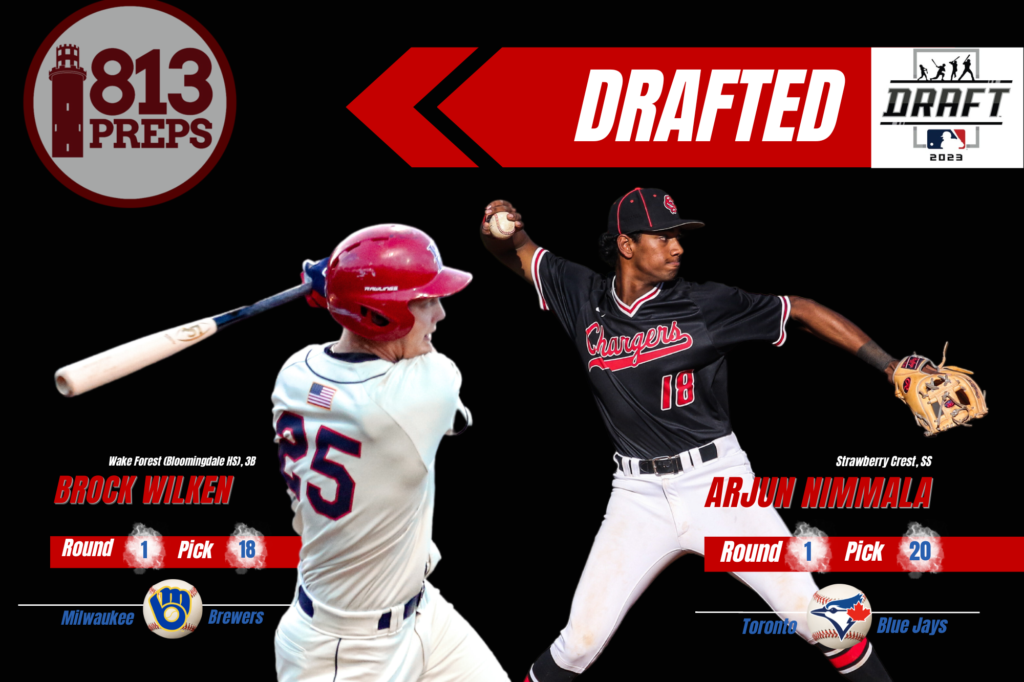 By Jarrett Guthrie, Editor
A pair of Hillsborough County high school baseball alums heard their names called in the first round of Sunday's Major League Baseball First-Year Player Draft, both hard-hitting left side of the infield high school sluggers who earned All-813Preps Hitter of the Year honors four years apart.
Bloomingdale alum (2020) and Wake Forest standout Brock Wilken was the first area player to be selected, when the Milwaukee Brewers selected the Atlantic Coast Conference's all-time home run leader (71) No. 18 overall.
Recent Strawberry Crest graduate Arjun Nimmala was selected two picks later at No. 20 overall by the Toronto Blue Jays.
Wilken, who led Hillsborough County with 12 home runs in his junior season, helped Wake Forest reach the College World Series semifinals last month. In his three seasons with the Demon Deavons, the power-hitting right hander hit .299, with 203 career RBI, 39 doubles and scored 192 runs. Wilken also played two summer seasons in the Cape Cod League, earning MVP honors in 2021.
Wilken is the second Bloomingdale High alum to be selected in the first round of the MLB Draft with Richie Martin being selected No. 20 by the Oakland Athletics (out of the University of Florida). Martin has played parts of three seasons with the Baltimore Orioles and is currently playing in the Washington Nationals organization.
We caught up with Wilken last summer in Cape Cod, check out our interview with him:
Nimmala was named 813Preps 2023 Class 6A-7A Hitter of the Year on Friday.
Nimmala hit .479 this spring for the Chargers, scoring 29 times and driving in 30 runs. He added seven doubles and six home runs during his senior season, earning the Florida Athletic Coaches Association (FACA) District 15 Most Valuable Player honors, was named the Wade Boggs Award winner, and was tabbed as Florida's Gatorade Player of the Year.
Nimmala is the first players selected out of high school from Strawberry Crest, and the second draft selection of all time as pitcher Mark Moclair was selected by the Houston Astros in the 12th Round (out of the University of Tampa) in 2018.
To learn more about Nimmala click here to read Brandon Wright's feature from early-March.