TAMPA – The 2019 Class 6A state champion Jesuit Tigers baseball team will be recognized on the field prior to Sunday's game at George M. Steinbrenner Field as the New York Yankees host the Atlanta Braves. The Tigers claimed the title last June, defeating Dunedin 4-3 and finished the season with a 27-5 record (click here to read our coverage from the championship win).
The FHSAA state title was the fifth overall for the Jesuit baseball program, which is currently ranked No. 1 in our 813Preps Baseball Rankings after two weeks of the 2020 season.
The on-field recognition is set to take place at 12:30, prior to the game's scheduled 1:05 p.m. start.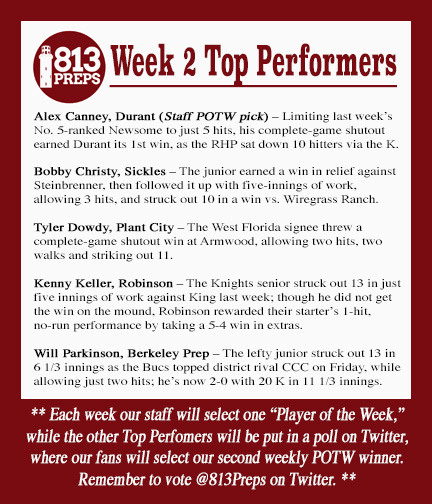 Pitchers rule in our Week 2 Top Performers list.
Sickles ace Centala back from injury: Last Thursday's Sickles' win over Steinbrenner had a bit of a "hold-your-breath" moment for the Gryphons and head coach Eric Luksis, as senior leader Chase Centala was involved in a collision while fielding a ball at first base. The University of Florida commit left the field under his own power, but also left the stadium during the game to get medical attention as on-site trainers were concerned about a possible broken rib. Luksis reached out to 813Preps later in the evening with good news that doctors declared Centala to have only a "bone bruise." The senior sat out Friday's 10-0 Sickles win over Wiregrass Ranch.
However, the condition of the Gryphons 6-foot-1, 185-pound righty continued to improve over the weekend and Luksis said Centala (1-0, 0.00 ERA, 12 K in 9 2/3 innings) is ready to play, and is scheduled to be on the bump tonight for Sickles (3-1, 2-0 in Class 7A-District 7 play) as the team travels to face district opponent Wharton (4-0, 2-0 in 7A-7). Wharton will try and remain unbeaten on the season and counter on the mound with senior lefty Carson Caso (2-0, 0.00 ERA, 13 K in 10 innings).
Jefferson loses Duarte to injury: Not so lucky on the injury front is Jefferson, which has lost junior slugger and rising lefty pitcher Jaiden Duarte to a broken wrist. Duarte scored 19 runs and stole 11 bases last season for the Dragons, and was off to a 5-for-9 (.556), with a double, an RBI and three runs scored start this season. Duarte injured the wrist in the Dragons' loss against Steinbrenner on Feb. 24 and had surgery that night. Jefferson (2-4) coach Daniel Gonzalez did not have a time-table for Duarte's return to the field, but said that the junior will still be counted on as a leader for his team from the dugout during the injury.
A number of high school firsts for area players: Brandon freshman Therron Cooper picked up his first high school hit on Thursday, going 2-for-3 with a double, two runs scored, four RBI and two stolen bases as the Eagles defeated Blake 16-2 … Hillsborough sophomore Salvy Urso belted his first home run on Friday at Blake (click here for our coverage of the Terriers afternoon win) … A week after Sickles freshman backstop Justin Allen got his first hit of his high school career against Durant, he went 2-for-3 in a win over Steinbrenner picking up his first double and two RBI as well … Chamberlain senior Brennan Hyde, who missed nearly his entire junior season to Tommy John surgery, hit the first home run of his high school career in a loss to River Ridge last Thursday … Leto senior lefty Anthony Miyares tossed four, shutout innings against Tampa Bay Tech on Thursday, allowing just one hit and striking out four, while earning his first win of his career.
Robinson bounces back from first loss: Making mistakes can cost you big against a good team, and Robinson learned that lesson on Tuesday as three errors against a big-hitting team in Bloomingdale proved disastrous as the Bulls handed the Knights a 12-1 defeat in five innings. For first-year head coach Alex Barron, the moment was a big test to see how his young Knights would respond.
"(The loss led) to a 'how do we grow and move forward from this experience?' moment," Barron texted.
Barron would get his answer the next game, as Robinson saw a lead and a great start from senior lefty Kenny Keller on the mound (see our Week 2 Top Performers list) become moot as King rallied to tie things late. With the Knights facing adversity, Barron said he saw things click with his players, as they maintained composure and didn't let the game slip away instead winning an extra-inning game 5-4, as Joe Whitaker finished his four-RBI night with a run-scoring single in the ninth, and getting Robinson back in the win column.
"This time was different because the guys showed that they could contain the situation and stay positive," Barron said. "It was a win that meant more than coming out on top – it was a step forward with our growth in tense situations, which will always show up during a baseball season."