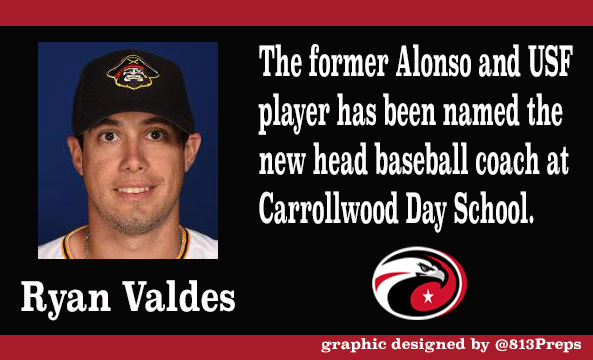 By Jarrett Guthrie
Editor
CARROLLWOOD – Athletic Director Baker Mabry announced Thursday that Carrollwood Day School has selected former Alonso High, University of South Florida and Pittsburgh Pirates prospect Ryan Valdes as the Patriots new head baseball coach.
"I could not be more excited to have Coach Valdes joining the CDS family," Mabry said. "He has a passion for coaching baseball, but more importantly, he has a passion for building quality and character-driven young men. I have no doubt that he will build a program that will alighn with our CDS mission while building a winning program on the field."
RELATED: "Marshall steps down as coach at CDS"
Since his time in college, Valdes, 26, has been a private instructor and after retiring from professional baseball in 2019, he has spent time coaching at both the travel game as well as at Bradenton's IMG Academy. He said his love for the game is as strong as ever and the transition to coaching is something he has long seen as his future.
"I always did private lessons in the offseason and spent time in travel ball, but you only get to work with players once or twice a week," he said. "I'm ready to take on the challenge of building something, really get to know players and I'm very lucky Carrollwood Day School has given me this opportunity."
"I'm excited to get going with these kids this fall and return this program to the culture they were building when the team reached the final four a few years ago."
Valdes, a 2012 graduate of Alonso, was a two-way player who was a part of two Ravens state title teams, was named a Tampa Tribune All-Hillsborough First Team selection his senior year (this list selected by 813Preps editor Jarrett Guthrie), batting .345, with seven home runs, 20 RBI and recording seven saves on the mound.
Valdes would start his college career at Florida State for one season, then transfer to State College of Florida-Manatee, and eventually finish his career at USF where the righty went 15-5 on the mound and played in 71 games.
He was selected in the 2017 MLB First-Year Players Draft in the 33rd round by the Pittsburgh Pirates, and played parts of three minor league seasons.
After a career that included navigating the college recruitment experience, playing at the JUCO, Division I and professional level, Valdes said he hopes that his connection to those experiences proves valuable to his future Patriots' players.
"I've been there and understand these players and their goals, I just came from that," Valdes said. "I played at three different levels of college and then spent three-and-a-half years playing professionally, so I hope I can connect to players whether they are JUCO (caliber) or Division I and can help them as they move forward with their playing career."
The new CDS skipper also spoke to the fraternity he is now joining of Hillsborough County prep players who have moved into the coaching ranks.
"The legacy of Frank Permuy, my coach Landy Faedo and the things I learned from him for four years, I wouldn't trade that for anything in the world," he said. "We always talked about the tradition and culture of Tampa Bay baseball. It's kind of gritty, we get after it, we have talent but we are going to play the game hard. I hope that is the kind of tradition I can bring to CDS."
His former coach at Alonso said he hopes Valdes will be a spark for the Carrollwood Day program moving forward.
"Ryan has a ton of passion and energy, he loves the game," Faedo said. "When he showed up for a game, he always gave it everything he had. I'm happy someone who loves baseball that much is joining the ranks, and I hope Ryan makes it for a long time."
Valdes takes over a CDS program which reached the 2018 FHSAA Class 3A state semifinals (click here to read our coverage of the 2018 state semifinal game), but has also now had five head coaching changes in four years.
"I think this program needs a guy to come in and implement a culture, and be there for years for these players," Valdes said. "… I think the ability to be there, see a player go from freshman to senior, that's a challenge and experience I look forward to as a coach."
Carrollwood Day School announced in late-May that coach Jim Marshall had stepped down after the 2020 season, which was cut short due to the COVID-19 pandemic. Marshall served as the Patriots head coach for two seasons and the team was 14-20 during his tenure.