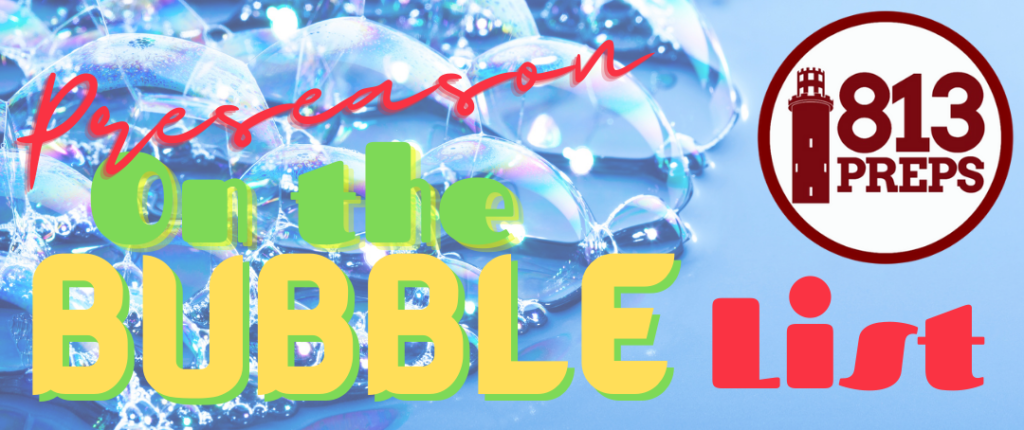 We are going to make you wait until the OFFICIAL Opening Day in Hillsborough County before we give you the Top 10, but to tease and start some controversy how about we give you our editor Jarrett Guthrie's five "Bubble" teams knocking on the door as we gear up for 2021…
11. Steinbrenner
The Warriors are just on the outside looking in on our Top 10 rankings, but we look for them to battle a way into the list in the upcoming weeks. A strong middle of the lineup with C Tayden Hall (picked as one of our BIG 15 to watch, click here), 1B James Strom (who we highlighted in our Dark Horse Dozen which you can read by clicking here), and MIF Chris Roberts leading the way on offense. Steinbrenner was 6-3 in 2020 and return to a very tough Class 7A-District 7. A pitching staff led by starters senior RHP Jacob Statman & junior LHP Aidan Dorrell will need to start the season ready to go with a schedule with no "gimmies" in sight. Statman was 1-1, with a 0.00 ERA in a small sample size last season (6 1/3 ip), while Dorrell has been penciled in as the Game 1 starter Tuesday against Robinson.
12. Seffner Christian
The Crusaders' 8-1 record last season was impressive, and though they lost some seniors (most notably battery mates P Tommy Turkett and C Daniel Tomasello) the youth last year means experience this year for head coach Sal Giardina's team, as Seffner Christian has nine seniors in 2021. RHP Ben Cheek got some love in our BIG 15 feature this weekend (click here), but he has plenty of talent alongside him. LHP Joey Jensen was a capable two-way player last season, but according to Giardina though he will see some time in centerfield, the team's plan is to allow Jensen to focus on the mound and will likely not bat as much, to prepare him for college at Daytona State next year; with a fastball in the mid-to-upper 80s, Giardina said Jensen's confidence is through the roof. Cheek and fellow seniors 1B/RHP Dylan Cheeley (.400, with 7 runs in 2020, NC Wesleyan commit), Spencer Boynton (.286, five runs in 2020) and C Andrew Ura will be key bats for an offense that should represent Hillsborough County well as the lone 813 team in Class 2A-8. The Crusaders open up Tuesday on the road against perennial state power Lakeland Christian.
13. Robinson
Sooooo, if I was good at counting and stuff, I'd be a science doctor or something. Yes, we jumped the gun a little bit in mapping out our preseason rankings, so we've already previewed the Knights (and you can read that by clicking here). But for our ranking purposes, Robinson is always a team we count on to be ready to play. The Knights, under third-year head coach Alex Barron, were 5-3 and we ended our coverage season (abruptly) seeing a walk-off win against Armwood in the final night of 2020. Robinson routinely does its job in games that it should win AND those pick-em games, we want to see them continue to build on what they did last season taking the W against teams against whom they may be seen as the underdog.
14. Plant City
The Raiders are very young and that happens when you are as successful as the team was for its 2019 title and the year following. But when I put this list together and I tried to find 15 teams better than Plant City, they weren't there. Time will tell if it takes a few games to click on all cylinders (especially with three games in February against teams who we hope are hungry, having just missed cracking our Top 15), or if the youngsters are ready to produce from day one. A couple of junior transfers SS Anthony Grasso (from Strawberry Crest) and OF/C Carson Mohler (King) will have an immediate impact for the Raiders, while head coach Mike Fryrear said he is also excited about the progress of junior 1B/RHP Colin Shultz and freshman RHP Chase Mobley, who he expects to be a big factor on the mound from the jump.
15. Leto
Last season's 5-3 record was a bit more sunnier than we think coach JJ Pizzio would like to admit for his Falcons as the team hoped to take aim at the postseason coming off back-to-back district and region titles, but dropped a couple close games they could have won. But Leto is another offense that was young and produced a season ago, and return a bunch of talent – including senior RJ Gutierrez (who was highlighted in our BIG 15), senior OF Damien Breton, and juniors MIF Coltin Pizzio and OF/UT Brayan Cruz. Leto baseball is all about pressure and nearly every player is looking at second before they touch first with plenty of speed. Pizzio has a solid swing to go along with his speed, Gutierrez and Breton will be key to the RBI game, and Cruz has real breakout power potential. The question mark for us, same as last year, will be on the mound for Leto. Sophomore RHP Bryan Rivera was steady and reliable working in six games, striking out 14 in as many innings last year, while senior RHP Christian Gonzalez will be a key inning-eater this season. Coach Pizzio loves to keep teams guessing and has no problem with a quick hook and usually has some crafty, left-handed arms to throw at teams, so we expect Leto to be just fine.